Hollywood - The Dark Side: Frank Sinatra & Marilyn Monroe
Other // Unrated // January 13, 2009
List Price: $14.99 [Buy now and save at Amazon]
---
Little Dizzy Home Video has released a wretched little biography compilation called Hollywood - The Dark Side: Frank Sinatra & Marilyn Monroe, a laughably shallow, visually abysmal collection of 3rd and 4th generation video dupes of clips from these iconic stars' films and newsreel appearances that, along with some unintentionally hilarious narration, provide almost no serious examination of the subjects.
Divided into two short parts (Sinatra's segment runs 33 minutes; Monroe's is 20 minutes), Hollywood - The Dark Side: Frank Sinatra & Marilyn Monroe begins with a look at singer/actor/entertainer extraordinaire Francis Albert Sinatra, opening with testimonials from Sinatra pals and admirers Gay Talese, Pat Cooper, Tom Lasorda, Robert Loggia and Jack Scalia (they appear to be older interviews). Just for the sake of fairness and objectivity in reviewing this abysmal doc, let me state categorically that Frank Sinatra is without a doubt - if I only had one to choose - the singer whose entire canon I would take with me on a desert island. No question. And as an actor, Sinatra - when he was trying - had an instinctual, immediate connection with the camera that I still find compelling (check out The Manchurian Candidate for possibly the best example of this unique ability Sinatra had). That being said, after listening to the almost sickeningly hyperbolic testimonials that were offered up here at the opening of the doc, I wouldn't have been surprised to hear that Sinatra pissed on a dead dog and brought it back to life. It's that kind of documentary. According to Pat Cooper (god, he's annoying even dialed down to five), Sinatra was "God's pied piper, lent to us every 100 years." Talese says "Sinatra's words will live forever" (he sang those words, but he didn't write them), and Scalia later says that Sinatra was "living our dreams for us" (I won't even attempt to figure that one out, since no explanation by Scalia is offered up in the doc).
Unfortunately, Hollywood - The Dark Side: Frank Sinatra & Marilyn Monroe doesn't get any better, as we're given an incredibly sketchy overview of his career - a vague, trifling approach that can't be blamed on the doc's short run time, either. Sinatra's early years are glossed over quickly before it's suddenly 1952 and we're talking about Ava Gardner and Columbia dropping him and MGM cancelling his contract. And the words I just wrote about that important year in Sinatra's life and career, is as detailed as it gets in Hollywood - The Dark Side: Frank Sinatra & Marilyn Monroe. And yet, the doc has the time to run an entire trailer for Sinatra's disappointment, A Hole in the Head - a doubly head-scratching moment because the inclusion of the lengthy trailer seems all out of proportion to the cursory treatment of the rest of Sinatra's life, but also the pick of this particular film as a representation of Sinatra's career: hardly a film in the top tier of his oeuvre. The Rat Pack is given a one sentence mention, while Sinatra's involvement with JFK and the Mafia slings all the old hash we've tasted before. Towards the end of the bio, the filmmaker, Marino Amoruso, seems bent on hammering home the point that Italian-Americans are frequently slandered in the media and popular culture, and that Frank Sinatra, although "he knew some shady characters, he never, at any time, was involved in any criminal activity." And yet, just five minutes before this statement, the narration details how Sinatra was asked by Joseph Kennedy to call mobster Sam Giancana to make sure Chicago's votes went to John Kennedy. I'd say that's illegal activity - wouldn't you?
The Monroe section is worse, running a scant 20 minutes and featuring some of the worst macroblocking I've ever seen on a DVD. Giving a breezy, totally inadequate overview of her career, some whoppers in the narration include, "Her life truly was a Greek tragedy;" "She was the "rumored lover of John Kennedy and Bobby Kennedy;" and "Perhaps she was condemned to her fate at birth." Jesus. One or two clips from her films are used; the rest is newsreel footage and various snippets of ads or commercials she did. A complete waste of time.
The DVDs:
The Video:
The full-screen, 1.33:1 video transfer for Hollywood - The Dark Side: Frank Sinatra & Marilyn Monroe is truly one of - if not the -- worst transfers I've seen in this, or any other year. Macroblocking is the norm on 3rd and 4th generation source materials, making the doc at times almost unwatchable. Garbage.
The Audio:
The Dolby Digital English split mono is squelchy as all get out, with hiss thrown in as an added value. No subtitles or close-captions, obviously.
The Extras:
The "extra" here is yet another incompetent mini-doc entitled, The Blondes, which basically just lists some famous blondes in pop culture, and the "curse" that supposedly hangs over those of the chlorine persuasion. Crappy snaps of Harlow, Lombard, Lana, Jayne Mansfield (who is described as "one of the top box-office draws of her time," before the doc passes along the myth about her decapitation), Grace Kelly, Britney Spears ("Due to her constant bizarre and strange behavior, it's obvious to even the most casual observer Ms. Spears has serious mental and emotional problems,"), and Pam Anderson are included. It runs 8 minutes.
Final Thoughts:
Hollywood - The Dimwitted Side. Utter superficial dreck, and one of the worst DVD transfers I've ever seen (with shoddy source materials to boot). Read a gum wrapper on the subject and you'll get more info. To say "skip" Hollywood - The Dark Side: Frank Sinatra & Marilyn Monroe is to be polite. Bury it.
---
Paul Mavis is an internationally published film and television historian, a member of the Online Film Critics Society, and the author of The Espionage Filmography.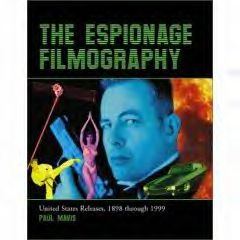 Sponsored Links
Sponsored Links