McLeod's Daughters - The Complete Eighth Season
List Price: $59.98 [Buy now and save at Amazon]
---
They almost pull off a halfway-decent return to form here, before ending the series for good. E1 Entertainment has released McLeod's Daughters - The Complete Eight Season, the final go-around for what was once Australia's top-rated nighttime drama. Those halcyon days are long gone here as the writers revamp old situations and characters one more time before hurriedly killing off the series. A marked downturn in ridiculous New Agey-spookums has thankfully occurred, but it's all too little, too late for this final season of McLeod's Daughters.
Why anyone reading this review at this point in the series' progression would need a plot synopsis is beyond me...so I won't give one (or at least a detailed one). So, there's this cattle/sheep ranch, Drovers Run, in the Australian outback half-owned by sexy Stevie Hall (Simmone Mackinnon) - who's not even a real McLeod daughter - who runs it with a bunch of other great-looking women who are variously related but in ways entirely too complicated to detail here. Grace McLeod (Abi Tucker) is finding it tough going being attracted to muscley Marcus Turner (Matt Passmore), the half-brother of Alex Ryan (Aaron Jeffery), who's married to the very pregnant Stevie and who runs the competing ranch, Killarney, but who's in Argentina buying cows and who once was in love with Claire before she died and who wanted to raise Claire's daughter, Charlotte as his own, and who...oh, never mind. Perpetually spooked Kate Manfredi (Michala Banas) is looking for yet another excuse to bug out of Drovers, while sweetly dimwitted Patrick (Luke Jacobz) is falling for virgin Tayler Geddes (Guillian Alexy), the daughter of a miner killed by the incompetence of geologist Regan McLeod (Zoe Naylor), Grace's sister, who's not really on the show but who keeps popping up like she is whenever some new McLeod daughter or cousin or step-cow needs to be introduced to the audience. Girly-girl princess Jaz McLeod (Edwina Ritchard), another McLeod daughter, shows up this season, while Stevie's cousin, Ben Hall (John Schwarz), a virtual slab of rippling man-hunkiness, saunters in to little or no effect on the constantly frazzled residents of Drovers Run. And oh yeah - Moira Doyle (Doris Younane) is still having the vapors, giving everyone the whim-whams with her "visions."
SPOILERS ALERT!
Reviewing the previous season of McLeod's Daughters, I had pretty much had my fill of the goofy shenanigans that plagued that fairly ridiculous season, what with Moira communing with a winged guardian angel, crazed killers stalking various McLeods, and the almost continuous recycling of the same romantic triangle relationships with characters we weren't grounded with in the first place. I didn't hold much hope for this final eighth season of McLeod's Daughters, figuring things would really go into whacky overdrive as the writers tried to top themselves with the hyperbolic, hypersexed doings of the Drovers Run cowpeople. Gratefully, they actually toned those obvious plot machinations down somewhat here, bringing back a little taste of the original feel of the series in its first seasons. Granted, Moira is still having visions (puh-leeze have a vision of you not having these visions anymore), and yes, we get a standard McLeod's Daughters psycho in the form of Ingrid the vet's (Rachael Coopes) ex, a cop with an attitude and a severe bipolar condition who wants to waste anyone who even looks at the fair Ingrid.
But other than those obviously unwanted moments (and let's not even talk about the musical written for Moira), season eight of McLeod's Daughters is fairly low-key and serious...which doesn't work, either, frankly (especially when all of this dramatic ground has been cow-trodded before on this show). There's a distinct lack of energy this go-around; whether that has to do with the fact that apparently everyone knew this was the last planned season (although you'd never know it until the hastily-designed two-part finale), or if everyone finally figured out that the show had outstayed its welcome by at least two seasons, is anybody's guess. But a general sense of ennui permeates the proceedings, with very little of the spunkiness that used to be a hallmark of the series. In fact, the only character that seemed to embody the Aussie balls that I always admired about the series was cranky Mrs. MacAvoy, a one-time-only character who tells off everyone in the cast (best line: when she meets Patrick, she says, "He looks a bit slow."). Too many permutations of the same push-and-pull romantic entanglements gums up the works here, creating an often-times lugubrious slush that doesn't excite or move the viewer.
Certainly the worst example of this is the further devaluing of the Stevie character. A hellion when she first arrived at Drovers, now she's the picture of wounded responsibility, morosely gallumping around Drovers mourning the death of Alex, and deflecting any and all romantic attempts by potential suitors. Alex's death certainly would have held more sway had Aaron Jeffreys actually been on the show during this season. However, his little live-feed internet appearances via Argentina were as unconvincingly essayed as they were designed and shot (it looks like they shot him on the fly in the hallways of the Nine Network). What are we to make of a critical episode that brings back a character literally long enough to get him out of a plane, into a car, and then out of that car in the span of five minutes, only to have him squashed under a "widow maker" like the Coyote in a sick live-action Roadrunner cartoon? His gruesome, prolonged demise (would you show that final video message to your kid? That's how you'd want him to remember his Pop?) might have had some heft if it didn't all seem so calculated - and unnecessary. But people drop like flies at Drovers Run (as Matt Passmore jokes in one of the skimpy extras on this set), so no other solution to the Stevie/Alex marriage could be found than flattening him like a pancake. I suppose one could find some kind of hilariously bizarre irony in his death when linked to his former beloved Claire's passing (note to both: gravity is a bitch), but the show neither has the stomach to make such a grimly, ghoulish black joke, nor the stones to come up with something original to terminate this relationship.
As for everyone else, no amount of dialed-back emoting can seemingly recalibrate the series. I enjoyed Abi Tucker's turn as unlucky-in-love Grace; she seemed to have some natural chemistry with Matt Passmore's Marcus. But some obvious foreshadowing made it clear that their love affair was doomed, so ultimately, what was the point of getting them together? That same pointlessness is manifest in so many relationships this season, particularly Tayler's and Patrick's (her whole virginity subplot was tiringly familiar), leading one to feel that the writers were merely going through the motions, trying to crank out another season without their hearts being into the job at hand. The finale, jumping forward awkwardly in time (was this finale hastily planned? Was there still hope the show would go on before it was written and filmed?), only confirms that view, with the tired subplot of Drovers being threatened with financial ruin trotted out yet again, with the same observations about hanging tough and surviving given a work out, as well. Nothing seems very convincing here by this last episode; the actors look like they've seen this all too many times, as have we. Too bad this once-great show couldn't have ended on a stronger note.
Here are the 22, one-hour episodes of the six-disc box set, McLeod's Daughters - The Complete Seventh Season, as described on their hardcase back covers:
DISC ONE

Episode 203 - Aftermath
It's five days after the Christmas accident, and while Grace, Patrick and Tayler have survived, Riley is still nowhere to be found. Kate fears that his body was dragged away by the river.
Episode 204 - The Pitfalls of Love
Grace and Marcus become trapped at the bottom of a mine shaft. Grace starts hallucinating and she and Marcus almost give into their passion, before someone finds them and they're pulled out.
Episode 205 - Wild Ride
Stevie's wild-hearted rodeo mate Sharon comes to Drovers, but the girls soon find they are no longer on the same wavelength.
Episode 206 - Nowhere to Hide
Kate questions her future at Drovers and eventually decides to leave that life behind and go away with a church camp for troubled teenagers.
DISC TWO

Episode 207 - Stand By Me
Moira struggles with her feelings for Phil, and worries that she might have been too harsh when her curse on him comes back to haunt her.
Episode 208 - Close Enough to Touch
After a heavy piece of a tree falls on Alex, he dies in Steve's arms. Later, she gives birth to a boy, whom she can't bare to see because he reminds her too much of Alex.
Episode 209 - Bringing Up Wombat
Regan McLeod has returned to Drovers and soon discovers the little kiss Marcus and Grace have shared. Meanwhile, Stevie makes the decision to take off with her son Xander.
Episode 210 - Three Sisters
Jaz's return seems to reawaken old tensions amongst the McLeod sisters. Grace and Jaz continue to clash, leaving Regan stuck in the role of peacemaker.
DISC THREE

Episode 211 - Dammed
The girls mobilize the local community to prevent a massive dam from being built upstream. Jaz is blackmailed by a pro-dam farmer, who threatens to reveal an explosive secret from her past.
Episode 212 - Mother Love
Tayler and Patrick's happy domesticity is disrupted when Tayler's mother returns and explains why she left and stayed away for 16 years without so much as a word.
Episode 213 - Bright Lights, Big Trouble
Grace, Jaz, Marcus and Frank head off to the city to confront the politician responsible for a dam proposal that will take away their ground water.
Episode 214 - Love and Let Die
Frank threatens to detonate a deadly bomb during a town meeting over the controversial dam, putting Stevie and Marcus' lives at risk.
DISC FOUR

Episode 215 - A Dog's Life
With the district yard dog trials approaching, Ben is unexpectedly befriended by a border collie. Unaware of this, Marcus denies any knowledge about the dog to its irate owner.
Episode 216 - My Prince Will Come
After finding her show-jumping horse from Europe grazing in the windmill paddock, Jaz discovers she has been personally delivered by Mischa, her ex-boyfriend, who's also a wealthy prince.
Episode 217 - Snogging Frogs
Mischa confesses to doping Jaz's horse, and although he was doing it for the right reasons, Jaz tells him they cannot have a future together.
Episode 218 - The Merry Widow
A picture of Stevie and Marcus in the newspaper causes trouble when everybody in Gungellan believes they're dating.
DISC FIVE

Episode 219 - Show Pony
Jaz attempts to retrain her show-jumping horse Annie to work on the property, but Stevie insists that Annie doesn't belong there and is a liability to Drovers.
Episode 220 - Every Move You Make
Ingrid becomes increasingly worried about the safety of Marcus, as well as her friends, when her ex-husband Paul continues to stalk and harass her.
Episode 221 - Into Thin Air
Paul becomes increasingly more aggressive when he is released from the hospital. Hours later, the girls discover Ingrid's car at the bottom of a ditch with no one inside it.
Episode 222 - The Show Must Go On
Phil's musical tribute to Moira, "The Girl From Gungellan," is about to premiere, but Moira overhears a phone message that convinces her that he is having an affair.
DISC SIX

Episode 223 - Into the Valley of the Shadow
Drovers is in serious financial trouble. Will Stevie and Grace be able to put aside their differences and find a way out of this crisis?
Episode 224 - The Long Paddock
It's a surprise reunion as family and friends return to Drovers Run for Xander's first birthday party. But not everyone is happy, as Tayler is forced to choose between her career and Patrick.
The DVD:
The Video:
The anamorphically enhanced, 1.78:1 widescreen video transfers for McLeod's Daughters: The Complete Eighth Season look spectacular, as usual. Colors are brilliantly realized, in a crisp, clean, compression-free image (regardless of the actual content of the various episodes, the visual aspects of the series are always top-notch).
The Audio:
The Dolby Digital English 2.0 soundtrack is more than adequate for this largely dialogue-driven drama. No subtitles or closed-captions are available, though, unfortunately.
The Extras:
Three insultingly skimpy extras are all that are included here for the final McLeod's Daughters go-around. Clocking in at a whopping 1:36 (that's one minute, 36 seconds), Fond Farewell from McLeod's Stars finds Mackinnon, Tucker, Passmore and Jacobz throwing out one word or two sentence answers to some pretty dumb questions, such as, "Who or what influenced you to act on McLeod's Daughter?" (nobody answers the obvious: my agent, and a paycheck). Posie Graeme-Evans sits down for two brief interview sessions - McLeod's Memories and Top Three McLeod's Memories. They run 3:59 and 4:38, respectively, and they're as superficial as they sound. Seriously, for such an influential show in Australia's broadcasting history, these extras are pathetic.
Final Thoughts:
Not with a bang, but with a whimper. McLeod's Daughters: The Complete Eighth Season winds up the once-great Aussie soap with deflated performers enacting too-familiar plot contrivances, to almost no avail. It can only be a rental for those closely following the series; everyone else - piss off. Too bad; it really was an entertaining show at one time.
---
Paul Mavis is an internationally published film and television historian, a member of the Online Film Critics Society, and the author of The Espionage Filmography.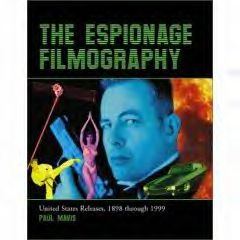 Sponsored Links
Sponsored Links