Trick or Treat Tales (Barney, Thomas & Friends, Bob the Builder, Angelina Ballerina, and MORE)
Other // Unrated // September 1, 2009
List Price: $14.98 [Buy now and save at Amazon]
---
HIT Entertainment and Lionsgate have gathered together six cartoon shorts for another Halloween-flavored collection called Trick or Treat Tales. Although I always enjoy watching these theme-oriented collections with my kids (and this is just about the right time, with school back in session and the leaves just starting to turn, to start thinking about Fall and Halloween), Trick or Treat Tales isn't as successful as the previous HIT collection I reviewed, Halloween Spooktacular. Containing only six cartoons this time around (one shy of the previous release), and with only two of the shorts having anything directly to do with Halloween, this collection may feel like a bit of a cheat for the small fry who want some spookums action.
THOMAS & FRIENDS: Flour Power
In this episode from 2005's season, Thomas is asked by Sir Topham Hatt (still in his Halloween costume) to go on a midnight Halloween run to the mill, to bring back flour for the bakery (Sir Topham Hatt wants his English muffins). Unfortunately, Thomas has to go along with mean, grumpy Diesel, who tries to scare Thomas on the journey to the mill - which isn't hard, considering how scary and spooky the ride is through all that fog. Once at the mill, though, Thomas decides to prank Diesel by covering himself in flour and pretending to be a ghost train - a prank that works too well when Diesel runs away in terror. Now it's up to Thomas to get all the heavy flour cars back to the bakery.
I've written several times before about Thomas & Friends, and while I normally enjoy the show quite a bit (although I must say I don't enjoy at all his recent transformation into a 100% CGI creation), this particular episode is far too close for comfort to the previous Halloween short that was included on last year's Halloween Spooktacular. The plots are almost identical, so previous buyers of the first are going to experience déjà vu the minute they see this one (I had to go back and check my earlier review; for a minute, I thought it was the same short). A disappointment for this collection if you already own last year's disc.
---
BARNEY & FRIENDS: Guess Who?
In this episode from October of 2007, Barney and his friends are all excited about the Halloween party they're planning at the park. Riff, the one-man band, is nervous, though, because he can't decide what he wants to dress up as for the big shindig. Naturally, Barney comes to the rescue by singing a few songs, and making Riff feel good about whatever choice he makes. Riff, to everyone's surprise, comes as himself - which is just fine with Barney.
I've written numerous times about Barney, as well, and at this point...what else is there to say in his defense, or in condemning him? Parents, for the most part, can't abide him for any longer than two minutes, while very young children love him (My three-year-old immediately squealed his name when the episode came on, but my seven and five-year-olds hit the bricks). This particular episode didn't compare favorably to the previous Halloween episode included on Halloween Spooktacular because little effort was made here to create that Autumnal feeling that worked so well in Sweat Treats. In that short, the art directors did a fantastic job of creating an evocative Halloween night in the park, with great lighting and good set decoration. Guess Who?, unfortunately, didn't have any of that spooky feeling - it looked the same as any other Barney episode.
---
BOB THE BUILDER: Trix's Pumpkin Pie
Trix the Forklift has taken on too many responsibilities. She's offered to help Bob move lumber for the new school jungle gym, but she's also agreed to help haul two large pumpkins from Farmer Pickles' farm to the pizza parlor, where they're going to be turned into a huge pie for the Fall Harvest supper. But Trix can't be in two places at the same time, and she has to leave the baked pie with Spud...who would eat the pie if he could keep the crows away from it. It's up to Bob to save the day for Trix.
I've written before about Bob the Builder, and while I'm not a big fan of the show, the little kids seem to like it (even if it gets repetitive for them, as well). My biggest objection to this episode is again, it has nothing to do with Halloween (Fall Harvest supper notwithstanding). Kids that already enjoy the show will get a kick out of it, I suppose, but it's stretching it to include it on this collection.
---
FIFI AND THE FLOWERTOTS: Pirate Primrose
Taken from the British stop-motion animated show Fifi and the Flowertots, which first aired in 2005 Pirate Primrose finds Fifi planning a pirate party, complete with costumes and various pirate-themed activities including walking the plank and finding buried treasure. However, the team headed up by Stingo and Sluggo aren't playing fair, and that's upsetting bossy Primrose. So it's up to Fifi to make nice with everyone.
In my review of Halloween Spooktacular, I mentioned that it might not be fair to judge an entire show based on only one episode - such as Fifi and the Flowertots (created by the same team behind Bob the Builder). Well...that's two I've seen now, and it hasn't improved. Yes, I still kind of enjoy the catchy Euro-disco club theme, but that's it. The voice work is still sub-par (can we please not screech everything?), while this particular plot seems aimed strictly at the under-5 group. As far as I know, the show never took off (I believe only one season was produced) - perhaps the toys didn't sell well. In any case, Pirate Primrose has nothing to do with Halloween (it's stretching it to link it to Halloween costumes), so its inclusion here is unwarranted.
---
ANGELINA BALLERINA: The Costume Ball
In this 2002 episode, Angelina is cross with her mother and father when they refuse to let her go with them to an adult costume ball. As consolation, she's allowed to have her best friend, Alice Nimbletoes stay over for the night...but unfortunately, their babysitter is stern next-door-neighbor, Mrs. Hodgepodge. Well, that's too much for Angelina to take, so after a game of dress-up, the mouselings decide they can fool their way into the ball if they pull the old "stackem" gag (one sitting on the other's shoulders, hidden by a long coat). But of course, they're caught and Angelina knows what the punishment is going to be.
And yet another episode that doesn't really have anything to do with Halloween, The Costume Ball is still a charming little Angelina cartoon. As I wrote in my first review of this series, I particularly like how the mouselings are punished when they do something wrong: manual labor. None of this namby-pamby "I'm alright, you're alright" hugging and everything is forgotten. Here, Angelina has to scrub the floors where the party was held - that'll teach her (kids almost never get punished in American cartoons). Excellent voice work, and I love the pencil-like animation.
While it doesn't deal specifically with Halloween (I'm not sure why this one was included, when another episode, Henry's Halloween, would have been more suitable), the ghost angle of the story fits the over-all theme of the disc, and the cartoon, as I've written before, is quite cute and clever, with a good message in each of the shorts. I particularly like the Englishness of the girls' punishment - good, strong, hard work in Mrs. Hodgepodge's garden. They're not let off with just a, "Sorry." As well, it's quite nice to see Mrs. Hodgepodge forgive them - only after they've finished their work - with a casserole made from the cauliflower. That's a good story for kids to see.
---
FIREMAN SAM: Cat Magic
Labeled as a "bonus" episode (why not just say there are six shorts, total?), this episode from 2008 has the twins on a walk with their mother, Bronwyn, when their naughty cat (who won't stay home), falls into a well, unbeknownst to the children. A nearby barbeque fire distracts everyone, until someone realizes the cat is missing. Soon, it's Fireman Sam to the rescue.
I rather enjoyed Fireman Sam the first time I saw it on the Halloween Spooktacular compilation. Its hyper-realistic stop-motion animation was beautifully realized, while the characters were offbeat. However, Cat Magic, from the last season, sees the stop-motion replaced with generic, poorly-executed CGI animation, and the series loses all interest (the stop-motion was the main draw of the series in the first place). The new voice work is particularly grating, as well. And worst of all: this story has zero to do with Halloween or trick-or-treat. A real cheat to include this sub-par short on the Trick or Treat Tales disc.
The DVD:
The Video:
The full-screen, 1.33:1 video transfers for the individual shorts (which obviously come from different sources) for Trick or Treat Talesare quite good, with sharp pictures, bright, saturated colors, and no compressions issues to speak off (although interlacing effects were more noticeable for all of the shorts). Kids won't mind that, though, and if they're played on say a smaller bedroom monitor (rather than your larger main widescreen monitor), the effects are barely noticeable.
The Audio:
The English audio track for Trick or Treat Talesis big, fat mono, which is fine for these types of shorts. The levels are right on the mark, and everything is heard crisply and cleanly. Close-captions are available.
The Extras:
There are no extras for Trick or Treat Tales (I count the Fireman Sam "bonus" short as just part of the main line-up).
Final Thoughts:
With one less short than the previous HIT Halloween-themed collection, Halloween Spooktacular, Trick or Treat Tales doesn't cut it with only two of its shorts having anything to do with Halloween...and one of those shorts (the Thomas episode), is almost exactly the same as the Spooktacular offering. The other shorts included here have nothing to do with Halloween or trick-or-treating, so I can't justify giving this compilation a recommended rating. A rental might be in order, but even then, you're probably better off trying to track down other, more specifically-related Halloween shorts at your library. You can skip Trick or Treat Tales.
---
Paul Mavis is an internationally published film and television historian, a member of the Online Film Critics Society, and the author of The Espionage Filmography.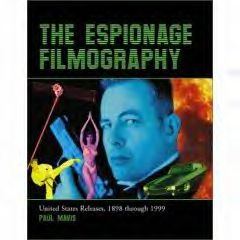 Sponsored Links
Sponsored Links