Barbie and the Three Musketeers
Other // G // September 15, 2009
List Price: $19.98 [Buy now and save at Amazon]
---
This Barbie is more interested in the fighting. Universal has released Barbie and the Three Musketeers, the latest direct-to-DVD Barbie movie featuring the iconic fashion doll beloved by big and little girls all over the world. Featuring a more action-oriented storyline than one usually finds with Barbie DVDs (adapted, of course, from Dumas' classic), Barbie and the Three Musketeers lays it out straight with its message of "women are just as capable as men," and there's certainly nothing wrong with that. But the songs that always accompany these Barbie movies have a funny way of expressing that important point in this fast-moving outing.
In the rural splendor of Gascony, France, young Corinne (Kelly Sheridan) practices the art of musketeering in her large barn. Fencing and executing miraculous acrobatics, Corinne certainly seems like she's ready to defend the French royal family (her father was the famous musketeer, D'Artagnan), and now that it's her 17th birthday, her mother has agreed to let her go to Paris to follow her dreams, giving her a letter of introduction to Monsieur Treville, the captain of the Parisian musketeers. Little kitten Mirette follows, and former musketeer horse Alexander leads the way. Once in Paris, however, the confident Corinne finds that not everyone is disposed to having a woman become a musketeer. Treville is polite but tells her, "no." A chance encounter with Regent Philippe (the guardian of young Prince Louis) leads his dog Brutus to chase Mirette, with Corinne in hot pursuit. Corinne manages to disrupt the scullery duties of pretty Aramina, Vevecca, and Renee in her chase for Mirette - a fact that isn't forgotten when their boss, Madame de Bosse hires Corinne as another maid. The girls aren't too friendly to Corinne at first, but once they learn she wants to be a musketeer as they do, it's all for one and one for all. And just in time, too, since young Prince Louis' life appears to be in mortal peril.
SPOILERS ALERT!
I've reviewed a couple of the previous Barbie movies, and I have to say I was a bit surprised at the amount of action - and the decreased presence of romance - in this latest outing. Little girls expecting to see Barbie/Corinne in several romantic situations with the handsome young Prince Louis will be disappointed at the few scenes they have together - as well as Barbie's final, aborted clinch with the Prince where she chooses riding off into danger with her gal pals over a kiss with the future King. I certainly didn't have a problem with Barbie and the Three Musketeers being more action-focused, though. As a parent of several small boys and girls, I know that watching movies like Barbie and the Three Musketeers can turn into acts of endurance and patience; the films are produced specifically for a very young viewer, and adult expectations can make them tiring experiences. I can't say I was wild about watching the previous Barbie movies I reviewed, but I did enjoy seeing how much my young daughters liked them, and that was enough to give them a pass. So if Barbie and the Three Musketeers shows Barbie constantly fencing and ducking and diving and soaring through the air, so much the better for me: that's one less dopey song I have to listen to about life and hopes and dreams.
My three and seven-year-olds certainly liked the action in Barbie and the Three Musketeers, as well. But my Barbie-crazy seven-year-old did wonder why Barbie didn't stay with the Prince at the end of the film, and I would be interested to see if other little girls across the country wonder about that, as well. I see nothing wrong in Barbie and the Three Musketeers's central theme -- young women should pursue their goals regardless of perceived roadblocks - it's a good message for young girls to hear, a message that's been plugged into the Barbie mythology for quite some time (almost every Barbie my daughter has is tied in with a play career format). But so is fantasy and romance, and despite critics who despise Barbie for their perception of a devalued gender politics when it comes to young girls' self-images (i.e.: Barbie needs Ken to be happy), most little girls still like to dream once and awhile about meeting a handsome prince. It doesn't mean they don't want to be doctors and lawyers and engineers, too (something the fanatics never get), but there is something primal about that romantic appeal for most little girls, so we'll see if this different direction with the Barbie movies will prove as popular as previous outings.
What did bother me were the sometimes inexplicably harsh lyrics in the atrocious songs featured in Barbie and the Three Musketeers. For example, after Barbie reminds her mother of their agreement for her to leave home for Paris (the mother is extremely supportive, even providing a key aid - the introduction letter to Treville), she heads out on the road and sings a song about personal freedom and the journey towards individuality. So what are the uplifting words that express this poignant moment? "Does is freak you out? I am free and proud. Doing it in style, baby. Who's the fool now?" Uh...what? What the hell do those lyrics (delivered in a generic, American Idol-dropped contestant punk rock snarl) have to do with the previous scene? Not only are the lyrics ugly, they're senseless. Who is she ticked-off at? Her mother? Her mother honored their agreement and wished her well on her journey. Those lyrics sound like something a spurned lover would say...so, again - what do those sentiments have to do with that scene? In another song, Barbie angrily sings, "Don't try to stop us, or keep us down and out...We're no damsels in distress, don't mess with the dress." While that sentiment, worded in that contentious fashion, might work with another character in another format, do you think that sounds like Barbie? And do you want your little girl to go around asking you if she freaks you out doin' it in style, and who's the fool now? If that's the new Barbie, maybe it's time to break out the Holly Hobby tapes again.
The DVD:

The Video:
The anamorphically-enhanced, 1.78:1 widescreen transfer for Barbie and the Three Musketeers looks digitally spotless, except for some jaggies now and then in the busier scenes due to interlacing. Colors are primary and bright. Solid presentation (even if the CGI is still pretty cheap looking).
The Audio:
The Dolby Digital English 5.1 Surround audio mix certainly keeps all dialogue and music crystal clear, you can even detect some separation effects from time to time, but mostly, everything is coming out of that center speaker. English subtitles and close-captions are available.
The Extras:
Bonuses include a fake blooper reel (2:00) that's annoying as hell (and not funny), along with music videos for All for One and Unbelievable. Running a short 4:43, Behind the Scenes: Barbie Fashion Show celebrates absolutely the worst aspect of the phenomenon known as Barbie: various camera-seeking New York designers, zombie-eyed models and other creeps flogging the fashion industry to scrounge up another buck and another mention in The New York Post - this time through Barbie. Disturbing. And finally, we get to meet the songwriter of the...um, songs (ahem) in Barbie and the Three Musketeers in I Can Be a...Songwriter. It runs a mercifully short 2:38. Not the best assortment of extras.
Final Thoughts:
I'm usually pretty forgiving for these straight-to-DVD merchandising/glorified commercials for Barbie because they're usually done in good taste, and the little girls adore them. And thankfully, Barbie and the Three Musketeers contains quite a bit of action for the dads who are stuck watching this with their daughters. Unfortunately, some distasteful songs run throughout this speedy retelling of the Dumas classic, so be forewarned. I suggest a rental first for Barbie and the Three Musketeers, before buying.
---
Paul Mavis is an internationally published film and television historian, a member of the Online Film Critics Society, and the author of The Espionage Filmography.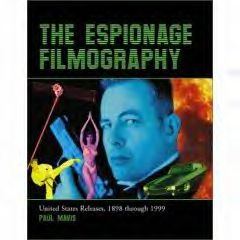 Sponsored Links
Sponsored Links