Other // Unrated // October 13, 2009
List Price: $24.98 [Buy now and save at Amazon]
---
Alive Mind has released Elvis: Return to Tupelo, a slick but problematic documentary on the influence of Elvis' hometown of Tupelo, Mississippi on The King of Rock 'n' Roll's music. Lots of archival footage, some rare home movies and original audio clips, and entertaining anecdotes from Elvis' childhood friends, girlfriends, and later band members run head into the fact that we're never given a detailed mapping-out of the film's supposed central thesis: what did Tupelo specifically do for Elvis?
Bookended by Elvis' triumphant benefit concert in Tupelo on September 21, 1956, Elvis: Return to Tupelo backs up and starts from the beginning, giving a short, sometimes insightful (but overall, an incomplete) look at Elvis' upbringing as a dirt-poor only child of Gladys and Vernon Presley. I'm not going to give a run-down of Elvis' life story up until 1956, because it's been so thoroughly recounted and almost mythologized countless times before this review (I've certainly read my fair share of accounts, including just recently re-reading the so-far definitive bio on that early period of Elvis' life, Last Train to Memphis, by Peter Guralnick). Having become familiar with Elvis' story, what initially interested me in Elvis: Return to Tupelo was the chance to hear specifically how Tupelo figured into Elvis' music. Quite often, biographical emphasis on Elvis' assimilation of various musical genres is often centered on his later boyhood years in Memphis, that ground zero of blues, country, and gospel influences. After all, Elvis eventually called Memphis, not Tupelo, home; Memphis is where Elvis himself always stated he felt the beginnings of his musical abilities. In accounts I've read, Elvis' very earliest musical influences came from his church, his time in the fields when his mother worked as a farm laborer, and his almost obsessive trolling for music on the Presley's cheap little radio. So where did Tupelo fit in?
Well, according to Elvis: Return to Tupelo...I'm not sure. We get all the familiar raps about possible influences on Elvis, including his hearing music in the cotton fields, or his trips to the black sections of town to listen to church music or raucous house parties. But how Tupelo differed from Memphis specifically in its influence on Elvis isn't really delineated. We hear about Tupelo as a city, including its other most famous event: the tornado of 1935 (dragged in with little purpose on the story at hand). We hear about what it was like to live there. We hear how Elvis grew up there (dirt poor). And the "Elvis story" is as potent as ever. A classic American success story (at least at first) if there ever was one, the knowledge that probably only in America could a boy grow up with absolutely zero prospects (other than those he made for himself) to literally transform not only American pop culture (and thus the world's pop culture) but also help usher in a fundamental transformation of the country on a sociological and political level, as well, still boggles the mind (especially in today's American culture where the State shows signs of stifling more and more personal and professional outlets for traditional American individualism). That story always plays, and it works here, too.
But nothing in Elvis: Return to Tupelo is startlingly original or ground-breaking to even the most casual fan of Elvis. It's great to see faces (in new interviews) aligned with names we've read about in countless books and articles (for instance, you can just tell why Elvis was momentarily obsessed with firecracker June Juanico), as well as shots of places in Tupelo we've probably only seen as stills in books (it was great to finally see the first house Elvis bought for his parents, prior to Graceland, in that snooty Memphis suburb that didn't cotton to the Presleys). Most of the anecdotes are pointed and interesting, as well (although one or two I might take with a grain of salt considering the time lapse and the fact that everyone who was alive when Elvis lived in Tupelo seems to have a personal story about him). But there's certainly nothing new here, while Elvis: Return to Tupelo continues to perpetuate some myths about the Elvis phenomenon that simply refuse to die, such as the contention that Elvis copied his leg-shaking moves from African-Americans at wild "house parties" when it's been established that he picked those moves up much earlier in his equally wild white "holy roller" church where shake, rattle and roll "testifying" and speaking in tongues was not at all uncommon. Even stranger is the doc's insistence on not discussing Colonel Tom Parker, who's mentioned very briefly as if he wasn't really aware of Elvis or very much involved in Elvis' career up until this point, when we know very well that the crafty Dutchman was perhaps solely responsible for getting Elvis to the point where he could deliver a massive benefit concert like the one in Tupelo in 1956. Why the Colonel is largely left out of this doc is curious, indeed, but not as quite as curious as the doc's failure to make its own case for Tupelo's influence on Elvis.
The DVD:

The Video:
While it's nice to have the contemporary interviews with such legendary supporting players in Elvis' lifestory as D. J. Fontana, George Klein, and June Juanico in anamorphically-enhanced 1.78:1 widescreen, an unfortunate decision to take the old Academy-ratio film elements (at 1.33:1) and crop them for widescreen doesn't work, with sizeable information lost on the top and bottom of the frames. Compression jaggies are apparent, and color is muted, at best.
The Audio:
It doesn't really matter that Elvis: Return to Tupelo doesn't sport a Dolby Digital English 5.1 surround mix...because there aren't any Elvis tunes to rock out on your speakers (that's because Elvis Presley Enterprises has nothing to do with this film: no money, no songs). As it stands, the 2.0 stereo mix is acceptable, but that's about it.
The Extras:
Over sixty minutes' worth of bonus material accompanies the Elvis: Return to Tupelo doc. Vintage newsreels (cropped for widescreen, unfortunately) include Elvis Enters the Army, Elvis Leaves the Army, Elvis Gets Married, Tupelo Tornado (no audio for this one), and Drew Pearson's Washington Merry-Go-Round (he gives a spot-on prediction for Elvis' future in show business). Very short featurettes culled from un-used or shortened segments in the finished doc include Elvis Week/Elvis Festival (which looks at the 30th anniversary of his death), Alamo Girls (the girls pictured in the famous shot of Elvis performing to the Tupelo crowd), Sun Records Line-Up, Elvis Meets Bill Monroe, D.J. Fontana: Elvis on TV, Sneaking Into the Fair (not sure about the validity of this one), Memories of the Colonel, George Klein Remembers the Coach (a good story showing Elvis' generosity, even in the face of a user creep), June Juanico: 1st Date, Dixie Locke Emmons: 1st Date, Mike Freeman's Owning Elvis' House, Debunking the Myth That Elvis Was a Racist, and Magdalene Morgan's Christmas Gift (a nice story). All in all, these extras were just as interesting as the feature...which may not be a compliment to the feature.
Final Thoughts:
Interesting to be sure, but nothing new here for dedicated fans of the King. Elvis: Return to Tupelo doesn't answer its central question: how did Tupelo shape Elvis' music? And since it doesn't do that, we're left with some interesting anecdotes mixed in with the standard Elvis biography. Recommended for fans of Mr. TCB, but a rental for casual viewers.
---
Paul Mavis is an internationally published film and television historian, a member of the Online Film Critics Society, and the author of The Espionage Filmography.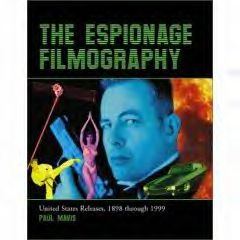 Sponsored Links
Sponsored Links