Legends of Laughter: Abbott & Costello
List Price: $29.99 [Buy now and save at Amazon]
---
Over 25 hours of Abbott & Costello hilarity. Infinity Entertainment, under their Legends of Laughter Collection line, has released Legends of Laughter: Abbott & Costello, featuring what I would assume are public domain copies of 14 episodes of the duo's The Colgate Comedy Hour, 17 shows from their radio series, The Abbott & Costello Show, two films (Africa Screams and Jack and the Beanstalk), 20 original movie trailers (including one that was expanded as a WWII recruitment short), a WWII P.S.A., The Autobiography of a Jeep (that features a two-second shot of the team), and a rare blooper reel of fun flubs from the team's movie career. The two key words in that previous sentence are "public domain." I'm guessing most of this material has been made available before, and being public domain copies, video and audio fidelity is taxing, at best (there's a "Hollywood Select Video" watermark throughout the less-than-optimal transfers of the duped source material). A purchase is going to depend on the completeness of your A&C collection. I'm not going to spend any time on giving a detailed background of the comedy team; anyone reading this review very probably knows the boys, their work, and their history enough to be interested in this disc set. And considering the amount of material that is spread out over these six discs, we're only going to touch briefly on the contents here.
DISCS 1 - 4
12 of the 14 Colgate Comedy Hour episodes are included here (three episodes per disc). For the collectors out there (I would think the primary buyers for this set), episodes included are: 1/7/51 (their first hosting episode for the series), featuring Evlyn Knight; 3/11/51, supposedly featuring Lon Chaney (although we never see him, just Frankenstein, very briefly); 10/11/51, featuring Gale Storm and Phil Regan; 11/18/51, featuring Louis Armstrong and George Raft; 1/13/52, featuring Errol Flynn, Rhonda Fleming, Bruce Cabot, and a cameo by Raft, again; 4/16/52, featuring Charles Laughton and Sid Fields; 5/14/52, featuring Vera Zorina; 10/19/52, featuring Lizbeth Scott; 12/14/52, featuring Margaret Whiting and the Nicholas Brothers; 1/11/53, featuring Victor Borge and Allan Jones; 4/25/53 with Hoagy Carmichael and Toledo's own, Teresa Brewer; 3/21/54, featuring Les Paul and Mary Ford.
Premiering live in the fall of 1950, The Colgate Comedy Hour was NBC's answer to CBS's powerhouse Sunday night winner, The Ed Sullivan Show (also known as The Toast of the Town). Originally intended as three separate live variety shows with rotating hosts Martin & Lewis, Fred Allen, and Eddie Cantor, the loss of Allen at the end of 1950 allowed for other top performers to come on board for semi-regular hosting duties (including A&C, Phil Silvers, Jerry Lester, Tony Martin, and others). A&C proved to be popular additions (at least until their material began to repeat badly), and the series as a whole scored big with the public, beating out Ed in the ratings its first season, and knocking the venerable stoneface completely out of the Nielsen Top Thirty for two more seasons.
Out of all the material on this particular DVD set, I found the Colgate Comedy Hour episodes the most fascinating. I've always found that nascent period of the medium's development utterly fascinating and weirdly compelling, with its primitive, cheap-looking sets (like something out of a German expressionism nightmare) and caveman technology. The "anything goes" spirit of that period of live TV - when nobody knew if television was even a medium that was going to last - is forever gone now. Television is so slick and prepackaged and dead now that even the last so-called "craze" on television, the pseudo-realism "reality TV" genre, is ridiculously, obviously phony-plastic and utterly without energy or life. Watching A&C here, you're immediately struck by the wilder, rougher tone of their knockabouts - something that just doesn't come across in their more closed-off, overproduced appearances in their more famous big-screen appearances. This is how A&C must have been back during their naughty burlesque days: fast, loose, and not giving a sh*t about anything or anyone. Adding to that the fact that by this point, in 1951, they were just riding out their second and last "comeback" (after the hugely popular "monster" films they made for Universal), and what you have here are two pros working almost without any limits (other than the censors). They had to know they were on a successful TV series where literally tens of millions of viewers were seeing them live - and they're amped-up by the prospects. They're feeding off the energy of that live theater audience out there, screaming and yelling at their every line and pratfall, but they've also got one eye on that television camera, and Lou in particular is hamming it up something fierce. It's exhilarating watching them.
Known for their razor-sharp timing, that ability strangely goes by the wayside here as they constantly "corpse." Some might say that's lazy or unprofessional (think Jimmy Fallon on Saturday Night Live, and you'd be spot-on), but the effect on the viewer here is electrifying (and so must it have been for early TV watchers). Constantly breaking the "fourth wall," A&C slip out of character and skit to comment endlessly on their routines (often laughing at how bad they're coming off), instantly endearing them to the audience who loves being included in their antics. At times, this can reveal some uncomfortable dynamics in their relationship. By 1951, it was no secret in Hollywood that Bud and Lou had been having difficulties in their personal relationship for years, and one can see several times the cruel glee which Lou takes whenever there's a chance to humiliate Bud (the turkey scene is particularly embarrassing). Bud, always the pro, never deviates from the line too much (although he gives a spectacular one-slap pasting to Lou in one drill instructor bit that scares even Lou with its ferocity), but Lou never misses a chance to tell Bud who's in charge of the act. However, this constantly ad-libbing, combined with the happenstance of primitive live TV, also created moments of pure joy for loyal fans, particularly whenever the boys would both break up, and laugh like kids when something went wrong with a routine they could do in their sleep (the "crunchy hamburger" bit here is priceless). That's when these clips from the Colgate Comedy Hour become precious. We've all seen Who's On First? a million times, but watching these two old pros with a lot of miles and baggage between them, laughing like little boys and putting their arms around each other, erasing away, just for a minute or two, the years of bad feelings between them, is something magical you'll never see in any of their movies (or hear on their radio shows).
Highlights for these episodes include their shell game on the midway routine (with the big lemon as the topper), the Bryant 4444 bit ("How dare you laugh at me on my birthday?"), Lou aping George Raft's tango...with a dummy, the celebrated craps game bit (watch Lou's incredulous face as he says, "I'm getting killed here," from Bud's enthusiastic shoving), Lou's funny bit with the kid from the audience ("Hey, kid, you want to hear a funny noise? Put your neck right there," as he hold his hands in a strangle position), the Niagara Falls bit with Errol Flynn, Rhonda Fleming trying to kiss Lou (he can not stop laughing), Charles Laughton suddenly and inexplicably launching into the Gettysburg Address (?), the French girl bit, where Bud keeps saying, "I can't," and Lou finally interrupts, declaring, "What's she saying, maybe I can!", the classic "7 into 28" bit, Lou insulting Lizbeth Scott ("Is this the way Hal Wallis tells you how to talk?"), Lou's beautiful little boy's voice when Bud makes him say "silver" over and over again in the "Tin/Silver" bit, Lou apparently throwing real eggs at the studio audience (they sure seem like they're screaming over the real thing), and the marvelous moment where total pro Bud helps Lou out by bringing in a prop vase an actress has accidentally broken...only to come back out again at the wrong time (Lou loves it). Trailers on these four discs include: One Night in the Tropics, Buck Privates, In the Navy, Hold That Ghost, Keep 'Em Flying (the expanded, 9:15 version is included here, used for recruitment purposes during WWII), Ride 'Em, Cowboy, and Who Done It?. And for the collectors, as well, all of the original commercials for Colgate-Palmolive products are included, as well, including Ajax®, Halo Shampoo®, and Colgate Tooth Cream®.
DISC 5
Two more episodes from the Colgate Comedy Hour are included here: 4/25/53, featuring Rhonda Fleming, and 4/18/54, featuring Hoagy Carmichael and Peggy Lee. Other than a terrific bit with kid Ricky Vera, where Lou is impressed with the kid's delivery and timing during their back-and-forth (he ad-libs that Bud better watch out), what interested me most with these final two episodes was the fact that I could see, after 14 episodes and four years, how the team gradually wore out their welcome with audiences by simply recycling the same gags, jokes and bits. The act never changed in the slightest. And that's fine, because nobody did what they did better. But 1950s audiences could only digest so much material from the team before déjà vu settled in. After almost twenty years of hearing the same bits on the radio, in movie theaters, on the stage, and now on television, the team was overexposing itself with the concomitant result of diminishing returns at the box office and in the Nielsen's. Extras on this disc include 1943's Autobiography of a Jeep, a wartime P.S.A. detailing the birth of the Army's General Purpose 4-wheeler...and why it's included on this set I don't know. There's literally a 2-second clip of the boys riding in a Jeep, and that's it. Strange extra for this set. Running at 10:43, Mail Call, a filmed radio program that originated from the Armed Forces Radio stations, features Bud and Lou doing their famed Who's On First? bit (with lovely Dorothy Lamour singing a song, too). There's a fascinating blooper reel included here, running a hefty 34:37, featuring flubs collected by the studio and the performers, featuring Lou's penchant for swearing (mildly) after blown takes. As well, trailers for In Society, Abbott & Costello in Hollywood, Lost in a Harem, The Time of Their Lives, The Wistful Widow of Wagon Gap, Abbott & Costello Meet Frankenstein, Abbott & Costello Meet The Killer, Boris Karloff, Abbott & Costello Meet The Invisible Man, Abbott & Costello Meet Dr. Jekyll and Mr. Hyde, Abbott & Costello Meet the Mummy, Abbott & Costello Go To Mars, The 30-Foot Bride of Candy Rock, Dance With Me, Henry, and Jack and the Beanstalk are included (bad macro-blocking here).
DISC 6
Disc Six was a bit of disappointment to me, not so much for the 17 episodes of The Abbott & Costello Show radio series that were included, but for the awful copies of Africa Screams and Jack and the Beanstalk seen here. I had quite a bit of fun listening to the radio episodes. Sponsored by Camel cigarettes, The Abbott & Costello Show may not have been terribly original in its format (just an excuse for the team's familiar bits and fast repartee), but it did showcase the boys right at the height of their popularity, and their confidence and enthusiasm is palpable. The jokes were mostly of the double entendre nature, while we get to hear some of the classic bits like Hertz U-Drive (almost as good as Who's On First?). But as funny and fast as they are, it's impossible for me to enjoy the team as much here with the visual element missing. The tall, snotty-looking Bud, and the whimpering fat boy Lou, are a visual mismatch that looks funny before they say anything. And without the fast slapping pushing and shoving, along with the loss of the priceless muggings by Lou whenever Bud told an outrageous lie, it's difficult not to feel like you're only getting half the team's value on the radio.
As for Africa Screams (United Artists, 1949), and Jack and the Beanstalk (Warner Bros., 1952), it's always been difficult for me to warm up to these two later features because they were never as widely shown on television as the Universal movie packages (where A&C had a long-term contract). Thanks to a huge TV aerial, I was able to pick up Detroit's Abbott & Costello Theater every Sunday morning at 8:30 on Detroit's Channel 7, and that's where I watched the Universal titles over and over and over again as a kid until they were burned into my brain. Without that childhood connection to Africa Screams and Jack and the Beanstalk, they've always somehow seemed...lesser. As for the prints and transfers used here on the Legends of Laughter: Abbott & Costello set, it was difficult to change that feeling considering the gate jumping in Africa Screams and the pixilation and horrible color in Jack in the Beanstalk. I would hope there are better public domain copies of the films out there.
The DVD:

The Video:
The full-screen, 1.33:1 transfers for Legends of Laughter: Abbott & Costello are going to look exactly how you expect them to look: subpar - no doubt because of the original source materials, but also from low bit rates and too much material on one disc. Vintage collectors won't like it, but they're used to it. Lots of video noise, contrasty, and macro-blocking from time to time.
The Audio:
The English mono audio mix is barely adequate, either, but I would imagine that has more to do with the original source materials. Turn it up loud enough, and you can hear the routines more clearly. Close-captions or subtitles are not included.
The Extras:
There are no additional extras for Legends of Laughter: Abbott & Costello.
Final Thoughts:
I haven't seen the Colgate Comedy Hour material before, so the Legends of Laughter: Abbott & Costello set's first five discs were a treat for me (I've heard the radio material). Loyal A&C collectors probably already have this material, but if you like this classic comedy team (and who doesn't), and you want to experience them outside their closed-off movie performances, you could do worse with the Legends of Laughter: Abbott & Costello set - bad audio/video and all. I recommend the Legends of Laughter: Abbott & Costello set, but with a lot of caveats for the inattentive buyer out there.
---
Paul Mavis is an internationally published film and television historian, a member of the Online Film Critics Society, and the author of The Espionage Filmography.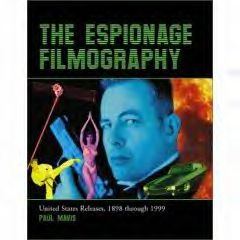 Sponsored Links
Sponsored Links