Bigfoot: A Beast on the Run
Other // PG-13 // October 23, 2009
List Price: $30.00 [Buy now and save at Amazon]
---
"We don't care who don't believe us."
I remain convinced. Happy Monkey has released Bigfoot: A Beast on the Run, the 2008 David Thayer documentary on Bigfoot/Sasquatch hunters that colleague Bill Gibron previously reviewed in a Region 2, 1.78:1 anamorphic widescreen release. Unfortunately, this Region 1 disc I received has been transferred full-screen, with an annoying PAL shutter...which pretty much blows the pages and pages I wanted to write about this patchy but enjoyable documentary. Over two hours of bonus footage is included here...an hour of which, at least, should have been incorporated into this too-short (55 minute) documentary. The transfer really sinks this.
The premise is simple enough. Documentarian David Thayer, in a maddeningly slow, measured tone of voice, heads off to the Pacific Northwest to see what's up with Bigfoot "research" in the 21st century. Several key players in the field are interviewed, but aside from a previously unreleased audio tape capturing what might be a Sasquatch howling in the night, nothing startlingly new is brought to the table for dedicated Bigfoot followers (even in as short a run time as 55 minutes, Thayer has to fall back on discussions of the infamous Patterson-Gimlin film - which has been done to death in countless TV and feature film documentaries). The interest in Bigfoot: A Beast on the Run, then, comes from the casual, non-Bigfoot-involved viewer judging the interviewees: are they credible, are they sincere but seriously misguided, or are they head cases - with the emphasis placed by the director on straight-faced, stealth mocking, as is the norm for so many of these recent kinds of documentaries that look at American obsessives (come on, you snotty, overeducated festival crowds - laugh at these poor boobs and feel superior).
In Bigfoot: A Beast on the Run, we meet Todd Limberg, a pleasant young man who, during a frightening camping trip, recorded some haunting, scary howls about 40 miles east of Vancouver, Washington. Throughout the doc, we learn that the audio recording is deemed either "interesting" in terms of it not matching up with recorded sounds of known animals, or it's dismissed as simply some coyotes barking, with the various determinations made largely on whether or not the cited expert has a dog in the race to make money off the Bigfoot phenomenon. Zoologist Henner Fahrenbach is interviewed; he's a believer in Bigfoot, explaining away the lack of found corpses or bones due to the rapidity in which the environment (carrion-eaters, insects, rain, acidity of soil) claims any evidence. We also meet Jason Valenti, of the Sasquatch Research Organization, who takes us to "Area 62," a noted Bigfoot gathering area, where he and his associates imitate Sasquatch calls in the hopes of hearing something back. He admits it feels a little silly at first, but then it becomes quite a liberating experience (how come the director didn't ask the obvious: couldn't those answering calls Jason and his crew hear, be other Bigfoot imitators out there, doing the same liberating research?). He then discusses how documents in the Middle East prove that human beings are the result of genetic engineering with "indigenous hominoids," and that Bigfoots are perfect mimics of other animals (hence the confusing audio tapes of Sasquatch). Discussions about mysterious "men in black" who shut down Bigfoot believers when they get too close to the truth, are also proffered. Native American Twiuich (Daniel Arwood) discusses his tribe's belief in Sasquatches (why don't the Bigfoot debunkers ever attack Indian Sasquatch beliefs with the same vehemence and derision they reserve for the yokels, hicks and rednecks they make fun of? I'll tell you why: P.C. hypocrisy and fear, that's why).
Bigfoot research Thom Powell is interviewed. He has an elaborate hidden camera system, complete with night vision and computer guidance, to capture any Bigfoot he might lure onto his property through his offerings of food, honey, and convenient trails cut through the woods. He also mentions that his mail is being searched, the mysterious clicks he hears on his phone, and how his house has been secretively entered, with items stolen from it. Don Monroe of Idaho stops by and talks about Sasquatches that live in the caves around his desolate place...until they're scared off by the kids who party down there, complete with sleeping bags, beers and condoms (the belief that "Bigfoots don't use tools" could be taken a couple of ways here). Legendary Bigfoot matriarch Peggy Marx is interviewed, where she discusses her husband Ivan's participation in the equally famous feature film, The Legend of Bigfoot (a personal favorite of mine from the 70s). We even get a clip to view. She denies any hoaxing on hers' or her husband's part. We meet Dr. Jeff Meldrum, Associate Professor of Anatomy and Anthropology and Adjunct Associate Professor of the Department of Anthropology at Idaho State University, as well as Affiliate Curator of Vertebrate Paleontology at the Idaho Museum of Natural History. Dr. Meldrum is very careful not to use the word "believer" in his support of the theory that Bigfoot could exist, and he presents some very credible evidence to support that theory (through all the noise in the media about the world supposedly dying, we forget that each year, tens of thousands of new species of animals are still discovered on this planet - why not then, eventually, a Bigfoot?). And finally, we meet legendary Bigfoot "researcher," Tom Biscardi, of the now-defunct Great American Bigfoot Research Organization. Biscardi, who was involved in the filming of The Legend of Bigfoot, as well as the infamous "rubber Bigfoot suit in a block of ice" hoax of 2008 (remember when all the news stations carried that? Screams), lets us know he's not kidding around like other researchers: he's "24/7" on Bigfoot - and for a small fee, you can link up on your computer to a live feed of...something they're doing (he can't divulge what it is). He shows us his fleet of cars used for tracking Bigfoot in inaccessible, rugged terrain...including a two-seater, souped-up Corvette (perhaps to outrun Bigfoot on the Interstate?). His associate, Rob Shorey, tells us that Great American Bigfoot Research Organization isn't kidding around, either; they're "7/24" on Bigfoot. He revs up the cars for us. Oh, and we meet Neal Burgstahler, of the Western Bigfoot Conference, who believes Bigfoot is a paranormal phenomenon, who often enters an "inter-dimensional orb phase." According to Neal, the government had two Bigfoots in captivity (one was invisible), and that Bigfoots have the "power of Gods."
If you grew up when I did (during the Punic Wars), it's almost impossible not to have fond, nostalgic memories of the whole Bigfoot craze, when the mythical (?) beast permeated the popular culture (we had to have something to take our minds off Nixon, Ford and particularly Obama. I mean Carter.). I remember being dropped off for Saturday matinees, watching The Legend of Boggy Creek, Sasquatch, the Legend of Bigfoot, In Search of Bigfoot, The Legend of Bigfoot, The Mysterious Monsters, and of course, staying home to catch that episode where Steve Austin meets Bigfoot on The Six Million Dollar Man (didn't he turn out to be a robot or something? I mean Bigfoot, too?). It was such a fun story to believe when you were a kid, that some huge, hairy thing roamed the dark, dense forests, only venturing out to scare the occasional camper or backwoods bumpkin just to let everyone know he was still around from the days of Gigantopithecus. And out of respect for those fond memories of scaring myself to death as a kid for absolutely no reason because it's all fake, anyway - hey, in the mid-70s, The Legend of Boggy Creek was The Texas Chainsaw Massacre to the under-10 set - I'm certainly not going to pass judgment on the validity of any theory that debunks the Sasquatch legend because sure enough, the minute I do, someone is going to capture one and I'll get called out on the forums here ("You don't know sh*t about The Fugitive, Casino Royale, Gandhi, or Bigfoot, Mavis!"). I've been to just the edges of some of those vast, primordial forests in the Pacific Northwest, and let me tell you something if you haven't experienced them yourself: they're terrifying at night. I don't care what anybody says - including myself during the more rational daylight hours - something could live in there and not be found if it wanted to bad enough. Even a bipedal humanoid megafauna cryptid.
That being said, I just wish Bigfoot: A Beast on the Run had been a little more inclusive with that "bonus" footage, included here as extras, in the film's final cut. At a short 55 minutes, the doc just noodles around what could have been a definitive Bigfoot debunking/heralding chronicle. All that bonus footage works; it's not just window dressing like so much cut footage. In these extras bits, Tom Biscardi shows exactly what he's made of when he states people out in the country and backwoods are "inbreds" married to their sisters, while referencing Deliverance. Don't despair, eggheads, he has some words for you, too; according to Biscardi, PhDs and Doctors of various scientific disciplines are "whoremongers" (that doesn't stop him from lying about George W. Gill "working" for him). As well, we get a lot more information from Dr. Meldrum, who's really a fascinating guy with some intriguing theories on Bigfoot (too bad we can't get a doc just on him). And we get quite a few peripheral scenes that are absolute gems, like Don Monroe's long, remarkable dissemination of his theories on Bigfoot (things get decidedly...strange, when he lets on that he's "tuning into" how the Bigfoots communicate with each other), or Biscardi's associate Rob Shorey's unintentionally hilarious, ridiculous, self-important phone call with his car's On-Star operator, or his adamant assertion that "we do not waver" in the Great American Bigfoot Research Organization, referencing Biscardi's dedication to coming into work...with a sore thumb. All of that stuff is classic, so why was so much of it left out? Was it a time requirement, perhaps, for the independent film festivals Bigfoot: A Beast on the Run was submitted to? I don't know. But leaving out over two hours of prime footage (at least an hour of which would have proven irresistible for this too-tiny 55-minute doc) only lets the con artists off the hook who don't deserve kid gloves, while failing to give ample time for both believers and non-believers whose views are quite fascinating...no matter who turns out to be a head case.
The DVD:
The Video:
According to Bill Gibron's review, the Region 2 release of Bigfoot: A Beast on the Run sported a 1.78:1, anamorphically-enhanced widescreen transfer. Not so here. The full-frame, 1.33:1 transfer suffers from PAL transfer problems (lots of shuttering and jaggies), as well as obviously, the cropped image (which Bill writes looked pretty good in widescreen). Pixilation problems do crop up during some nighttime scenes, as well. Piss-poor presentation.
The Audio:
The 2.0 stereo track is, as Bill writes, problematic. There is a hell of a lot of ambient noise on the track (wind, mostly), that can drown out some crucial conversations (during one discussion with Todd Limberg, we hear another person, seated next to him, recorded at the same level as Todd, creating a total distraction). Some nice directional effects, though. There are no subtitles or close captioning options.
The Extras:
See above about the two hours of bonus footage.
Final Thoughts:
I like Bigfoot. So it's not going to be hard to sell me on a documentary about the big fella. Bigfoot: A Beast on the Run is certainly entertaining...once you add in those two hours of bonus footage. However, judged strictly by that brief 55-minute run time, Bigfoot: A Beast on the Run is slight. Unfortunately, almost none of that matters in this compromised full-screen release. You can rent Bigfoot: A Beast on the Run if you have a bumper sticker that says, "I Heart Bigfoot" or "I Brake for Sasquatch," but if you're looking to buy, try and get your hands on the widescreen Region 2 release.
---
Paul Mavis is an internationally published film and television historian, a member of the Online Film Critics Society, and the author of The Espionage Filmography.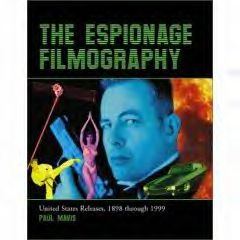 Sponsored Links
Sponsored Links