Other // PG // March 23, 2010
List Price: $14.95 [Buy now and save at Amazon]
---
"Keep the wheels off the grass and the Bears off your ass."
Blown engine. Flat tires. Matted-down shag carpeting. Cheezy Flicks (I could write a book on that name alone...) has released SuperVan, a grade-Z drive-in exploitation effort from 1977, shot in Missouri (it looks it), and starring, god help him, Morgan Woodward, Len Lesser, and a Special Supporting Cameo Appearance by...poet Charles Bukowski. While I'll admit to enjoying anything truly low-budget and crass from the 70s, just for nostalgia purposes alone, I can't see how anyone (unless they only read about these kinds of films, rather than having seen very many) could pass inspection on this junker.
It's 1976. Vans, and the CB radios plugged into them, are...huge with a defeated America already tired of Jimmy Carter, Donny & Marie, and the Chia Pet. So what else is a boy like Clint Morgan (Mark Schneider) supposed to do in his podunk little town but skip out on his father's lame-ass gas station job and head off in his customized Ford for the "Freak-Out '76" van invitational, where a kid with a dream and a Detroit-made pussymobile might stand to win 5 Gs for "Best Ride in Show." Riding through the monotonous back roads of Missouri (they couldn't find one pretty vista?), chatting to friends and strangers alike on his CB (handle: Morgan the Pirate. Chance of getting laid with said-handle: 50/50 in 1976), Clint just happens to hear over an open mic the sounds of Karen Trenton being viciously assaulted by a biker gang. Tearing into the junk yard, Clint drives off this smelly road company from Every Which Way But Loose, but uh oh! His van somehow gets chomped by the shredder. But hey - cool out, bro; Clint's a resourceful little dude. He's got an ace in the hole: his buddy, Boseley (Tom Kindle). Engineer Tom works for Mid American Motors Corporation, and he's a whiz with vans. He's supposed to be designing the next gas guzzler, the "Trenton Trucker," that will enslave stupid, carbon-burning-fuel-loving Americans while enriching the coffers of MAMC's owner, T.B. Trenton (Morgan Woodward). But instead, he's created Vandora. Vandora, also known as SuperVan, is a futuristic vehicle complete with solar panels that provide unlimited power (did I just hear the Goracle weep?), a huge front windscreen that opens up completely, a high-pitched, defensive whine (to blast people's ears, apparently), and a laser. Boseley just wants the credit for designing Vandora, and Clint wants the cash, so they're off to "Freak-Out '76," where quicker than you can say, "blown head gasket," everyone is getting high and pairing off in their "if this van's a'rockin', don't come a'knockin'" rides for some smelly, hairy, grubby mid-70s sex. There's only one problem for our hero, though: Karen is Trenton's daughter.
SPOILERS ALERT!, but seriously, you have to be kidding...
I expected the non-existent plot, the non-acting, and the inability for anyone involved in this Edsel to string together one, just one, reasonably coherent sequence and/or scene. I grew up on exploitation, every Saturday night at the drive-in, winter and summer (we had the electric heaters), rain or shine (we had one of those old rainshields with the big suction cups for the windscreen). Most 70s drive-in exploitation movies, with some notable exceptions (wouldn't you say Peckinpah's The Getaway is like the Gone With the Wind of drive-in fare from that period?), are sh*t, basically. They're poorly conceived and executed when compared with more mainstream, bigger-budgeted films, and what crude, base pleasures they offer (which can be considerable) come from a viewer's delight in artistic ineptitude and hopefully, vicarious thrills through violence, raucous laughs, and some nudity. And judged against that low, low standard, SuperVan miserably fails to deliver.
We had a creepy neighbor when I was a kid, whose tricked-out van was the subject of much conversation in the neighborhood (every single inch inside was covered in stitched Naugahyde). Even as a dopey kid, I knew that the customized van culture meant one thing for a lot of the guys practicing it: the hope (and prayer) that they might nail some chicks in the back of the van. It wasn't rocket science. So if I'm going to the drive-in in 1977 to see a movie called SuperVan, I would expect to see such sexual shenanigans. No such luck with the PG-rated SuperVan (god, who went to the drive-in to see anything like SuperVan that was rated PG?). The best we get here is a wet T-shirt contest (I wouldn't give a "3" to any of them), with a spectacularly out-of-place Charles Bukowski acting as "Water Boy" for five soundless seconds (what the hell was he doing in this movie? For that matter, what the hell was he doing in Missouri?). So...strike one: sex as a selling point is out (too bad, too, because Katie Saylor looks pretty good in that white turtleneck). How about some comedy, then, folks? Nope. There's an outhouse joke involving Len Lesser ("Jerry! Hello!"), but it's tired. And the gay guys in the van wouldn't make Paul Lynde blink. Morgan Woodward (Star Trek for guys who didn't date; Punk Anderson from Dallas for those that did) is funny for about five minutes, until you realize how utterly bored he is with the whole mess (it's pretty sad to see this talented actor feigning sexual excitement by squirting whipped cream on a naked girl's breasts...and then we don't even get to see it!). So, no laughs makes it a swing and a miss: strike two on the exploitation meter.
Well, then - at the very least, can we have some action? To say the look of Vandora the SuperVan is "underwhelming" is to be kind. Designed by the king of all car customizers, George Barris, SuperVan looks like nothing more than four AMC Pacers chopped up to make a limo. Why anyone at that "Freak-Out" would be impressed with Vandora is mystery alone (there's nothing in Vandora: no fridge, no TV, no table, no lamp, no carpeting, not even any blinds or curtains, for god's sake, and certainly no airbrushed, metal-flaked masterpiece involving wizards or unicorns or cowboys painted on its exterior), but then...what does Vandora do in the film? He/she gets Clint out of jail with a laser beam (sad), and breaks the eardrums of a pursuing cop, but that's about it. As for the car chases, in 1976, you could get a better chase on Cannon, Mannix, Hawaii Five-O, or Barnaby Jones on any given night of the week than the ones staged by director Lamar Card (The Clones, Disco Fever). SuperVan drives down the highway, making that annoying noise. A cop chases. Can't catch it. Strike three, and thus one has to wonder: if I can't get the three most basic exploitation pleasures out of the film, what good is it? Exactly.
The DVD

The Video
I don't like it, but I don't mind when an exploitation movie like SuperVan is sourced for transfer from video. Who knows where prints, let alone negatives, are for these kinds of obscure titles? Life's far from perfect, so why kvetch? The problem I have with SuperVan's full-screen, 1.33:1 transfer is that it was taken from such a sh*tty video dupe. The original source materials are badly scratched, but I can live with that - the constant video rolls and glitches I can not. Unacceptable; either find a good VHS copy and transfer, or forget the DVD.
The Audio
Same with the English mono audio track. It's marginally better than the video, but not much, with a lot of hiss and fuzz, low recording levels, and no subtitles or close-captions, obviously. Very weak presentation.
The Extras
There's a lame Intermission Time (4:44) collection of drive-in intermission clips you've all seen before (although I do love the irony of the Bernz-O-Matic in-car heater, with that hilariously dangerous propane tank hanging off your window). Julie Andrews shills for the MPAA (god, she's a stiff, sexless bore). And what the hell is a Shasta™ television commercial starring John Fiedler and Frankenstein doing in this drive-in compilation? Strike four, five, and six, Cheezy.
Final Thoughts
Needs a tow. No action, no laughs, and no nudity, and don't come back at me and write, "Well, what did you expect for PG?" I'll tell you what I expect...I don't expect I'd be going to the drive-in to see a PG-rated actionless, sexless, laughless snoozer like this (and ratings have nothing to do with a good time at the drive-in: the Disney triple-features and Three Stooges all-night film fests ruled back then). How do you screw up a movie about a futuristic van and wet T-shirt contests? Put this one up on blocks. You can skip SuperVan.
---
Paul Mavis is an internationally published film and television historian, a member of the Online Film Critics Society, and the author of The Espionage Filmography .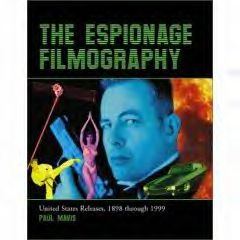 Sponsored Links
Sponsored Links