Father Knows Best: Season Five
List Price: $39.99 [Buy now and save at Amazon]
---
Not only one of the most influential sitcoms in television history, but also one of the finest dramas from 1950s TV. Shout! Factory has released Father Knows Best: Season Five, a six-disc, 38 (!) episode collection of the seminal series' 1958-1959 season, when it switched back to CBS and finally cracked the Nielsen's Top Fifteen. Quality all the way down the line, from the sweet, knowing performances by the appealing cast, the expertly-crafted, intelligent scripts by series' regulars Roswell Rogers, Dorothy Cooper, John Elliotte, and Paul West (among a few others), and understated direction from legendary (in my mind, at least) director Peter Tewkesbury (who helmed every episode this season), Father Knows Best is a most rewarding TV experience: gentle, touching, humorous, and thoughtful. It's a cliché, but true, nonetheless: television doesn't get any better than this wonderful series...and Season Five is no different.
Springfield, in the Great American Midwest, circa 1958-1959. Jim Anderson (Robert Young), crackerjack agent for the Cavalier Casualty Insurance Company (wasn't it the General Insurance Company the previous season?), has an equally important job at home: helping his lovely, smart wife Margaret (Jane Wyatt) take care of their three growing children. Eldest Betty Anderson (Elinor Donahue) is now a junior in college, and when she's not obsessing about doing everything perfectly (including the proper etiquette for romancing in 1950s America), she's beginning to find her own voice and purpose outside her family role as father's "Princess." High schooler James, Jr.--"Bud" to everyone (Billy Gray)--is also beginning to evolve away from embodying the typical American teenaged boy, only interested in sports and his broken-down hot rod, towards a thoughtful, sensitive young man groping for the first time with big issues like personal responsibility and self-image, and of course, love, as he completes his senior year. Youngest daughter Kathy ("Kitten") Anderson (Lauren Chapin), too, is fast-approaching the point where she'll leave behind the games and fantasies of young childhood for the more confusing, more rewarding - and more painful - realities of a young adult. The daily adventures of the Andersons might seem mundane, but within those small, daily occurrences, a surprisingly layered, deft view of the human condition shines through.
SPOILERS' WARNING!
Earlier this year, I wrote a review of Season Four of Father Knows Best, celebrating the series as a significant achievement in the popular culture of the 1950s, while defending its relevancy to today's viewer (you can read that review here, for context). So I'm not going to go over the same ground in any depth here. Suffice it to say, Father Knows Best (and other sitcoms like it from that era of network television), frequently denigrated by today's academics who despise its so-called "traditional" views and perceived "backward" social and political attitudes, is actually quite honest and thoughtful (and most importantly, humorous, too) in the universal themes it explores, giving a warm, understanding vision of an admittedly idealized family that still engenders sympathy and identification with audiences today...if, sadly, they're even still aware of the show. During its original run, and then later in network re-runs and syndication, Father Knows Best reached saturation levels with American households over the decades, elevating the Anderson family into an iconic, ideal representation of the American family. However, I'm not sure where it is on the radar with audiences today. Is it only known to the over-40 crowd who grew up on constant re-runs of it? Do younger viewers remember it from its more recent syndication runs on Nick-at-Nite and TVLand in the 80s and 90s? Does it play anywhere today on a regular basis, or is it considered too ancient and square to ever take a prominent place in syndication again (the fact that this season is only available for direct mail-order should probably answer that question)?
Watching these 38 episodes (one or two are actually "clip shows" with new bracketing material, while one, Margaret Goes Dancing, is a rather jarring direct lift from Season One, with no flashback explanation), I was again taken with what a delightful, well-written and solidly-performed show it is. Looking back over my notes, there isn't one that falls short of being at the very least entertaining and funny, while the overwhelming majority of them showcase scripts that are models of effective construction, with sensitive, layered themes and astute observations on how we all interact as families--a remarkable accomplishment for such a high number of episodes. One of my favorite examples of this inventive construction this season--courtesy of the series' workhorse, Roswell Rogers--is Always Plan Ahead. Tired of seeing the children taking last-minute advantage of Margaret for a host of chores and duties, Jim and Margaret decide to pull a prank on them: they promise a fictitious trip to the State Fair on a day when they know the kids have their own plans, with the kids naturally upset with their parents for planning something that big at the last minute, without consulting their schedules. Touché, Margaret and Jim think...until the kids learn their lesson and become resourceful and self-sufficient (just as their parents wished), getting all of their commitments out of the way. Now Jim's stuck with a commitment he can't ignore...and yet he has to work; he can't get away from the office. With nowhere to hide, Jim is reduced to literally wishing for a rainstorm to deliver him from having to tell the kids the trip is off, and he's delivered...but seeing the kids' disappointment, he decides what's the point of constant work if he can't enjoy his family. And just as fortuitously, the storm blows over. Expertly crafted, giving equal doses of suspense, humor and a timely message (then and today), the real miracle of Always Plan Ahead is that it's just one of over 30 similar episodes this season that are equally masterful in achieving such an artistic mix.
Indeed, I could write a paragraph or two on most of these episodes (I just heard my editor drop dead), such is the weight of the achievement here. Throughout many of the episodes here in this fifth season, a sense of time passing is definitely noticeable, a feeling that the children are growing up and away from the family. Betty' stories are increasingly more adult in theme, as she flirts in the season opener with getting married (Vine Covered Cottage), before she ponders leaving the nest (Be Kind to Bud Week, where she worries about missing out on being close to her brother). Little Kathy isn't so little anymore when she gets her first serious boyfriend in Kathy's Romance, while in the very touching (and aptly titled) Kathy Grows Up, Lauren Chapin is wonderful getting across that painful period of transition when a child realizes she no longer is a child...nor an adult. Voice From the Past is a remarkable episode from screenwriter Dorothy Cooper, which begins humorously with Bud stretching his wings, wishing to be rebellious when he's elected to the Decorating Committee (he wants to "dress up" a town statue), and thus clashing with his more traditional father. When a long-forgotten, youthfully indiscreet moment from Jim's past comes to light, it gives father and son a chance to understand each other and truly bond. Their final exchange together is memorable. Bud, perhaps embarrassed by his emotions, forges ahead: "You know, Dad, you may not believe this, but every once and awhile...you get through to me," to which a visibly moved Jim responds, "Right now, you many not appreciate how much those words mean to me, Bud. But some day, when you're a father...you'll know."
Critics and pop culture historians (bleech!) who still insist that 1950s TV was a wasteland of P.C. offenses, would do well to actually watch some television from that time period. In Betty, The Pioneer Woman, a chance to reenact a famous husband/wife feat of pioneer endurance gives Betty a chance to reassert her proto-feminist chops by not only puncturing male chauvinist Dick York's b.s., but also single-handedly doing a "man's job" of completing the trek while pulling along the injured York in a cart (what did girls think of that in 1958???). And for Betty Friedan fans, An Extraordinary Woman shows successful author and world-traveler Constance Ford realizing yet again that her childhood rival, Margaret, still has it over her, with a loving family and a gift for doing her job well...and that job would be the hardest one there is: making a lovely home, being a wife, and raising well-adjusted, loving children (Jim tells Ford that "the way [Margaret] goes about being a wife and mother makes it an enviable art") Contrary to the faux-notion that 1950s TV was a fantasy oasis of perfect fathers, in Kathy's Romance, her boyfriend develops a serious case of father worship for Jim...because his own father works away so much he doesn't even know him (and Jim's none-too-understanding at first, not "knowing best" to not yell at the boy out of insensitive frustration). As for all TV teenage girls being polite and well-mannered to the point of ridiculousness, check out the nasty high school clique in Bud, The Campus Romeo, who bully and threaten a new girl for asking the egomaniac Bud out when they already told her not to--you won't see that kind of behavior over on The Danny Thomas Show or The Real McCoys. Even more remarkable is Crisis Over a Kiss, a proto-date rape story (!) where Jim and Margaret have a serious discussion with Betty's over-eager suitor, Ron Ely (Tarzan), about how far a boy can go with a girl, and when he should respect her "No." Neatly stylized (there's a subplot involving Bud's own culpability in the matter...since he took a girl to the very same make-out place in the hopes of doing exactly what Ely was up to), and sensitively written by John Elliotte, Crisis Over a Kiss is surprisingly honest and forthright in this tense little drama.
And as always with Father Knows Best, there are those episodes that seem to come out of nowhere, beginning on an innocuous or even silly note, that turn unexpectedly poignant. In Betty Makes a Choice, a seemingly routine episode about Betty's anxiety over a dance try-out turns quite sad as she realizes how she is to have a loving, middle-class family, when her rude competitor has only her hard-won dancing skills to prove her self-worth. In Bud, The Caretaker, a funny little episode about Bud watching John McIntyre's beloved car while he's on vacation turns the story around to show yet again how lucky the Andersons are to have each other, as the simple act of welcoming the man home (ironically, they're trying to stall him as Bud returns his damaged car), touches the lonely old man. Billy Gray, excellent as always with serious scenes, is again quite good in Bud and the Debutante, when he realizes that he's a snob when it comes to entertaining his wealthy date (Paul West scripted this sensitive episode, with a good assist by actress Adrienne Hayes as the rich girl who just wants to be with Bud, regardless of money). In Margaret Wins a Car, what could have been a standard sitcom plot about the misadventures of winning an expensive new car, is used instead to highlight the truly loving, caring nature of the Andersons, as they decide an orphanage could use a station wagon more than they could use a $7,000 sedan (watch an angry Margaret call her own kids brats and tell them she's ashamed of their selfishness, and then tell me that 50s TV was idealized and unrealistic). And in my favorite episode this season--its last--The Gold Turnip, Bud dreads getting his Dad's old pocket watch for a graduation gift...until he realizes just how much his father loves him, and trusts Bud to express himself. Beautifully understated and tender, it's just another example of why Father Knows Best was not only a seminal sitcom, but one of 1950s TV's best dramas.
Apparently, American audiences agreed, giving Father Knows Best its highest rating so far for this fifth season, tying for 13th in the year-end ratings with The Zane Grey Theatre. This sudden rise into the Nielsen Top Fifteen after a switch back to the CBS network (usually a death knell for a series because viewers had to switch viewing patterns to find their favorite show) was all the more unusual since Father Knows Best aired opposite NBC's Tales of Wells Fargo, which ended the season with a strong 7th in the ratings...although that was down from 3rd the previous season (the first indication of what the sitcom would do to the popular western). In Father Knows Best's final season, before Robert Young cancelled the series at the absolute pinnacle of its ratings success, the iconic sitcom would knock Wells Fargo out of the Nielsen Top Thirty altogether, attaining a remarkable 5th most popular show for its sixth and final season of original episodes. Let's see how those turn out for Shout!'s Six Season release.
The DVD:
The Video:
As with the Season Four set I reviewed, there's no getting around the fact that the full-screen, 1.33:1 transfers used here for Father Knows Best: Season Five come from original materials (or video dupes, in some cases) that vary greatly in quality. Occasionally, you'll get a high-quality print that looks as good as anything a studio like Paramount will put out for its vintage TV releases. But mostly, they're of a lesser quality here, with grain and some video noise apparent, contrasty shifts now and then, and a soft picture. It's not terrible (and stepping down to a smaller monitor helps), but this isn't top of the line (but they do look complete in run time, and that more than makes up for the quality).
The Audio:
The Dolby Digital English mono audio is a problem, though. Hiss is apparent and consistent, and recording levels are all over the place. Vintage TV lovers won't even notice, but newcomers might have some adjustments to make. English close-captions are not available.
The Extras:
Two more episodes of Robert Young's series, Window on Main Street are included. I've written before about these intriguing episodes before, and again: I'd like to see an individual, complete series release for these. It's an unusual construction for a drama/comedy/drama, and I like it better every time I see it. Two episodes are included: The Editor's Daughter and The Big Spender. Excellent bonus.
Final Thoughts:
Perfection. Really. One of the greatest sitcoms in television history is also one of the 1950s' best dramas, with plenty of eye-opening, "modern" episodes that should throw the P.C. squads into a confused tizzy. The Andersons become an iconic vision of the perfect American family for a reason: they're warm, intelligent, they're funny, they make mistakes, and they love each other. Scripting, direction, and performances are of the highest quality. As with Season Four, I'm giving Father Knows Best: Season Five our highest rating here at DVDTalk: the DVD Talk Collector Series award, and that's on content alone.
---
Paul Mavis is an internationally published film and television historian, a member of the Online Film Critics Society, and the author of The Espionage Filmography.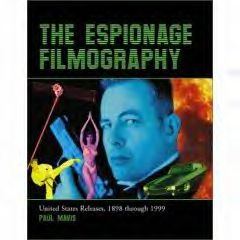 ---
C O N T E N T

---
V I D E O

---
A U D I O

---
E X T R A S

---
R E P L A Y

---
A D V I C E
DVD Talk Collector Series
---
E - M A I L
this review to a friend
Sponsored Links
Sponsored Links