WWE: Ladder Match 2 - Crash & Burn
Other // PG // October 11, 2011
List Price: $29.93 [Buy now and save at Amazon]
---
Disclaimer: Somewhere between my affinity for globetrotting documentaries, Martin Scorsese films and The Criterion Collection, I found a soft spot for professional wrestling. Don't ask me how this happened; it just did. Despite this declaration, I shower daily, all my teeth are accounted for, I have a college degree...and, most importantly, I have a wife with the same merits. I'm not alone, of course. The wrestling fans I know aren't slack-jawed yokels; they simply appreciate the spectacle and illusion that this genuine sport creates, in the same way movie lovers enjoy fast-paced fights and thrilling chase sequences. Long story short: we know this stuff is "fake", but we like it anyway.
Speaking of fast-paced fights and thrilling chase sequences, it's doubtful that you'll find a better example of these in wrestling than a ladder match. Typically, here's the formula: a desired object (such as a championship belt) is suspended high above the ring, only accessible by a ladder. The only way to win is by obtaining the object before your opponent does---and doing so requires more physical risk than a traditional wrestling match. One slip could lead to a concussion, broken bone or worse---but if there's one thing that any athlete should understand, it's that danger is always a reality.
WWE released The Ladder Match in 2007 and it's still one of my favorite go-to wrestling compilations. This three-disc sequel digs a little deeper into the company's vault, producing a few great vintage matches---some of which are new to DVD---and a handful of recent ones too, thanks to the growing popularity of "Money in the Bank" matches. All told, we get 21 brawls and a number of Ladder Match history segments, though it's worth noting that the Blu-Ray edition includes a few more.
Table of Contents: Disc One | Disc Two | Disc Three
Highlights include the historic Shawn Michael vs. Razor Ramon match from Wrestlemania X, The Rock vs. Mankind from Raw 15th Anniversary, 3 Count vs. Jung Dragons from New Blood Rising 2000, another tag match between Edge & Christian and The Hardy Boyz from Raw in 2000, Team Angle vs. Eddie Guerrero & Tajiri from Judgment Day 2003, The Hardy Boyz vs. The World's Greatest Tag Team from One Night Stand 2007, John Morrison vs. Sheamus from TLC 2010 and many, many more. There really isn't a bad match here, though a few of the early to mid-1990s bouts obviously don't rely on non-stop highlights as much. All things considered, this is a worthy follow-up to The Ladder Match and has plenty of replay value...so if you enjoyed the first installment, this sequel should be right up your alley.
On the technical side of things, this three-disc set is generally on par with modern WWE compilations: production values are decent and most of the original content is still intact (save for mentions of the "WWF" name, both verbally and the "Attitude Era" scratch logo). Let's take a closer look, shall we?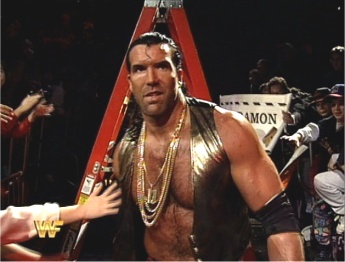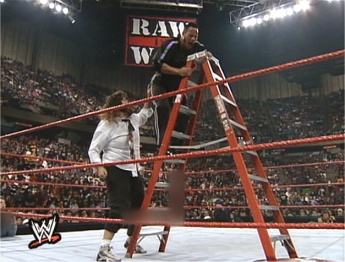 Quality Control Department
Video & Audio Quality
Presented in a 1.78:1 aspect ratio and enhanced for 16x9 displays, Ladder Match 2 isn't quite on par with other like-minded WWE DVD releases...even taking the age of certain matches into account. While the main documentary and the most recent matches (2008-current) generally look good and utilize the maximum resolution of the frame, everything else suffers a bit more than usual. These 1.33:1 matches are thankfully uncropped, but they are windowboxed; vintage WCW matches look especially soft, and there's a noticeable level of compression artifacts from start to finish. With that said, these source material and digital issues have affected every WWE DVD I've seen thus far, so it's not surprising.
The audio is presented in 5.1 Dolby Surround and 2.0 depending on the match; likewise, it's similar in quality to other recent WWE releases. Crowd noise and regular play-by-play commentary come through loud and clear, creating a satisfying soundstage overall. Again, newer matches obviously sound a bit cleaner and more well-defined, but this is strictly a source material issue. Optional subtitles, Spanish commentary or Closed Captions are not offered during any of the content, unfortunately.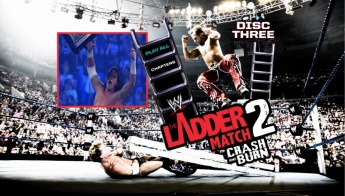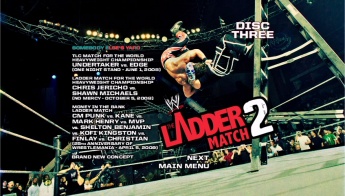 Menu Design, Presentation & Packaging
Seen above, the plain-wrap menu designs are basic and easy to navigate. Each of these three discs is divided into several dozen chapters---one per match or interview segment---while no obvious layer changes were detected during playback. This three-disc release is housed in a foldout digipak case with no slipcover or promotional inserts, though a match listings are printed on the packaging interior.
Bonus Features
Due to the presentation style of this release, no traditional bonus features are included on the DVD version. In any case, it's hard to complain when you get this much content for less than $30.
Final Thoughts
Ladder Match 2: Crash and Burn is another top-tier WWE compilation filled with several hours of action, danger and excitement. This mixture of new and vintage matches offers something for wrestling fans of all ages, while the additional history segments do a good job of keeping things in perspective. WWE's three-disc package serves up a decent technical presentation, though the separate Blu-Ray edition also includes a handful of bonus matches. Either way, you can bet that Ladder Match 2 delivers plenty of bang for your buck...not to mention tons of replay value. Highly Recommended.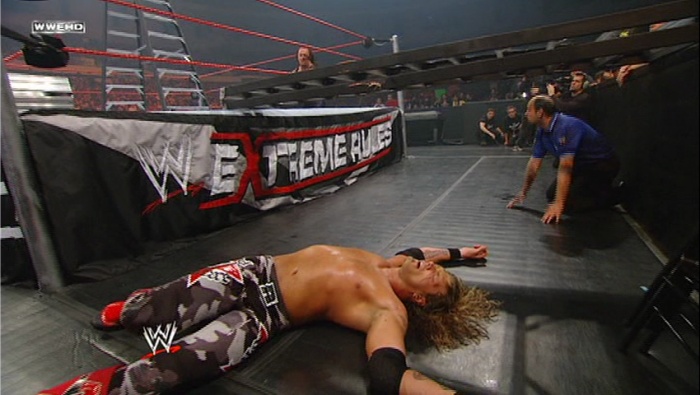 ---
Randy Miller III is an affable office monkey based in Harrisburg, PA. He also does freelance graphic design projects, teaches art classes at a local gallery and runs a website or two. He also enjoys slacking off, telling lame jokes and writing stuff in third person.
---

---
C O N T E N T

---
V I D E O

---
A U D I O

---
E X T R A S

---
R E P L A Y

---
A D V I C E
Highly Recommended
---
E - M A I L
this review to a friend
Sponsored Links
Sponsored Links