Tennessee Tuxedo and His Tales: The Complete Collection
List Price: $49.97 [Buy now and save at Amazon]
---
Must-see vintage toon for the small fry. Shout! Factory, vintage television fans' favorite releasing company, has put out Tennessee Tuxedo and His Tales: The Complete Collection, a 6-disc, 70-episode collection that gathers together for the first time all of Total Television's iconic educational cartoon. Featuring the voicework of Don Adams, Bradley Bolke, Larry Storch, and many others, 1963's Tennessee Tuxedo and His Tales seemed to play forever on syndicated afternoon TV when I was a kid, and almost fifty years later...it still works for little kids coming to it fresh and new, waiting to be educated and entertained. Tons of extras including an amazing 92 additional supporting toons that were inserted into the various versions of Tennessee Tuxedo and His Tales―The King And Odie, Tooter Turtle, and The Hunter―as well as numerous commentary tracks and a new featurette on the toon's production, make this well-designed Shout! Factory release a must for vintage animation fans, and for parents looking for something sweet and mild (and yes, educational) for their littlest children.
Megapolis Zoo Director Stanley Livingston (voice talent of Mort Marshall), along with his zoo keeper sidekick Flunky (voice talent of Kenny Delmar), have arrived at the South Pole in search of animals for their collection when they spot a most curious sight: a North Pole walrus named Chumley (voice talent of Bradley Bolke). Chumley, not too bright but exceedingly good-natured, is friends with staccato-toned hustler Tennessee Tuxedo (voice talent of Don Adams), who wants to go back to the zoo with Chumley to experience big-city life. Once there, he's distressed to find himself in a zoo, so he figures the best way to be treated like humans is for he and Chumley to escape and go get jobs (bless you, Tennessee). Invariably, though, these jobs prove troublesome for the untrained animals, so a daily trip to college professor Phineas J. Whoopee (voice talent of Larry Storch), the "Man With All the Answers," is in order, where various scientific and mechanical processes are explained on his fabulous Three Dimensional Blackboard. The lectures are fascinating, but frequently, they lead to even more trouble for our duo, trouble compounded by the likes of nemeses Jerboa Jump (Bolke), a kangaroo rat, and Rocky Maninoff (voice talent of Jackson Beck), a gangster with a suspiciously Bogie-like accent.
I couldn't remember the last time I watched Tennessee Tuxedo and His Tales but it all came flooding back to me at the first few notes of that famous little theme song. I experienced the show almost a decade after it first premiered, but as I've written before in other reviews of vintage TV shows kids from my generation enjoyed in syndication, something like Tennessee Tuxedo and His Tales occupied this weird limbo state in our consciousness where we kind of figured it was an older show, but we were never quite sure how old. Tennessee Tuxedo and His Tales's main claim to fame today may rest on its deliberately educational slant, but like anything produced for television, then and now, its original purpose was strictly commercial: specifically, to sell General Mills® cereals and products. Produced by Total Television, a subsidy of General Mills specifically created to provide GM-sponsored TV programming, and overseen by four New York advertising men (Buck Biggers, Chet Stover, Treadwell Covington and Joe Harris), Total Television contracted out Mexico City's Gamma Productions for TT's series' actual animation (the same animators responsible for Jay Ward's The Bullwinkle Show). TT's first hit, King Leonardo And His Short Subjects, premiered on NBC's Saturday morning line-up in 1960. Tennessee Tuxedo and His Tales premiered on CBS in 1963 (for a healthy three year run), and later, Underdog, probably Total Television's most famous toon, blasted off on NBC's Saturday morning lineup in 1964.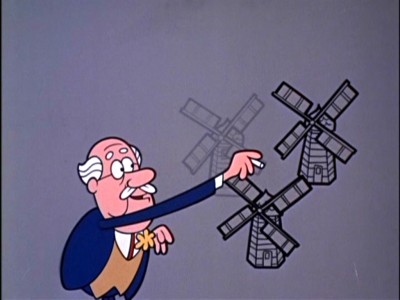 Considering the breadth of this collection from Shout! Factory, and the obvious loving care that went into providing all the extras here for Tennessee Tuxedo and His Tales fanatics, I confess to feeling a little guilty that I won't be delivering up a correspondingly lengthy review (as my three regular readers sigh with relief...). It's not that the show isn't worthy of such an examination...for a hard-core fan. It's just that I, only an admirer of the show from way, way back, find myself wondering what I could possibly discuss in that much depth. According to the numerous commentaries included on the set, General Mills specifically requested that Total Television "tone down" Tennessee Tuxedo and His Tales' humor so as not have another Bullwinkle Show where the smart-assed, sometimes surreal humor went completely over the heads of the kids watching the show. So, Tennessee Tuxedo and His Tales is very...sweet, and gentle, and mildly amusing―for little kids. But it's certainly not laugh out loud funny like Bullwinkle or the Looney Tunes.
That doesn't mean Tennessee Tuxedo and His Tales is necessarily "lesser" than those efforts; on the contrary, in context, it hits its goal precisely: it entertains little children, while giving them something a little bit extra that might stick with them. Of anything in Tennessee Tuxedo and His Tales, those 3DBB segments with Phineas J. Whoopee will most likely bring adult and child together when watching the show, because they're executed with speed and dash and a little bit of humor―the best way to learn something when you're young (I was shocked at how many of these segments came back to me on viewing, particularly how a combustion engine works). As for the toon itself, the almost crude Gamma animation here isn't used as its own joke, as it was in Bullwinkle, but it does have a nostalgic charm to it that I found pleasant (the frames are pretty empty, but there are times when a striking design will pop out, frequently when they switch up the perspectives, going overhead and making characters and buildings and streets stretch and squeeze). The voice work is top-notch, though, particularly from Storch doing Frank Morgan, and Bolke's funny, endearing Chumley, but truth be told, Adams' clipped William Powell take is the least impressive here, coming off flat (and maybe even a little annoyed?) and largely unfunny (none of the commentators, even Adams' childhood friend, Storch, had much to say about him on the tracks). Hopefully, this doesn't read as too negative for Tennessee Tuxedo and His Tales. Despite all those caveats thrown out there, I'd still rather watch it with my littlest daughter and son, than most of the inane tween-coms that seem to be increasingly clogging up the kids' cable channels. Tennessee Tuxedo and His Tales may not be any Bullwinkle Show, but it's still sweet and light, and amusingly informative. And that's enough in my book.
The DVD:
The Video:
The full-screen, 1.33:1 color transfers for Tennessee Tuxedo and His Tales: The Complete Collection look quite good, considering Shout!'s constant on-screen warning about having to use the best possible elements available. An entry like Giant Clams looks pristine, while occasionally, others might have a scene or two taken from a duped copy (like the opening title sequence for The King And Odie toons). Overall, though, I thought the elements looked a lot better than I expected. Of note, however: I noticed two on-screen blurbs from Shout! indicating that two toons advertised on the DVD case were missing from the final release (apparently not in time to notify the printer): The Unteachables, a Tooter Turtle short, and Bye Bye Bees, a The King And Odie toon (if I missed another one, let me know, Tuxedo fans).
The Audio:
The English split mono audio was surprisingly strong, with low hiss and clear dialogue. No closed-captions or subtitles were available.
The Extras:
Extras are abundant here in the Tennessee Tuxedo and His Tales: The Complete Collection. First, supporting toons that were variously inserted in Tennessee Tuxedo And His Tales episodes over the years are included: 38 The King And Odie toons, 37 The Hunter toons (featuring Kenny Delmar doing his "Senator Cleghorn" voicework), 12 Tooter Turtle toons, and 5 Klondike Kat ("Savoir-Faire...is everywhere!"). That's a rather astounding number of additional toons here for the vintage animation fan (if I didn't find many of them as funny as the Tuxedo shorts...my five-year-old daughter did, and that's probably what counts, right?).
Next up, feature length commentary tracks. Total Television creator Buck Biggers, interviewed by cartoon historian Mark Arnold (who's good on the animation details), are featured on the first Tennessee Tuxedo toon, Mixed-Up Mechanics and the final one, Samantha. Mark Arnold talks with Chumley's Bradley Bolke on Aztec Antics, Tale of a Tiger, and A Wreck of a Record. Mark Arnold solos on Wish Wash, and Royal Rodeo, a The King And Odie short. And Wally Wingert talks with Prof. Whoopee's Larry Storch on Telephone Terrors or Dial "M" For Mayhem and Perils of a Platypus. Some of the info conveyed in these fun commentaries gets repeated throughout, by both commentators and moderators, but solid production info is given, and overall, they're quite interesting.
Finally, a featurette, Tennessee Tuxedo Never Fails, running a good 24:00, has Arnold and his commentators discussing pretty much what was covered in the commentaries (with Arnold's rather ridiculous assertion that TV prior to Tennessee was "a lot of just live television with aging vaudeville performers")...although it's good to see everyone in such good health and fine spirits. Also included―although not advertised on the disc covers―are several Riddles tags (running 3:35) for Tennessee Tuxedo ("Gee, Tennessee...how about another riddle?" came right back to me...), and some original bumpers, opens, and previews that run 6:45 (how many versions of that opening theme did they record?). And to wrap it all up, a color-soaked 16-page insert gives a summary of the series, along with bios on the cast. Whew! That's a lot of extras for this little cartoon!
Final Thoughts:
Shout! Factory: you're the greatest! Proving once again that they're the premiere releasing company for vintage television, Shout!'s Tennessee Tuxedo and His Tales: The Complete Collection is a beautifully-detailed look at this beloved Boomer toon, and while original fans may not laugh quite as hard as they did back in front of their black and white sets...their little kids will have no trouble enjoying the exploits of Tennessee and Chumley and Professor Whoopee. For vintage animation fans, Tennessee Tuxedo and His Tales: The Complete Collection gets our highest award here at DVDTalk: the DVD Talk Collector Series.
---
Paul Mavis is an internationally published film and television historian, a member of the Online Film Critics Society, and the author of The Espionage Filmography.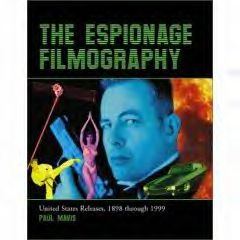 ---
C O N T E N T

---
V I D E O

---
A U D I O

---
E X T R A S

---
R E P L A Y

---
A D V I C E
DVD Talk Collector Series
---
E - M A I L
this review to a friend
Sponsored Links
Sponsored Links