Jerry Lewis as The Jazz Singer
Other // Unrated // February 7, 2012
List Price: $14.98 [Buy now and save at Amazon]
---
A valuable, entertaining piece of vintage television history―and another indispensable piece of the puzzle in Jerry Lewis' remarkable career. Inception Media Group, through the personal archives of Jerry Lewis, has released Jerry Lewis as The Jazz Singer, an incredibly rare, one-of-a-kind transfer of Jerry's 1959 dramatic effort for NBC's Startime variety series. Directed by Ralph Nelson, adapted from the celebrated short story and play by Samson Raphaelson, and co-starring Eduard Franz, Molly Picon, Alan Reed, Anna Maria Alberghetti, Barry Gordon, and Del Moore, The Jazz Singer is a significant milestone not only in Jerry Lewis' acting career, but also an important moment in the history of taped color television (most sources incorrectly state that The Jazz Singer was performed and broadcast live). In addition to Lewis's restored color transfer, a black & white kinescope of the broadcast is included for comparison, and there's a photo gallery and brief featurette with Jerry's son, Chris, detailing this video's noteworthy restoration efforts.
New York City, 1959. In a second-rate nightclub, TV and singing star Ginny Gibbons (Anna Maria Alberghetti) drags the producer of her upcoming television special, Harry Lee (Del Moore), to see bottom-feeder Joey Robbins (Jerry Lewis) perform his act of comedy patter and "jazz" songs. When Lee proves to be a rude bore, interrupting Joey's act, Joey lashes out unfairly at Ginny, suspecting she's grandstanding for his audience's applause. As they get up to leave, however, Joey's manager, Tony De Santos (Joey Faye), begs them to stay and at least hear Joey sing. Convinced by Tony to go that night to Ginny's venue and apologize, Joey discovers that Ginny wants him to fly out to L.A. and begin rehearsals for her new TV special: Joey's big break has finally come. What Ginny doesn't know is that "Joey Robbins" is actually Joachim Rabinowitz, the wayward son of respected―and rigidly Orthodox―Cantor Morris Rabinowitz (Eduard Franz), who has disowned his son when Joachim refused to carry on the family tradition of becoming a cantor. Joey sends a telegram to his still-grieving mother, Sarah (Molly Picon), telling her that he'll be in L.A. for Poppa's upcoming birthday, news that thrills Sarah and her gregarious, understanding brother, Nate Gitlleson (Alan Reed). Cantor Rabinowitz, however, is not so forgiving, and soon, Joey will have to choose between his father's traditions, and his own artistic desires, when the Cantor falls deathly ill.
The Jazz Singer was produced by Lewis' Colgate Comedy Hour producer Ernest Glucksman for NBC's Startime variety/anthology series, a heavyweight effort sponsored by talent-packager MCA (which made a fortune off a sweet participation deal) and the Ford Motor Company that NBC hoped would make a dent in their 9:30 Tuesday night competition over on CBS: fifth most-watched show in the country The Red Skelton Show. Alternately titled Ford Startime―TV's Finest Hour or Lincoln-Mercury Startime―TV's Finest Hour depending on which division was sponsoring that week's particular program, Startime featured big-time talent like Jerry Lewis, Dean Martin (working separately, of course), Alfred Hitchcock, Jack Benny, George Burns, as well as film stars not usually associated with television efforts―Alec Guiness, Ingrid Bergman, James Stewart, Joan Fontaine―in one-off variety, comedic, or dramatic specials. Startime didn't succeed in the ratings, lasting only one season (indeed, by January, 1960, NBC moved it out of the way of juggernaut Skelton...right into the path of ABC's 8:30pm hit, The Life and Legend of Wyatt Earp, where it fared no better), but it was an expensive, important early step in NBC's efforts to introduce color programming as the standard for network broadcasting.
Jerry Lewis' The Jazz Singer was Startime's second offering of the season, debuting on October 13th, 1959. Scripted by newly-reinstated blacklisted writer Oliver Crawford (everything from The Fugitive and Rawhide, to Gilligan's Island and Love, American Style), from an adaptation of Raphaelson's play by director Nelson and producer Glucksman, The Jazz Singer was intended by comedian Lewis to be a marked departure into the dramatic field, hints of which had already crept into his solo film efforts such as The Delicate Delinquent. Referencing source material that had a particular emotional hold for Lewis, and reflecting the usual passion Lewis had by this point for overseeing every aspect of his projects, The Jazz Singer could then have had the potential to open up other avenues for Lewis' art (Lewis idolized The Jazz Singer's star, Al Jolson, even emulating America's first superstar entertainer in Lewis' own successful singing career, while The Jazz Singer's storyline had parallels to Jerry Lewis' own father's relationship with his rabbi father). While no one mentions ratings or critical reviews for The Jazz Singer on the bonus featurette (nor could I find any in my sources), one might assume that the reception was muted enough to keep Lewis away from similarly serious-themed material.
And that's a shame, because as everyone knows who saw Lewis in Martin Scorsese's The King of Comedy, Lewis' skills as a "straight" dramatic actor were considerable. Can you imagine what would have happened in the late 50s/early 60s if Lewis, at the height of his powers, had been shepherded through a serious project in the manner Elia Kazan guided Andy Griffith two years prior in the explosive A Face in the Crowd (that is, of course, if the notoriously strong-willed Lewis would have let someone put him in such uncomfortable territory)? As The Jazz Singer stands, the material tends more towards melodramatic and sentimental―not in any way meant as pejoratives―rather than uncomfortable or shattering, but Lewis is more than capable of bringing a sincere, even moving performance at times here, showing a vulnerability in a few scenes that fans of his will find enlightening at this stage in his career. He's particularly good when he's shyly, awkwardly, desperately trying to get past his father's continued disapproval during their reunion. Lewis seems truly humble and hurt here, emotions he's attempted in other films with varying degrees of success.
The Jazz Singer offers glimpses of a more "traditional" Jerry here, as well; it's terrific to see him in the first scene, approximating his stand-up act, singing well and mugging to good effect (that's Hal "Otis the Drunk Campbell" Smith in the audience, laughing at Jerry's act). Of course in this scene, that recognizable Lewis mugging is appropriate to the context; it doesn't work, though, when the scripters give Jerry a short, silly dream sequence where he marries Alberghetti (it's just too broad in tone against the rest of the piece). But that's the only instance where he's off-key. The rest of the time, he's admirably restrained, achieving a measured performance that's entirely respectable with the story's intended goals. We even get a bit of early Buddy Love grit during his opening act, when he believably flies off the handle with his manager ("You blew it! Your talent is as big as your temper!" Joey Faye tellingly fires back). This exchange feels like it might come close to giving us a glimpse into the real Lewis, just as the scene does where Jerry defends his art to his father, imploring that comedy is an ability that's a worthwhile, important art, and that without the audience's acceptance, he's nothing. If you're at all into Lewis and his career, such scenes hold an extra special fascination, considering how close they seem to come to facets of his own personality (...or to be fair, those facets we've read about).
As for the rest of The Jazz Singer, it's respectably if a little dully mounted; the crackle and interest come from the uniformly fine performances, not in director Nelson's tepid mounting of the scenes (a legitimate carp since this performance was not hampered by the logistical restrictions of a one-take live broadcast). Fred Flintstone's Alan Reed brings a lot of juice and zest to his brief role; Eduard Franz is solid, as usual, as the unbending authoritarian figure incapable of understanding the changing times; and Molly Picon is wonderful, too, effortlessly scoring with her "Jewish mother" humor, whether it's offering the Western Union telegram man a piece of fruit for a tip, or exclaiming that Jerry is too skinny when she first hugs him. Alberghetti gets a chance to sing a lovely number, but she isn't given much else to do here, so it really all hangs on Jerry's central dramatic performance...and with that in mind, The Jazz Singer admirably succeeds.
The DVD:
The Video:
In the bonus featurette, the restoration of The Jazz Singer is discussed; it's a fascinating story. Apparently, Jerry Lewis the auteur saved everything (thank god), including a dupe 2 inch RCA heterodyne color videotape of the program (as I wrote above, contrary to everything out there, The Jazz Singer was not performed live but rather shot piecemeal in the NBC studios and later broadcast on color videotape, according to Chris Lewis), a 16mm b&w kinescope of the show (which was used to fill in some of missing audio from the color videotape), and a ¼ inch audio tape of half of the program which was also used to fill in missing sections of the master audio. Restored by D.C. Video in Burbank (David Crostwhait also speaks on the bonus featurette), the original color videotape required several different processes to bring back the color...which looks quite good considering the age of the actual tape. To my eye, neither the color tape transfer nor the kinescope has been "boosted" by any image-enhancing computer programs (like those marvelous Elvis/Ed Sullivan kines from a few years ago)―this looks like a straight recovery job (particularly the b&w kinescope, which is in only fair-at-best condition). If you're a huge Lewis fan like me, The Jazz Singer's restoration story only makes you greedy for more and more stuff to come out of that seemingly endless personal vault of Lewis material.
The Audio:
As I wrote above, the audio track for The Jazz Singer was the most compromised of all the elements. It's been fully retrieved, but unfortunately, the simple (but probably too costly) solution of close-captions or subtitles were not included to help bridge the gap for a word here or there that comes over garbled.
The Extras:
A few behind-the-scenes stills are included, along with the above-mentioned featurette that runs 11 minutes.
Final Thoughts:
Essential viewing for anyone interested in Jerry Lewis or the history of color television. There are moments in The Jazz Singer where Jerry Lewis achieves a level of understated emotion that you will be hard-pressed to find anywhere else in his canon. Regardless of how successful this adaptation is on its own, one can't find fault with Lewis' quietly passionate performance here―it's one of his best. And for historical importance, being one of the few earliest existing records of color broadcasting, it's a fascinating document outside of its entertaining dramatic content. I'm highly, highly recommending Jerry Lewis as The Jazz Singer.
---
Paul Mavis is an internationally published film and television historian, a member of the Online Film Critics Society, and the author of The Espionage Filmography.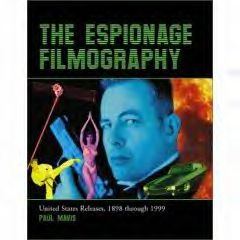 ---
C O N T E N T

---
V I D E O

---
A U D I O

---
E X T R A S

---
R E P L A Y

---
A D V I C E
Highly Recommended
---
E - M A I L
this review to a friend
Sponsored Links
Sponsored Links