Regular Show: The Best DVD In the World* (*at this moment in time)
Other // Unrated // November 6, 2012
List Price: $19.82 [Buy now and save at Amazon]
---
In your faaaace! Cartoon Network and Warner Bros. piss off more goofs who can't just enjoy a simple DVD full of toons with the release of Regular Show: The Best DVD in the World* (*at this moment in time), a single-disc, 16-episode collection of Cartoon Network's hit Monday night show (and my current favorite toon on television). Created by J. G. Quintel, Regular Show is a beautifully surreal, deadpan hilarious mixture of workplace sitcom and wild slacker/gamer flights of sci-fi fancy, frequently blown up to hysterical, epic proportions. A show kids instinctively adore, and one their parents can actually sit and watch (and laugh along) with them, Regular Show, no matter how it's represented on DVD, is, as Pops might say, as sweet as a frozen ice lolly.
The show's set-up is simple. 23-year-old, six-foot tall blue jay Mordecai (voice talent of J.G. Quintel), a former art school student, now works as a groundskeeper at a city park. His best friend, 23-year-old raccoon, Rigby (voice talent of William Salyers), a high school drop-out, works alongside him...although "work" is a relative term for the two slackers. Constantly harangued to finish their assignments by their rage-filled boss, park manager and living gumball machine Benson (voice talent of Sam Marin), Mordecai and Rigby look for any excuse to ditch their meaningless, menial labor chores in the search for distraction, which usually comes at the end of a pair of video game controllers. Also working at the park are Skips (voice talent of Mark Hamill), an immortal yeti who can fix anything, Muscle Man (voice talent of Sam Marin), a little green gnome with a pudgy physique in direct inverse proportion to his macho, insulting self-image, High Five Ghost (voice talent of J.G. Quintel), a body-less ghost with a hand sticking out of his head, and Pops (voice talent of Sam Marin), a quavery-voiced older man with a head the size of a giant lolly, and the son of the park's owner, who naively lives in his own quaint, antiquated world. Mordecai is more responsible than Rigby (only just), and he has a crush on Margaret (voice talent of Janie Haddad)), a five-foot tall red-breasted robin who works at the nearby coffee shop with her friend, Eileen (voice talent of Minty Lewis), a mole. But that matters little since impulsive, violent Rigby often predicates a cosmic disaster in each episode, frequently involving bizarre, strange beings from other worlds unwittingly unleashed by the boys, ready to destroy the unlikely duo, the park, and Earth.
According to what I've read about Regular Show and its creator, J.G. Quintel, the animator originally pitched the show visually, through storyboards, to Cartoon Network executives, rather than verbally describing a concept that seemed at first glance indescribable. The same seems to go for concretely nailing down why it's such a funny show, in a written review. I can try and dance around elements of why it works...but I'm afraid those thoughts add up to something distinctly less than the sum of the show's parts. You can explain humor all day long, but experiencing it is something different entirely: funny just is, as the saying goes. And that's enough for Regular Show (...beside, if you're reading this review, you don't need me to tell you why it's funny: you already know). My younger kids first discovered Regular Show a year or two ago, and when, in the background, I started to hear my older boys laughing along, too, I took notice: it's a rare TV show that can get them all going. Ever since then I've been hooked on it, never missing a new show on Monday nights (hey, I'm just a fan, not an "expert" on it...so bloggers don't email me with snotty corrections and comments). I've seen all the episodes multiple times, and while I'd rather have full season DVD releases, something like Regular Show: The Best DVD in the World* (*at this moment in time) will do just fine in the interim. I'm not going to get pissy about it like some of the ridiculous stuff I read online―if you think it's unfair of Cartoon Network, if you don't want to buy it...then don't (in the completely screwed-up world we live in today, the outraged sense of entitlement by online fanboys over something as stupid and inconsequential as a DVD release, is absolutely astonishing).
As for this particular collection...almost all of them hit the bullseye. Culled mostly from season three (only More Smarter is from season two), the Regular Show toons here in Regular Show: The Best DVD in the World* (*at this moment in time) consistently deliver those curiously calm-then-frenzied storylines that never stop being simple, basic goofs at their core...but that then somehow explode into hilarious parodies and epic-sized riffs on, and permutations of, clichéd 80s action/sci-fi/fantasy/horror movies, workplace sitcom television, and 80s techno/hip hop/rock anthem/funk music, filtered through a modern slacker/gamer mentality that is able to elicit a simple catchall "whoa!" for situations as diverse as a big pile of leaves to rake up...and the sight of giant baby Guardians of Eternal Youth floating in space.
Slam Dunk, written by Andres Salaff & Ben Adams, has some shattering funk lines laid down when the boys learn how to play hoops from cosmic B-ball master, Basketball King (voice talent of Carl Weathers). A perfectly-structured storyline, big laughs come from Muscle Man squealing like a pig when he rides the rim, Mordecai woofs, "Denied!", Rigby trash-talks, "Stay out of my kitchen!", and the boys battle in space for two months ("Hey, time slows down out here," a funny, smart twist), before Mordecai sets off an A-bomb explosion slam dunk. Cool Bikes, written by Benton Connor & Calvin Wong, is a perfect example of a Regular Show episode that starts small―the boys go "carting" and lose their driving privileges―and winds up big: they overcompensate so much for their uncool bike riding, through a funny clothes horse montage, that they're eventually taken to the Intergalactic Cool Court, where Judge Brosef Chilaxto-o-o-own (classic) says stuff like, "Just roll with it, brah...I'll allow it." The Best Burger in the World, written by Andres Salaff, has "The Ulti-Meatum" burger (two cheeseburgers stuffed in a cheeseburger, then deep-fried with two cheeseburgers as the buns), and one of Pop's best line-readings, "I can taste the Himalayas!" before he starts whining/laughing/mewling in delight (Pops, hands down, is the funniest character on the show).
More Smarter is a good showcase for the abrasive Rigby, whose lack of education leads him to drink the "Brain Max" system, where he's reborn like the Terminator, with super intelligence (the final sequence is quite clever, where Mordecai and Rigby are so smart, existing in some kind of Tron/Matrix graphic world, they can't understand their grunting cavemen friends). Rap it Up, by Sean Szeles & Kat Morris, is a classic Pops episode, where the sweet character takes on the nasty Legendary Crew Crew rappers, and wins (if the sight of Pops in a hoodie and askew ball cap isn't good enough, his shrieking and crying, "I'll do it your way!" over and over again will put you on the floor). Weekend at Benson's starts out conventionally enough, riffing on the popular 80s comedy (when Mordecai, seeing an unconscious Benson, says they've only one chance not to get fired, Rigby replies, "Okay...I'll get the shovel,"), before going off into a hilarious trip-out scene after an "Iron Stomach" eating contest, where the boys flip out to Mississippi Queen (just the aggressive loudness of the music cues are enough to make my little kids laugh―they've never even heard that song before). The best part of Camping Can Be Cool (I'm not sure I like all the Friends-like Mordecai/Margaret romance that's beginning to dominate the toon) is the end, when the rangers unceremoniously dump the half man/half deer they ran over, into their truck bed. Trash Boat starts out well but peters out at the end with standard epic-sized revenge action (the band names are funny, though: Barracuda Death Wish, Crocodile Death Spin, Velvet Overkill). Even though Butt Dial, by Sean Szeles & Kat Morris, again deals with the Margaret/Mordecai romance, it's one of the funnier entries here, with the inspired setting of the outer space "Virtual Messaging Control Center" manned by various means of historical communication, passing a death sentence on the boys for hacking (I love the Indian smoke signal fire/blanket yelling, "Burn them!"). Pops gets to talk on Mordecai's "magical telephone brick while eating a frozen ice lolly, and Rigby sneers, "I saw that one coming," when he discovers Margaret's password is "Daddy's girl."
Think Positive gives Benson a chance to yell a lot (his flashback to his yelling family is a gem: "Pass the salt!"). Video Game Wizards shows what a little dick Rigby is (and how needy he is for Mordecai's friendship), when he torments Mordecai over picking Skips rather than Rigby for a gaming tournament (best moment is when Skips deliberately hurts his hands and tells a skeptical referee, "Wanna check again?" as he holds up his mangled fingers). Skips vs. Technology is the kind of funny, outsized episode Regular Show does so well: Mordecai and Rigby can't navigate their balking computer...and Mr. Fix-it Skips doesn't know what to do with it. Techmo is an amusing character, getting laughs when the writers (Calvin Wong & Toby Jones) go into Tron territory again for a battle against the Doomaggedon virus ("Resistance is dumb!" it warns...along with a threatening haiku it sends to the printer). Eggscellent is a pretty straightforward episode, with a funny 80s action/inspirational montage, set to I Need a Hero, at its center. Muscle Mentor is a solid episode, with big laughs coming from abusive Muscle Man "mentoring" fired goof-off Rigby (their fight, with Muscle Man squealing, is a highlight). Fists of Justice, by Andres Salaff, is a suitably bizarre, hysterical episode, with the giant Guardian of Eternal Youth babies battling Klorgbane the Destroyer (I love the shock gag of Archibald mouthing off to Klorgbane about making him eat a diaper sandwich...before Klorgbane puts a giant hole in him with his devil rattle, killing him on the spot). And of course for an 80s spoof of action/sci-fi spoof, Mordecai gets to deliver an appropriately lame one-liner rejoinder when Klorgbane is defeated: "Let's cross this chore off the list." Finally, Trucker Hall of Fame is a surprisingly touching little entry from Regular Show―albeit still off-kilter and weird―where Muscle Man learns his idolized father wasn't everything he said he was. Good action at the end (the "special delivery" cement block, with trucker ghosts "Huge Marg" and "Dog Face" helping out), and a nice, understated (and kinda sad tone), mark this effort by writer Calvin Wong a disc highlight, and one that shows Regular Show is more than just a cynical goof.
The DVD:
The Video:
The anamorphically enhanced, 1.78:1 video transfer for Regular Show: The Best DVD in the World* (*at this moment in time) looks digitally perfect: razor-sharp image, solid color values, no compression issues to speak of here.
The Audio:
The Dolby Digital English 2.0 stereo mix is heavy on the bass...which is perfect for all the funk jam/techno/rock ballad lines that are dropped throughout the episodes. English subtitles are available.
The Extras:
Some text "resumes" of the characters are included as extras.
Final Thoughts:
Of course full season releases would be better...but in the words of Intergalactic Cool Court Judge Brosef Chilaxto-o-o-own: just cool out, dude. Currently the funniest toon on cable, you can't go wrong with these 16 Regular Show offerings. I'm highly recommending Regular Show: The Best DVD in the World* (*at this moment in time).
---
Paul Mavis is an internationally published film and television historian, a member of the Online Film Critics Society, and the author of The Espionage Filmography.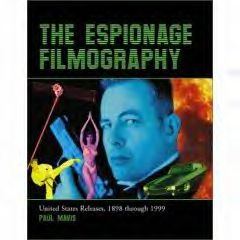 ---
C O N T E N T

---
V I D E O

---
A U D I O

---
E X T R A S

---
R E P L A Y

---
A D V I C E
Highly Recommended
---
E - M A I L
this review to a friend
Sponsored Links
Sponsored Links