Night of the Devils (La Notte dei Diavoli), The
Other // Unrated // January 21, 2013
List Price: $19.98 [Buy now and save at Amazon]
---
Creepy, atmospheric, gory 70s Italian horror outing...but am I missing something here? RaroVideo has released The Night of the Devils (La Notte dei Diavoli), director Giorgio Gaslini's 1972 vampire/vurdulak nightmare starring Gianni Garko, Agostina Belli (so beautiful), and Roberto Maldera. Based on the Tolstoy gothic novella, The Family of the Vourdalak (which was previously adapted as part of Mario Bava's celebrated Black Sabbath), The Night of the Devils is a nicely unsettling excursion into backwoods vampirism, with some zowie gore engineered by legendary special effects wizard Carlo Rambaldi. However...I'm still trying to find out where all that "graphic sex" is that Fangoria's Chris Alexander promises in his introduction. A welcome group of extras, along with a fantastic widescreen transfer, makes RaroVideo's The Night of the Devils a solid buy for fans of the genre.
A torn and bloodied man (Gianni Garko) collapses into a stream, only to awake in hospital after a series of graphic psycho-sexual, violent nightmares. Doctor Tosi (Umberto Raho) and his nurse (Rosa Toros) try to communicate with the scared-stiff patient, but not until gorgeous Sdenka (Agostina Belli) arrives do they get some inkling as to who he is. She identifies him as Nicola, a lumber salesman she met across the border. The doctor wants to know what, exactly, Sdenka is to Nicola, who's frankly terrified by her presence. Then, in one of his fevered, waking nightmares, Nicola remembers to himself his ordeal. Taking a rough path through the isolated backcountry, Nicola almost slams into a black-clothed figure (Maria Monti) on the road, busting his car's water pump when he hits a tree. Meanwhile, at a nearby forest cemetery, family leader Gorca Ciuvelak (William Vanders), with the help of his angry son, Jovan (Roberto Maldera), buries Gorca's brother...whom Jovan openly admits he killed one month before. The corpse is missing his hands.
Jovan had earlier spotted Nicola wandering through the woods, and warns his father, who tells Jovan it's the "foreigner's" tough luck if he arrives at their cabin. Nicola does indeed come upon the Ciuvelak cabin, and he's told he should stay the night, since it will soon be dark, and the woods aren't safe at night. Eating with the family, he discovers all is not right with this terrified, suspicious family. Jovan sexually claims his uncle's widow, Elena (Teresa Gimpera), while sweet, innocent Sdenka is the only one to show Nicola genuine kindness. The next day, Gorca announces he's leaving the house, and that should he fail to return by 6:00pm sharp (sundown), he is to be killed by Jovan and brother Vlado (Luis Suarez). Elena's daughter, Irina, fills Nicola in on why grandpa Gorca is leaving: he's battling the witch Nicola almost hit with his car. Gorca does indeed return at the final stroke of 6:00pm, and Jovan wants to kill him, but Nicola stops Jovan―a big mistake, because soon...people start dying very quickly.
To be honest, I had never heard of either director Giorgio Gaslini or The Night of the Devils prior to this DVD showing up...but I was most impressed by this expressive, fevered study in suspense and horror. Incorporating elements of early 70s Italian giallo (corrosive violence and gore, graphic nudity, music-as-shock effect), The Night of the Devils is a beautifully-structured vampire outing that immediately creeps you out with its menacing aural/visual mise-en-scene, before shocking you with one outrageous gore slaying after another, until the high-voltage, thoroughly satisfactory (and frankly depressing) ending. I suppose if you wanted to have The Night of the Devils be something "more" than just a superlative exercise in horror (according to the DVD liner notes, Gaslini thought of himself as an auteur, working in this suspect genre), one could make a case for a "read" of The Night of the Devils as some kind of (reactionary) cautionary warning about the dangers of sexualized women. The "witch"/vampire/vurdulak who presents the central threat to the family is a co-adulterer with Gorca's brother, whom Jovan describes as "betraying" his beautiful wife, Elena. Elena, in turn, despises Jovan, who believes it's his due to take her sexual...but she clearly enjoys being raped by him (the implication being she hasn't had much sex with her old, crippled husband). Of course it's Elena, then (perhaps motivated by Jovan's assault?), who eventually slays Jovan, her blouse ripped open to expose her perfect breasts...and gorily-clawed chest. And certainly, the sweet, innocent Sdenka's love for Nicola causes him first pleasure, then uncertainty, and then outright terror when, after returning to the vampire-filled cabin, he doesn't believe her that she is the only surviving member of the family. Her dreamy talk of staying with him forever, their love enduring into eternity, is romantic idealism...but it's also the creed of the vurdulak, who kill those they love to escape "the terror of silence and loneliness." SPOILER ALERT!
Then again...perhaps The Night of the Devils is better experienced as a visceral horror outing, persistent in its controlled suspense, and full of jarring shocks. Certainly, Nicola's opening nightmare will grab the most attention from viewers, a bizarre montage of highly-charged imagery, including a realistic model of Belli's head being blown away, and a nude woman behind bars being pawed by two skulled figures in white robes. Now, when I saw the full-frontal nudity of the woman in this section, I assumed that would be the start of the graphic sex alluded to several times by Fangoria Magazine's Chris Alexander in his video introduction to The Night of the Devils. However, unless I'm seeing a print here that's different from the one he's referencing, no other instances of graphic sex (if you can even call that pawing scene "sex") is to be found here. The two most obvious set-ups for graphic sex―Jovan raping Elena and Nicola and Sdenka making love―both only feature topless nudity and nothing more; the camera cuts away demurely right when the action should start. Later, when Elena is attacked by her daughter, her throat bitten open and her chest savagely clawed, the sexy Gimpera's breasts are exposed...but there's nothing sexy at all about the scene (it's disturbing, but not erotic, in the same way giallo inspiration Night of the Living Dead freaked out viewers when the little girl spades her mother).
I mention this not because I'm disappointed more raunch isn't on-screen here (well...maybe a little whenever I see sultry model Gimpera), but because I'm not sure this opening sequence is really necessary, if indeed the rest of the movie is supposed to be this chaste. That opening nightmare makes you believe The Night of the Devils is going to be balls-out giallo...while the rest of the movie is much more straightforward horror: expressive, surreal at times, exceedingly violent, certainly erotic at times...but never graphically, vulgarly sexual. I get that this opening nightmare is trying to visualize Nicola's dementia, but it throws the beginning of the movie off, jarring the viewer's expectations off-kilter before Gaslini goes back into the woods and carefully ramps up the suspense. If that discombobulation was his intent, fine...but I would rather have had those vulgar, obscure shocks throughout the movie, then, for consistency of vision. Still, that's only a minor carp; so much of The Night of the Devils is so satisfyingly crafted that you soon forget that florid opening misstep. The performances are perfectly tuned for this kind of genre work (Belli drives me crazy every time I see her...), the gore effects by Rambaldi are top-notch (Gorca's face crumpling in on itself is a highlight, along with Elena's fingers getting chopped off in a car door), while composer Giorgio Gaslini's haunting, beautiful/scary score helps create half the terror/sadness here in this memorable Italian horror entry.
The DVD:
The Video:
The anamorphically-enhanced, 2.35:1 widescreen transfer for The Night of the Devils looks perfect: subtly-nuanced color values, a super-sharp image, no compression issues. Terrific.
The Audio:
The Dolby Digital English 2.0 audio track is clean, with little hiss and no fluctuation. Re-recording level is hefty. English and German subtitles are available.
The Extras:
A videotaped intro by Chris Alexander is included (who shot this?), with some good info on the movie and its production. A long (30:36) interview with composer Giorgio Gaslini is included, where he talks about his career and scoring this film. Wait after the fade-out, though, because he comes back and plays the theme (1:36). There's also a nice little 12-page booklet (by Alexander) about the movie's production, and the original English trailer is included. Solid line-up of bonuses.
Final Thoughts:
Atmospheric, genuinely frightening Italian horror outing: gory, suspenseful...and kinda sad at the end. Director Giorgio Gaslini expertly builds the tension inbetween the shock effects. I'm highly, highly recommending RaroVideo's The Night of the Devils.
---
Paul Mavis is an internationally published film and television historian, a member of the Online Film Critics Society, and the author of The Espionage Filmography.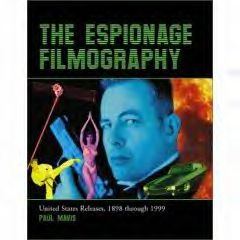 ---
C O N T E N T

---
V I D E O

---
A U D I O

---
E X T R A S

---
R E P L A Y

---
A D V I C E
Highly Recommended
---
E - M A I L
this review to a friend
Sponsored Links
Sponsored Links