Nitro Circus: The Movie 3D
Other // PG-13 // November 13, 2012
List Price: $26.99 [Buy now and save at Amazon]
---
One truly transcendent, awe-inspiring opening shot...and the rest is a bunch of nice, boring guys trying to make us believe they're gonna die. Arc Entertainment has released Nitro Circus: The Movie 3D (the correct title, even though the disc is 2D), the 2012 big-screen feature that belly-flopped at the box office this past August. Featuring the same Jackass-Lite crew from MTV's old Nitro Circus series, it's not hard to figure out why someone thought this would work on the big-screen...but it's also not hard to figure out why most of the rest of us didn't bother to buy a ticket. A few extras are included with this terrific-looking transfer.
Just so we're clear: I'm a solid fan of Nitro Circus as seen on MTV. And by that I mean: I have no idea who is whom on the show, nor what their individual skills are...or anything else about the show, for that matter. Nor do I want to, quite frankly. All I know about Nitro Circus is that my teenaged son would watch it on a semi-regular basis a couple of years ago (whenever he was bored), calling me out from my office from time to time to check out something ridiculous the guys were doing before I got back to more important things in my life like trying to find a paper clip. That isn't meant to be insulting to the guys who perform on Nitro Circus; on the contrary, I have a lot of respect for the skill and/or flat-out balls they employ to do what they do. If I have a problem with how cheaply they treat their lives, it's only a minor carp and more to the point, it's my problem, not theirs. You want to wind up in a wheelchair entertaining idiots like me who enjoy mindless stimulation? By all means go ahead. It's your spine.
That being said, it was immediately apparent to me when I started to watch Nitro Circus: The Movie 3D why it didn't work in the theatres: who wants to watch this shit without commercials? I mean, the whole point of a show like Nitro Circus is to provide cheap, fast, intermittent thrills for a bored TV/internet mind. If I had nothing else to do, I could probably watch a marathon of Nitro Circus episodes that ran twice as long as this movie―and enjoy it―because I'd be dropping in and out, doing other things inbetween the chatter and the stunts. But the prospect of being locked up in a theatre after paying 15 bucks to solemnly sit in a seat and watch this like I was being presented with something worthwhile? Nope. In fact...who decided to put skin in the game for this project, anyway? I suppose the re-runs were still popular enough for someone to print the ratings up on an overhead for the studio pitch (the show ceased production in '09). And certainly the prospect of adding 3D, during the height of that completely bogus "3D is going to save Hollywood...again!" trip, must have convinced some of the headscratching suits ("The trikes are going to come right at the audience's heads!"). But unlike its obvious inspiration, Jackass: The Movie, unless you give the viewer something more in the big-screen transplant...why would anyone pay to watch what they can get everyday for free?
Going further with the inevitable comparisons to the brilliant Jackass (that's right: "brilliant"), Nitro Circus: The Movie 3D is fairly pointless in an expanded format because when all is said and done...we know nothing really bad is going to happen to these guys. They're too good at what they do. Sick, right? Well...why do you think Evel Knievel was so popular? Because he was horrible at what he did. He was always crashing into something, mangling his body in front of the cameras like clockwork. That's why people paid money to see him (which he freely admitted). He had guts; he had style and flair, and with his complete and utterly psychotic disregard for preparation, he managed to fuck up in spectacularly photogenic fashion on a routine basis (you want proof of that? His son Robbie was technically a way better jumper than his old man ever was...and nobody made an action figure outta him). The same with Jackass. The point of an average Jackass skit ("skit," not "stunt") wasn't, "Is Knoxville going to stay on that little red wagon as it careens down that hotel stairwell?" but "When will Knoxville fall off that little red wagon as it careens down that hotel stairwell?" And even more important: "How much is he going to get laughed at by his friends, as he screams in agony, holding his balls?" "The agony of defeat" is what we remember from the ABC's Wide World of Sports opening credits, not "the thrill of victory." These are extreme "sports," after all. Pain and possible death are at least equal points of interest as is the actual execution of the stunts. These are Coliseum days we're in today, kids.
I'll be able to name every one of the Jackass guys twenty years from now, but I can't remember a single name after 3 years of watching the Nitro Circus series and movie. Why? Because even though these guys could actually kill themselves doing these outrageous stunts...they don't. Jackass skits at best might bust your arm or something, but when you're talking about flying a tryke over a 400-foot high gap between two Panamanian skyscrapers, things could get messy fast. However, we know going into Nitro Circus: The Movie 3D that nothing like that happened, obviously...so where's the big thrill? These Nitro Circus guys have proved time and again to be committed athletes and pros at what they do (they tour live all the time...and nothing ever happens to them). So when they get a little scraped up or banged around, they go nuts, trying to tell us how kaaaarrraaaazzzzy it all was, while we go, "Oh...they got hurt." It's meaningless. If one of the Nitro guys did happen to crack up so bad he or she died, nobody would be laughing (I guarantee you if Knoxville bought it via too many paintballs to the balls, he would demand you laugh when you heard the news). Proof of that in Nitro Circus: The Movie 3D comes when one of the Nitro guys (Jim, I think...) tries to flip a car a la The Man With the Golden Gun, and he breaks his back. Do the filmmakers here exploit that? Nope. They move on quick. Why? Beats me. That's the whole point of their act...or it should be.
Whereas Jackass's personalities were just that―a random amalgamation of seriously entertaining fuckups―the seriously bland Nitro crew seems to be made up of a couple of Belushi-meets-Knievel wannabes (shut up) and multiple other variations on that laid-back kid that works part-time at Little Caesar's during the summer so he can buy new bearings for his longboard: entertaining for about two minutes and then it's time to check out (and speaking of "checking out" after two minutes, the 2012 DVDTalk Brainiac Award for the Actor Whom I Want to Hear Lots More From goes to guest commentator Channing Tatum, who, as we hear the soft whir of his brain engage, meaningfully opines, "Look...performing live is...it's live." Thanks, genius. Maybe you should just keep your shirt off...). The same goes for Nitro Circus: The Movie 3D. The opening sequence is a breathtaking, spectacular shot of all these bikes and cars flying through the air at each other, slowed-down and shot from various vertiginous angles, as we marvel at the skill and athleticism and cold-blooded nerve it takes to orchestrate and perform such a epic-sized megastunt. Visually, it's a shot I'll never forget. But after it was over (we never even get an explanation of what the stunt is, or who designed it), I still didn't know any of the guys' names. And if they're the same guys who perform for the next 90 minutes or so in Nitro Circus: The Movie 3D, I know nothing is going to happen to them, either. So I can just tune out and watch them for free on TV the next time I'm cleaning my shoes or organizing my junk drawer or waiting for the mailman to come.
The DVD:
The Video:
The anamorphically-enhanced, 1.78:1 widescreen transfer for Nitro Circus: The Movie 3D is crystal clear, with a razor-sharp image, finely-valued, shimmering colors, and no compression issues. Very nice.
The Audio:
You can listen to Nitro Circus: The Movie 3D in either Dolby Digital English 5.1 or 2.0. The 5.1 mix is expansive, with nice separation effects and some big-assed bass.
The Extras:
Deleted scenes are included; they run 6:36 (pretty useless). Some behind-the-scenes shots of Greg's Car Roll (2:57) and Roner's Pond Skim (1:47) are included, along with a trailer and a Steve-O interview that lasts all of 17 seconds (they actually have the nerve to advertise this bonus on the back of the DVD box).
Final Thoughts:
You ever been to a bar where a guy just keeps hitting the net with those little basketballs, over and over and over again, never missing, just one after another? How much fun is that to watch? Same thing here. Yeah, the Nitro guys are good....the problem is they're too good. And kinda boring, too. Nitro Circus: The Movie 3D is a rental, maybe, for die-hard fans.
---
Paul Mavis is an internationally published film and television historian, a member of the Online Film Critics Society, and the author of The Espionage Filmography.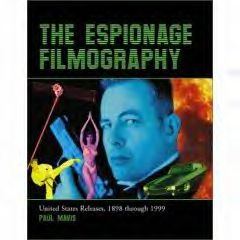 Sponsored Links
Sponsored Links