Air Hawks (Sony Choice Collection)
Other // Unrated // August 7, 2012
List Price: $20.95 [Buy now and save at Amazon]
---
Fast-moving B actioner, with sci-fi overtones. Sony's Choice Collection vault of hard-to-find cult and library titles has released Air Hawks, the 1935 programmer from Columbia starring Ralph Bellamy, Tala Birell, Douglass Dumbrille, Robert Allen, Victor Kilian, Edward Van Sloan, Marianne Edwards, and blink-and-you'll-miss-him Wiley Post, in his only feature film role. Slam-bang aviation action, Great Depression capitalist/industrial corruption, and a fantastic "death ray" that can blast airplanes out of the sky, help make Air Hawks a speedy little winner. No extras for this silky-smooth black and white anamorphically enhanced windowboxed transfer.
Big-name/small-time Independent Transcontinental Airlines owner Barry Eldon (Ralph Bellamy) needs a loan fast from banker Mr. Holden (Wyrley Birch) to expand his airline and secure a coveted government mail contract. However, Holden says no dice: why not just let Martin Drewen (Robert Middlemass) from bigger, badder Consolidated Airlines buy ITA out? Eldon takes the offer to his pilots, and they agree to stick it out as independents...which doesn't make gambler Victor Arnold (Douglas Dumbrille) too happy, since he's working with Drewen and a certain anonymous "The Chief" to bring ITA down. And he's going to accomplish that with the further help of Professor Schulter (Edward Van Sloan), who has perfected a large-scale "death ray" that can burn up an airborne plane's engine.
Even though almost-major Columbia was considered the biggest of the "minor" studios in mid-30s Hollywood, most of its product was still structured with programmer/exploitation budgetary and aesthetic mindsets: "make 'em quick and make 'em fast-moving," could have been studio head Harry Cohn's motto at this point in Columbia's corporate history. And certainly Air Hawks is an excellent example of Cohn's house style. Nothing about Air Hawks' story, written by Griffin Jay (The Mummy's Hand, Cry of the Werewolf) and Grace Neville (Shakedown, Little Miss Roughneck), is particularly original, to be sure (they had been making death ray movies since the silents). However, it's pulled off with verve and confidence from B-movie expert, director Albert Rogell (Escape from Devil's Island, The Black Cat, In Old Oklahoma, and scores more), a facility that comes from churning out these kind of programmers with routine professionalism.
For such a speedy programmer, there are a lot of genre subcurrents going on here: aviation actioner (the flying sequences, even with shoddy models at times and lousy rear-projection, have some moxie to them); espionage mystery; comedy (although I'm not sure how much you're going to chuckle at Victor Kilian's wheezy "humorously shifty newspaper reporter" shenanigans); noirish romance (Tala Birell is no Dietrich...but she's about right for this low-scale production); Depression-era David and Goliath commerce drama; and most importantly, sc-fi "madman" flick. Surely no one in the theatres blinked twice back in 1935 when Air Hawks made a banker the bad guy; the plucky, defiant individual facing down a big conglomerate bent on his destruction has been a storyline staple in American movies during boom and bust times. Air Hawks' sci-fi angle, too, hardly qualifies it as particularly special (although the movie does mix the clashing genre tones surprisingly well). However, with its admirably detailed "secret lab" equipment and the pleasingly expensive-looking "mobile death ray" RV from hell, Air Hawks' generally straight-faced integration of this subplot looks good next to more peripatetic examples at other studios.
About the only thing that doesn't work in Air Hawks is the miniscule presence of famed aviator Wiley Post, who has about 3 minutes of screen time in a subplot―he's going to travel cross-country in one of Barry's planes to get the public to trust ITA―the filmmakers don't even bother to tie up (we don't even see Post complete his mission). Anyone looking at that original poster art featured on the DVD case would think Post was Air Hawks's lead character; however, his rather awkward cameo here would seem to indicate no such starring role would have been offered anytime soon after its release (Post and humorist Will Rogers would die in a plane crash only months after Air Hawks premiered...maybe that affected Columbia's promotional campaign???). Still, this small miscalculation doesn't really affect Air Hawks overall impact. Fun, snappy dialogue ("I could fly this tub through a haystack and come out with a needle,"), evocative cinematography from master Henry Freulich (his decrepit "Mountain View Inn" set is beautifully lit: scary and silky), and solid direction from Rogell (that burned-up doll in the plane wreckage was a nice, expressionistic touch...) powers up Air Hawks as a top-flight B entry.
The DVD:
The Video:
Air Hawks, side-matted onto an anamorphic platform, looks sensational (for this kind of lowly B). The crystal-clear 1.37:1 black and white transfer sports a velvety gray scale, blacks that hold, light grain, and few if any major imperfections. Very, very nice.
The Audio:
The Dolby Digital English mono audio track is re-recorded at a sufficient level, with no distracting fluctuations. No closed-captions or subtitles available.
The Extras:
No extras for Air Hawks.
Final Thoughts:
Solid, smoothly-executed mishmash of genre conventions. Air Hawks won't win any awards for originality (and neither will that phrase...), but it's an assured B programmer: fast-moving and entertaining. I'm highly recommending Air Hawks.
---
Paul Mavis is an internationally published film and television historian, a member of the Online Film Critics Society, and the author of The Espionage Filmography.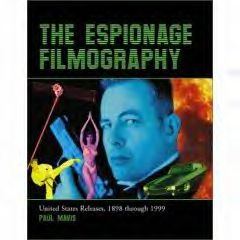 ---
C O N T E N T

---
V I D E O

---
A U D I O

---
E X T R A S

---
R E P L A Y

---
A D V I C E
Highly Recommended
---
E - M A I L
this review to a friend
Sponsored Links
Sponsored Links