Final Descent (Sony Choice Collection)
Other // Unrated // September 4, 2012
List Price: $20.95 [Buy now and save at Amazon]
---
Surprisingly nimble made-for-TV airliner disaster flick. Sony's Choice Collection vault of hard-to-find cult and library titles has released Final Descent, the 1997 telemovie from Mandalay and Sony, starring Robert Urich, Annette O'Toole (I'm feeling faint...), and John de Lancie. Light on the genre convention of run-downs on the doomed passengers' personal and romantic problems, and heavy on the tech-suspense/action elements of getting the crippled plane out of the sky and onto the ground, Final Descent shoots straight and doesn't screw around with a lot of unnecessary padding―which is most welcome. No extras for this good-looking transfer.
Leading up to a routine flight to Dallas, airline pilot Captain Glen "Lucky" Singer (Robert Urich) has a lot on his plate. His knockout girlfriend of one year, pilot Connie Phipps (Annette O'Toole), is increasingly disenchanted with Lucky's standoffish refusal to commit to a more serious relationship. When she manages to sign on as his co-pilot for the Dallas run, the welcome news that they can talk over things is dampened for Lucky when he discovers that to get the gig, Connie had to allow former fling Captain George W. Bouchard (John de Lancie), their airline's Chief of Pilots, to tag along as navigator to perform a "check flight" on John. The unctuous Bouchard, looking to aid management in downsizing the airline and score another shot at the gorgeous Connie, would like nothing better than to lay-off hotshot wildcard Lucky, who refuses Bouchard's boredom-inducing order to fly by computer control. All this personal and professional drama will only complicate matters when, on take-off, Lucky's jet liner is struck by a small-engine plane, causing the jet's elevators to jam in the upward position. Now, the jet can only climb, with Lucky having to put the turbines into overdrive lest he stall...before he runs out of fuel and spirals into the ground. Faced with this impossible situation, Lucky is forced to find out just how lucky he really is.
Final Descent was completely new to me when it showed up on our list of screeners here at DVDTalk. I couldn't find out what network it premiered on when it first aired in 1997, but something about it (probably the Canadian production staff and Canadian supporting actors) makes me suspect this wasn't a Big Three network offering, but rather something on cable (and naturally when you suspect something like that...you're wrong. Sharp-eyed reader Rory, who knows his aviation movies, wrote to inform me this premiered on CBS). Regardless, nothing about it triggered high hopes for me when I cued it up; considering how many of these airplane disaster movies I've seen (a disaster subgenre I love), just the numbers alone suggested Final Descent would have a hard time standing out among all the great examples of the genre. It didn't look like it had the production values or cast to suggest something large-scale and classy like 1970's Airport, nor did it look like it was going to be wonderfully tacky or enjoyably excessive like 1975's Airport '75 or 1992's Turbulence
Instead, Final Descent tracked closer in spirit to more tech-central/suspense thriller examples like Robert Aldrich's The Flight of the Phoenix (admittedly mostly land-bound) and Charlton Heston's lesser-known Skyjacked, from 1972. Based on the novel The Glass Cockpit by Robert P. Davis, Final Descent's script by Roger Young (better known as a director of solid entries like Tom Selleck's Lassiter and the excellent TV miniseries, The Siege at Ruby Ridge), keeps the extraneous "get to know your victims" elements at the barest minimum, focusing mostly on the Urich-O'Toole-de Lancie triangle. A required convention of the genre, the filmmakers have to give the audience something to hang their suspense on; we have to care just a little bit if the people stuck up in the sky are going to come down alright. Young, however, keeps the passengers strictly in the background, giving us just a few, brief glimpses at them (handicapped Vietnam chopper pilot Duke Houston and divorcee Gwynyth Walsh get the most screen time, while thankfully, Young ignores the band member kids altogether). As well, supporting characters on the ground are strictly used as back-up; for instance, Lucky obviously has previous history with USAF officer Lt. Colonel Frank O'Hearn (Stephen E. Miller), but we don't get bogged down with any unnecessary exposition explaining it. Final Descent assumes we want to get on with the main action, and it does just that.
Once the trouble starts, the suspense is nicely ratcheted up. Director Mike Robe (lots of TV features like Son of the Morning Star and Return to Lonesome Dove) keeps the framing tight on the pilots desperately trying to right the plane and the editing fast, moving the action quickly through a series of believably scary technical complications (that first sequence of Urich coolly trying to assess the damage to the crippled plane, with co-pilot O'Toole grimly saying, "No," to questions about if they have functionality, is pretty gripping). The set-up for the plane's malfunction―the nose won't go down so they're stuck climbing...which will eventually kill them in a death spiral―is novel, while the various solutions to safely bring down the plane are exciting...if entertainingly improbable. I know this is the kind of movie that brings out amateur experts who like to scoff at the science, but frankly who cares: as long as it's exciting and well-done, that's all that counts in an actioner like this. It's a movie, after all, not a documentary. The central cast is well-chosen for this kind of outing. de Lancie does a nice turn-around from officious prick hitting on O'Toole, to hero who almost kicks it to save the plane. Genial Urich, whom I've written about before for my reviews on Vega$, is just right for this kind of TV outing: confident and home viewer-friendly. As for O'Toole, one of my unsung favorites ever since that dopey One on One, she again shows here how to connect with the audience, even with the barest of provided material―if there was one skilled actress from the late 70s and early 80s who deserved to become a much bigger star, it was the talented O'Toole.
The DVD:
The Video:
The full-screen, 1.37:1 transfer for Final Descent looks pretty good, with a generally sharp image, fair-to-good color (maybe a little dark in spots), and no compression issues to speak of here.
The Audio:
The Dolby Digital English split mono audio track is serviceable, with a fair re-recording level and clean dialogue. No closed-captions or subtitles available.
The Extras:
No extras for Final Descent, not even a menu: it just starts right up with you put the disc in.
Final Thoughts:
Not-bad-at-all little airliner disaster movie: straightforward and to-the-point. The script stays off the passengers and focuses mostly on the plane in trouble, moving swiftly and surely through the various exciting, suspenseful complications. Nicely done, with a solid cast. I'm recommending Final Descent.
---
Paul Mavis is an internationally published film and television historian, a member of the Online Film Critics Society, and the author of The Espionage Filmography.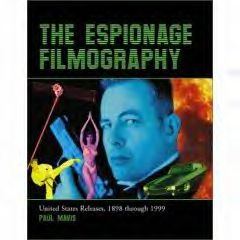 ---
C O N T E N T

---
V I D E O

---
A U D I O

---
E X T R A S

---
R E P L A Y

---
A D V I C E
Recommended
---
E - M A I L
this review to a friend
Sponsored Links
Sponsored Links