Sudden Terror: The Hijacking Of Schoolbus #17 (Sony Choice Collection)
Other // Unrated // September 4, 2012
List Price: $20.95 [Buy now and save at Amazon]
---
If you don't have a good villain...you don't have a good thriller. Sony's Choice Collection vault of hard-to-find cult and library titles has released Sudden Terror: The Hijacking of School Bus #17, the 1996 made-for-TV movie starring Maria Conchita Alonso, Marcy Walker, Bruce Weitz, and Michael Paul Chan. Based on a real-life incident, Sudden Terror: The Hijacking of School Bus #17 has the right elements for a solid thriller―a suspenseful set-up, anonymous but efficient direction, and a sympathetic viewer surrogate in Alonso―but a talky script and particularly a woefully inadequate performance by baddie Chan ultimately stops the movie dead in its tracks. No extras for this okay-looking transfer.
Dade County School system bus driver Marta Caldwell (Maria Conchita Alonso), only two months on the job driving special needs children in South Miami, is confronted en route one morning by Harry Kee (Michael Paul Chan). Divorced and deeply in debt to the IRS, the unbalanced Kee boards Marta's bus, claiming to have a bomb. His mission? To drive downtown and blow up the Federal building. Terrified for her charges, whom she has come to love as her own (particularly since she can't have children with husband Frank Caldwell, played by Dennis Boutsikaris), Marta tries to play it cool with the increasingly unhinged Kee, doing what he asks while trying desperately to warn officials about what is happening on the bus. Meanwhile, senior S.W.A.T. team member Lieutenant Kathy Leone (Marcy Walker), suddenly in charge because her superior is on vacation, must work with hostage negotiator Lieutenant Dominick Caroselli (Bruce Weitz) to determine when and if S.W.A.T. should move in and take down Kee―a scenario that seems increasingly likely as Kee repeatedly threatens the terrified children.
Sudden Terror: The Hijacking of School Bus #17 is indeed based on a true event in 1995 (I remember the footage of the low-speed freeway chase as the bus was trailed by cop cars), but I can't for the life of me remember this particular made-for-TV's premiere on television. As far as these kinds of fictionalized true-life crime/thriller movies go, Sudden Terror: The Hijacking of School Bus #17 is fairly typical in terms of production (low budget, basic storytelling shot quickly, small-screen thrills), but it falls into the lower rankings of such outings primarily because its villain is so weakly rendered.
Scripted by Jonathan Rintels (more true-life TV adaptations like Desperate Journey: The Allison Wilcox Story and Snowbound: The Jim and Jennifer Stolpa Story), and directed by Paul Schneider (also lots of TV movies like Honor Thy Father and Mother: The True Story of the Menendez Murders and Roseanne: An Unauthorized Biography), Sudden Terror: The Hijacking of School Bus #17 isn't egregiously bad, it's just...dry, because the juice that's needed from the movie's antagonist is conspicuously missing. Rintels and Schneider actually set up the main action smoothly and efficiently. We meet the Marta character, and with a few quick strokes (aided greatly by Alonso's just-right turn here), we sympathize with her plight: she's new on the job; she's good at what she does; she wants her own kids, but has to settle for loving her special needs bus riders. And we're given brief but evocative-enough glimpses at the children getting on the bus, some of whom have enough trouble just communicating with their own parents, let alone not having the survival skills to withstand the stress and pressure of an armed bomber/hostage situation. All of that background is conveyed with a minimum of fuss by the moviemakers, with all signs pointing to a successful little TV movie thriller.
However, Rintels (or the producers) didn't feel staying on the bus was enough to keep Sudden Terror: The Hijacking of School Bus #17 between the lines, so we're saddled with a seriously underdeveloped subplot involving Lieutenant Leone's leadership of the S.W.A.T. team, as well as her partnership with negotiator Caroselli―both of which take time away from the main suspense, and neither of which is helped by Walker's and Weitz's bland performances. If the producers felt more background was needed, why concentrate on the cops? Why not give even a cursory glance at the criminal? After all, he's the catalyst for the action; shouldn't we understand more fully why he's doing what he's doing? On the bus Sudden Terror: The Hijacking of School Bus #17 should have stayed...and preferably with any other actor playing the heavy. Director Schneider takes the cheap, exploitative, but admittedly effective way to generate tension by focusing on the kids screaming or crying in their seats (not a fun thing to watch at any time, but particularly now, considering recent events), but at least those little actors sold me on their characters' distress.
Chan, on the other hand, seems incapable of delivering anything other than a superficial "psycho" turn here―and most unimpressive that turn is, considering how many thousands of them I've seen over forty years of television and movies. Physically unintimidating (one or two of the kids looked like they could take him), Chan can't compensate by cooking up a psychologically scary whacko, either. Supposedly tortured and unhinged by divorce, the loss of his children, and money troubles with the IRS, Chan's Kee shouldn't have far to travel to get us spooked, but Chan's blank countenance and weirdly disconnected passivity throws the entire movie off-kilter, until at the (badly-staged) finale, he's zapped by S.W.A.T. with as little fanfare as he gave the character. If I don't have a villain that seems capable of anything...then I don't have a thriller that scares me. And that would be Sudden Terror: The Hijacking of School Bus #17.
The DVD:
The Video:
The full-screen, 1.33:1 transfer for Sudden Terror: The Hijacking of School Bus #17 looks pretty clean, with good (if at times slightly muted) color, a sharpish image, and no compression issues to speak of here.
The Audio:
The Dolby Digital English stereo mix is okay, with some discreet directionality at times, and a nice re-recording level. No subtitles or closed-captions are available.
The Extras:
No extras for Sudden Terror: The Hijacking of School Bus #17.
Final Thoughts:
A promising start hits the skids when the villain turns out to be completely unimpressive. You can't have a thriller if you're not thrilled, and although Maria Conchita Alonso puts in a sympathetic, well-tuned performance, and director Paul Schneider keeps things simple and uncluttered...Michael Paul Chan ain't scary. A rental, maybe, for fans of Alonso (anyone who puts the smackdown on ass clown Sean Penn gets an honorary Oscar from me...), but most viewers can skip Sudden Terror: The Hijacking of School Bus #17.
---
Paul Mavis is an internationally published film and television historian, a member of the Online Film Critics Society, and the author of The Espionage Filmography.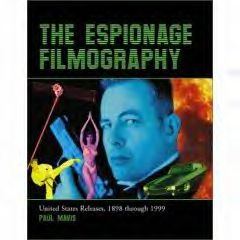 Sponsored Links
Sponsored Links