Nebraskan (Sony Choice Collection), The
Other // Unrated // August 7, 2012
List Price: $20.95 [Buy now and save at Amazon]
---
Pretty standard little "B" oater, beefed up by 3D. Sony's Choice Collection vault of hard-to-find cult and library titles has released The Nebraskan, the 1953 Columbia Western directed by human dynamo Fred F. Sears and starring Phil Carey, Roberta Haynes, Wallace Ford, Richard Webb, Regis Toomey, Maurice Jara, Jay Silverheels, and Lee Van Cleef. Completely unremarkable in terms of scripting, acting, and directing, The Nebraskan does get the job done efficiently and very quickly, thanks to Sears' sure hand and lightning-fast delivery. No extras for this good looking transfer.
The newly-established state of Nebraska, after the Civil War. Indian scout Wade Harper (Phil Carey) of the United States' 1st Nebraskan Cavalry, races towards Fort Carney with fellow scout and Indian friend Wingfoot (Maurice Jara) in tow. Chased to the gates by Sioux Nation warrior Spotted Bear (Jay Silverheels) and his son, Yellow Knife (Pat Hogan), Harper countermands Captain De Witt's (Dennis Weaver) orders to fire on the Indians, hoping that Colonel Markham (Regis Toomey) can settle the confrontation peaceably. Sent to the Sioux Nation by Markham to broker a peace treaty, Harper returns with Wingfoot because Spotted Bear believes Wingfoot is a traitor who murdered Chief Thundercloud. Wingfoot denies it, and he's backed up by Yellow Knife, but Spotted Bear won't back down. Markham orders Wingfoot jailed for trial, but fellow brigmate Reno (Lee Van Cleef), a soldier awaiting a murder trial, breaks them both out by strangling a guard and escaping, with a reluctant Wingfoot going along for fear of the Army blaming him for the guard's death. Through a twist of fate, Reno and Wingfoot come upon relief cavalry troops being sent to Fort Carney, who stop an Indian ambush of a stagecoach. In that stagecoach is lovely Paris Elliot (Roberta Haynes), and her husband, slick dude Ace Elliot (Richard Webb). Reno offers to take them out of harm's way to "Mac" McBride's (Wallace Ford) way station, but the pursuing Wade intercepts them, leading to a showdown with the Sioux at the besieged McBride cabin.
It's a cliche for movie reviewers to write, "you've seen this a hundred times before," but in The Nebraskan's case, this speedy but familiar outing illustrates exactly how such generalities become, well...cliched. Written by David Lang (lots of TV and "B" efforts like Hellcats of the Navy, Ambush at Tomahawk Gap, and Wyoming Renegades) and Martin Berkeley (Tarantula, Revenge of the Creature), The Nebraskan doesn't offer one new idea or novel twist for its admirably busy-but-standard internecine-betrayal-within-the-Indian tribe/Indians-on-the-warpath/cowboy-dance hall girl-cowardly dude-romantic-triangle/Indians-besiege-a-remote-cabin plot. You could probably discuss the Eisenhower politics that underlay the plot mechanics, with an outsider professional (Wade the scout) bridging the social gap between a rigid, structured authority/government (Toomey's Army), and disaffected minorities/adversaries (the Sioux)―with the aid of converts to the cause (White culture-admiring Wingfoot and Yellow Knife). But quite frankly...why would you want to? There are better examples within the Western genre if you wanted to get boring and pedantic, and besides...director Sears probably didn't intend any of that kind of nonsense when he helmed this quicksilver 65 minute oater.
Sears, who's developed something of a minor cult following in the past few years (as much out of admiration for the sheer number of movies he made as for anything to do with his style, I suspect), had six other features premiere in 1953. Working out of Columbia's "B" unit, he would soon move on to other notable exploitation flicks like The Miami Story, Cell 2455 Death Row, Apache Ambush, Rock Around the Clock, Don't Knock the Rock, and his most recognizable effort, Earth vs. The Flying Saucers. Here, his style (if one can call it that) is admirably anonymous. This is storytelling at its most basic and functional, with Sears' super-clean, efficient, no-bullsh*t framing and pacing giving The Nebraskan a professional get-it-done tone that's so much more satisfying―when you just want to be entertained with a story―than someone trying to be "arty"...and failing.
Taking the requirements of early '50s 3D moviemaking in stride (Rule #1: objects must regularly be thrown at the camera), Sears doesn't hesitate to go in close for shots of a knife sliding in for the kill, a bugle heralding a breach at the fort, an arrow bowed up and released, a chair crashing into the camera, as well as a burning beam and a thrown knife―all of which were the bane of critics back in the 50s who decried such obvious gimmicks...but which now seem charmingly calculated and quite goofy fun (the best, though, is the stock footage of the Indian attacks, which appear to be rear-screened in front of new prop rock outcroppings, a 3D effect which goes hilariously wrong every time the camera moved in the stock shots―instead of a hair in the camera gate, it looks like granite boulders moving around). The performances, such as they are, come off just as workmanlike and serviceable as every other aspect of the production, so that when The Nebraskan wraps up quickly after an hour (as much due to the technical limitation to one-reel for two-print synch 3D as accepted "B" movie standard runtimes), the viewer feels pleasantly full: a familiar story, told well, with speed, little embellishment (other than various things thrown at them), and an admirably straight face.
The DVD:
The Video:
The full-screen, 1.37:1 looks right...even if you masked off for 1.75:1...for this framing, with the Technicolor values slightly darker and muddier, obviously, than they were back in '53. Grain is apparent but not at all objectionable (why does everybody freak out over grain? I like that patina with the old color Westerns ―it gives them..."character"), and the image is nicely sharp. Oh, and if it was obvious from the review comments above, this is released "flat" on the DVD: no 3D enhancement.
The Audio:
The Dolby Digital English mono audio track is serviceable, with little hiss and no closed-captions or subtitles available.
The Extras:
No extras; the movie just starts.
Final Thoughts:
Not at all original...but speedy as hell and as satisfying as a $5 steak and a baked potato. Director Fred F. Sears churns out another super-clean, efficient oater, and the now-silly 3D effects are quite fun to watch. I'm recommending The Nebraskan for Western lovers.
---
Paul Mavis is an internationally published film and television historian, a member of the Online Film Critics Society, and the author of The Espionage Filmography.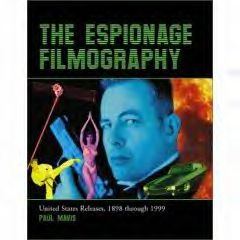 ---
C O N T E N T

---
V I D E O

---
A U D I O

---
E X T R A S

---
R E P L A Y

---
A D V I C E
Recommended
---
E - M A I L
this review to a friend
Sponsored Links
Sponsored Links