Wyoming Renegades (Sony Choice Collection)
Other // Unrated // August 7, 2012
List Price: $20.95 [Buy now and save at Amazon]
---
Memorable little "B" oater from jack-of-all-trades cult director Fred F. Sears. Sony's Choice Collection vault of hard-to-find cult and library titles has released Wyoming Renegades, the 1954 Technicolor® Western from Columbia starring Phil Carey, Gene Evans, Martha Hyer, William Bishop, Douglas Kennedy, Don Beddoe, Roy Roberts...and is that the Aaron Spelling as screwball Petie? Shot with a lot of style and most importantly speed, Wyoming Renegades also has a few quirky details (Butch Cassidy ain't good-guy Paul Newman here, and those shy, retiring womenfolk will blow your brains out) that distinguish this little oater from many of the other "B" horse operas of the period. No extras for this good-looking widescreen transfer.
Butch Cassidy (Gene Evans), lighting in Wyoming after pulling murderous jobs in Idaho, Utah, and Colorado, awaits the release of Brady Sutton (Phil Carey), one of his "Hole in the Wall Gang" gunmen who just did three years in stir. Sending the Sundance Kid (William Bishop) to fetch him, Sutton sends his own message to Butch, kicking Sundance's ass and giving him a message for Butch: I'm going straight. Returning to his hometown of Broken Bow, former bad boy Sutton isn't exactly welcomed by the citizenry, with Sheriff McVey (Roy Roberts) doubting his sincerity in staying clean, and local businessman Medford (Harry Harvey) screaming for Sutton to get locked up, regardless of the fact that Sutton hasn't committed any crimes. Sutton's girl, Nancy Warren (Martha Hyer), believes him, though, and she'll stand by him...even if her father, town bank manager Horace Warren (Don Beddoe), doesn't trust him, either. Luckily, new stranger-in-town Charlie Veer (Douglas Kennedy) takes a chance on Sutton, and forms a partnership in Sutton's blacksmith shop. Word on the dusty street of Broken Bow, however, is that Sutton's just laying low, setting up the town so cohort-in-crime Cassidy can ride in and rob the bank...which is just what Butch has in mind. By a twist of fate, Sutton is unfairly implicated in the unsuccessful heist, and he lams it out of town with Veer, rather than face a lynch mob. And that means heading back to the "Hole in the Wall" gang, and Butch.
As much as I enjoyed the simpler pleasures of director Fred F. Sears' familiar-but-speedy 3D oater, The Nebraskan (which I reviewed just a few days ago here), it's rather remarkable to see, with Sears using some of the same key personnel, just how much more resonant and successful Wyoming Renegades turned out to be―particularly when there was no reason to expect anything special out of either one of these low-budget, quickly-shot Westerns. Produced by one of Columbia's ace second-feature unit managers, Wallace MacDonald (Target Hong Kong, Ambush at Tomahawk Gap, Cell 2455 Death Row, all with Sears), and written by David Lang (lots of 50s and 60s TV like Bonanza, Laramie, Bronco, Maverick, Rawhide, Colt .45, and Rawhide), Wyoming Renegades has a consistent undertone of dread, intolerance, and corrosive violence to its familiar set-up of the ex-villain trying to go straight, that feels almost noirish in its fatalistic pessimism (aided immensely by cinematographer Lester White's contributions―check out the Sundance Kid's entrance here: deep, oppressive shadows completely obscuring his face).
The notion of fate overriding any deliberate attempt to change one's life runs throughout the movie. When Sutton arrives in Broken Bow, his plaintive, "I'm home," to the sheriff seems quietly heroic, due to Sears' low-angle shot...but that shot pans up from the sheriff's unwelcoming, threatening axe: Sutton won't find too many people here who believe a man can change (indeed, the notion of predestination is inherent in the sheriff's dismissal of Sutton's vows to go straight: like a man, he says, if the steel is good to begin with, you can sharpen a dull, bent axe. If not....). When despite his best, honest efforts to save the town (Sutton alerts them to Sundance's presence in town and tells them to stash the bank's money in the jail―unaware that Sundance recognized him, as well, and observed this switch―a cleverly worked-out sequence by Sears) Sutton is almost lynched, Veer tells an increasingly dejected Sutton that everyone's life is already mapped out for them―there's no escaping your destiny. Of course what's completely perverse about this manipulation by Veer we find out later: he pushed the wavering Sutton towards Cassidy in order to better ease his own infiltration of the "Hole in the Wall Gang"―a sick twist on Veer's character that would be home in any morally ambiguous noir outing.
Sears and Lang pepper Wyoming Renegades with lots of good throwaway bits that further amplify this unsettling atmosphere of a violent, off-kilter Western world. If there's no real honor among Pinkerton agents, as evidenced by Veer's self-serving manipulations, then there's certainly no honor among thieves, and the take on Butch Cassidy here is one of the screen's most amoral and violent of the infamous outlaw. Butch even steals from stealers (he takes a watch from one of his men...who took it off a corpse), before he viciously pistol-whips an important character to death, as the camera stays on Sutton and Sundance, with Sundance gazing enviously at the violence, intoning, "Give it to him good!" (when Sutton returns to his old gang, we expect him to beat Sundance again in a fight, but Sears and Lang deny us this expected, conventional Western pleasure: Sutton gets whupped). Adding a nicely odd angle is none other than future TV super-mogul Aaron Spelling, turning in a remarkably creepy/oddly affecting performance as Petie, a loony outlaw who loves birds and who can't quite remember where he stashed his loot. Classic urban noirs would frequently employ handicapped or unstable supporting characters to further emphasize a imperfect world view, and Petie certainly fits that bill here, with Sears giving us a startling, grotesque, pre-Leone close-up of Spelling goggling at what he thinks is his stash, before he's ultimately, and pathetically, drilled (Sears having Petie put his little dead bird in the hand of the dead stagecoach driver is a masterful little bit). And quite frankly, what could be more perverse and off-kilter―in terms of the Western genre's traditional conventions, that is―than Wyoming Renegades ending, which finds the town's menfolk running off on a useless wild goose chase while the womenfolk get the job done of killing off the "Hole in the Wall" gang? Earlier, Hyer's character is shown to be the real business brains behind Carey's blacksmith shop, but if you're looking for overt feminist messages, you won't find them in Wyoming Renegades. The feminine-focused finale just...pops up incongruously at the end of the movie, uncommented on, and its unexpected naturalism seems wonderfully strange for a typical Hollywood studio "B" Western...which Wyoming Renegades most certainly is not.
The DVD:
The Video:
The anamorphically-enhanced, 1.85:1 widescreen color transfer for Wyoming Renegades looks a bit grainy, but as I've stated before: I like that "patina" for these old Westerns. Colors are good, the image is a bit dark at times, a bit muddy, but overall―not bad.
The Audio:
The Dolby Digital English mono audio track is fine: little hiss, and clean dialogue. No subtitles or closed-captions are available.
The Extras:
No extras for Wyoming Renegades.
Final Thoughts:
A great early Sergio Leone Western...that Sergio Leone didn't direct. There's a remarkable shot by cinematographer Lester White and director Fred F. Sears in Wyoming Renegades that starts off as a pan along the mountains and valleys until Gene Evans' Butch Cassidy fills up the left of the frame, sweating and grousing, and I just know that Leone saw that shot at some fleapit cinema in the 1950s. Amoral, violent, and fatalistic (before the expected happy ending: "It's a good town," Carey unconvincingly offers at the end), Wyoming Renegades is a big cut above your average "B" Hollywood oater. I'm highly, highly recommending Wyoming Renegades.
---
Paul Mavis is an internationally published film and television historian, a member of the Online Film Critics Society, and the author of The Espionage Filmography.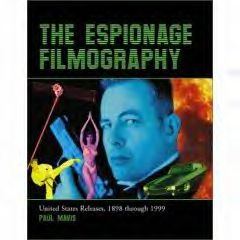 ---
C O N T E N T

---
V I D E O

---
A U D I O

---
E X T R A S

---
R E P L A Y

---
A D V I C E
Highly Recommended
---
E - M A I L
this review to a friend
Sponsored Links
Sponsored Links