Old Dark House (1962, Sony Choice Collection), The
Other // Unrated // September 4, 2012
List Price: $20.95 [Buy now and save at Amazon]
---
Very gentle murder comedy from the combined talents of exploitation pro William Castle and England's Hammer Films. Sony's Choice Collection vault of hard-to-find cult and library titles has released The Old Dark House, the 1963 "remake" from Columbia of the 1932 Universal classic, this time starring American comedic actor Tom Poston amid a sea of superlative British performers: Robert Morley, Mervyn Johns, Joyce Grenfell, Peter Bull, Janette Scott, and the seductive Fenella Fielding. Anyone looking for typical Castle gimmicks or Hammer thrills won't find them here; The Old Dark House's quaint idea of "horror comedy" makes the phrase "meandering whimsy" seem like hyperbolic effusiveness. Still...those performers take up a lot of the slack. An original trailer―very nice for a Sony Choice Collection offering―is included in this nicely-valued, clean widescreen transfer.
American Tom Penderel (Tom Poston), a salesman for American cars in London, is all set to deliver a brand new model to his "roommate" Caspar Femm (Peter Bull), at the exclusive Mayfair Casino. A month ago, Tom answered Caspar's advert for a flatmate, with Tom not seeing very much of Caspar, since Tom works days and Caspar disappears every night. So when Caspar tells Tom he's his only friend and that Tom must deliver the car to Caspar's ancestral county home―Femm House, in Dartmoor―Tom is bewildered...but agrees. Upon arriving at the foreboding mansion, Caspar's car is destroyed by a falling griffin on the gate tower. Tom proceeds by foot to the mansion...and promptly falls through a trap door at the entrance, where he meets Caspar's off-kilter Uncle Potiphar (Mervyn Jones) down in the cellar. Soon, Tom is introduced to all the eccentric Femms: imposing brother Roderick (Robert Morley); his dotty mother, Agatha (Joyce Grenfell); Caspar's nieces Morgana (Fenella Fielding), the sexy one, and Cecily (Janette Scott), the pretty normal one; Jaspar Femm (Peter Bull), Casper's twin brother; and Morgan (Danny Green), Morgana's overprotective, mute father. Oh, and Caspar's there, too, of course...laid out dead in a coffin. Unable to leave because of a violent storm and the flooded marshes surrounding the house, Tom is forced to stay overnight at Femm House, where he learns the family's terrible secret. The Femm's great, great grandfather was the infamous Morgan the Pirate, and his treasure is locked into a binding legal contract with his ancestors: to get the money, everyone must be home by midnight, every night, or forfeit their share. Maybe that's why people started dying that night, beginning with Caspar.
Loving anything Castle and Hammer-related when I was a kid, The Old Dark House, with its sometimes silly action and its G-rated scares, was always a solid pick whenever it showed up on the late, late show (or maybe on Sir Graves Ghastly: "Happy Hauntings! Neeeeeeyaaaaaaaaahhhaaahhhhhahhhh!"). Watching it now, though, decades later, I found I had to concentrate mostly on the performances and the solid production design to tolerably get through it, because The Old Dark House, truth be told, just isn't all that laugh-out-loud funny...and it's not scary in the slightest. Certainly the teaming of William Castle and Hammer Films must have seemed like a natural to all parties back in 1963. Even if his grosses were up and down with recent outings like Mr. Sardonicus, Homicidal, and Zotz! (also with Tom Poston), Castle was a still a highly marketable name in the horror exploitation racket. Hammer Films, also releasing their product through Castle's studio, Columbia, had recently secured the remake rights to all of Universal's horror classics, scoring boffo box office with movies like The Curse of Frankenstein, Dracula and The Mummy. So, Columbian executives must have thought: why not remake Universal's and director James Whales's macabre, humorous classic, The Old Dark House over at Hammer's Bray Studios in England, with big American name director William Castle attached to helm?
Retaining just the barest bones resemblance to author J.B. Priestley's source novel Benighted and the original 1932 James Whale production, screenwriter Robert Dillon (some all-time drive-in favorites of mine, including Beach Party, Muscle Beach Party, Prime Cut, and The French Connection II) sets up The Old Dark House as if it's going to be a true horror movie, with the implication that the Femms possess supernatural or otherworldly powers (certainly aided by the literal appearance of cartoonist Charles Addams' hand―in werewolf makeup, no less―signing his name during his cartoon-designed opening credits). When Tom meets Caspar, he already looks like a corpse, while his elusive statements suggest other undead aspects to the Femm family ("She needs new blood," he offers about his beautiful cousin, after telling Tom he must always return to his ancestral home by midnight...like a vampire, we wonder?). And when Tom meets the Femm matriarch, Agatha, she beams to him, "Are we having you for dinner? Delicious!"
However, The Old Dark House abandons these implied horror elements and quickly moves into Christie/Ten Little Indians territory, albeit filtered through a very mild (and strange) amalgamation of American sick joke/Mad Magazine-type sensibility, and Ealing Studio whimsy. Now, I'm an avowed fan of Castle's because there are times when, despite what his many critics' condescending bemusement towards his more ballyhooed promotional gimmicks suggest, he's able to create a believably unnerving shock or suspense sequence. In movies like House on Haunted Hill (when that witchy-looking woman suddenly appears out of the dark, and floats out of the room) or Homicidal (that grotesque, hypnotic wedding/stabbing scene) or I Saw What You Did (the final confrontation in the fog with the teen girls and John Ireland), Castle can suddenly come up with a scene or sequence that unerringly hits its mark, and impresses you beyond his enjoyably outsized carny sensibilities.
However, there's no way around the fact that outright comedy was probably Castle's weakest suit--movies like Zotz!, 13 Frightened Girls, The Old Dark House, Let's Kill Uncle, The Spirit is Willing, and The Busy Body, aren't going to be on the top of too many fans' lists of the director's best work. And The Old Dark House isn't any different. Granted, there are some funny lines here and there from Dillon (when they discover Grenfell's corpse punctured by knitting needles, Morley deadpans, "Must have been murder...she always knitted so carefully,"), as well as some funny/sick shots (the corpses that Castle lingers on), and some mildly scary stuff for the tots (Poston scrabbling on the coal pile for traction as he strangles himself). However, for the most part, The Old Dark House feels like a great idea, with great personnel, that never takes flight―no matter how much we the audience are willing it to do so. Sure the cast is game for this outing. Talented, funny Poston gets to do his shtick of confident American bumbler, while English pros like Morley, Bull, Johns, Fielding, and Grenfell get more delightful mileage than they have any right to, out of characters that have little to do.
Perhaps Castle's biggest mistake, though, is ignoring the very subgenre subsequently named after his movie's original source: the "old dark house" horror subgenre that multiplied after the 1932 original premiered. With Hammer's evocative production design (much better than most of Castle's skimpy Columbia quickies) and lush cinematography (from Hammer house pro, Arthur Grant), you would think that Castle would have had a field day with as many "things that go bump in the night" scenes as he could think of with Poston and that crew. But alas, he seems to bypass those sequences almost completely (did Castle think his British cast was "above" such shenanigans and decided to try for Ealing-type wry humor? If he did, he misjudged them). The set-ups are surprisingly talky and bland for what should have been a lead pipe cinch spookums, so the audience waits and waits and waits for The Old Dark House to get really funny or really scary (or preferably both)...and it does neither. You could probably give The Old Dark House a pass by calling it "English macabre whimsy," but in that case, you had better be in a very genial, very forgiving mood, because The Old Dark House's charms are disappointingly slight, and worse, fleeting.
The DVD:
The Video:
The anamorphically-enhanced, 1.85:1 widescreen transfer for The Old Dark House looks quite good, with deep, rich color, a sharp image, and minimal grain and imperfections.
The Audio:
The Dolby Digital English split mono audio track is okay, with a decent re-recording level and no fluctuation. No subtitles or closed-captions available.
The Extras:
There's an original trailer for The Old Dark House―considering you rarely if ever see extras for these Sony Choice Collection transfers, that's a good thing.
Final Thoughts:
You really want to say The Old Dark House is better than it is...but it isn't. The combined talents of William Castle and Hammer Films can't lift The Old Dark House out of its rather quaint doldrums―although that dream cast tries mightily. Pity, that. The Old Dark House, unfortunately, is a rental for fans of the director and the cast.
---
Paul Mavis is an internationally published film and television historian, a member of the Online Film Critics Society, and the author of The Espionage Filmography.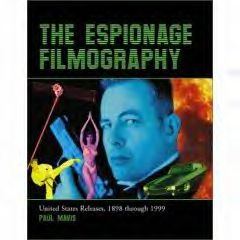 Sponsored Links
Sponsored Links