Safari (1956, Sony Choice Collection)
Other // Unrated // September 4, 2012
List Price: $20.95 [Buy now and save at Amazon]
---
"If somebody sends me a literate script do you know what I do with it? I throw it in the waste paper basket, that's what I do with it. I make films to appeal to the lowest common denominator. That's why I'm still in business while the other arty-farty boys are not. I just want to make pictures to make money." producer Irving Allen
Amen, Irving. Enjoyable actioner with Mature and Leigh competing for the "Biggest Chest of 1956 Award" on the vast CinemaScope® screen. Sony's Choice Collection vault of hard-to-find cult and library titles has released Safari, the 1956 Warwick Films African adventure, released by Columbia, starring Victor Mature, Janet Leigh, Roland Culver, John Justin, Liam Redmond, Earl Cameron, Orlando Martins, Lionel Ngakane, and little Odongo (who had his own Warwick movie filmed at the same time as Safari). A two-fisted tale of big white hunters and Mau Mau terrorists, Safari briskly skips over the politics of Empire for lots of colorful Kenyan location shooting, tense action, and Mature and Leigh heaving their pecs at each other...so what else do want? No extras for this great-looking, super-wide anamorphic transfer.
Ken Duffield (fav Victor Mature, with those 50,000 megawatt choppers), the top game hunter for Roy Shaw's (Liam Redmond) African Hunters safari expeditors, is off into the Nairobi interior again, but not before stopping off at his home to say goodbye to his little boy Kenny (Christopher Warbey). Instructing one of his other "boys," Jeroge (Earl Cameron), to watch over Kenny and Aunty May (Estelle Brody), Ken drives deep into the savanna. That night, however, he receives an urgent message over the wireless: the savage Mau Maus have killed a white settler near Ken's home. Meanwhile, Aunty May and Kenny prepare for bed, just before the Mau Maus attack. Brave in their stand against the marauders, many of whom the unlikely pair drop with their guns, first Aunty May is felled (hacked to death) and then little Kenny (repeatedly shot, point blank) by traitor Jeroge, who, it turns out, is an undercover Mau Mau general.
Now it's time for the devastated Ken's revenge, but the British authorities, worried he'll stir up further trouble, take away his hunting license. Luckily, Ken's next client, arrogant Sir Vincent Brampton (Roland Culver) arrives at Nairobi Airport: he paid for the best big game hunter, and he'll have him, regardless of legal formalities. License problem solved. Hopeful to bag Hatari, the notorious man-eating lion famed throughout the region, Brampton's single-minded imperiousness extends to his fiance, Linda (Janet Leigh, playful and sexy as hell...as usual), a former chorus girl, and especially to his secretary, Brian Sinden (John Justin), a weakling Brampton enjoys humiliating. So, with loyal bearers Jerusalem (Orlando Martins) and Makora (Linonel Ngakane) in tow, along with adorable tag-along Juma (Odongo), the stage is set for tense action―and untamed, savage passion―out on the safari.
The name "Warwick Films" is probably most familiar to movie fans as the training ground for (and almost home of) the James Bond film series. Created by producers Irving Allen and Albert R. Broccoli, Warwick, based in London, was set up solely to take advantage of not only England's Eady Levy (which let American movie companies utilize their frozen overseas WWII profits if they hired British crews and actors), but also IRS tax loopholes that let American actors, within a fixed timeframe, work abroad tax-free. Freelancer Alan Ladd was the first to sign with Warwick; 1953's Paratrooper, directed by future Bond helmsman and Warwick house director Terence Young, made a boatload of money on its relatively tiny budget. Warwick, with matching production funds and distribution handled by Columbia, was launched, with a string of action adventure films that followed making a steady profit.
Meanwhile,Victor Mature, tired of getting relative peanuts on his 20th Century-Fox contract (after making them a fortune on The Robe and Demetrius and the Gladiators), joined the ranks of leading actors abandoning their studio contracts to freelance, as well. His two-picture deal with Columbia led to his association with Warwick, and soon he was playing out the last phase of his leading man career in successful, lower-budgeted actioners like Zarak, Pickup Alley, The Long Haul, Tank Force, and Safari. By 1959, sky-rocketing production costs jeopardized Warwick's increasingly thin profit margin, while the commercial failure, ironically, of "arty," expensive The Trials of Oscar Wilde―along with Allen and Broccoli disagreeing over the cinematic potential of Ian Fleming's James Bond novels―led to Warwick's folding. Broccoli of course went on to great fame and wealth by putting Bond on film...while Allen kept plugging along with successful schlock, including the awful, enjoyable Matt Helm series.
Safari, as far as African adventure movies go, isn't bad at all, with a lush production look and some good action smoothing over the sometimes silly story and script (it probably wasn't hard to sell the idea to the suits at Paramount, since Ford's Mogambo had been such a big hit for M-G-M two years before). Basically a Western pretending to be a "jungle" adventure...with no jungle (Culver and Leigh are the settlers arriving in a strange land, the Mau Maus are the marauding Indians, and Mature is the skilled loner who straddles both cultures), Safari willfully avoids any of the morally sticky politics of British colonial rule in Kenya. For our newer, more...sensitive, more politically correct critics and viewers who live only to point out such omissions in older movies, the above quote from producer Irving should at least answer why Safari portrays the Mau Mau Revolt with absolutely no background (...as well as the fact that partial production funding for Safari came from the British government, for movies shot in colonial locations). Safari is satisfied enough just to fictionalize a few of the horrific Mau Mau atrocities here, which were big news at the time, without muddying the waters for indiscriminate action fans. Anyone looking to make a federal case out of Safari's political indifference is missing the point of not only its production context, but more importantly, its intent: producer Young and Brocoli and director Young weren't out to educate their audiences―just entertain them with a thick-ear slam-banger (and if you still think that's not a good enough excuse...well, we've had decades and decades of movies that helpfully try to "educate" their audiences. And guess what? Same stuff still keeps happening...).
Scripted by pro Anthony Veiller...when he must have needed a buck (The Stranger, The Killers, The Night of the Iguana), Safari's potential political subplot is peripheral, anyway, to the story's center story element―the safari―which takes up the majority of the screen time. Playing at times like an ersatz version of The Macomber Affair, the script flogs the love triangle of Culver, Leigh, and Mature over an over inbetween action set pieces that are either exciting (we see a magnificent elephant blasted, and a real Masai lion kill) or completely silly (the smart Leigh inexplicably getting into a rubber dingy to go visit hungry crocs and hippos; the whole Culver-as-macho-sadist, trying to bag a killer lion). Still, Veiller is smart enough to include clever lines throughout ("You say the nicest and the nastiest things, Vincent...I get so confused," Leigh says), along with several knowing nods to how ridiculous all this "big White hunter" nonsense is in the movie.
Director Young, honing his skills before essentially inventing modern action movie conventions with Dr. No, knows how to stage a tense sequence (the shocking death of Kenny and Aunt May, perhaps based on the real-life news sensation over the grotesque murder of six-year-old Michael Ruck, his parents and a farm worker by the Mau Maus), with the visceral pleasure of the gorgeously-shot CinemaScope® vistas by ace cinematographer John Wilcox, considerably amping up the movie's impact (that early extra-wide 2.55:1 CinemaScope® image just about takes in Mature's shoulders and Leigh's bust in profile...and how about those censors missing Janet Leigh's exposed breast in the bathtub? Good job, four-eyes!). After a smashing action finale, Mature and Leigh clinch for the fade-out, and Young has the good sense of humor to have little Odongo laugh outrageously at all this balderdash. And I can't think of a better way to close out the entertaining Safari.
The DVD:
The Video:
Terrific. Sony decided to put the whole image right up there, in its early CinemaScope® ratio of 2.55:1, anamorphically enhanced widescreen splendor. And while the colors are sometimes a bit ruddy (or yellowish), and grain is sometimes a factor, this looks way better than I remember it as a kid, panned-and-scanned down to nothing but artifical close-ups.
The Audio:
No such luck on the stereophonic sound, though. The Dolby Digital English split mono audio is okay, with little hiss and no distortion. No subtitles or closed-captions.
The Extras:
No extras for Safari.
Final Thoughts:
Sure it's goofy at times, and no, it doesn't take England to task for its colonial excesses (you've heard that all before anyway, haven't you?) What Safari does do is take you to Kenya and show you the vastness of Mature's and Leigh's décolletage the savanna, inbetween Tarzan-in-modern-dress and/or cowboys-and-indians-style action sequences, that are models of tense excitement. Just what the action fan is looking for in escapist entertainment. I'm highly recommending Safari.
---
Paul Mavis is an internationally published film and television historian, a member of the Online Film Critics Society, and the author of The Espionage Filmography.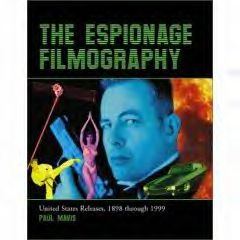 ---
C O N T E N T

---
V I D E O

---
A U D I O

---
E X T R A S

---
R E P L A Y

---
A D V I C E
Highly Recommended
---
E - M A I L
this review to a friend
Sponsored Links
Sponsored Links