Regular Show: Party Pack 3
List Price: $19.82 [Buy now and save at Amazon]
---
Whooooooaaaaa! Cartoon Network and Warner Bros. have released Regular Show: Party Pack 3 (although it doesn't say "3" anywhere on the packaging), a single-disc, 16-episode collection of Cartoon Network's hit cartoon (and my current favorite toon on television). A fairly good cross section of episodes from the series, most of Regular Show: Party Pack 3's toons will amuse...and the sight of Pops singing Footloose alone may be worth the price of admission here. No extras for these digitally perfect anamorphic transfers.
The show's set-up is simple. 23-year-old, six-foot tall blue jay Mordecai (voice talent of J.G. Quintel), a former art school student, now works as a groundskeeper at a city park. His best friend, 23-year-old raccoon, Rigby (voice talent of William Salyers), a high school drop-out, works alongside him...although "work" is a relative term for the two slackers. Constantly harangued to finish their assignments by their rage-filled boss, park manager and living gumball machine Benson (voice talent of Sam Marin), Mordecai and Rigby look for any excuse to ditch their meaningless, menial labor chores in the search for distraction, which usually comes at the end of a pair of video game controllers. Also working at the park are Skips (voice talent of Mark Hamill), an immortal yeti who can fix anything, Muscle Man (voice talent of Sam Marin), a little green gnome with a pudgy physique in direct inverse proportion to his macho, insulting self-image, High Five Ghost (voice talent of J.G. Quintel), a body-less ghost with a hand sticking out of his head, and Pops (voice talent of Sam Marin), a quavery-voiced older man with a head the size of a giant lolly, and the son of the park's owner, who naively lives in his own quaint, antiquated world. Mordecai is more responsible than Rigby (only just), and he has a crush on Margaret (voice talent of Janie Haddad)), a five-foot tall red-breasted robin who works at the nearby coffee shop with her friend, Eileen (voice talent of Minty Lewis), a mole. But that matters little since impulsive, violent Rigby often predicates a cosmic disaster in each episode, frequently involving bizarre, strange beings from other worlds unwittingly unleashed by the boys, ready to destroy the unlikely duo, the park, and Earth.
Last November, I wrote a review for Regular Show: The Best DVD in the World* (*at this moment in time), which pretty much summed up my thoughts about the show's aesthetics and goals, so I won't rehash all that that same material here (you can read that review here). Suffice it to say (as I wrote before), Regular Show consistently delivers those deceptively calm-then-frenzied storylines that never stop being simple, basic goofs at their core...but that then somehow explode into hilarious parodies and epic-sized riffs on, and permutations of, clichéd 80s action/sci-fi/fantasy/horror movies, workplace sitcom television, and 80s techno/hip hop/rock anthem/funk music―all filtered through a modern slacker/gamer mentality that is able to elicit a simple catchall "whoa!" for situations as diverse as a big pile of leaves to rake up...and the sight of giant baby Guardians of Eternal Youth floating in space. And while Regular Show: Party Pack 3 doesn't feature episodes as weirdly hilarious as Best's Fists of Justice or Cool Bikes or More Smarter, there are still a lot of laughs in this go-around.
First up is Stick Hockey, written by Sean Szeles and Kat Morris, a funny if familiar example of Regular Show's obsession with parodying 80s action/martial arts flicks, with this Bloodsport Meets Over the Top smash-up. The parade of incongruous people who've bought and resold the "miniature man hockey dome" game is probably the episode's best joke (the Mob, an anthropology professor, a guy in a packing crate, and underground sewer dwellers among others), while the visual of Benson's protégé getting his bubble head neatly sliced off is pretty funny (the episode's unsentimental ending is perfect, too―Benson sincerely, and rather pathetically, admits to wasting his life...and Rigby callously agrees: "Yeah, right."). My Mom seems to veer dangerously towards sentimentality when Mordecai and Rigby discover that Muscle Man may actually be fairly cool, their original opinion of MM and High Five Ghost notwithstanding ("Those guys are turds!"). Just when you think the episode is going all Afterschool Special-y on you, Mordecai can't take it anymore and informs MM he's telling those "my mom" jokes all wrong, resulting in a funny set of humiliation pranks from the completely freaked out MM and his brother.
Out of Commission, written by Calvin Wong and Toby Jones, is a funny sounding set-up―M & R's beloved golf cart becomes sentient when it's about to be scrapped―but it quickly peters out because the cart, once "alive," isn't very amusing or interesting ("I've only been alive 30 seconds and I already know life is cruel," was the only joke that made me laugh). Sean Szeles' High Score, however, is the kind of small-then-big episode Regular Show does so well. Humiliated because their paycheck comes in coins, M & R lose more face when two little skater punks wipe them out, first on the sidewalk and then on an arcade game, Broken Bonez. Determined to beat them, M & R soon master the game...only to face the wrath of GBF: Garrett Bobby Ferguson, a giant god-head who holds Bonez's Universe record. Cueing up the hilariously gawd-awful Hangin' Tough from New Kids on the Block would have been enough to make High Score memorable, but the creation of Manson-like "Giant Beard Face" is a classic, sporting one of the greatest serial killer names of all time, a made-up wife ("You can't tie GBF down!"), and a messianic desire to have his followers stroke his beard.
Really Real Wrestling, again by Szeles, is a funny Pops outing (my favorite character on the show), with M & R desperate to go to the City Arena Center's RRW's Wrassle Frassle VII Live! event ("For tickets, call your mamma and cry about it because this event is sold out!"). When they accidentally hurt Pops, who reveals some serious wrestling skills from his "schooling" days, they all wind up at the event, with Pops inadvertently competing. Lizard wrestler Hissy Fit and multi-appendaged Four Armageddon should have had more gags, but the sight of Pops kicking ass is priceless (M & R's slo-mo wrestling is pretty funny, too). But I Have a Receipt gives it to all those stupid, generic RPGs when M & R buy The Realm of Darthon...and it blows. Waging a war with the game store clerk who won't refund their money, they soon find themselves in the game, battling the clerk...and it's just as stupid as playing it on a board. Lots of clever gags (it's all for seven measly bucks) and visuals here, including the Pixie Sorcerer knifed and the fireball of stuffed animals that "squeaks" when it hits the boys (slow down the DVD when Mordecai flips through the game's instruction book, and check out the look-alike characters; it's the episode's funniest bit: Pixie Sorcerer, Goblin Warrior, She-Cop, Tank Tread Wizard, Vampire Archer, Goat-Legged Dude, Double Patch Pirate, Surfer with Gun...).
Skips Strikes, by Benton Connor and Calvin Wong, is a simple set-up―a bowling match between the boys and Death's (voice talent of Julian Holloway) "Magical Elements" team ("undefeated for 1000s of years!")―and it gets big laughs here. Pop screaming, "Yay, one ball, one ball!" while he wriggles on the alley like a worm is topped when Skips throws the final winning ball, as the soundtrack goes quiet and the orchestral music goes epic as the "Magical Elements" unleash apocalyptic destruction to stop the ball (too bad Skips' secret isn't all that funny...). Sugar Rush is a beautifully bizarre sci-fi outing from Benton Connor and Hilary Florido, where Pops' insane consumption of over-glazed apple fritters sends him into an alternate, "higher sugar plane" of speed and time, where his rush makes everyone appear to be slower and slower. A tour de force for the animators (particularly that final nightmarish black and grey dimension right out of Washington Irving filtered through Munch), and a special treat for Pops fans who want to see him act like a speed freak.
House Rules, by John Infantino and Andres Salaff, is another great example of Regular Show ability to go from the simplest set-up―Benson lays down a bunch of bogus rules the boys don't like―to wonderfully surreal, outsized comedy. It may not read funny ("Rules are for fools! Save your stupid rulin' for fools that need some schoolin'!"), but M & R's raps are dependably terrible, while the No Rules Man who appears on roller skates with a cape to lead M & R to a cosmic dimension where no rules exists, is a dependably amusing Regular Show tempter/villain ("This guy don't gotta do jack, amigo!" he snarls). Lots of laughs here, including the Punchie Parade, Kevin the Prank Phone Caller (he ends his calls with a screamed, "I hate you!"), and learning about the laws of gravity (they include a punch in the back of the head and your wallet stolen). Gut Model, from Sean Szeles and Kat Morris, is a sick little Muscle Man outing, when MM signs up with Mommy Monthly magazine as their all-purpose "gut model." Good lines throughout ("There's no disputing it...there's nothing more beautiful than a pregnant woman's stomach,"), and some funny bits (when a nervous MM starts to look like a deer in the headlights at his first photo shoot, the photographer cuts him off with a curt, "Shirt! Shirt!" while he impatiently snaps his fingers)...but that grease monster is pretty lame at the end (the Lesley Gore "It's my party and I'll fry if I want to!" reference is going to be lost on the kids...).
Fuzzy Dice, by Andres Salaff & Madeline Queripel, is a pretty funny knock on Chuck E. Cheese's, laid on a noir platform, as the gang tries to buy/win a pair of fuzzy dice at the Fun Fun Zone for Pops' birthday. The image of Rigby as one of the typical snotty little kids that watch Regular Show is too funny to pass up, as is the sight of the animatronic figures trying to run away―very slowly―with their barely articulated legs ("Eat lead, sucka!" the Pam Grier-like robot cries, before the FBI orders, "Smoke 'em!" as they sink the robots' getaway boat). And "Skeeze Ballz" is, unaccountably I might add, hilariously funny to me. Big Winner, from Benton Connor and Hilary Florido, is a straightforward Muscle Man outing, all predicated on the payoff of having MM freak out at the end, when he discovers M & R pranked him with a fake $1 million dollar lottery ticket (the action-packed finale is memorable, where MM battles a security force in "Lotto Plaza," a la Conquest of the Planet of the Apes, kicking some soldier's head clean off).
Replaced, by J. G. Quintel, Mike Roth, and John Infantino, is an uncharacteristically thin effort, unfortunately, where M & R try to sabotage potential rivals, Chad and Jeremy, for their park jobs (again...who's as old as I am on the writing staff?). A paucity of gags and a finale that's pretty sloppy and not at all explained: giant monsters come out of the lake (yawn). On the other hand, Free Cake, from Kat Morris & Paul Scarlata, is a winner: M & R, spastically jonesing for some cake, decide to throw unwilling Skips a surprise birthday party to get that cake...with cosmically disastrous results. Big, big laughs here, including M & R endlessly exchanging, "Free cake!" "No cake," back and forth, Muscle Man's in-the-dark enthusiasm for a surprise party ("Whoo! Skips is gonna be so surprised when he comes in and sees us totally naked!"), and of course, the Guardians of Youth, the surly cosmic babies who demand cake (the best joke is when they get it, they don't eat it―they just smush it all over their faces).
Party Pete, written by Benton Connor & Calvin Wong, certainly sounds promising―M & R keep party juicer Party Pete around with Benson's stashed vintage cola―but it plays out fairly hum-drum, with few gags and an overly-familiar finale (Party Pete "transforms" into something otherworldly and finally blows up―seen it). Karaoke Video, by Sean Szeles and Dennis Messner, however, starts out slowly and builds into one of the more satisfying episodes here. After M & R blow it at the Carrey O'Key karaoke bar, knocking their friends inbetween off-key notes, they desperately try and get back a video tape of the performance before everyone sees it. Some agreeably weird moments throughout (I love the masochistic club owner having to get repeatedly slapped in the face to go on stage), and some good lines ("I can feel the excitement in my bladder!" Pops mewls) keeps it all humming, until we're treated to the sound of unassuming, nonthreatening Pops, in a sickeningly hilarious whine, carefully enunciating Footloose, the single lamest teen rebellion song ever, while the club erupts into an all-out fight (Muscle Man gets his gravy bag clocked). That's about as pure a moment of Regular Show humor as I can point to―mocking/congratulatory denunciation/celebration of useless pop culture reference points in the service of stupid/surreal comedy―and it wraps the disc up on a high note.
The DVD:
The Video:
The anamorphically enhanced, 1.78:1 video transfer for Regular Show: Party Pack 3 looks digitally perfect: razor-sharp image, solid color values, no compression issues to speak of here.
The Audio:
The Dolby Digital English 2.0 stereo mix is heavy on the bass...which is perfect for all the funk jam/techno/rock ballad lines that are dropped throughout the episodes. English subtitles are available.
The Extras:
Some text biographies of some of the supporting characters are included here...including a few who don't show up in these episodes....
Final Thoughts:
A mostly positive collection of episodes from the funniest toon on TV today (if you don't count Archer, maybe...). I'm highly recommending Regular Show: Party Pack 3
---
Paul Mavis is an internationally published movie and television historian, a member of the Online Film Critics Society, and the author of The Espionage Filmography.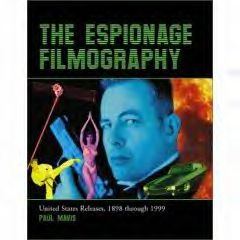 ---
C O N T E N T

---
V I D E O

---
A U D I O

---
E X T R A S

---
R E P L A Y

---
A D V I C E
Highly Recommended
---
E - M A I L
this review to a friend
Sponsored Links
Sponsored Links