Film Noir Collection Vol. 1 (Case Against Brooklyn, Criminal Lawyer, Crooked Web, Escape from San Quentin, Shadow on the Window)
Other // Unrated // December 4, 2012
List Price: $55.99 [Buy now and save at Amazon]
---
Tasty collection of minor B-grade noirs. Sony's Choice Collection vault of hard-to-find cult and library titles has released Film Noir Collection - Volume 1, a five-disc, five movie collection that includes Columbia B mellers 1958's The Case Against Brooklyn, 1951's Criminal Lawyer, 1955's The Crooked Web, 1957's Escape From San Quentin, and 1956's The Shadow on the Window. Two original trailers are included as extras for these sharp transfers―all in their correct ratios. Let's look very briefly at each movie.
THE CASE AGAINST BROOKLYN
Brooklyn. Kings County, New York State. District Attorney Michael W. Norris (Tol Avery) wants to know what Deputy Commissioner of Police Personnel Rogers (Dan Riss) is going to do about televised reports concerning collusion between corrupt cops and mob-owned bookie joints and horse rooms in Brooklyn. When Rogers suggests rotating everyone out of their assignments, Norris says that's not enough: the cancer has to be cut out of the heart of the Brooklyn force. And to do that, Norris wants his own private police unit, culled from the not-yet-corrupted police academy recruits, to infiltrate the various aspects of the Brooklyn criminal underworld to root out the dirty cops. Enter Pete Harris (Darren McGavin, trying to break into leading man roles before going back to TV with Riverboat), a rookie cop who's a bit older than his compatriots due to a 10-year stint in Marine Intelligence. Bummed about starting over at his age, Pete grabs at the chance to jumpstart his career, and soon he's moving out of his apartment where his pretty wife (Peggy McCay) lives, and getting his own bachelor pad so he can score with Lil Polombo (Margaret Hayes). Lil, the widow of produce trucker Gus Polombo (Joe De Santis) who committed suicide when mob bookies threatened to kill him for unpaid gambling debts, is friends with mob runner/henchman Rudi Franklin (Warren Stevens), and Pete wants to nail him bad...when Pete's wife winds up dead.
Written by "Raymond T. Marcus" (blacklisted scripter Bernard Gordon: Hellcats of the Navy, Chicago Confidential, The Day of the Triffids) and fellow blacklistee, Julian Zimet (Psyche 59, Circus World, Crack in the World), based on a True Magazine article, I Broke the Brooklyn Graft Scandal by investigative reporter Ed Reid, The Case Against Brooklyn is a snappy, violent noir programmer benefiting from good performances, solid production values (Fred Jackman Jr.'s shadowy black and white cinematography is terrific), and a deft directorial touch from sophomore director Paul Wendkos (Gidget, The Mephisto Waltz, The Legend of Lizzie Borden). Opening with a intriguingly contradictory tone of realism (the credits are a case file taken out of a briefcase) and storybook telling (a title card reads, "Brooklyn...a very few years ago."), Gordon's and Zimet's story jumps right in with its central theme: Brooklyn is "sewn up" between collaborating cops and the mob, and anyone who's stupid enough to try and unravel that lucrative arrangement is going to die. Their Brooklyn is a deeply cynical, corrupt one where "the law belongs to the highest bidder," with illicit money providing "the grease for the wheels of [perverted] justice." Although The Case Against Brooklyn doesn't show any high-level officials in on the graft (the notion that the D.A. didn't already know about any of these shenanigans is of course, laughable), the storyline makes it clear that from lowly beat cop to precinct captain, and from numbers runner to mob chieftain, the two supposedly opposing forces are actually symbiotically linked.
Darren McGavin's abrasive, unsympathetic rookie cop is a recognizable noir type: fiercely obsessed with his own personal gain ("I gotta make it!" the older rookie insists to his wife), and completely dismissive of his friends' and family's feelings in favor of getting his job done―regardless of the moral cost. When pushed about how far he'll go with Hayes to get information, the happily married cop preens for his "date" with Hayes and makes it clear to his buddy Jess (played by future Where Eagles Dare director Brian J. Hutton) he'll go all the way. When experienced cop Hutton keeps warning McGavin that he Hutton has been "made" by mobster Finelli (Nestor Paiva), McGavin still pushes him to go back on stakeout...where Robert Osterloh's crooked cop Bonney is waiting to plug him. Even when SPOILERS ALERT! McGavin's wife is blown up, his pursuit of Stevens seems motivated out of personal affront, rather than from avenging his beloved wife (ironically, McGavin seems good with that tragic development rather quickly...). Director Wendkos, an underrated helmer who did fine work on both the big and small screen, brings some nice touches throughout the surprisingly detailed Charles H. Schneer production (the car horn blaring as hoods beat up De Santis, cutting back and forth between the cops and the hoods watching Reid's televised expose), keeping The Case Against Brooklyn on zippy track as an entertaining noir programmer.
---
CRIMINAL LAWYER
Fast-talkin', hard-drinkin' Irish lawyer James "Jimmy" Regan (Pat O'Brien) has the hottest law firm in the city: if you want to beat the rap, and you don't mind a lawyer who's willing to pull some iffy legal tricks, then Jimmy's your man. Backed up by aide Maggie Powell (Jane Wyatt), lawyer partner/pedestrian schmoe Clark Sommers (Robert Shayne), and bodyguard "Moose" Hendricks (Mike Mazurki), Jimmy helps mobster Vincent Cheney (Mickey Knox) escape the chair with one of his patented gimmicks. Tired of such shenanigans, Jimmy makes an announcement: after hearing he may be up for a judgeship on the state supreme court, he's retiring and turning the practice over to jealous Clark. When that proposed appointment doesn't go through, because the bar association doesn't want anything to do with a cheap hustler like Regan, Jimmy goes on the mother of all benders, before loving Maggie comes to the rescue. It seems that one of the bar's stuffy members, Melville Webber, has a son, Bill (Darryl Hickman), who killed a guy drunk driving. Jimmy helps Clark with the case, but the grieving wife of the victim sets Jimmy off on yet another drunken spree, only to claw his way back again to sobriety when Moose is charged with murder.
It's acknowledged even among the experts in the genre that nobody knows what the hell really constitutes the parameters of the noir genre, so if Sony's Choice Collection wants to call bland courtroom drama Criminal Lawyer a noir...so be it. Written by Harold R. Greene (Counterspy Meets Scotland Yard, Texas Across the River), and directed by Seymour Friedman (The Crime Doctor's Diary, The Son of Dr. Jekyll, The Saint's Girl Friday), Criminal Lawyer's thoroughly familiar stock situations shouldn't surprise anyone who grew up on all those great Warner Bros., Columbia, and RKO, and Universal serial antecedents (especially with O'Brien in the cast, Criminal Lawyer has the feel of a long-lost 30s WB meller). Displaying that flat, over-lit look of cheap television, Criminal Lawyer's suspect noir visual schematic is just as elusive as any other tangible evidence that this one should be considered within the genre. Sure, O'Brien's drunken lawyer has fits of melancholia and self-destructiveness when he surveys the moral quandary that is his profession...but Father Knows Best's chipper legal aide Wyatt neatly dusts those qualms aside ("You can't pick and choose" who to defend, she calmly tells O'Brien), and that's the end of it. Ethical quagmire drained. Pedestrian in the extreme (with a curiously weak, tired-acting O'Brien), Criminal Lawyer's structure is unexciting both in conception and execution, with this anonymous, bloodlessly efficient programmer playing more like a proposed TV pilot for one of those early syndicated strips, rather than as a nasty noir B (it's not exactly surprising to see that the uninspired Friedman went on to a far more successful career as a production manager with Columbia's Screen Gems television division). Certainly the weakest entry here in the Film Noir Collection - Volume 1.
---
THE CROOKED WEB
Ex-G.I. Stan Fabian (Frank Lovejoy), owner of L.A.'s Stan's drive-in, likes to play the ponies, but he has a sure thing in fast filly Joanie Daniel (Mari Blanchard), one of his chromium-plated blonde car hops. When Joanie's creepy brother Frank (Richard Denning) comes by, though, the tension mounts for the threesome. You see, Frank has a scam going with partner Ray Torres (Steven Rich), where he needs some dough to get over to Europe and recover $200K worth of stolen WWII gold booty buried in a German chateau. Well, Stan can't resist the odds, so he throws in with Frank, much to Joanie's annoyance, until Stan agrees to marry her and make the trip a honeymoon―with Frank making room for Stan by zapping his partner, Ray. The only problem is, once the trio get to Germany, the U.S. army cordons off the chateau. And even more disturbing...everyone might not seem to be who they say they are here.
Written by Lou Breslow (lots of fun titles like Murder, He Says, Bud Abbott and Lou Costello in Hollywood, Merton of the Movies, and Bedtime for Bonzo), and directed by exploitation standby Nathan Juran (The Deadly Mantis, 20 Million Miles to Earth, The 7th Voyage of Sinbad), The Crooked Web may falter once it goes overseas, when conventional plotting and the lack of a smasheroo finale belay the movie's derivative nature. However, it's a lot of fun before that vaguely unsatisfying quickie fade-out. Beginning with some terrific shots of late 1950s L.A., lensed in overbaked, hard-on-the-eyes black and white by whiz Henry Freulich (Blondie movies, Ambush at Tomahawk Gap, TV's Dennis the Menace), The Crooked Web set me up but good with what I thought was going to be a standard but engaging noir, with better-than-B-programmer personnel in front of the camera. But as fellow DVDTalk reviewer Stuart Galbraith IV so correctly observed, The Crooked Web completely tricked me with a rather remarkable plot twist I didn't see coming at all.
MAJOR SPOILERS ALERT! Now...I did see the twist coming of Denning and Blanchard not being related―no brother is supposed to look at his sister that way. However, the revelation that "bad guys" Denning and Blanchard are really working undercover to bust "good guy" Lovejoy came right out of left field―and if you've seen as many movies as Stuart and I have, that's saying something. Breslow and Juran set up our noir genre expectations beautifully, making Blanchard a brassy, drunken harpy, too-slick, smarmy Denning a "horn-happy creep," and stolid, good-guy Lovejoy a "natural born umpire" willing to forgive and forget any slight. I was absolutely positive that I knew where The Crooked Web was going: Denning and Blanchard were setting up poor slob Lovejoy to take his money and his drive-in, driving him to homicidal fury when the scam sunk in. Wrong. Once we learn what Lovejoy did in the war―cold-bloodedly killed a kid M.P. while running his black market operations―Lovejoy's regular guy persona takes on a decidedly weird, unsettling tone, and we start to watch his performance more closely for clues to see where his character is going. Unfortunately, Breslow and Juran stop there at that cool twist, with both failing to actually dramatize and expand on the thematic and visual possibilities (especially potent within the conflicted, twilight moral framework of noir conventions) inherent in these "dual" personalities. A sweet plot switcheroo, ultimately, is just that, and no more, when it could have informed The Crooked Web with a fascinating subtext. Instead, we go off to Germany (care of the studio mock-ups and stock footage), where everything eventually gets matter-of-fact and predictable. Too bad...but it's still fun to watch.
---
ESCAPE FROM SAN QUENTIN
Ex-Air Force flier and now dopey con Mike Gilbert (Johnny Desmond) only has two years left on his stint in San Quentin and he is out, you dig? But cellmate Roy Gruber (Richard Devon) has other ideas; he's been grooming Mike as a buddy for years just for this moment. Wheedling a transfer for the two of them to the California Board of Correction's Camp #41 work farm, Roy plans on walking out of the medium-security camp and crossing the road to the nearby airfield, where Mike will hotwire a plane and they'll both skedaddle for parts unknown. Not so fast, amigo. Mike wants nothing to do with the scheme, but when he learns that his wife is leaving him, he drunkenly agrees to go with Roy. Too bad laughing leech Hap Graham (Roy Engel) comes along for the ride; Roy is forced to kick him out of the plane as they take off. Hap survives, though, and back with his gang, he's planning on tracking down Roy and Mike, looking to score all that money Roy promised him....
Well...Escape From San Quentin's Work Farm, you mean.... A typically speedy, bare-bones effort from producer Sam Katzman and director/human dynamo Fred F. Sears (he would die of a heart attack two months after Escape was released; he had six movies come out in 1957), Escape From San Quentin doesn't pack quite the pulpy exploitation punch you'd expect from that production team. A gloppy, too-jumpy script from Bernard Gordon (under his blacklistee alias, "Raymond T. Marcus") doesn't help matters, taking the focus off the prison (we get some stock shots of the slammer, and one brief studio mock-up) and the prison farm, and settling instead for various hotel room mock-ups as the criminals try to double cross each other all over Mexico. A romantic subplot featuring Merry Anders as Desmond's kid sister-in-law doesn't work, either, within the supposed noir framework because her love is neither corruptive (she's a "good girl") nor redemptive (he's not a hard case...no matter how much he postures). Familiar character actor Richard Devon (Magnum Force: "I mean their minds are dead!") pretty much walks away with the acting honors, bringing a focused, sly calculation to his line readings that at least clues us in that he's aware of the movie's expected conventions. Popular singer Desmond (honest...I never heard of him before this), however, has a difficult time going the Presley route, with his limited acting skills leaving the movie seriously unbalanced against Devon. Neither a prison picture nor a memorable noir, Escape From San Quentin doesn't live up to its exciting title, nor the promise implied by its more-than-capable production team.
---
THE SHADOW ON THE WINDOW
Little Petey Atlas (Jerry Mathers), playing outside the farm house where his mother, Linda Atlas (Betty Garrett), is picking up work as a secretary, hears his mother screaming and runs to the farm house window. Inside, he sees punks Jess Reber (John Drew Barrymore), Gil Ramsey (Corey Allen), and Joey Gomez (Gerald Sarracini) menacing his mother and killing the old farmer. Traumatized into catatonia, Petey wanders down the road until a pair of kindly truckers pick him up. Eventually brought to the police station, the silent Petey is recognized, and his father, copper Tony Atlas (Philip Carey), who has been separated from Petey and Linda for six months, tries to communicate with the boy...and fails. Soon, it's a race against time as Tony must frantically search for the whereabouts of Linda, before those thrill-kill punks finish off their only witness.
The Desperate Hours Meet The Window. Is it possible for a director to get profoundly worse as is career takes off? Written by David P. Harmon (lots of TV, like Man With a Camera and Gilligan's Island) and Leo Townsend (Night and Day, Beach Blanket Bingo), The Shadow on the Window plot may remind us of better thrillers, but there's no denying that its director, William Asher (Bewitched, all the Beach Party movies) puts over this familiar material with a clean, uncluttered hand. Now, I'm a huge fan of those silly, delightful goofs, but "clean" and "uncluttered" are adjectives that will never be used to describe those drive-in exploiters. Was The Shadow on the Window's efficient, suspenseful style due to Asher's relatively novice hands...or did the movie come out so polished thanks to Columbia's B-unit pros? Hard to say...but it works, either way, playing the story straight with little pandering to the hysterical, particularly during the opening half of the movie, when marvelous child actor Jerry Mathers sets an unsettling tone with his noirish mute witness to the murder (he can qualify as both noir innocent victim, and noir "other," if you will, with a physical limitation manifested due to the killers' moral vacuum). The killers are well drawn noir villains―Allen the outwardly reasonable, rational killer; Sarracini the slow-witted, kindly protector of Linda who can also be uncontrollably violent; and Barrymore the stone-cold psychotic―while Garrett and Carey underplay their roles admirably. Undemanding, perhaps, but a satisfying, entertaining noir.
The DVD:
The Video:
With the exception of Criminal Lawyer, which is properly 1.37:1, the rest of the movies here are anamorphically-enhanced, 1.85:1 widescreen black and white transfers, with unexpectedly sharp images, solid blacks, little if any grain or screen imperfects, and no compression issues. Quite, quite nice for these minor titles.
The Audio:
The Dolby Digital English split mono audio tracks are fine, with moderate to low hiss and fluctuation. No subtitles or closed-captions available.
The Extras:
Original trailers for Criminal Lawyer and The Shadow on the Window are included.
Final Thoughts:
With the exception of Criminal Lawyer, which just lays there, the rest of the titles included here in the Film Noir Collection - Volume 1 are quite entertaining. Anyone into the noir genre will want to see these minor outings to fill out their resumes. The excellent transfers are big, big plus. I'm recommending Film Noir Collection - Volume 1.
---
Paul Mavis is an internationally published movie and television historian, a member of the Online Film Critics Society, and the author of The Espionage Filmography.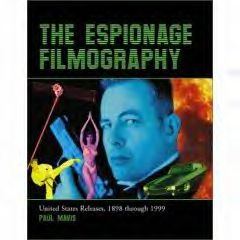 ---
C O N T E N T

---
V I D E O

---
A U D I O

---
E X T R A S

---
R E P L A Y

---
A D V I C E
Recommended
---
E - M A I L
this review to a friend
Sponsored Links
Sponsored Links