Combat!: The Complete Series
Image // Unrated // November 12, 2013
List Price: $229.98 [Buy now and save at Amazon]
---

One of the most popular night-time dramas in the 1960's didn't involve police or doctors. It was

Combat!

an hour-long show focusing on a group of low-ranking soldiers fighting their way across France during WWII. While there was plenty of action in the show, especially at the beginning and end of every installment, the human drama of the ordinary soldiers was what made people tune in week after week. It lasted for five seasons, making it the longest running WWII drama to air on US TV. Previously released in several varieties, Image has put the entire five seasons of this excellent show out in a complete series set just in time for the holidays.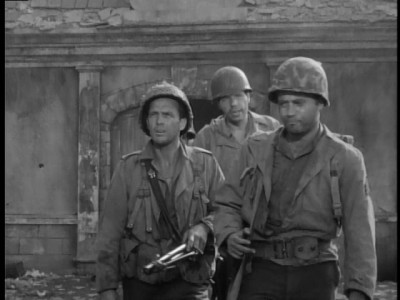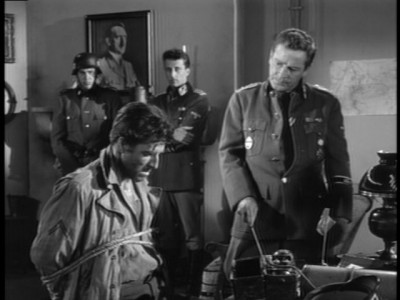 Set at the height of World War II,

Combat!

follows the members of the (fictional) 361st Infantry Regiment as they forge on across France. The group is led by 2nd Lt. Gil Hanley (Rick Jason), an efficient officer who is smart enough to listen to someone with more experience every now and again. That experience comes in the form of Sgt. "Chip" Saunders (Vic Morrow). A veteran of the North African Campaign (where he received a Purple Heart), he was the only one to see combat before he and the rest of King Company landed on Omaha Beach on D-Day. The rest of the company includes PFC Paul "Caje" LeMay (Pierre Jalbert), a smart Cajun who can speak French, PFC William G. Kirby (Jack Hogan), the complainer of the group who also has a propensity for getting into trouble, and Littlejohn (Dick Peabody), the tall man from a small town. There are other regulars, including comic Shecky Greene who was in the first season, as well as a number of fill-ins and soldiers temporarily assigned to K-Company who rarely survive the episode.

The stories usually follow K-Company while they're attempting to complete an assignment, but more than a few revolve around the down time the soldiers get waiting for something to happen. The show explores the human face of war while still giving viewers a good dose of action.

There are a lot of excellent installments, but one that stands out is

Masquerade

, from the second season. In this adventure K-Company crosses paths with a Lt. Comstock and Sgt. Kanger (James Coburn) who are transporting a captured German Colonel to battalion headquarters for questioning... they just need to find it. Soon after getting directions however, their jeep hits a mine and the enemy Col. is severely wounded. Saunders and his men help the trio get back to their base where a doctor operates on the prisoner, but something doesn't seem quite right about the two Americans. That's because they're really German soldiers in disguise. Comstock is the leader, but Kanger's English is much better... he's lived in the States and understands the slang that the enlisted men use. Not only that, but he dedicated to his mission and totally ruthless. A machine that is willing to kill anyone at all in order to make sure his objective is reached.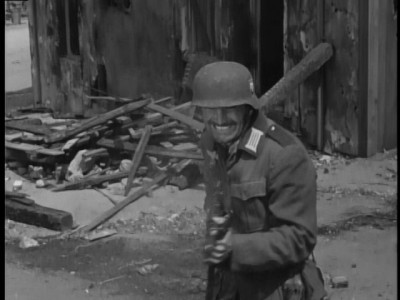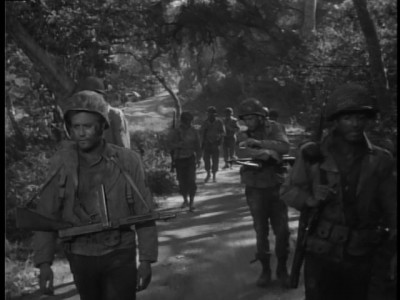 James Coburn really makes the episode. He plays Sgt. Kanger with just the right amount of menace and intelligence. He makes small mistakes, like pressing Hanley to let him take the captured Nazi to Headquarters a bit too often, that arouse Saunder's suspicions, but he does it in a way that makes everyone else think he's just anxious. A nice touch is when Kanger makes his superior officer fearful of him after the Lieutenant makes a mistake. Kanger's a killer, but he can be personable when it suits his needs. It was a great performance in a superior episode.

The show is very realistic in many ways. The uniforms, equipment, and props all look authentic, and they do a great job capturing the sheer boredom that occurs in war. The relationships between the men feel natural too. Many members of the cast and crew had been in the military, and they went to great lengths to get things right.

That's not to say that everything was grounded in reality. It was hard to totally suspend my disbelief for some of the plots, (like the one where Saunders is captured by a WWI vet suffering from shell shock (played by Eddie Albert) who things the American is a German... and who happens to know the location of a German weapon that Saunders is looking for) but these are few and far between. A more frequent complaint is just about impossible to get away from in this type of show: only the guest stars die and the main characters just get wounded... over and over again. (Just how many times does Vic Morrow get shot in the leg??) That doesn't really harm the program, and is really only a concern if you're a stickler for that type of thing and binge watching the show.


This re-release has the same content (as far as I can tell) of the earlier Combat: The Complete Series set. The entire 152-episode series arrives on 40 DVDs, housed in 5 multi-disc cases, each one containing a single season. These season sets come in a Saving Private Ryan-inspired slipcase. It's a nice set; I just wish they had designed the outer slipcase differently. These are full-length, uncut episodes running 45-47 minutes each. (More on that in the extras section.)



Audio:



The show's original mono soundtrack is provided, and it sounds fine for a show from the 1960's. There isn't a lot of dynamic range, and there is a bit of background noise but it's very light and not really noticeable. The dialog is easy to understand and the music comes through loud and clear. There are no subtitles.



Video:



The first four seasons were shot in black and white, while the final season is presented in color. All five look very good; they're reasonably sharp with a good amount of detail. There is a stray piece of dirt here and there, but that's very minor and infrequent. A solid looking presentation of a classic TV show.



Extras:



There are quite a number of extras included in this massive collection. First off there are seventeen commentary tracks on various episodes featuring crew and cast members associated with the episodes. I was happy to discover that the late Robert Altman and Richard Donner, two directors who went on to bigger and better things, give their thoughts on some of the episodes they directed.

In addition, there's a featurette that takes a look at the show,

Memories of Combat

(23:23), a radio interview with star Rick Jason from 2000,

The Big Picture

(28:22), a documentary on Ranger training school narrated by Morrow,

Combat! Directed by Vic Morrow

(27:19), a look at the episodes that the star directed, and a look at the trials and tribulations that occurred when the show changed over to color,

Combat! This Season in Color

(62:40).

One of the most interesting bonus items is a seemingly innocuous interview with star Vic Morrow,

Social Security in Action

(14:00). There has been a rumor going around that the show originally ran 52-minutes and that these Image releases the syndicated versions of the show which are cut and/or sped up to make them fit extra commercials. In this short Marlin Car "of the Hollywood Social Security Office" talks with the TV and movie star about his life and career, and they mention how important it is to register for Social Security. During the chat Marlin mentions that the episodes of

Combat!

were 60-minutes long and Vic corrects him. "47-minutes of actual show and the rest is commercials." Surely Morrow, who directed some episodes, would be very familiar with how long the show ran.

In addition to all of that, there are photo galleries and an

Oddities and Bloopers

text piece for each episode. The latter points out continuity goofs and interesting bits of trivia for each show.

While there is a lot of great bonus material, there is one omission that makes this set a little user-unfriendly: There is no episode guide. Not only have that, but the discs themselves had neither the episode names nor the episode number. So if you want to see the twelfth episode from season three, you have to take an educated guess, pop in a disc, and cross your fingers.



Final Thoughts:



One of the most impressive WWII dramas to ever air on TV, Combat! has held up very well over the years. Exciting, enjoyable, and even funny, this show about some regular guys fighting their way across France is well worth picking up.

Highly Recommended

.



---
C O N T E N T

---
V I D E O

---
A U D I O

---
E X T R A S

---
R E P L A Y

---
A D V I C E
Highly Recommended
---
E - M A I L
this review to a friend
Sponsored Links
Sponsored Links