Orson Welles' The Stranger: Kino Classics Remastered Edition
Kino // Unrated // October 15, 2013
List Price: $29.95 [Buy now and save at Amazon]
---
Often seen by Welles experts as a well-intentioned misfire...but for everyone else, it's certainly enjoyable enough as a straight-ahead thriller. Kino Classics, in cooperation with The Library of Congress, has released The Stranger, the 1946 suspenser from International Pictures (released through RKO Studios), co-written and directed by star Orson Welles, and co-starring Edward G. Robinson, Loretta Young, Billy House, Konstantin Shayne, Richard Long, Philip Merivale, Martha Wentworth, and Byron Keith. Widely known as the only Welles-directed movie to turn a verifiable profit for its studio on its first release, The Stranger's critical reputation has never been very high, perhaps in part, ironically enough, because of that commercial success: the public's embrace of The Stranger doesn't fit in with Welles' image as the misunderstand, continually abused genius. Seen today, The Stranger comes off as a disappointment for hard-core Welles supporters spoiled by his other remarkable cinematic efforts--it's certainly not a "perfect" work by any means--but it is entertaining, and often strikingly directed, with memorable Wellesian touches that should stand out to even the most casual thriller fan unaffected by this moviemaker's cult. A beautiful new HD transfer has been utilized here, while a nice collection of bonus features makes this Kino Classics' version a must-have for Welles and vintage thriller fans.
American investigator Wilson (Edward G. Robinson), of the U.N.'s Allied War Crimes Commission, has demanded and successfully secured the release of Nazi war criminal Meinike (Konstantin Shayne), with the hopes that the fleeing Meinike will lead Wilson to his prized fish: Franz Kindler (Orson Welles), the principle architect of the Nazi's "Final Solution." Having destroyed all known photographs of himself, the fugitive Kindler's whereabouts are completely unknown--an investigative dead end that can only be remedied, so says Wilson, by tailing Meinike. Following Meinike from South America to the United States, the fixated, fanatical Meinike incongruously lands in the small Connecticut town of Harper. Very soon, Wilson realizes that his theory that Meinike would run to Kindler was correct--he realizes this when Meinike almost brains an unsuspecting Wilson during a foot chase through the Harper School for Boys grounds. A desperate Meinike goes to the home of one Professor "Charles Rankin" of the HSB: Kindler's new assumed identity. Kindler isn't there, but his fiance, Mary Longstreet (Loretta Young), the daughter of Supreme Court Justice Longstreet (Philip Merivale) is: it's hers' and Kindler's wedding day. The harried Meinike eventually tracks down Kindler at the school, and begs Kindler to repent in Christ's name, warning Kindler that he had to kill Wilson--a big mistake that cold, calculating Kindler immediately remedies by strangling Meinike on the spot. Now the race is on between an increasingly unhinged Kindler to hide his crimes and avoid detection, and the methodical, observant, and equally obsessive Wilson to prove Rankin is indeed Kindler...with the unwilling aid of naive, increasingly terrified Mary.
The rap on The Stranger when I was in "film" school (bleech!) from most of the texts and critics back then--and also from a crazy prof I had who was fixated on Welles--was that it was something to be held away from one's self, at arm's length, between thumb and forefinger. According to them, The Stranger, a mere "entertainment" Welles was forced to accept in groveling supplication after the failure of The Magnificent Ambersons four years before, was yet another grievous example of how the genius Welles had been taken advantage of and raped by those philistine producers and studios, his art brutalized and irreparably altered by insensitive boobs who wouldn't have known a good "film" if it had bit them on the ass. To them, the final proof of their arguments were in the finished product's box-office acceptance by the public: if those rubes actually liked The Stranger--a movie that Welles didn't wholly create, and that was changed and altered without his permission, as so many others were--when those same yokels wouldn't fork over a few shekels for The Magnificent Ambersons or The Lady from Shanghai or Mr. Arkadin, well then, the popular The Stranger must have been subpar Welles (the only thing university "film" professors hate more than the common folk out their and their so-called "common" tastes...are jobs were you actually have to work). Now, apparently, the tide has turned somewhat for The Stranger, with historians, such as Bret Wood (who contributes an informative commentary track on this disc), pointing out that Welles had always intended to make "popular entertainments" like The Stranger alongside his more artistically challenging, more narrowly focused work, while more and more Welles supporters have finally given The Stranger grudging respect for it turning out as well as it did, considering the artistic and financial pressures and limitations the notoriously mercurial Welles endured during the shoot.
I don't see how you can say you love movies and not acknowledge and appreciate the seismic contribution Welles made to the art form. That being said...I don't necessarily think of Welles when I'm mentally compiling a list of top ten directors. Yes, of course I recognize the technical and thematic brilliance of his masterpiece, Citizen Kane (for my own tastes, I put the sublime, almost otherworldly The Magnificent Ambersons--minus the final reel, naturally--above Kane)...but truth be told, if given a choice, I'd probably rather watch something by Hawks or Hitchcock or Ford. Part of my reluctance for Welles comes, I think, from the constant drumbeat of the "failed genius" vibe that has permanently imbedded itself into the Welles universe, that notion that his movies were these herculean artistic endeavors that were forever compromised by the perfidy of calculating commercial minds, as well as the simple, terrifying will of the wisps of fate...with much of that perceived zeitgeist coming from brilliant, complex, contradictory Welles himself (and who was at the very least equally responsible for how his artistic career turned out). It's a heaviness of purpose, for lack of a better phrase, and a constant appeal to "appreciate because of his constant failure to fully succeed" that, logically or not, somehow intrudes upon, and ultimately detracts from, the simple experience of just watching and enjoying Welles' movies. And The Stranger is a prime example of this weird, slightly off-putting dynamic between viewer, the movie, and the perception surrounding the product and creator.
With that stated, I don't know how much I can add to yet another reading of The Stranger, considering the wealth of detailed criticism that's been generated by it as well as Welles' other projects. The Stranger project came to Welles, rather than the other way around, in the form of an offer by producer Sam Spiegel ("S.P. Eagle" on-screen) to merely star in this war-time espionage thriller; it was to be directed by John Huston, who had already worked on Anthony Veiller's script (scripter Huston, along with Richard Brooks, had fashioned with Veiller that same year's Oscar-nominated hit, The Killers). Reports differ as to how Huston was replaced by Welles as director (some say it was Huston's war-related assignments, others say that Welles, anxious after a four-year lull away from the director's chair, asked Spiegel point-blank for the job), but soon, Welles was working, uncredited, with Spiegel and Veiller on a script rewrite, while producer Spiegel laid down the law in terms of the actual production: once shooting began, Welles couldn't veer from the finished script, and if the production ran over time and budget, the difference came out of Welles' salary. Reports vary as well over the shooting of The Stranger's script, with questions over how much of a +/- 20 minute prologue, showing Meinike eluding his South American espionage agents, was actually filmed, but it is known that quite a few of Welles' more pungent script ideas were dropped prior to shooting (some for budgetary considerations, others because Welles carried no right to "final cut," with editor Ernest Nims, probably on Spiegel's instructions, "helping" Welles to pre-edit sequences Nims knew the thrifty Spiegel would veto anyway). Shooting itself apparently went along without any major hitches during the project's relatively short 35 day schedule, with Welles getting a bit of welcome pre-release publicity over his impressive Harper town set, built on the Universal backlot (is that the same church steeple we later see in Sirk's mellers?). Released in May, 1946, The Stranger was a hit with the public and most of the big critics (the first-time notoriety of Welles including very brief snippets of real Holocaust footage here probably didn't hurt), returning sizeable rentals to RKO, and a profit to Spiegel.
Watching The Stranger again after numerous other times over the years (beat-up, contrasty public domain copies would frequently crop up on the "late, late" and "afternoon at the movies" shows when I was a kid), what immediately strikes you is, obviously, that distinctive Wellesian "look," that strangely organic dynamism of contrasting close-ups and long takes, coupled with the dropping in and out of marked sound effects and whipsnap dialogue (his movies sound like dreams and nightmares), that make his movies instantly recognizable as his alone...regardless of how well the story is coming together (just like Hitchcock, nobody has ever been able to truly, faithfully imitate his idiosyncratic style). You can really gnash your teeth over the realization that 20 minutes of that flamboyant, rococo South American opening sequence has apparently been lost for good (if that's indeed how much was actually filmed), so palpable is Welles' overripe, sensuous framing and lighting (with cinematographer Russell Metty's help), while feeling lucky that you can still marvel at the most recognizably intact Wellesian moment in The Stranger--Meinike's one-shot murder sequence--meticulously blocked out, with its hyper-fluid dollying camera (I also enjoy the Frankenstein-like ending, with Welles as the Monster, high above not in a windmill but a church steeple, looking down in growing terror as the townspeople form a mob below). You can spot Welles' ever-present playfulness peppered throughout the movie (my favorite is the picture postcard of Harper dissolving into the real Harper...which ironically, due to evil Kindler's presence, ain't so picture perfect after all), while his decision to have the central story begin on Young's wedding day, jacks up the suspense, on the surface, considerably--there's no build-up to her plight: she's compromised, and endangered, right from the start.
Those pluses--and they're substantial ones--grouped together, steady Welles' hand to create a meller that feels more important, more meaningful, than it really has a right to, making The Stranger, strictly as an exercise in suspense, quite memorable (not to be discounted is Welles' own frequently hammy turn here--it's just what's called for in this frequently overblown, even at times ridiculous, meller). However...small and big details nag, and if we decide to probe beyond the flashier aspects of Welles' direction, we see some major, troubling gaps in the narrative's construction. Everyone has noted some of The Stranger's more glaring mistakes, particularly the dinner table sequence where Robinson takes several hours to process Welles' obviously cuckoo pronouncements as sure indicators of his Nazi mentality. Far more vexing, though, is Welles' inability to disguise the fact that there's an overall hollowness to the story's central spine, a deceptively large hole that indicates either a poorly engineered, badly motivated script from the start, or pre-production tampering with something that was more thoroughly thought out. And this hole is embodied by the movie's own title: the stranger in town, Kindler, is never made real to us. Welles may have a large-scale, detailed set at his disposal, which he uses for several startlingly evocative shots (shooting action simultaneously inside and outside his "real space" sets-as-buildings); however, we never get a true sense of that town's character, its flavor, nor how it was impacted by the arrival of Kindler, and that element is central to the movie's entire point--a stranger, with evil intent, has become one of "us." The town, such as it is (we only meet a few citizens), is represented the longest on screen by Billy House's druggist, Mr. Potter. The key joke of having Potter seem to be at the fulcrum of the town's gossipy center, the drug store, is fine while we laugh at Welles' beautifully-tempoed checkers scenes. But the notion that crafty, checkers-winning Billy--who spends the most time with all three principle males in the mystery--doesn't really see or deduce anything despite being at the center of the mystery's action, is never alluded to, or expanded upon, by Welles--a big miss here. How can Kindler be "the stranger," when Harper and its inhabitants are just as mysterious and unknown?
Even worse, we never really believe in Mary's perilous flirtation with murderous acquiescence to Kindler, because we never really believe in her relationship with him to begin with (despite the many critical knocks over the years against Young's performance here, I find her growing histrionics right on target with this particular genre's accepted conventions). We're simply not shown enough. The movie just...starts, with her melodramatic situation already sprung into action--which is, as I wrote above, good for zippy The Stranger's superficial suspense, but ultimately bad for audience involvement. What good is Welles' deeply informative use of shadow and blocking to delineate Mary's growing revulsion at her own connubial denial and deception, if we don't believe Mary would ever look at a cold, superior, controlling man like "Charles Rankin" in the first place? Why not show us why she was initially attracted to him? Or how he roped her in? Isn't that vital to us caring about her ultimate folly in marrying him, and then making excuses and denials for his subsequent heinous actions? Welles has us understand, vaguely, that brother Noah (Richard Long) doesn't like "Charles"...but again, why? And how? We don't know (Mary's Supreme Court Justice father, and the nebulous references to his politics, are even more useless in the movie's grand scheme of things). How did "Charles" become so well-placed in secluded Harper, particularly during the final year of the war when small towns such as Harper would have looked mighty suspiciously at a cultured, standoffish European like himself (that's a particularly potent, unstated aspect of the scenario here, where Welles really could have made big points, but that "alien amongst us" aspect is completely ignored here)? We can bring our own assumptions as to how Kindler did it, but it's really Welles' job to paint a more thorough picture for us, which he refuses to do. We're just presented with this histrionic, exaggerated set-up, and told to enjoy the tension as he ratchets-up the melodramatic conventions. Sure, Welles is precise and controlling and jazzily engaging with his camera, editing and dialogue manipulations (the gory ending is particularly satisfying in a nutty, grotesque way). But when we look past these admitted fun stylistics, we see them for what they ultimately are in The Stranger: sophisticated, enjoyable parlor tricks, in service of curiously underdeveloped, unresolved material.
The DVD:
The Video:
Kino's new HD master, from archival 35mm elements at the Library of Congress, isn't perfect--there are frame jumps, scratches, and very minor contrast issues--but it's the best I've ever seen The Stranger, being light years beyond the public domain copies that are usually circulated. Very nice indeed.
The Audio:
Pops and hisses can be heard here, too, but the Dolby Digital English mono audio track is again a big improvement over others I've heard, with a decent re-recording level. No subtitles or closed-captions, though.
The Extras:
In addition to Bret Wood's excellent commentary track, we get the original theatrical trailer for The Stranger, an image gallery, the horrifying Death Mills (21:00), from 1945, produced by Billy Wilder, a short subject that features the death camp images Welles utilized in the movie, and four wartime radio broadcasts Welles delivered (three from 1942, and the last from 1946). Very nice assortment of extras.
Final Thoughts:
Thoroughly enjoyable melodramatic espionage thriller...but don't look too closely at it. If you're a hard-core Welles supporter, chances are you don't particularly like The Stranger, lamenting more of what's missing than celebrating what's still intact. That's fair enough, because The Stranger does have major problems, whether you denote them as specifically "Wellesian" or not. Still, as an overripe exercise in melodramatic suspense, it's not bad at all, and Kino Classics' release gives us the best look at the movie since 1946. I'm highly recommending The Stranger,
---
Paul Mavis is an internationally published movie and television historian, a member of the Online Film Critics Society, and the author of The Espionage Filmography.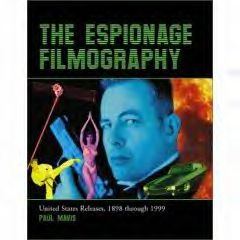 ---
C O N T E N T

---
V I D E O

---
A U D I O

---
E X T R A S

---
R E P L A Y

---
A D V I C E
Highly Recommended
---
E - M A I L
this review to a friend
Sponsored Links
Sponsored Links