Lightning Guns (Sony Choice Collection)
List Price: $20.95 [Buy now and save at Amazon]
---
Same-o' same-o' with the blam-o blam-o. Sony Picture's Choice Collection line of hard-to-find library and cult titles has released Lightning Guns, the 1950 B-Western from Columbia, the 50th (!) entry in that studio's long-running Durango Kid Western series starring Charles Starrett, with Smiley Burnett tagging along again as comic relief. Directed by human B-movie dynamo Fred F. Sears, Lightning Guns moves as fast as its name suggests, delivering up competent, unpretentious oater fun for fans of the genre. No extras for this super-clean fullscreen black and white transfer.
The Old West, in the 1880s, back in the remote hinterlands where ever-encroaching civilization's calming effect has yet to be felt. A feud is heating up in the Piute Valley between the land's two most powerful ranchers. Luke Atkins (William Norton Bailey) wants to build a dam on his property, to conserve water for all the settlers in town, but hothead Captain Dan Saunders (Edgar Dearing), a neighbor occupying a lower plateau, is fearful that the dam will flood him out. Not only is the town conflicted by this rivalry, but so is Romeo and Juliet Sheriff Rob Saunders (Jock Mahoney), the Captain's son, and Susan Atkins (Gloria Henry), Luke's daughter, who are caught in the middle. Also compromised is visitor-to-the-Valley Steve Brandon (Charles Starrett), a long-time friend of the Captain's...but who is also a more loyal servant to the law, which puts him on the opposite side of the hostile, gun-happy Captain, who's willing to push the already-tense situation to the limits to get his own way. So when people aiding Atkins start getting beaten to death, everyone suspects the Captain, and it's up to the masked Durango Kid (Starrett, of course)--and maybe even Smiley "The Bathtub King" Burnett (Smiley Burnett)--to solve the mystery.
I'm not sure what I can write about Lightning Guns that I didn't already write a few months back for Trail of the Rustlers, the 43rd Durango Kid entry...because they pretty much cover the same ground in terms of story, performances, and production values (you can read that review here). This is meat and potatoes moviemaking, serving up simple, unadulterated storytelling without any pretense. The plot line couldn't be any more basic: feuding neighbors are goaded into violence by a third party hoping to capitalize on the fallout...with a little Romeo and Juliet and of course the Kid's Robin Hood/The Scarlet Pimpernel/Zorro grounding thrown in for good measure. The script by series regular Victor Arthur keeps everything two-dimensional in terms of character motivation and dialogue, but it's none the less "artful," in a very minor chord certainly, for its admirable terseness and economy. The performances are equally serviceable; you can't really evaluate Starrett's acting chops when he's given so little to do...but what he does do here, is done without affectation (while Burnett does what he always does: he gets some well-earned chuckles from his slight-but-amusing comedy songs).
If anything differs in Lightning Guns compared to Trail of the Rustlers, it's the direction. Noticeably, there's a drive here from director Fred R. Sears that was missing from super-efficient but flatter series regular, Ray Nazarro. Lightning Guns opens with a screaming locomotive and segues into a mad-dash horse chase that's dynamically framed shot after shot with the horses and wagon racing right into the camera. From the minute it starts, Sears' Durango Kid entry moves, and doesn't let up for a second during its brief 55 minute run time. Sears has an eye that seems made for comic book panels, with each diagrammatic set-up cleanly balanced. Saying it's "primitive" moviemaking sounds depreciatory, but its meant as an aesthetic compliment: form perfectly matches content as this simple story of the West is given a square, rock-steady, graphically equalized visual treatment. Lightning Guns achieves exactly what it's trying to do, and that makes it--regardless of perceived worth by some--an unqualified success.

The Video:
Just like the previous Trail of the Rustlers, the fullscreen, 1.37:1 black and white transfer for Lightning Guns looks pretty good, with minimal screen imperfections like dirt and scratches, a sharp image, and decent blacks and contrast. Nice.
The Audio:
The Dolby Digital English mono audio track is fine, with little hiss. No subtitles or closed-captions.
The Extras:
No extras for Lightning Guns.
Final Thoughts:
Lightning, indeed. After 49 previous entries in the Durango Kid series, it's not surprising the producers know what they're doing here. Fast-paced, primitive, no bullsh*t oater that delivers the simple horsey goods. For what it is, I'm highly recommending Lightning Guns.
---
Paul Mavis is an internationally published movie and television historian, a member of the Online Film Critics Society, and the author of The Espionage Filmography.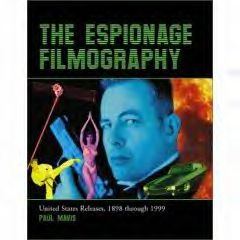 ---
C O N T E N T

---
V I D E O

---
A U D I O

---
E X T R A S

---
R E P L A Y

---
A D V I C E
Recommended
---
E - M A I L
this review to a friend
Sponsored Links
Sponsored Links