Regular Show: The Complete Third Season
List Price: $26.95 [Buy now and save at Amazon]
---
Reviewer's Note: Back in 2012, I wrote a review for the Regular Show: The Best DVD In the World* (*at this moment in time) release, and in 2013, I reviewed Regular Show: Party Pack 3, both of which contained quite a few third season titles. So, I'll port over portions of those reviews--along with new material on titles not previously covered--for this overview.
Hmmm! Hmmm! Cartoon Network and Warner Bros. have released Regular Show: The Complete Third Season, a 3-disc, 40-episode collection of what is to my mind still the funniest animated series on cable today: a beautifully surreal, deadpan hilarious mixture of workplace sitcom and wild slacker/gamer flights of sci-fi fancy, frequently blown up to hysterical, epic proportions. Fans that complained about previous "incomplete" compilation discs like Regular Show: The Best DVD In the World* (*at this moment in time) can relax now and enjoy this collection--one of the show's strongest seasons. Quite a few tasty extras are included with these crisp, pristine widescreen transfers.
The show's set-up is simple. 23-year-old, six-foot tall blue jay Mordecai (voice talent of series creator J.G. Quintel), a former art school student, now works as a groundskeeper at a city park. His best friend, 23-year-old raccoon, Rigby (voice talent of William Salyers), a high school drop-out, works alongside him...although "work" is a relative term for the two slackers. Constantly harangued to finish their assignments by their rage-filled boss, park manager and living gumball machine Benson (voice talent of Sam Marin), Mordecai and Rigby look for any excuse to ditch their meaningless, menial labor chores in the search for distraction, which usually comes at the end of a pair of video game controllers. Also working at the park are Skips (voice talent of Mark Hamill), an immortal yeti who can fix anything, Muscle Man (voice talent of Sam Marin), a little green gnome with a pudgy physique in direct inverse proportion to his macho, insulting self-image, High Five Ghost (voice talent of J.G. Quintel), a body-less ghost with a hand sticking out of his head, and Pops (voice talent of Sam Marin), a quavery-voiced older man with a head the size of a giant lolly, and the son of the park's owner, who naively lives in his own quaint, antiquated world. Mordecai is more responsible than Rigby (only just), and he has a crush on Margaret (voice talent of Janie Haddad)), a five-foot tall red-breasted robin who works at the nearby coffee shop with her friend, Eileen (voice talent of Minty Lewis), a mole. But that matters little since impulsive, violent Rigby often predicates a cosmic disaster in each episode, frequently involving bizarre, strange beings from other worlds unwittingly unleashed by the boys, ready to destroy the unlikely duo, the park, and Earth.
According to what I've read about Regular Show and its creator, J.G. Quintel, the animator originally pitched the show visually, through storyboards, to Cartoon Network executives, rather than verbally describing a concept that seemed at first glance indescribable. The same seems to go for concretely nailing down why it's such a funny show in a written review. I can dance around elements of why it works...but I'm afraid those thoughts add up to something distinctly less than the sum of the show's parts. You can explain humor all day long, but experiencing it is something different entirely: funny is funny, as the saying goes. And that's enough for Regular Show (...beside, if you're reading this review, you don't need me to tell you why it's funny: you already know). Regular Show toons consistently deliver those curiously calm-then-frenzied storylines that never stop being simple, basic goofs at their core...but that then somehow explode into hilarious parodies and epic-sized riffs on, and permutations of, cliched 80s action/sci-fi/fantasy/horror movies, workplace sitcom television, and 80s techno/hip hop/rock anthem/funk music, filtered through a modern slacker/gamer mentality that is able to elicit a simple catchall "whoa!" for situations as diverse as a big pile of leaves to rake up...and the sight of giant baby Guardians of Eternal Youth floating in space. It's a formula that never fails to work.
First up is Stick Hockey, written by Sean Szeles and Kat Morris, a funny if familiar example of Regular Show's obsession with parodying 80s action/martial arts flicks, with this Bloodsport Meets Over the Top smash-up. The parade of incongruous people who've bought and resold the "miniature man hockey dome" game is probably the episode's best joke (the Mob, an anthropology professor, a guy in a packing crate, and underground sewer dwellers among others), while the visual of Benson's protege getting his bubble head neatly sliced off is pretty funny (the episode's unsentimental ending is perfect, too--Benson sincerely, and rather pathetically, admits to wasting his life...and Rigby callously agrees: "Yeah, right,"). Bet to Be Blonde, from Benton Connor and Calvin Wong, is an agreeably amusing spoof that insists upbeat blonde people drive around in vans, have "fun runs" together...and are part of an secret evil cult. Eventually, the toon morphs into a devil cult-meets-James Bond riff, complete with a laser shoot-out in the Blonds' underground lair. Rigby sums up his character in toto when, after getting advice from Skips on how to right his wrong when he cheated on a bet with Mordecai, states, "I was with you until the 'honesty' and 'courage' part--is there any way I can get off scot-free?" (Mordecai's threatening, "I need to blonde an outsider," as part of his gang initiation is pretty good, too). Skips Strikes, again from Benton Connor and Calvin Wong, is a simple set-up--a bowling match between the boys and Death's (voice talent of Julian Holloway) "Magical Elements" team ("undefeated for 1000s of years!")--and it gets big laughs here. Pop screaming, "Yay, one ball, one ball!" while he wriggles on the alley like a worm is topped when Skips throws the final winning ball, as the soundtrack goes quiet and the orchestral music goes epic as the "Magical Elements" unleash apocalyptic destruction to stop the ball (too bad Skips' secret isn't all that funny...).
Creepy Doll / Death Metal Crash Pit, both framed as scary stories told by Pops and then Muscle Man, are short and sweet and laugh-out-loud funny. Little Percy (looking a little like Charles Laughton) desire to draw on your face is treated as demonic obsession (the exaggerated horror angles throughout are quite funny), while Muscle Man's Skull Punch band singing the horrid Devastation Nation, is priceless ("Help! Their music sucks!" squeals a trapped M.M.). M.M. kills when he chants, "Savage! Savage! Savage!" as he spins out the RV. Halloween episode In the House still gets my kids yelling, "Gimme candy, lady!" in their best smartassed Rigby bark. The final assault on Rigby-as-house is terrifically funny, with all the gang heavily armed (Pops has a sling shot), before M.M. meets a horrible fate ("I told you I was ripped," he groans, his skin grotesquely peeled off to reveal his musculature). Camping Can Be Cool, from Sean Szeles and Kat Morris, features more of the Friends-like romance between Mordecai and Margaret that appears more frequently during the third season--a development I can do without, frankly: I don't want "sweet" from Regular Show (the only part that truly made me laugh came at the end, when the rangers unceremoniously dump their remarkable scientific find of a half man/half deer they ran over, into their truck bed). Slam Dunk, written by Andres Salaff and Ben Adams, has some shattering funk lines laid down when the boys learn how to play hoops from cosmic B-ball master, Basketball King (voice talent of Carl Weathers). A perfectly-structured storyline, big laughs come from Muscle Man squealing like a pig when he rides the rim, Mordecai woofs, "Denied!", Rigby trash-talks, "Stay out of my kitchen!", and the boys battle in space for two months ("Hey, time slows down out here," a funny, smart twist), before Mordecai sets off an A-bomb explosion slam dunk. Cool Bikes, written by Benton Connor and Calvin Wong, is a perfect example of a Regular Show episode that starts small--the boys go "carting" and lose their driving privileges--and winds up big: they overcompensate so much for their uncool bike riding, through a funny clothes horse montage, that they're eventually taken to the Intergalactic Cool Court, where Judge Brosef Chilaxto-o-o-own (classic) says stuff like, "Just roll with it, brah...I'll allow it," when someone objects.
House Rules, by John Infantino and Andres Salaff, is another great example of Regular Show's ability to go from the simplest set-up--Benson lays down a bunch of bogus rules the boys don't like--to wonderfully surreal, outsized comedy. It may not read funny ("Rules are for fools! Save your stupid rulin' for fools that need some schoolin'!"), but M & R's raps are dependably terrible, while the No Rules Man who appears on roller skates with a cape to lead M & R to a cosmic dimension where no rules exists, is a dependably amusing Regular Show tempter/villain ("This guy don't gotta do jack, amigo!" he snarls). Lots of laughs here, including the Punchie Parade, Kevin the Prank Phone Caller (he ends his calls with a screamed, "I hate you!"), and learning about the laws of gravity (they include a punch in the back of the head and your wallet stolen). Rap it Up, by Sean Szeles and Kat Morris, is a classic Pops episode, where the sweet character takes on the nasty Legendary Crew Crew rappers, and wins (if the sight of Pops in a hoodie and askew ball cap isn't good enough, his shrieking and crying, "I'll do it your way!" over and over again will put you on the floor). Cruisin', from Benton Connor and Calvin Wong, shows the boys to dorky perfection as they bet Margaret and Eileen that they can get a girl's number just by going out and cruisin'. Of course they can't, but not before they smash up Pop's flying car, Carmenita (Pops' mewling "Carmenita's special parts should only be manipulated by a professional," somehow got past the CN censors), and meet punk babes Trash and Scabbatha, girlfriends to killers Bloodshed and Manslaughter. Under the Hood, from Andres Salaff and Toby Jones, continues Regular Show's admirable even-steven approach to satire, this time attacking self-important, destructive "artists" like graffiti-maker, Park Avenue ("I am painting the truth! I am painting rebellion!" he thunders, before Benson deadpans, "I am calling the cops,"). Muscle Man has a disastrous attempt at stand-up comedy on "open mic" night ("You jerks are jerks!" he squeals when heckled), while dead-serious Benson sums up his own credo to rat-finks Mordecai and Rigby: "I just want you to know you did a good thing today: you narked a guy out and got him fired."
Weekend at Benson's, from Benton Connor and Hilary Florido, starts out conventionally enough, riffing on the popular 80s comedy (when Mordecai, seeing an unconscious Benson, says they've only one chance not to get fired, Rigby replies, "Okay...I'll get the shovel,"), before going off into a hilarious freak-out scene after an "Iron Stomach" eating contest, where the boys trip to Mississippi Queen (just the aggressive loudness of the music cues are enough to make my little kids laugh--they've never even heard that song before). Fortune Cookie, from Benton Connor, Hilary Florido, and Calvin Wong, is another "big-to-small" Regular Show outing, where a simple switcheroo of a Chinese fortune cookie escalates into a warlock sucking up the entire park (hapless Benson's immediate descent into bad luck outside the Chinese restaurant is pretty funny, culminating in a vicious street mugging that made my kids die--it's such a sick show). Think Positive, from Sean Szeles and Kat Morris works best when it gives Benson a chance to yell a lot (his flashback to his yelling family is a gem: "Pass the salt!"). Skips vs. Technology is yet another funny, outsized episode Regular Show does so well: Mordecai and Rigby can't navigate their balking computer...and Mr. Fix-it Skips doesn't know what to do with it. Techmo is an amusing character, getting laughs when the writers (Calvin Wong and Toby Jones) go into Tron territory again for a battle against the Doomaggedon virus ("Resistance is dumb!" it warns...along with a threatening haiku it sends to the printer). Even though Butt Dial by Sean Szeles & Kat Morris, again deals with the Margaret/Mordecai romance I'm not crazy about, it's one of the funnier entries here, with the inspired setting of the outer space "Virtual Messaging Control Center" manned by various means of outdated historical communication, passing a death sentence on the boys for hacking (I love the Indian smoke signal fire/blanket yelling, "Burn them!"). Pops gets to talk on Mordecai's "magical telephone brick" while eating a frozen ice lolly, and jealous Rigby sneers, "I saw that one coming," when he discovers Margaret's password is "Daddy's girl."
Eggscellent, from creator J. G. Quintel, is a pretty straightforward episode--Rigby goes into a coma trying to win a trucker hat during a food-eating contest--with a funny 80s action/inspirational montage, set to I Need a Hero, at its center (do the hipsters know Quintel is making fun of them? Doubt it...). Gut Model, from Sean Szeles and Kat Morris, is a sick little Muscle Man outing, when M.M. signs up with Mommy Monthly magazine as their all-purpose "gut model." Good lines throughout ("There's no disputing it...there's nothing more beautiful than a pregnant woman's stomach,"), and some funny bits (when a nervous M.M. starts to look like a deer in the headlights at his first photo shoot, the photographer cuts him off with a curt, "Shirt! Shirt!" while he impatiently snaps his fingers)...but that grease monster is pretty lame at the end (the Lesley Gore "It's my party and I'll fry if I want to!" reference is going to be lost on the kids...). Video Game Wizards, from Benton Connor & Hilary Florido shows what a little dick Rigby is (and how needy he is for Mordecai's friendship), when he torments Mordecai over picking Skips rather than him for a gaming tournament (best moment is when self-sacrificing Skips deliberately crushes his hands and tells a skeptical referee, "Wanna check again?" as he holds up his mangled fingers). Big Winner, again from Benton Connor and Hilary Florido, is a straightforward Muscle Man outing, all predicated on the payoff of having M.M. freak out at the end, when he discovers M & R pranked him with a fake $1 million dollar lottery ticket (the action-packed finale is memorable, where M.M. battles a security force in "Lotto Plaza," a la Conquest of the Planet of the Apes, kicking some soldier's head clean off). The Best Burger in the World, written by Andres Salaff, has "The Ulti-Meatum" burger (two cheeseburgers stuffed in a cheeseburger, then deep-fried with two cheeseburgers as the buns), and one of Pop's best line-readings, "I can taste the Himalayas!" before he starts whining/laughing/mewling in delight (Pops, hands down, is the funniest character on the show).
Replaced, by J. G. Quintel, Mike Roth, and John Infantino, is an uncharacteristically thin effort, unfortunately, where M & R try to sabotage potential rivals, Chad and Jeremy, for their park jobs (again...who's as old as I am on the writing staff?). A paucity of gags and a finale that's pretty sloppy and not at all explained: giant monsters come out of the lake (yawn). Trash Boat, from Benton Connor and Hilary Florido, starts out well, but then peters out at the end with standard epic-sized revenge action (the band names are funny, though: Barracuda Death Wish, Crocodile Death Spin, Velvet Overkill). Fists of Justice, by Andres Salaff, is a suitably bizarre, hysterical episode, with the giant Guardian of Eternal Youth babies battling Klorgbane the Destroyer (I love the shock gag of Archibald mouthing off to Klorgbane about making him eat a diaper sandwich...before Klorgbane puts a giant hole in him with his devil rattle, killing him on the spot). And of course for an 80s spoof of action/sci-fi spoof, Mordecai gets to deliver an appropriately lame one-liner rejoinder when Klorgbane is defeated: "Let's cross this chore off the list." Yes Dude Yes, from Sean Szeles and Kat Morris, is more of that Mordecai and Margaret dating crap, with new girl C.J. thrown into the mix (she's a stormy cloud girl). Too sweet and nice for my tastes, quite frankly...although I did like the sick joke about Margaret's cousin getting a new leg. Busted Cart, from Benton Connor & Hilary Florido, starts out with real promise, as M & R smash Benson's golf cart and jeopardize his job. A subsequent road trip seems to keep the ball rolling (that jump cut from napkins covering driver Benson's face to a cop giving him a sobriety test is nice), before a satisfying wrap-up eludes the writers. Dead at Eight, from Calvin Wong and Toby Jones, would have been worth it just for the sights and sounds of Muscle Man crashing into the trees after sliding down his "life's work" waterslide. Luckily, the toon builds nicely as M & R become babysitter's for Death's rotten little 300 year old son, Thomas (voice work of Michael Dorn). They read him a bedtime story (The Hungry, Hungry Soul-Sucking Death Worm, before battling one for real (Muscle Man, miniaturized and trapped in an amulet, gets the best lines, squealing, "I'll haunt you turds for the your life!"). Solid effort with steady laughs.
Access Denied, though, from Sean Szeles & Kat Morris, fails to follow through on a thin premise: Mordecai is trying to find Margaret at a club, during her birthday celebration (seriously...ditch the romance at this point). Not nearly enough good gags here, although I did like the guy who had been waiting 11 years to get into the club...only to get blown up. Muscle Mentor, from Andres Salaff, is a straightforward, entertaining episode, with big laughs coming from abusive Muscle Man "mentoring" fired goof-off Rigby (their fight, with Muscle Man squealing, is a highlight--in fact, any time Muscle Man squeals like a butchered hog is a highlight). And while I've written before that I don't look for "sweet" when I watch Regular Show, Trucker Hall of Fame is a surprisingly touching little entry--albeit still off-kilter and weird--where Muscle Man learns his idolized father wasn't everything he said he was. Good action at the end (the "special delivery" cement block, with trucker ghosts "Huge Marg" and "Dog Face" helping out), and a nice, understated (and kinda sad tone), mark this effort by writer Calvin Wong a series highlight, and one that shows Regular Show can be more than just a cynical goof. Out of Commission, written by Calvin Wong and Toby Jones, is a funny sounding set-up--M & R's beloved golf cart becomes sentient when it's about to be scrapped--but it quickly peters out because the cart, once "alive," isn't very amusing or interesting ("I've only been alive 30 seconds and I already know life is cruel," was the only joke that made me laugh). Big, big laughs come in Fancy Restaurant, from Calvin Wong and Toby Jones, where Muscle Man gets "help" from M & R when he must dine at an upscale restaurant with Starla's visiting parents. I'm not sure you can get a funnier throwaway joke than Muscle Man shopping for clothes at the Awkward and Oblong shop, but this outing keeps the ball rolling, from M.M. expressing complete life satisfaction ("I'm just lucky to be doing what I like, which is mowing the lawn topless,"), to a viciously snotty waiter ("You disgust me!" when M.M. picks the wrong dessert spoon) lying dead on top of a car's crushed roof, the horn, of course, blaring (nice touch). Diary, from Andres Salaff and Madeline Queripel, is a funny, large-scale outing where Rigby, unable as usual to follow the rules, peeks during a Skips' seance and causes Margaret's gigantic "Keeper of Secrets" to stomp about on a rampage. Rigby steals the show in this one, wearing Margaret's hat (he looks like Bella Abzug), before spilling his precious secrets ("I once ate a doughnut out of the trash....I hate taking showers and kittens!").
The Best VHS in the World, from Calvin Wong and Toby Jones, is a nice slam against those little trolls out there who become obsessed with the worthless minutia of pop culture. When underground dweller Buttonwillow McButtonwillow claims superiority of opinion over Rigby when it comes to VHS movies, he pulls his hole card: "I'm a published author!" to which a nonplused Rigby sneers, "No one's going to read your lame fanzine," rejoined helplessly by B.McB. with, "We're gaining readership," to which Rigby declares game, set and match with a supremely dismissive, "Whatever."Prankless, from Benton Connor and Hilary Florido, is a take-no-prisoners battle royale episode that gets solid laughs with the final prank war between rival parks. Skips' inventory of "expired bologna, illegal fireworks, and 3 good arms" (he's hooked up with High Five Ghost) gets the biggest laugh here, while Muscle Man's appropriately stupid/grand, "If I don't make it back, tell my mom I died doing what I loved," is letter perfect (as is his Willy Wonka fake-out of his enemy, Gene the Candy Machine, when he explains how he tricked him into thinking he was headed into outer space: "Easy--mirrors, you idiot!"). Distressingly, Sean Szeles and Kat Morris give us more cutesie romance in Death Bear, where thankfully, a trip to the zoo ends up in an orgy of cartoony violence (what else?) as rampaging Death Bear is pincushioned with hundreds of tranq darts (I love his little Prussian hat and cape). Fuzzy Dice, by Andres Salaff and Madeline Queripel, is a pretty funny knock on Chuck E. Cheese's, laid on a noir platform, as the gang tries to buy/win a pair of fuzzy dice at the Fun Fun Zone for Pops' birthday. The image of Rigby as one of the typical snotty little kids that watch Regular Show is too funny to pass up, as is the sight of the animatronic figures trying to run away--very slowly--with their barely articulated legs ("Eat lead, sucka!" the Pam Grier-like robot cries, before the FBI orders, "Smoke 'em!" as they sink the robots' getaway boat). And "Skeeze Ballz" is, unaccountably I might add, hilariously funny to me. Sugar Rush is a beautifully bizarre sci-fi outing from Benton Connor and Hilary Florido, where Pops' insane consumption of over-glazed apple fritters sends him into an alternate, "higher sugar plane" of speed and time, where his rush makes everyone appear to be slower and slower. A tour de force for the animators (particularly that final nightmarish black and grey dimension right out of Washington Irving filtered through Munch), and a special treat for Pops fans who want to see him act like a speed freak. And finally, Bad Kiss from romance experts Sean Szeles and Kat Morris, redeems its dopey love story (enough with Mordecai and Margaret) with a first-rate time travel spoof that moves like a freight train as M & R keep screwing up in their efforts to stop past Mordecai from kissing Margaret.
The Video:
The anamorphically enhanced, 1.78:1 video transfer for Regular Show: The Complete Third Seaon looks digitally perfect: razor-sharp image, solid color values, no compression issues to speak of here.
The Audio:
The Dolby Digital English 2.0 stereo mix is heavy on the bass...which is perfect for all the funk jam/techno/rock ballad lines that are dropped throughout the episodes. English subtitles are available.
The Extras:
Three short featurettes--4 Things You Didn't Know About J.G. (3:29), J.G. Answers Why (5:40), and Characters Come to Life: Live Episode Read (8:08)--are included, along with several commentary tracks: Creepy Doll, In the House, Rap It Up, Weekend at Benson's, Eggscelent, Trash Boat, Yes Dude Yes, Fuzzy Dice, and Bad Kiss. Nice.
Final Thoughts:
One of the strongest seasons of cable's funniest toon (or is it Archer?) is collected here in Regular Show: The Complete Third Season. Multiple series' best outings here make this a must-buy for fans, with the extras only sealing the deal. I'm highly, highly recommending Regular Show: The Complete Third Season.
---
Paul Mavis is an internationally published movie and television historian, a member of the Online Film Critics Society, and the author of The Espionage Filmography.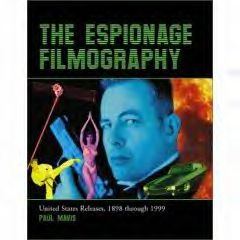 ---
C O N T E N T

---
V I D E O

---
A U D I O

---
E X T R A S

---
R E P L A Y

---
A D V I C E
Highly Recommended
---
E - M A I L
this review to a friend
Sponsored Links
Sponsored Links