Batman: The Television Series -- The Second Season, Part One
List Price: $39.98 [Buy now and save at Amazon]
---
Perhaps not quite as inspired as season one...but still charmingly Batsh*t crazy. Warner Bros., with the help of Fox and DC Comics (and no doubt a slew of copyright lawyers), has released Batman: The Television Series -- The Second Season, Part One, a four-disc, 30-episode collection of the first half of the celebrated super hero spoof's sophomore session (take that, William Dozier!). Starring Adam West and Burt Ward, with appearances by "Special Guest Villains" Julie Newmar, Cesar Romero, Burgess Meredith, Van Johnson, Vincent Price, Liberace (I'm going to faint...), Art Carney, Shelley Winters, Cliff Robertson, Victor Buono, Walter Slezak, Carolyn Jones and, um...Otto Preminger, the unprecedented pop culture craze that had sprung up around ABC's Batman when it premiered mid-season in January of 1966, had already started to cool by the time this first full season of the Pop Art lampoon debuted in the fall. So really the story of Batman from this second season on, is one of gradual--yet still highly entertaining--decline. No extras--sprinkles are for the winners who bought the earlier full series box set, apparently. However, these fullframe color transfers are remarkably bright and vivid.
Just a word to hard-core Batman fans, be you comics mavens or action figure collectors or movie fan boys or TV series experts. I grew up watching Batman reruns in the early 70s just like everyone else from my age group, and I bought comic books whenever I had some change (cue the old-timey banjo as Gramps slips back in time: .50 cents for mowing someone's lawn got you a Batman or Archie comic, a full-sized candy bar, and a can of pop down at Ned's Five-Star Market). And...that's the full extent of my expertise with the Batman brand: just a casual-yet-enthusiastic fan, not an authority (the last time I "studied" Batman was when I repeatedly poured over my hardcover Bridwell Batman from the 30s to the 70s that I got for my 7th birthday). I can't imagine when I last saw the TV version of Batman, but it's certainly one of the strongest visual memories from my TV youth (even on my tiny black and white set, how couldn't it have been, what with all those Dutch angles and those oversized, jokey sets?). It's one of the "holy grail" titles I wished had come out a lot sooner on DVD (my eldest son, who would have loved it as a boy, looked at it with me for about ten minutes the other day, agreed it was pretty funny...and then took off), but you have to hand it to all parties concerned: from a visual standpoint it looks way better than it ever did coming over people's old aerials and cable lines and bootleg VHS tapes.
But how does Batman play today? Well...for this nostalgic fan: pretty good, I'd say. Prior to receiving this set, I watched season one's discs, and I was immediately struck at how fresh and smart-assed and wonderfully straight-faced spoofy it all felt (that Hi Diddle Diddle/Smack in the Middle opener is a rather stunning piece of Bondian super hero-meets-Perils of Pauline pop art, with a supernaturally unhinged Frank Gorshin forever setting the bar for any and all subsequent Batman screen villains). I've written this many times before, particularly when split-season TV DVD releases were all the rage, but it's almost impossible to judge the overall arc of a season when you're only given half of it to watch, as was the case with Batman: The Television Series -- The Second Season, Part One. So, my subsequent observations are necessarily qualified by that fact. Overall, this first half of Batman's second season is, for the most part, quite enjoyable farce; however, cracks in the formula are already evident. It's important to remember that even before this second season started, regardless of its quality, there were indications that the red-hot Batman pop culture frenzy that accompanied that debut half-season, had already cooled by fall 1966--not all that surprising, really, for a fad that burned that bright, that fast (the Wednesday/Thursday episodes for the first season rated a remarkable 10th and 5th most popular shows for the entire season--quite an accomplishment for ABC, which didn't have the station clearance of the bigger CBS and NBC. For this second season...neither night even made the Nielsen Top Thirty). The relative failure of the Batman big-screen movie that summer was a surprise to Fox, considering the level of audience awareness for the franchise, while opening numbers for the first few weeks of this second season indicated a worrying drop-off in terms of eyeballs from season one. Add to these steadily falling ratings the ever-escalating production costs of coming up with all those crazy props and sets and costumes and gadgets, week after week, and it was inevitable that Batman would have a relatively short run--it just took awhile for everyone onboard this large, complicated production to realize the ship was already starting to run aground...right at high tide.
And there are any number of factors you could point to that might help explain why Batman began to "fail" so quickly. According to what I've read, there were concerns going into this rushed second season (shooting the movie inbetween seasons apparently took up valuable pre-production time) that no one addressed what to do with this evolving pop phenomenon, and so...they just copied it again. That's certainly not surprising for 60s network television that sought the "endlessly repeatable viewing experience" (Hogan's Heroes is the classic example of this, where it's almost impossible to distinguish one season from the next). However, it's death for such an initially innovative show that caught the fancy of the entire country with its sheer, cheeky novelty. Viewers tuning into this second season of Batman (or, at least this first half-season, from what I can tell so far...) saw the exact same story construction built week after week, with only the villains swapped in and out for variety. A villain would make some sort of hit; the Commissioner would call Batman on the Batphone; the boys would change clothes; cue the credit sequence; the boys would consult on the clues; they'd initially spar with the villain, leading to a near-death torture; and the same pattern would repeat for the second episode. The episodes rigorously followed this simple structure almost sixty times in a span of six months or so this season.
Critically, the show's most popular villains--the Joker, the Riddler, Catwoman, and the Penguin--aren't showcased nearly as often in these opening months as they were in the first season--a critical mistake on the part of the producers (there's no doubt the single biggest blow to this second season of Batman is the absence of Frank Gorshin's brilliant Riddler, who held up the producers for more money before they recast him with John Astin. You keep waiting and waiting for him to show up, in vain...). No offense to Art Carney or Carolyn Jones or Walter Slezak...but I'm not tuning into Batman to see them parry with Adam West and Burt Ward. Why in the world did producer William Dozier open this season--the premiere episode of a season is critical to retaining loyal viewers--with a grumpy, unfunny Art Carney galumphing around like a dyspeptic Errol Flynn (he can't even manage to get the arrow into the bow half the time)? Why did anyone think Jones' "Queen of Diamonds" was an interesting villain? So, she likes diamonds...so what? It's just a name; there's nothing to the character that distinguishes her as an outsized Batman villain (they couldn't even manage an arresting costume for Jones, who sadly just does the same tired, arch, bug-eyed shtick she always affects). And oh my god why pick an actor as genetically unfunny as Cliff Robertson for a piss-poor parody of Shane? Frankly, his loud tie got more laughs (I can't remember if it was Michael Caine or director Robert Aldrich who stated Robertson was literally more interested in picking his nose than creating an engaging character on the set of Too Late the Hero). Why didn't Dozier just bite the budget bullet and sign up Gorshin, Meredith, Romero, and Newmar as permanent reoccurring cast members, and feature them almost exclusively, sprinkling in an occasional Vincent Price or Liberace for gee-gaw laughs?
Sheer repetition didn't help Batman's Nielsens' either, I suspect. ABC's twice-weekly Peyton Place was more adaptable to the potential burn-out audiences have with that form because it was based on the daytime soaps that aired day in and day out. But Batman quickly became "non-special" when it churned out almost sixty episodes this season--you can do that with small, dialogue-driven drama, but not over-the-top action/adventure. True, most TV series back then had high episode orders for each season (Bonanza did something like 34 one-hour shows that year--but only one a week), but the limited, highly repetitive nature of Batman's storylines and plot points only became more pronounced as they were beaten into the ground for viewers twice every week (too bad the network programming model back then couldn't accommodate a "limited run" season for something like Batman). So if a kid watching Batman could reliably predict what kind of scene would follow the next every week (you even get to the point where you can call the fight scenes' choreography), the only thing keeping him coming back for more had to be interesting, funny, larger-than-life villains (we already saw where that went this year), or smart, funny writing for the parents clued into the show's parodistic bent (from what I read, script supervisor Lorenzo Semple, Jr., who wrote the Batman pilot and who really set the tone for the series, was not as heavily involved with this second season--if true, another blow to this go-around's impact). That all sounds rather negative, doesn't it? And yet the show at this point still can't help but entertain, with a lot of that credit going to the expert cast of regulars, particularly the frankly brilliant Adam West and his hilarious, beautifully-timed deadpan delivery.
I've already alluded to the season openers, Shoot a Crooked Arrow/Walk the Straight and Narrow, with Art Carney as "The Archer." Quite a few funny ideas in this Stanley Ralph Ross script, including Carney's henchman keeping an applause machine around for positive reinforcement, and the notion of Alfred donning Batman's cowl and cape (Commissioner Gordon, taken aback at the gaunt, aged Batman, advises Robin to tell Batman to eat his vegetables). Funny Barbara Nichols is wasted in a nothing cameo, while the cliffhanger/death/torture set-piece isn't too impressive (Batman and Robin tied to maypoles, to be skewered by The Archer's jousting rod), but one of the half-season's best gags follows: when they escape via springs in their shoes, Batman and Robin keep bouncing a little afterward, oblivious to the cartoonish hilarity of the spring noises (the best joke here is the cop advising a complaining citizen that Batman has the right to speed in traffic...before he receives unseen, off-camera applause for his lecture). Hot Off the Griddle/The Cat and the Fiddle, from Ross again, is a big, big jump in quality as Newmar returns as Catwoman, bent on destroying Batman because...well, because he won't sleep with her. Lots of funny moments where square prude Batman tries desperately to ignore Newmar's insane body, spitting out "You hateful hussy!" being my favorite (I used to prefer equally gorgeous Lee Meriwether, but Newmar's perverse quirkiness is really growing on me...). Watch Aunt Harriet dance The Catutzi, made popular by singing group Benedict Arnold and the Traitors at the Pink Sandbox club, before one of the season's best tortures is lined up for our crime fighters: stretched out on hibachis as giant magnifying glasses await the sun's rays. And just a moment's nod to Adam West: when West puts on that cowl, and pauses with perfect timing and slight, hilarious tilts of his head while delivering lines like, "I prefer to believe [we always win] because our hearts are pure," you realize this actor is channeling something quite rare. It's an indelible lampoon of all those square-jawed, clean-living, pure-thinking, right-living American heroes seen in old movies and TV shows that's paralyzingly funny (how anyone could write that deliciously satirical West was playing it "straight," as I recently read, is beyond me).
I'm an avowed fan of the multi-talented Van Johnson, but he isn't given much to do as "Minstrel" in the rather blah The Minstrel's Shakedown/Barbecued Batman?, from Francis and Marian Cockrell. A Phyllis Diller cameo falls equally flat (she's mopping up a hallway...and forgets to be funny), while the biggest laughs come whenever someone parodies Van's old Metro image, calling him, "that handsome young man" (listen quick for a Bond in-joke: Van instructs the ransom money to be delivered to the Broccoli Bank in Switzerland, in account 007). There's a lot of debate, apparently, over Victor Buono's "King Tut" character (fans either love him or hate him), but candidly, what he does with the character in Robert C. Dennis' and Earl Barret's The Spell of Tut/Tut's Case is Shut is the same thing he always does: overact outrageously. If you like Buono, you'll like Tut (I like Tut). Good lines here for Buono, including, "The PTA will hear about this!" as he's dragged off to prison, while Robin has a fun Sax Rohmer-like cliffhanger: trapped on a disappearing gang plank over a pit of snapping plastic crocodiles (Bruce Lee and Van Williams do a "wall walk" cameo in a plug for producer Dozier's Green Hornet series). No one loves Shelley Winters like I do, but with a tantalizing title like The Greatest Mother of Them All/Ma Parker, I was expecting a few more giggles from someone who always goes overboard like Winters (the only line that got a laugh out of me from Henry Slesar's script was Winter's hilariously growled salutation at the Gotham Mother of the Year Awards: "I'll be happy to say a few words: stick 'em up!", while Batman taking time out during a car chase to give a citizen a "Lock Your Car" bumper sticker was pretty good). Too bad someone equally outrageous like Ernest Borgnine or Victor Mature wasn't picked to play the "Clock King" in the still-enjoyable The Clock King's Crazy Chimes/The Clock King Gets Crowned, from Bill Finger and Charles Sinclair (Walter Slezak is fine...just a little familiar, that's all). Plenty of funny slapstick in this one (Batman and Robin slipping on the watch oil was priceless, and there's a big punch-up on a large clockwork at the end). The "Meanwhile, back in the Batcave!"/"Meanwhile, up in the Wayne living room!" back-and-forth was solid, while the script's jabs at pop art were amusing considering Batman's own "Zowie" visual schematic.
I'm sure there will be a few touchy viewers who will take one look at Edward Everett Horton's "Chief Screaming Chicken" character in Ross' An Egg Grows in Gotham/The Yegg Foes in Gotham, and dismiss it as racist, ignoring the fact that the script's innocent, satirical bent pretty much absolves it from today's P.C. 20/20 hindsight (how can you get mad at a script that features the Chief's restaurant sign: "Screaming Chicken's Roadside Teepee: Blankets, Souvenirs, Tacos, Pizza, Blintzes"). Besides, these two episodes feature that truly surreal feel Batman could occasionally summon up, this time when the cops immediately turn against Batman when Vincent Price's Egghead takes over Gotham (the show definitely needed more subtle topical satire like this; when Chief O'Hara blithely states he has orders to shoot-on-sight his frequent savior Batman, it's a blankface oasis after the few previous dusty episodes). Price hams it up something rotten (which is just what we want), while West kills with the classic understatement, "We are witnessing a new low in community relations, Robin," at Egghead's inauguration. I don't know how die-hard Batman fans feel about him, but I was in pop culture nightmare heaven when none other than Liberace showed up in not one but two roles, as piano-playing con man Chandell/Fingers and his gruff gangster brother, Harry, in Lorenzo Semple, Jr.'s The Devil's Fingers/The Dead Ringers. As far as I'm concerned, the episode's best joke is that Liberace's villain uses a piano roll factory as his hide-out. The babe quotient is high here with his henchwomen Doe, Rae, and Mimi (Marilyn Hanold, Edy Williams, Sivi Aberg knock you out), while Aunt Harriet gets to play tough, pulling a gun on Chandell ("As they say in the movies: stick up yer mitts!"). It doesn't get much better in any season of Batman when the concluding episode closes out with Liberace beautifully warbling the Prisoner's Song on a black and white striped piano, as the camera pans over his dejected mob.
Burgess Meredith finally makes his debut this season in Hizzonner the Penguin/Dizzoner the Penguin, from Stanford Sherman (whether it was deliberate on the part of Dozier, emphasizing other villains, or because Meredith was otherwise occupied, waiting 8 weeks into the season to bring back one of the viewer's favorite characters was a big, big mistake). The most overtly satirical outing so far this season, these two episodes have a lot of fun with contemporary politics, as drudge Batman finds out from dynamic Penguin that "issues confuse people" during their run for Gotham's mayoral post. A beautifully-structured outing from Sherman, with one memorable scene after another (stick-up-his-ass Batman refusing to kiss a baby for votes, and getting vilified by the citizens; Paul Revere and the Raiders playing Penguin's rally; and an admirably large-scale torture for the boys, as they're suspended in a scale over sulphuric acid), these two episodes make you wish more second season Batmans turned out this clever and sharp (was the last joke of the inaccurate, unethical "Gallus, Ruper, and Trendick" pollsters--they shrug and smile, and say they can always get a job rating TV shows--a slam at Batman's falling Nielsen numbers?). Now I know nobody seems to like famed director Otto Preminger as Mr. Freeze (George Sanders from season one seems to be the favorite), here seen in Max Hodge's Green Ice/Deep Freeze...but I think he's right on the money, with his oft-putting stares, his frankly creepy face, and his weird line readings (when he says, "Wild!" it just gets stranger and stranger). When you realize this is the guy who directed bona fide classics like Laura and Anatomy of a Murder...and would soon direct bona fide sh*t like Hurry Sundown and Skidoo, his performance makes perfect sense. Impressive art direction in this one (his icy, blue-tinged lair, offset by stacked Dee Hartford shivering in a jail cell, is striking).
Ditto for the sublime Cesar Romero being A.W.O.L. for so long into the season. In The Impractical Joker/The Joker's Provokers, from Jay Thompson and Charles Hoffman, the gag of the Joker being able to start, stop, reverse, and speed up time isn't given enough play...but all is forgiven when Romero woofs that remarkable laugh of his (that slanted close-up of grotesquely made-up Romero, peering gleefully at his key...where else on TV would you see a shot like that in 1966?). Carolyn Jones' Marsha, Queen of Diamonds/Marsha's Scheme of Diamonds, from Stanford Sherman, I've already dealt with...although there are some funny moments for the other actors, including a debased, caged Neil Hamilton pleading that, "I'll roll myself into a ball and you can use me as a foot stool!" that should please the freak in you, while West's reaction to getting darted by cupid is priceless, with his little laughed, "ow-ouch." The embarrassments continue with the worst offering in this first half-season: Come Back, Shame/It's How You Play the Game, from Ross. A real dearth of funny lines (that little kid constantly yelling, "Come back, Shame!" wasn't funny even once), and a god-awful lead in Cliff Robertson, make this one a real loser (too bad the cute, funny Joan Staley is stuck in this one).
The Penguin returns for the unfortunately rather dull The Penguin's Nest/The Bird's Last Jest, doubly disappointing since Semple, Jr. wrote it. It starts off rather illogically (if you can say such a thing about a Batman episode)--why in the world would Batman and Gordon and everyone else be so nice and welcoming and cordial to the Penguin when he opened a restaurant?--and goes downhill from there, with a boring shootout at a motel pool (someone saving money here?) as a blah climax. The half season ends on a higher note, thanks to quirky, sexy-as-hell Julie Newmar's return as Catwoman in The Cat's Meow/The Bat's Kow Tow, from Ross. Too much time is taken up by Chad and Jeremy singing (relax: I like them...but enough's enough), but who remembers them when Catwoman, contemplating Batman as a zoned-out zombie stud once he's in her echo torture chamber, looks at him and purrs, "With your build, who cares? After all, one can't have her cake...and eat it, too," as she pauses for a pointed glance at his crotch (how'd Standards and Practices miss that one?). Lots of funny lines (Catwoman wants to set up her friend with teenager Robin, and then disgustedly rejects the idea: "At that age, all they're interested in is baseball,"), and a very sexy close-out as Catwoman does her best to sexually corrupt Batman one more time ("If I kissed you...would you think I was a 'bad girl'?") Yes, we would, Julie....

The Video:
Beautiful. The fullscreen, 1.37:1 fullscreen color transfers for Batman: The Television Series -- The Second Season, Part One look terrific: razor-sharp, high-detail image, saturated color values, and very few imperfections like scratches and dirt.
The Audio:
The Dolby Digital English mono audio tracks are so clean you can now hear the "looping box" reverb during Dozier's hilariously over-the-top narrations. English, French, and Spanish subtitles are included.
The Extras:
No extras. What?
Final Thoughts:
The trend is downward...but we're still laughing. A pop art mix of chapter serial thrills, broad-yet-straightfaced satire, goofball slapstick, and a surreal, hyper tone of comic book fantasy, Batman: The Television Series -- The Second Season, Part One may already be repeating itself, while unwisely highlighting some marginal villains...but when Adam West looks off into some strange distance while listening to his own pure-of-heart drummer, the effect is still hilariously hip. I'm highly recommending Batman: The Television Series -- The Second Season, Part One.
---
Paul Mavis is an internationally published movie and television historian, a member of the Online Film Critics Society, and the author of The Espionage Filmography.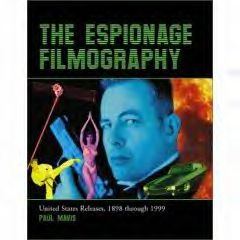 ---
C O N T E N T

---
V I D E O

---
A U D I O

---
E X T R A S

---
R E P L A Y

---
A D V I C E
Highly Recommended
---
E - M A I L
this review to a friend
Sponsored Links
Sponsored Links