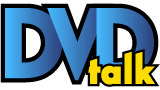 Other // R // July 7, 2003 // Region 2
List Price: $21.98 [Buy now and save at Sendit]
---
Note: This is an import title in PAL format from Great Britain. Though available online and at many specialty shops throughout America, a region-free player is required when viewing this title.

The 30-film** Carry On series (1958-78) is a Britain institution, but was largely unknown in America until Anchor Bay released the first 12 Carry On movies to DVD last October, under the banner
The Carry On Collection
. These first dozen Carry Ons were all originally released in the U.K. by Anglo-Amalgamated, but after Carry On Screaming! in 1966, producer Peter Rogers moved the popular series to Rank. The Rank films have been available on tape and DVD in the U.K. for some time, but there is, at present, no sign these movies will be released in America any time soon.


In Britain, the Rank Carry Ons (along with 1978's Carry On Emmannuelle, which was originally released by a different distributor) were given Special Edition makeovers by Carlton earlier this year. One of the best of these Special Editions is Carry On Camping (1969), a consistently funny gem and in many ways the archetypal Carry On movie. It's a good choice for someone wishing to sample the series, to test the waters without committing to a headlong dive.


Like many of the best Carry Ons, Carry On Camping has the flimsiest of plotlines -- the picture is little more than a series of incidents and blackout gags. Sid Boggle (Sid James) and none-too-bright mate Bernie Lugg (Bernard Bresslaw) talk girlfriends Joan and Anthea (Joan Sims and Dilys Laye) into a weekend vacation, but wind up instead at the run-down "Paradise Holiday" campgrounds of one Joshua Fiddler (the always funny Peter Butterworth). Also at the campsite are a busload of well-past-puberty schoolgirls (including busty Barbara Windsor), their clueless headmaster (Kenneth Williams) and matron (Hattie Jacques). Businessman Peter Potter (Terry Scott) has been dragged into yet another dreary holiday by his flighty wife (Betty Marsden); while goofy, owlish Charlie Muggins (Charles Hawtrey) makes himself at home in the Potter's small tent, quickly getting on the couple's nerves.


Though laden with the usual saucy, double-entendre humor that had become the hallmark of the Carry On films, Carry On Camping is also reminiscent of pre-Code, all-star Paramount comedies of the early-1930s, films like Six of a Kind (1934), as well as Laurel and Hardy shorts such as Perfect Day (1929) and Towed in a Hole (1932). In the best tradition of those pictures, myriad gags and funny bits of business are built and milked around a single basic concept.


Certainly lean Sid and hulking Bernie suggest Laurel and Hardy as they struggle to get their tent up in the pouring rain, while Sid's haggling with shyster Butterworth over camping fees is straight out of the Marx Bros.'s repertoire. Further, the family name of Sid's character reminds one of W.C. Fields's famous nom de plume, Charles Bogle.


This is not to suggest the series' unabashed stream of sexual innuendo doesn't gleefully shine through. This is, after all, the Carry On movie with the series' most iconic image -- that of Barbara Windsor's bra bursting off like champagne cork during morning calisthenics. And the film opens with an extended, hilarious sequence where Sid takes Bernie and their girlfriends to see an "educational" film about a nudist colony. As Bernie sits transfixed and the girls disgusted and embarrassed at the parade of flesh onscreen, Sid can't hide his giddy pleasure. Sid's persona of unashamed, unbridled lust was never more endearing than it is in Carry On Camping.


Video & Audio


The biggest disappointment of the Carlton SE Carry Ons is that roughly half the films were transferred in 4:3 letterbox format only. Happily, Carry On Camping is one of the titles in superior 16:9 anamorphic wide screen; the image is sharp with good color. The Dolby Digital mono is just fine, and English hard-of-hearing subtitles are offered.


Extras


The DVD includes a nice selection of extras, beginning with a 10-page booklet with liner notes by Robert Ross, author of The Carry On Companion. The booklet is full of useful information on where various cast members were career-wise at the time of production, as well as full-color publicity photos. The DVD itself includes a 4:3 letterbox trailer, as well as a still gallery and "Film Trivia Notes," the latter merely repeating text found in the booklet. Actresses Dilys Laye and Sandra Caron (who plays Windsor's schoolmate) are featured on the audio commentary track. Last but not least is "Orgy and Bess," a January 1975 episode of the TV series Carry On Laughing. Featuring Sid James as Sir Francis Drake (it was James's final Carry On role before his untimely death in 1976) and Hattie Jacques as Elizabeth I, the 24-minute show is only mildly amusing, but a welcome extra nonetheless.


Parting Thoughts


The Carry On movies are definitely an acquired taste. Once you get the bug, however, series regulars like James, Sims, Jacques, and Williams become like old friends, and the best films can be enjoyed again and again. In many ways, Carry On Camping charted the course for the rest of the series. It may bear little resemblance to earlier, more reserved entries like Carry On Sergeant (1958) and Carry On Teacher (1959), but Carry On Camping still rates among the best of the series, and remains a delightful mix of slapstick and smut.


** A new film (the 32nd if you count 1992's Carry On Columbus), Carry On London, went into production earlier this year.


Stuart Galbraith IV is a Los Angeles and Kyoto-based film historian whose work includes The Emperor and the Wolf -- The Lives and Films of Akira Kurosawa and Toshiro Mifune. He is presently writing a new book on Japanese cinema for Taschen.
---
C O N T E N T

---
V I D E O

---
A U D I O

---
E X T R A S

---
R E P L A Y

---
A D V I C E
Recommended
---
E - M A I L
this review to a friend
Sponsored Links
Sponsored Links