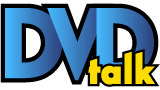 Other // Unrated // July 10, 2003 // Region 3
List Price: $29.95 [Buy now and save at Hkflix]
---
WHAT'S IT ALL ABOUT?
An enjoyably kooky concoction of cornball French humor and impressive car stunts, Taxi 3 (Region 3: Korean) continues a series of kinda-Bond-inspired silliness that sometimes works and sometimes doesn't. As a whole, the humor of the film is somewhat forced, and yet truly hilarious moments will come out of nowhere and redeem the film enough for you to keep watching. Taxi 3 has a distinctly French feel, and yet it's imbued by American action-film sensibilities—and even includes a cameo from one of America's most beloved (and aging) action stars.
The flimsy plot is mostly an excuse to bring together the stars of the first two episodes of this series in a new adventure filled with crazy chases and romantic/comic antics. The focus of the Taxi films is on Daniel, a cab driver who drives an extremely capable Peugeot taxi straight out of a 007 caper. This car is an amazing and ever-surprising piece of machinery that, like a chameleon, can become, by turns, the ultimate racing car or a makeshift snowmobile. Daniel's unlikely cohort is Emilien, an earnest but bumbling cop. Taxi 3 finds the two men surprised to find that their respective girlfriends are pregnant, and if that weren't enough drama, the case of the criminal Santa Claus impersonators is confounding the cops at every turn.
Thankfully, plot isn't the strong point of the film. Taxi 3 has a crazy sense of humor, fed by its stunts—which are admittedly fine—and its talented cast. These actors really have a feel for the material, bungling this way and seemingly shameless in their willingness to provoke laughter. They get squashed under the ultimate monster truck, they dip into frozen lakes, and they fall several stories off buildings into trash cans. And despite it all, they're people you wouldn't mind knowing, because they're so anxious to just have a great, goofy time.
I had a fun time with the French oddity and would enjoy searching out the earlier films. Apparently, Hollywood is interested in remaking the films for American audiences, but I can't see how they would capture the unique charm of this series. Taxi 3 is by no means a masterpiece of action cinema, but I can think of worse ways to spend a evening than laughing at this French silliness.
HOW'S IT LOOK?
This Region 3 disc presents Taxi 3 in a sharp anamorphic-widescreen transfer of the film's original 1.85:1 theatrical presentation. Detail is impressive, and colors are bold. The only flaw I see in the image is an excessive amount of digital artifacting, particularly in background patterns and clothes and such.
HOW'S IT SOUND?
The disc offers both Dolby Digital and DTS French soundtracks, and they both pack a wallop. They're quite engaging through the full spectrum of sound, offering accurate highs and foundation-rattling lows. I was particularly impressed with how the soundtracks handled the music.
The disc defaults to Korean subtitles, but you can switch to English.
WHAT ELSE IS THERE?
A few text options only in Korean, as well as a brief behind-the-scenes snippet, French but subtitled only in Korean.
WHAT'S LEFT TO SAY?
Taxi 3 is a fun film that makes me want to search out the films that precede it in the series. This Region 3 disc contains extras that only a Korean-speaker/reader will enjoy, but the feature itself is well presented.
---
C O N T E N T

---
V I D E O

---
A U D I O

---
E X T R A S

---
R E P L A Y

---
A D V I C E
Recommended
---
E - M A I L
this review to a friend
Sponsored Links
Sponsored Links