Jump Cut 6:
WHAT'S NEW PUSSYCAT?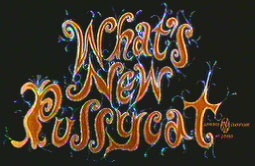 1965 was a pretty good year for movies, and there was plenty of room at the box office for the sexy, hip What's New, Pussycat?, a comedy that pushed the censorship envelope for what was permissible in an American film with an MPAA seal. Just a few years before, movies as unshocking as Otto Preminger's The Cardinal were getting into hot water with the Catholic Legion of Decency, which admittedly had been at odds with Preminger for a decade. In the same season, the censors debated the relative legitimacy of the topless scene in Sidney Lumet's The Pawnbroker, where a prostitute tries to tempt moneylender Rod Steiger with an offer of sex. The sight makes the pawnbroker think of his dead wife lost years ago in the concentration camps, and the sophisticated editing of Ralph Rosenblum creates a legitimate comparison between the tawdry sex being offered and the love of a man's life.
In the same year Billy Wilder got dunned for his sincerely smutty Kiss Me, Stupid, a bedroom farce that mixes perfect timing and humor with some of the crudest jokes of the decade. Obviously quite at home with a dirty story, Wilder graduated from the winking irony of The Apartment to the unappealing directness of Irma La Douce to this jaw-dropping morality tale about infidelity where Dean Martin essentially plays himself and comes out with a constant and escalating series of sex jokes. Wilder's double entendres are choice ("You like my place? It's small, but it's clean!"--"What is?"), but whenever Dino leers at Kim Novak and slobbers on about paper panties and whatever, the movie just seems plain dirty. Not that it isn't frequently hilarious. Peter Sellers dropped out after a heart attack and critics often chalk up the failure of the film to his replacement Ray Walston, but in actuality Walston is good, the whole show is clean enough to play on basic cable today, and is a fine example of Wilder at his rowdiest. In 1965 UA was so scared of the Legion's power, it released Kiss Me, Stupid through its art house sub-distributor Lopert pictures and pretended it never heard of the film. It was Billy's first flop in five pictures and it sent him back to the familiar turf of The Fortune Cookie. Wilder made some great films after that but his winning streak was over for good.
There never was a problem with Clive Donner's What's New Pussycat? It passed the MPAA and the Legion without a problem. But it was missing a little something. The first full-length screen original script by Woody Allen, Pussycat? was full of sex jokes in the Allen style. Some of Donner's direction was on the flat side, and the movie is definitely uneven -- the large cast ranges from so-so (Capucine, Peter Sellers) to delightful (Romy Schneider, Paula Prentiss and Allen himself). Magazine editor Peter O'Toole is engaged to Romy but pursued by females at every turn; the movie lumbers on to a bedroom-farce finale in the 'Chateau Chantel' -- a country manse that caters only to illicit liaisons. The comedy is sometimes forced (Allen's cinematic spoofs) but often inspired. Watch close for Schneider, sitting stone drunk in Allen's bed. When she slips off it looks as if she clonks her head HARD on an end table!
Pussycat? has one of the first and best scores by Burt Bacharach. Besides the Tom Jones title tune, Dionne Warwick sings 'Here I Am', a love song that Bacharach seems to have lifted intact to serve as the title theme for his still-born Lost Horizon remake eight years later. But the Jump Cut of the moment takes place during a strip club show with the music of Manfred Mann singing 'My Little Red Book' belting out on the soundtrack.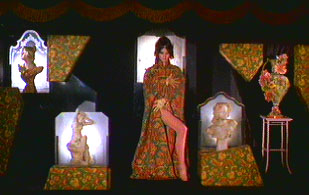 Stylish entrance - a newer, sensual Paula Prentiss.
Paula Prentiss makes her stripper's entrance in Pussycat? with an arresting fanfare of Bacharach music as she appears from within and behind a series of art nouveau screens. Peter O'Toole watches entranced from the smoky gallery of ardent voyeurs. There is some silhouette play with her blowing away the fingers of other dancers, reminiscent of the 'Mata Hari' musical number, also with Bacharach music, in Casino Royale. Enraptured, O'Toole utters the word that tells us he's fallen for yet another irresistible female: "Pussycat!"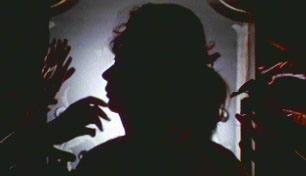 Blowing away the fingers ... style to burn.
But then there's a big fat CUT, and we jump ahead across perhaps as much as a minute of omitted material. Right from the end of the Bacharach fanfare intro cue, across a splice, the film lands in the middle of the Manfred Mann tune. We see nothing of Prentiss' performance. Indeed, we cut to her leaving the stage with O'Toole, wearing a different dress with a coat tossed over her shoulders. Down amid the cheering, clapping mob of swingers, ('Lascivious adulterers,' as Sellers' character would say) they dance through the end of 'My Little Red Book' and basically make out with the entire club as their audience.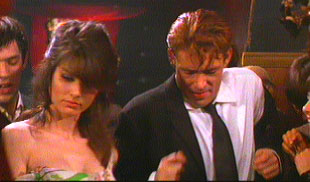 what remains ... the make-out dance.
So what's missing? In this case the answer is simple: Prentiss apparently does something that takes at least a few bars of 'My Little Red Book' to do. Since the Jump Cut is there, Savant assumes it must involve something censorable, probably nudity. This doesn't mean there is a whole striptease scene there but it's a conclusion hard to discount. With the change of clothing, it looks as if Paula also retired backstage, with or without O'Toole at least long enough to change. Readers of Playboy got to see stills from the sequence and probably felt burned when the footage was snipped. In it Prentiss, clearly in the same scene, is indeed topless and showing all. Were these photos taken of a real scene, or just snaps of Prentiss performing for the Playboy photographer?

Playboy, 1965 ... on the page, but not on the screen.


Well, this sounds like an obvious candidate for restoration. But UA, which holds What's New Pussycat? and all of its elements has neither the missing film, alternate versions or trims or, indeed, any record of such same. Just like the missing 'Coffee Break' musical number from How to Succeed in Business Without Really Trying, the official path to finding the censored strip scene from Pussycat? leads to a quick and final dead end.

Is the strip scene in Pussycat? a classic case of the 'European sexier cut' syndrome we always heard about? The hard proof of these cuts never seems to surface, only clues and unsubstantial teases. For instance, the pocket book novelization of Our Man Flint had a photo on the back cover of James Coburn bedding Gila Golan that looks a lot more graphic and different than anything in the movie; I've been told that the European cuts of such films were routinely laced with far hotter alternate shots and scenes than what we deprived Americans were allowed to see. In the case of Flint and all the rest, Savant has seen no 'hot stuff' alternate cuts surfacing anywhere. And frankly, the people who claim the scenes exist could easily be doing a lot of wishful thinking. It would seem obvious that enterprising publicity men would routinely manufacture hot photos on the set for the pages of Playboy, hyping their sexpot clients and creating un-fulfillable expectations for a sexier movie than the MPAA would allow.

The Jump Cut is so ragged, with Manfred Mann's song effectively spoiled, that the excision looks as though the scene was excised at the very last minute. Allen's script pulls some 'cinematic' jokes here and there, most prominently an 'Author's Message' title that flashes on and off when O'Toole pronounces an homily about the sanctity of true love. If Allen & Donner wanted to make a joke about censorship they missed their opportunity ... nope, this looks just like a last minute lift with no excuses. Did anyone see this in Europe?

It really seems unrealistic to think that such a scene would ever remain intact in the States. Pussycat? was produced in France so maybe everyone was having too good a time to care. Paula Prentiss was a favorite actress of the time, always winning and hilarious, even in some of the worst roles MGM could give her. Along with Jim Hutton, with whom she was frequently paired, she was in the very last group of actors recruited and pushed through the dying studio system. Her wonderful television sitcom with then-husband Richard Benjamin is almost completely forgotten now, even though at the time it gave the Dick Van Dyke Show a run for its money, popularity-wise. Paula even holds up her end of Howard Hawks' desperately unfunny Man's Favorite Sport? If she were trying to stretch her image with a real strip scene and break free of the 'family-safe kook' persona, then maybe she knew what she was doing. Two years later brief nudity would begin to show up more frequently, but in 1965 all must have known full well the scene would have to go. Could Prentiss have been tricked or goaded into disrobing for the film? This possibility is always considered, Savant thinks by people who somehow think actresses are 'forced' to undress in films. By 1965, Prentiss was so well established and experienced that such a thing seems especially unlikely. And remember that in 1970, Prentiss appeared fully frontal nude, in broad daylight, in a scene from Mike Nichols' Catch-22. In a film full of nightmares, the specter of the thin Prentiss, starkers, waving from a buoyed beach raft is anything but erotic. Especially when another character is horrifyingly chopped in two by an airplane propeller on the same raft.

So bring back the Sexy Paula, someone!




Text © Copyright 1999 Glenn Erickson




DVD Savant Text © Copyright 1997-2002 Glenn Erickson

Go BACK to the Savant Index of Articles.




Return to Top of Page