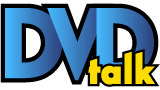 List Price: $24.96 [Buy now and save at Amazon]
---
The Movie:
I've always thought that the late 70's and early 80's were a golden
age for irreverent comedies. Animal House (1978,) Life
of Brian (1979,) and Airplane (1980) were all movies I saw in
the theater, the later two on opening night. But with the success
of these and other great comedies, there was bound to be a crop of pale
imitations hoping to cash in on the trend, and there were. Some of
them were okay, many not so good, but until now I have managed to miss
one of the worst comedies from this period: Wholly Moses!

When I first saw this DVD in my box of screeners, I thought it was curious
that I hadn't heard of it before. It had a collection of great comedians:
Richard Pryor, Dudley Moore, Laraine Newman, (who has a staring role but
isn't given credit on the cover,) Dom DeLuise, Madeline Kahn, and James
Coco. How could I have missed this? After viewing the movie,
I think I can understand how it slipped past. It's because this movie
is absolutely wretched, and no one in his or her right mind would have
recommend this to me. I have had my finger slammed in a car door,
and that is preferable to watching this movie again. At least with
the car door, it's over quickly and you have a good story to tell.
This movie seems to go on and on, the pain doesn't end and there's nothing
good to say about it afterwards.

The plot, what there is of one, is fairly simple. While taking
a tour of the Holy Land, Harvey (Dudley Moore) meets Zoey (Laraine Newman.)
The tour stops for lunch, and when the wind blows Zoey's hat away the pair
go in search of it. They climb into a hidden cave where they find
some ancient scrolls. Luckily, Harvey is a professor of languages
and can read Aramaic. (How I wish that he'd been a plumber.
The movie might have ended there.) The scrolls tell the story of
Herschel and Zerelda (also played by Dudley Moore and Laraine Newman.)
Herschel's life is amazingly similar to Moses': They are both put
in a basket and sent down the Nile as infants, they end up marring two
sisters, and they both believe that they have been chose to free their
people. Herschel could have been big, if Moses didn't keep getting
in the way.

The film is a series of scenes that attempt to parody stories in the
Bible. Unfortunately there really isn't anything linking the stories
together, it's just one sketch after another. I could ignore that if the
movie was funny, but it isn't, not in the least. I spent most of
100+ minutes of the film wondering "was that supposed to be a joke?" or
"was I supposed to laugh there?" There are a lot of bathroom humor,
and people getting hit on the head. Now I love slapstick if
it's set up properly, but none of this was.

It is incredibly obvious that this movie was meant to cash in on the
popularity of The Life of Brian. Brian was made just
the year before this was released, and received rave reviews for the most
part. So instead of doing a parody of the New Testament, the creators
of this movie decided to spoof the Old Testament. But they got it
all wrong. The jokes are bad, the setups lame and the laughs nonexistent.
The script is so bad that I can't imagine how the project ever got green
lighted. My own theory is that this movie is the result of a game
of Truth-or-Dare that got terribly out of hand.

"But," I hear you ask, "what about all those stars you listed earlier?"
Well, they are in the film, but most of them have such a small role that
if you don't pay close attention you'll miss it. One scene, a few
lines that are not funny, and off you go on your way to the next guest
appearance.

All in all I couldn't find anything good about this movie. I was
hoping that one of the cameos would be worth singling out as being good,
or that I could find a couple of lines that were funny enough to quote,
but I didn't. I don't think I cracked a smile during the entire movie.
This is a waste of time.

The DVD:
---
Audio:

The movie has a two-channel soundtrack that sounded like it was mono.
There were optional Spanish subtitles but English subs were not available.
The sound was not very dynamic for a film made in 1980. The range
was very narrow, with the blaring trumpets not sounding as broad as they
should have and the full orchestral music had a cramped feeling.
The dialog was easy to understand, but with this film that's not necessarily
an advantage.

Video:

To add insult to injury, the video for this film has been panned and
scanned to a 1.33:1 aspect ration. I can't say that I would have
liked the movie if it had been presented as it was intended to be seen
with a 2.35:1 aspect ratio, but I'm sure the movie would have looked better.
As it was, the frame often looked cramped and crowded. The image
itself looked pretty good, with only a little grain in some scenes and
a few specks. But even a good picture can't save this movie.

The Extras:

The only extra on this DVD is a reel of trailers for A League of
Their Own, Fail Safe, and Monty Python and the Holy Grail.
These were more entertaining than the movie itself.

Final Thoughts:

No collection of the unfunniest comedies of all time could be complete
without this DVD, since it surely ranks in the top ten. People who
collect cameos by John Ritter will also want to run out and grab a copy
of this disc. Everyone else stay away. Stay far away.
Skip it.
Sponsored Links
Sponsored Links