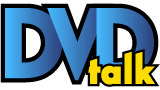 Transporter: Special Delivery Edition, The
Fox // PG-13 // August 23, 2005
List Price: $19.98 [Buy now and save at Amazon]
---
The Movie:

In 2002 when The Transporter came out, Jason Statham was still a relative newcomer to the action film genre. Prior to the movie he only had a few parts here and there including appearances in Snatch and Lock, Stock and Two Smoking Barrels. It's only fitting that with a sequel starring Stratham right around the corner that the original gets a re-release on DVD.



In case you haven't had the chance to see The Transporter yet, you can expect roughly 90 minutes of constant action without a lot of plot getting in the way. This is pure leave your brain at the door popcorn munching extravaganza at its finest. There are plenty of wild stunts like car chases through busy streets, well choreographed fights and all manner of explosions. Simply put, this is a simple frenetically paced movie that made me say "wow" but due to the tone of the film and lack of direction I found myself bored at times despite what was happening on screen.



One of the problems with The Transporter is that the film takes itself too seriously most of the time. Statham has a constant grimace on his face with only a few flashes of a smile or charisma. He plays a very likable character with a lot of personality but he is too somber for his own good. The rest of the cast does a decent job with the material and acting performances even though many of the characters are borderline silly and one dimensional.



Statham plays a guy named Frank Martin who is an ex-military officer and claims to the local police that he lives off of his pension. In reality Martin makes his money by transporting objects and people to a specific destination and he is regarded as one of the best at what he does. He is the best because he follows three simple rules:



1.) Once a deal is negotiated, it can't be changed

2.) No names

3.) Never open the package




Unfortunately he takes on a job that peaks his curiosity and he breaks rule number three. What he finds is that the bag inside of his trunk is actually filled with a beautiful Chinese girl named Lai (Shu Qi) and it's because he sneaks a peek that his world goes to hell. He finds himself involved in matters that go beyond the transportation of one girl and becomes a target himself. What ensues beyond this point is a nearly constant stream of action that unfortunately winds up being pretty predictable.



As I said The Transporter doesn't really go beyond the fun popcorn action movie and honestly it really doesn't have to in order to be entertaining. I'm looking forward to the The Transporter 2 and hope that Besson writes a better screenplay that uses more of Statham's acting talent instead of making him run around without a shirt. In the end this is the type of movie you watch if you want to see a lot of punching, kicking and shooting without all of that pesky story and dialogue to get in the way.


The DVD:
---
Video:


The Transporter: Special Delivery Edition is presented with a 2.35:1 anamorphic transfer and is nearly identical to the prior release. The image is very sharp and clean with no noticeable grain, dirty specks or softness anywhere. The only inherent problem with the video is some slight edge enhancement that is obvious in a few scenes, but that's nothing to mar the presentation. If you happen to have the previous edition you may be happy to know that this release doesn't have a pan and scan selection and is strictly widescreen.


Audio:


The Transporter features a couple of decent sound selections for you to pick. For starters English 5.1 DTS and Dolby Digital tracks are available and make great use of the different channels. The mix is very good with music, gunfire and dialogue that come out from all angles. If English isn't your thing you can also select French and Spanish Dolby Surround, but the better version for audio is without a question the English selection.


Extras:



The Special Delivery Edition comes out with some new extras, but also has some of the same ones from the previous release. That means for those of you that own the other version you may want to think twice before upgrading because some of this is a double dip.



For starters there is a commentary track featuring Jason Statham and producer Steven Chasman. As far as commentaries go, this one isn't all that bad with some funny bits and good insights into the film. It doesn't really get all that technical though and has a very casual feel to it as the two just chatter on. Also making a return from the first edition of the film are the extended fight sequences which feature three such moments with commentary by Statham, Chasman and fight choreographer Cory Yuen. These are worth a look and feature some extra violence that didn't make the original cut of the film.



There are a few trailers included and even one for The Transporter 2 which is followed up by a 10 minute behind the scenes featurette. There's nothing too involved and much of it feels like a typical production fluff piece but there are a few points of interest that make it worth watching. Another feature that makes it onto the disc is a storyboard to final edit comparison of the scene in which Martin parachutes from a plane. It's relatively short and it's only the one scene, even so it's still cool to see it from concept to completion.



In addition to these features there are also a 35 minute behind the scenes documentary and a 12 minute making of spot. With interviews of the crew and a look at how some of the scenes were made these are definitely worth a look if you're checking out the special features.


Final Thoughts:

The Transporter is a straight forward action movie that doesn't deviate from the formula very much. There are a few very cool sequences but overall most of the action here is fairly average without much story to get in the way. If you've already purchased the prior edition of the film on DVD then there's really not much point in a double dip considering that little has been added to make it worthwhile. Per chance you haven't seen the movie yet and are looking for a fun action ride. In that case I recommend The Special Delivery Edition.
---
Check out more of my reviews here. Head on over to my anime blog as well for random musings and reviews of anime, manga, and stuff from Japan!
---
C O N T E N T

---
V I D E O

---
A U D I O

---
E X T R A S

---
R E P L A Y

---
A D V I C E
Recommended
---
E - M A I L
this review to a friend
Sponsored Links
Sponsored Links