Curse of Lizzie Borden, The
List Price: $14.99 [Buy now and save at Amazon]
---
Ah....amateur night. Let's dispatch with this nauseating little straight-to-DVD atrocity as quickly and painlessly as possible. Apparently, young Cassy finds herself asked to play Lizzie Borden in a haunted house for Halloween. Yet, what her boyfriend Andrew, and future employer Mr. Moody among others, don't know, is that Cassy may not be the best choice to play Lizzie, because of some pesky homicidal tendencies that no one knew about.
There's really no point in going on with any description of the action, because most of what happens in The Curse of Lizzie Borden defies description. Ineptitude seems to be the unifying factor for all aspects of the production, from direction, right down, apparently, to the catering (everyone looks faintly nauseous, as if they've eaten a bad kosher meal). Granted, there are isolated pleasures to be found (the film's funniest moment comes when the first title card comes up: Sterling Entertainment). And Mr. Moody, played by Randal Malone, is so...inadequate as to defy description, that one does almost feel sorry when his inevitable fate becomes apparent. This pity is mitigated somewhat by a feeling of absolute mystification as to the exact nature and composition of Mr. Moody's wig. It's not a divot, and it's not a pelt, with the truth lying somewhere in-between. Cassy, played by Danielle De Luca, almost disrobes for the film -- it could only have helped.
The screenplay was perpetrated by Jeremiah Campbell, and the direction committed by Ford Austin. Unfortunately for Mr. Campbell and Mr. Austin, there appears to be no onscreen quid pro quo for the mayhem they've commissioned. Mr. Austin's chief transgression that stands out (which is saying something, let me tell you) is his astounding habit of having Lizzie/Cassy swing her mighty ax on the left side of the screen, while apparently, someone is throwing water glasses full of blood on the poor actors from the right side of the screen -- even when there are no blows forthcoming, thus defying the laws of gravity and physics (But hey, as Bugs Bunny might say -- maybe he never studied law). General hilarity ensues.
The DVD:
Video
Problems with low lighting conditions cause random picture noise within the same scene, causing further confusion for the viewer (if that's possible). But then again, it's possible someone forgot to turn on the lights -- as one shot clearly shows. One minute, Cassy's face is dark, and then suddenly, her key light comes on. That should answer how its edited, too. It's full frame, and filmed slightly askew, as if the camcorder was bumped ever so slightly on its tripod.
Audio
The Dolby Digital 2.0 picks up the screams and ax choppings and the dialogue nicely; unfortunately, they sound as if they were recorded in someone's garage, so...well, you get the point. Close captioning is not available.
The Extras
The only extra is a "trailer" that appears to be an encapsulated review of the whole show. At only several minutes, it's still entirely too long.
Final Thoughts
If anyone should get the ax, it's the director, the screenwriter, and the actors -- in that order. There's a scene at the end of the film, where Cassy's boyfriend Andrew (played by Jim Saviano, who makes John Ashley look like Gielgud) says: "Go ahead and kill me, you crazy b****! This sh** isn't worth it!" You're telling me, Andrew. Skip it -- and hope that someday, someone will see fit to release 1975's atmospheric, scary telemovie, The Legend of Lizzie Borden, starring Elizabeth Montgomery and Ed Flanders, and directed by Paul Wendkos. It's still the best treatment of this subject.
---
Paul Mavis is an internationally published film and television historian, a member of the Online Film Critics Society, and the author of The Espionage Filmography.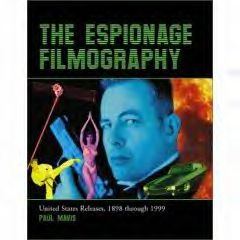 Sponsored Links
Sponsored Links