Image // R // September 19, 2006
List Price: $19.99 [Buy now and save at Amazon]
---
When we were kids, if we were lucky, a movie like Virgin Witch would come on the late, late show some Friday or Saturday night. Of course, it wouldn't be uncut, but that was half the fun, trying to figure out what it was that we were just missing here or there. Hammer productions were usually our favorites for that kind of edited nonsense; the girls were beautiful, and you could tell something was going on, but you weren't ever going to see it -- especially if your Mom came down with those dreaded words of childhood: "Turn that junk off and get to bed!"
Unfortunately, through the miracle of DVD technology, I'm able to see Virgin Witch in its entirety, completely uncut and commercial free. It's a pity. What might have titillated me at ten -- knowing for sure I was missing out on something good whenever there was an awkward jump cut - now becomes an unendurably rote and routine experience. Oh, there's nudity, all right. But that's about it -- and I'm not ten anymore. There's no scares, no gore, no tension, no horror - nothing. What promised to be a creepy exercise in English witchcraft seen through the exploitation lens, devolves into a third-rate Hammer knock-off, with precious little to recommend it.

Sisters Christine and Betty (Ann and Vicki Michelle) are running away from home, when they're picked up by sharpster Johnny (Keith Buckley), who takes them to stay with him in London. Christine, we learn, wants to be a model. We also learn that she has powers of ESP; this is how she picks out commercial modeling agent Sybil Waite (Patricia Haynes) from a magazine layout. Going to Waite's office, Christine is compelled by Waite to remove her clothes to "measure her for the records" (frankly, she doesn't seem that upset by the request). But Sybil has other plans for Christine that don't include modeling. Sybil fakes a phone call from a photographer, telling Christine that she's in a bind to find a model on short notice who will spend the weekend at a country estate, shooting a liquor ad. Christine readily accepts, and brings along her sister Betty for protection. But from the start of the weekend, it appears that Christine doesn't need any protection; she willingly removes her clothes for the photo shoot, and acts as if she doesn't have a care in the world. Meanwhile, Sybil keeps a sharp eye on Christine -- for personal reasons.

At the same time, sister Betty is exploring the estate, when she stumbles across a ceremony room for witches. Disturbed by this, she goes outside for some air, where she again becomes confused by the lustful stares of several men from the village. She wakes up in bed to find Dr. Amberly (Neil Hallett), the owner of the estate, comforting her while saying it's perfectly normal for a young virgin to have sexual frustrations (Mr. Smooth). After Betty confides in Christine what she has found, Christine states that all of the people at the estate are witches - and yet, she feels absolutely no fear concerning this situation. Later at dinner, Dr. Amberly freely admits that they're a coven of witches, but that they only practice white witchcraft - never Satanism. Eventually, Christine discovers her powers becoming more acute, and decides to become the next High Priestess, pushing Sybil out of the way. Will Johnny come to Betty's rescue before Christine totally loses it, and sacrifices Betty at the pagan orgy?

It's not difficult to interest me in one of those typical "there's something wrong at the English country estate this weekend" type of movie. It's such a common setting for British films and TV shows, and it can encompass many different types of film genres, from Agatha Christie-type mysteries, to horror films (Night Must Fall) to Hammer suspense films (Die! Die! My Darling!), to various Avengers and The Saint episodes. But for that type of film to work, there has to be something wrong at the estate, and after watching Virgin Witch, I couldn't figure out what the problem was. The film starts out with a montage of naked women, with one apparently being sacrificed during a pagan witch ceremony. But this is never referred to again in the film. Who's the victim? We never find out. Dr. Amberly assures Betty and Christine that his coven never practices the dark arts, and even argues about it with Sybil, demanding it stay that way. Did Sybil lose control, and sacrifice a virgin? One might think so, but the film never definitively answers that. As well, there never seems to be a credible threat to the young girls in the house; I kept waiting for someone to feel threatened, for someone to start getting that uneasy feeling that all was not right with their too-friendly and accomodating hosts. But it never happened. Christine seems to be at one with the house immediately upon her arrival, and there's no question (from either her or her hosts) that she will eventually become a witch -- and a powerful one, at that. The witches and warlocks in the house keep saying they don't want to harm anyone - and then they don't harm anyone. And Betty - poor, dim Betty - doesn't seem to comprehend anything that's going on in the house. And once she is clued in, she willing agrees to become a witch in the final ceremony, to bring back Johnny (with the help of Christine's powers). Again, no big threat is seen at the house. So...basically, we have a pallid little witchcraft movie with no internal strife, and no dramatic conflict.

And when you're left without dramatic tension or a provocative plot line, the only thing left to concentrate on is the acting. The actors are fine in Virgin Witch; Hallett and Haines do an adequate job with their "evil" witches parts, while the Michelle sisters are suitably desirable as the nubile victims. The only problem with all of these performances is that you've seen tham all a hundred times before, in better movies. There's nothing in the slightest way distinctive about Virgin Witch's story or screenplay, or its performances. The direction by TV veteran Ray Austin is, in a word, perfunctory. He seems incapable of building any kind of tension, and most of his scenes just lie there, inert. He isn't helped, either, by indifferent cinematography and editing. As for the musical score by Ted Dicks, it's derivative John Barry.

The DVD:


The Video:
Virgin Witch's picture image is as undistinguished as the film itself. No doubt much of the diffusion stems from the DVD's source material, but it's still a fuzzy picture. It has been enhanced for 16:9 TVs.

The Audio:
The Dolby Digital mono soundtrack is a little garbled, but again, I would put that down to the original source materials. At least the English accents aren't impenetrable.

The Extras:
The only extras for Virgin Witch are a theatrical trailer (which is a hoot), and a stills gallery. It's not much; some kind of commentary always helps with this kind of grade-Z production.

Final Thoughts:
I know Halloween is coming up, and you're looking around for something new to watch - anything, anything other than Halloween or Friday the 13th for the upteenth time - but you can find something better than Virgin Witch, trust me. There's lots of Hammer collections out there that you can rent or buy on DVD. Or if you're lucky, something will come up, late at night on TV - just remember to keep the volume down or your Mom will hear. Skip it.
---
Paul Mavis is an internationally published film and television historian, a member of the Online Film Critics Society, and the author of The Espionage Filmography.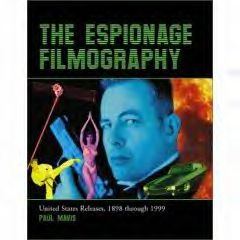 Sponsored Links
Sponsored Links