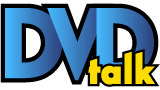 List Price: $29.95 [Buy now and save at Amazon]
---
Reviewed by Glenn Erickson
Polish director Andrzej Wajda is a world-renowned talent still mostly untapped by DVD; besides his war trilogy (A Generation, Kanal, Ashes and Diamonds) from Criterion, the only other Wajda offerings are from importer Facets Video. Innocent Sorcerers is a jazzy story of the new youth movement circa 1960. This color film returns to the subject of WW2 to honor a famous Polish cavalry unit that fell before the first wave of Hitler's blitzkreig: The last official lancer battalion to fight in Europe.
Synopsis:
A troop of Polish light cavalry raids along the supply paths for Hitler's army, hitting mechanized units with sabers and lances to good effect. An ailing nobleman (Bronislaw Dardzinski) gives the Cavalry Captain Chodakiewicz (Jerzy Pichelski) the gift of a magnificent white horse named Lotna, which the Captain rides even though such a standout mount is considered bad luck. The troop faces German tanks with machine guns and Chodakiewicz is indeed killed. Lotna is inherited by Cadet Grabowski (Jerzy Moes), a proud young officer who falls in love with Ewa (Bozena Kurowska), a schoolteacher he meets in the retreat. The pair is married in a military ceremony as German spotting planes are heard overhead. The next day begins with a merciless artillery barrage.
Lotna is an unusual true war picture about the invasion of Poland. Although the cavalrymen wear standard army uniforms from 1939, they carry sabers and lances as their main weapons. We see them overrun a line of trucks and artillery, sending the German soldiers into a panic. Many Germans are cut down before they can un-sling their weapons, and one of the cavalryman uses his lance to snatch an officer's cap as a souvenir. It's an almost jaunty episode that will not be repeated. The beautiful mare Lotna also seems a throwback to older cavalry traditions, as the honor of riding her is as important as victory. The Poles are well aware that they're fighting a losing battle yet show little strain; the traditional corps spirit of noble fatalism is a powerful unifying force.
Wajda's earlier war trilogy is a national epic of oppression, defeat and political rebirth. Lotna resembles nothing less than a John Ford cavalry film. Captain Chodakiewicz' column of troopers rides proudly through hostile territory and is often seen silhouetted on horizons. The final campaign plays like a combination of Fort Apache and They Were Expendable. Grabowski and Ewa meet and are married literally overnight, and Wajda honors them with a wedding with full corps honors. When the couple walk down the column formed by cavalry sabers, Ewa's bridal veil is blown upward, identically to Maureen O'Hara's in How Green Was My Valley.
On other counts Lotna dispels both Fordian and historical myths. With no means of tending for the injured, wounded lancers are left to the doubtful mercy of the enemy. The cavalrymen may be officers, but they're also fairly earthy types; after his wedding, the idealistic Grabowski jokes that if he's killed, his Lieutenant and friend Wodnicki (Adam Pawlikowski) will probably 'inherit' both widows, Lotna and Ewa. Grabowski gets a wedding night in the hay, while Wodnicki's relationship with an adoring 13 year-old must remain at a thank-you-for-the-flowers level.
History tells us that the Polish lancers rode in suicide charges against massed Nazi machine gun fire, but this story more realistically shows their division being cut down during a few days of guerrilla fighting. The photography of the troops charging through cannon-fire is spectacular, even if the fighting montages aren't going to impress action fans. We really don't understand how the horsemen avoid being shot -- what could possibly be an easier target for all those German guns? The lancers do lose plenty of men to the German tanks, but the real damage is done by artillery and aerial bombardment.
Animal activists will surely note that horses are tripped in the action scenes, although the movie does not use horse-falls as frequently as it might. The aftermath of battles and bombings includes graphic glimpses of mangled horses, presumably taken from the slaughterhouse. It's a cruel finish for a movie that begins with a stunning (& symbolic) image of a white horse running free amid a battlefield. Lotna does not end in total misery, but we can well imagine that some of the young men and fighters hurrying to escape the Germans will become the defenders of Warsaw in the grim Kanal.
---
Facets Video and Polart's Lotna was reviewed from a disc that announces that it is not final quality. Although good enough to judge some aspects of the film, the degraded image does Wajda's work a major disservice. It has sickly color and constant scratches. Splices disrupt two or three scenes. If the final product looks like this, the average buyer will be likely to avoid discs of Eastern European films altogether. Like the earlier Innocent Sorcerers, Lotna would be an exciting show on a big screen or in a quality DVD presentation.
---
On a scale of Excellent, Good, Fair, and Poor, Lotna rates:
Movie: Excellent
Video: Poor
Sound: Fair
Supplements: none; disc reviewed may not be final product
Packaging: not supplied
Reviewed: December 2, 2006
Republished by permission of Turner Classic Movies.
DVD Savant Text © Copyright 2006 Glenn Erickson
Go BACK to the Savant Main Page.
Reviews on the Savant main site have additional credits information and are more likely to be updated and annotated with reader input and graphics.
Sponsored Links
Sponsored Links