I Dream of Jeannie - The Complete Third Season
List Price: $39.95 [Buy now and save at Amazon]
---
Always thought of as the slightly declasse cousin of tony, glamorous Bewitched, I Dream of Jeannie was a bright, bouncy, colorful little comedy on NBC from 1965 to 1970, that told the story of astronaut Major Tony Nelson (Larry Hagman) and his real-life genie in a bottle, Jeannie (Barbara Eden). While Bewitched grabbed the critical and public acclaim for dreamy, romantic Elizabeth Montgomery's trials and tribulations as a married witch living in the suburbs (with a husband who didn't like her witchcraft), I Dream of Jeannie was often belittled for being a crude, blatant knock-off of the more successful witch sitcom (even though it was more closely based on the feature film, The Brass Bottle, with Tony Randall, Burl Ives, and Barbara Eden). I Dream of Jeannie never had the intial public adoration that Bewitched enjoyed during its network run (Jeannie only charted twice near the bottom of the Nielsen Top Thirty during its five years). And Barbara Eden, a delightful, sexy actress who's utterly charming in the role of Jeannie, was never taken seriously in the role, whether because her role called for her to be a servant to her "master," or because most of her screen time was spent in a revealing (thank god) harem outfit.
However, seen today, I Dream of Jeannie comes off very well, particularly because of the chemistry of the two lead stars. Eden, taking a role that could have been demeaning or oversexed, is delightfully innocent and fun as Jeannie. Eden makes the smart choice of taking the Jeannie character totally seriously; we really believe that she loves Major Nelson, and that she would do anything to make him happy. Cheerfully happy instead of vampish, the potentially loaded situation of having Jeannie be a servant to her master becomes diffused into comedy by having Jeannie often act as a naughty child (proven by Tony frequently addressing her in an unconvincingly stern manner as "young lady"). Matching Eden's skill is Hagman's Tony Nelson, a genuinely nice guy who obviously cares about Jeannie. In a 180 degree switch from Bewitched's Durwood (thank you, Endora), Tony visibly enjoys Jeannie's little magic tricks. Often, Hagman can be found laughing and giggling at her stunts, laughter that Jeannie always joins in on, creating a very happy-feeling show. Sure, Jeannie's stunts frequently provide embarrassing or potentially harmful situations for Tony, but he always turns out to be exceedingly good natured about her actions, and often grateful for her help. In no way does he try to thwart her natural inclination to "blink" away his troubles - unlike the constipated Darren Stevens who was forever suppressing Samantha's inherent witchy nature.
And although the stories are often silly retreads of familiar sitcom situations, Eden and Hagman bring a real zest and energy to their performances. Eden, who manages the always difficult feat of being both physically funny and sexy, compliments Hagman perfectly. Hagman, a vastly underrated actor (who's equally adept in villainy: see Dallas or some of his supporting roles, such as his brilliant turn as the disgusting creep Murdoch in Mother, Jugs & Speed), has a facility with the slapstick scenes that suggests the old silent movie pros. You don't learn that kind of skill; you're born with it. And Hagman has it; he's just naturally funny. And with his genial, mid-western good looks (and critically, his good humor), he's as appealing to women viewers as Jeannie is to the men.
In this third season, there's very little change from season two in the direction and emphasis of the stories. Tony tries to keep Jeannie a secret from his psychiatrist superior, Dr. Bellows (beautifully played by straightman Hayden Rorke), with the help of best friend Major Roger Healey (Bill Daily, who seems to be channeling an early, slightly more competent version of his Howard Borden character on The Bob Newhart Show). And Jeannie tries to micro-manage Tony's life, dying to please his every whim, particularly if it leads to marriage. While most of the episodes are on a par with the previous two seasons, there are a couple of episodes filmed in Hawaii that don't particularly work, with some funky technical glitches (shots held way too long after the joke has failed, horrendous post-dubbing, a bizarre, extended musical interlude with Don Ho and some kid) that mar an otherwise professionally executed season. Occasionally, there are indications that Jeannie and Tony may be more than just flat mates (in the Tony's Wife episode, Jeannie tries to fix Tony up with a potential mate, which prompts Tony to say, "I thought we had something together."), but the series is quite adept at skirting the seriously perverse (for network TV in the mid-1960s) situation that had a master-slave relationship between two unmarried adults, living in the same house (sure she had to stay in that bottle, but remember, she had to come out when Tony told her to). Of course, creator Sidney Sheldon (yes, the novelist) knew precisely what would be going through adult viewers' minds when watching I Dream of Jeannie (come on, you know you calculated all the possibilities), but the emphasis here is on silly slapstick; Jeannie's naughty little subtext takes care of itself quite nicely.
Here are the twenty-six, one-half hour episodes of I Dream of Jeannie: The Complete Third Season four-disc set:
DISC ONE:

Fly Me to the Moon
When Jeannie hears NASA is training a chimpanzee to go to the moon, she decides to take matters into her own hands by turning the chimpanzee into a human. Everything goes well until the higher authority starts wondering where the chimp has gone.
Jeannie or the Tiger
During an ill-fated reunion, Jeannie's wicked sister traps Jeannie in her bottle, steals Tony away and blinks Roger -- who discovered the secret -- all over the world to prevent him from exposing her identity.
The Greatest Con Artist in the World
Tony is in Hawaii on an assignment when Jeannie is photographed in the local newspaper wearing a priceless ancient scarab pendant. Seeing the scarab, a two-bit crook sets his sights on making it his own.
My Turned-On Master
Jeannie promises to transfer her powers to someone else for 24 hours if Tony lets her join him at a reception. Little does Tony know that the "someone else" she picks is him. Things only get worse when Tony accidentally passes the powers to Dr. Bellows!
My Master, the Weakling
Fitness trainer Commander "Killer" Kiski believes Tony and Roger are weaklings and nearly destroys them with his hard-core survival boot camp. Jeannie becomes infuriated with Kiski's cruel treatment and transforms his maniacal personality into his sweet old Aunt Effie's personality.
Jeannie, the Hip Hippie
Tony's first vacation in years is postponed until he finds a popular music group for Mrs. Bellow's charity bazaar. With Jeannie's help, Tony is soon up to his ears in music so good that it threatens to turn his vacation into a full music tour.
DISC TWO:

Everybody's a Movie Star
A snooty Hollywood director comes to Cocoa Beach to film a day in the life of an astronaut. The director wants to make Tony a big star. After a day of shooting, Roger overhears the director's comments and believes that he is the one they want to take to Hollywood.
Who Are You Calling a Genie?
After a nasty bump on the head, Jeannie loses her memory and has no idea who she is. It's up to Tony to find a way to bring back Jeannie's memory before an over-zealous attorney can claim Jeannie is a victim of "space age technology" and sue NASA for all it's worth!
Meet My Master's Mother
Tony's overprotective mother drops by for a visit. Upon viewing an empty refrigerator and an "over-skinny" Tony, she decides that he is not taking care of himself properly and announces she is staying permanently. Little does she know she has angered and insulted Jeannie.
Here Comes Bootsie Nightingale
Tony is asked by Mrs. Bellows to escort a glamorous movie star to her benefit ball. Keeping it a secret from Jeannie is one thing, but how will he explain it when the actress surprises Tony and everyone else by announcing they're engaged?
Tony's Wife
Jeannie's sister convinces Jeannie that she was born under the sign of the Jinx and she must leave Tony for fifteen years or disaster will come to him. Jeannie is convinced that her sister is right and attempts to get Tony married off before she takes her fifteen year leave.
Jeannie & the Great Bank Robbery
Tony is on a deadline. To get Jeannie off his back, he suggests she help someone else for a change. While walking in the park, Jeannie overhears two men talking about needing money and uses Tony's car to take them to withdraw money from the bank...after hours!
My Son, the Genie
The President of the United States is coming to Tony's house to have dinner and congratulate him on his success at NASA. The problem: Jeannie is stuck training the clumsy son of Haji...who is determined to cook dinner for the President!
DISC THREE:

Jeannie Goes to Honolulu
Jeannie is tricked into thinking that Tony and Roger are going on a survival mission at the North Pole. Instead she finds them with the general's daughter in sunny Hawaii. To keep her calm, Tony claims it's a secret mission to protect a princess and Jeannie is more than willing to help.
The Battle of Waikiki
Still in Hawaii, sightseeing Tony is enthralled with the history of Kind Kamehameha. When Jeannie blinks the monarch back, the King is unhappy with the changes after 200 years and soon provokes a few locals to attack a luau in an effort to win back the Hawaiian Islands.
Gene, Genie, Who's Got the Genie? (Part I)
An hour before Tony's vacation to Rome, Jeannie is accidentally locked in a safe that is to be launched to the moon the following morning! After hiring safe crackers, Tony soon learns that if anyone tries to open the safe without the proper combination it will explode.
Gene, Genie, Who's Got the Genie? (Part II)
Tony thinks the safe with Jeannie inside is now moon-bound. However, Roger reveals that the safe is still at NASA. Tony and Roger continue their wild goose chase to get Jeannie back as the safe is stolen back by the two safe crackers.
Gene, Genie, Who's Got the Genie? (Part III)
With Jeannie still trapped in the safe, her wicked sister drops in to say hello. Upon learning that her blond twin is locked in a safe, she switches Tony's work orders so she can pursue him on her home turf in Baghdad.
Gene, Genie, Who's Got the Genie? (Part IV)
Tony becomes frantic when Jeannie informs him that if she is locked up for a full moon, whoever frees her will be her new master. Tony enlists Roger's help to stall the safe specialist and rushes to be the first one to open the safe.
Please Don't Feed the Astronauts
Tony and Roger are on a five-day survival mission. Jeannie finds they cannot accept her help because they have to follow the Commander's manual. To assist the beleaguered men, Jeannie finds an exception in the manual -- the ability to accept help from a village. So she blinks one up.
DISC FOUR:

My Master, the Ghost Breaker
Tony is notified that he has inherited a 300-year old English manor. After arriving, Jeannie and Roger are sure the place is haunted after a night of rattling chains and ghostly screams. Tony, on the other hand, is convinced someone is trying to scare him out of ownership.
Divorce, Genie Style
In an attempt to impress Tony with her abilities as a normal person, Jeannie requests her powers be removed -- temporarily. But before long, Mrs. Bellows drops by and Jeannie is unable to hide or change her clothes. What's worse, Mrs. Bellows thinks Jeannie is secretly married to Tony and demands they divorce.
My Double-Crossing Master
After another failed romance, Roger tells Tony that he is through with women and that they are all fickle. Tony argues that Jeannie is loyal and not all women are bad. Roger disagrees and to prove Jeannie's loyalty, Tony disguises himself as a handsome British officer.
Have You Ever Had a Genie Hate You?
Jeannie's sister is at it again. She give Jeannie two flasks of lotions, one tweaked with a love potion, the other tweaked with a hate potion. Before Jeannie can use the love lotion on her master, her sister switches them. Suddenly Tony's voice drives Jeannie insanely angry as she falls madly in love with Roger.
Operation: First Couple on the Moon
Jeannie is upset with the possibility of Tony going to the moon with a beautiful doctor. Falling for her sister's "help" again, her sister sets it up so Jeannie becomes the prime candidate to spend three full months in a small isolation chamber with Tony in outer space.
Haven't I Seen Me Someplace Before?
For Roger's birthday, Jeannie grants him one automatic wish. Roger casually mentions that he would like to trade places with Tony and presto! The two swap bodies. After discovering the switch, Tony and Jeannie must find him and reverse the spell before Dr. Bellows finds out.
The DVD:
The Video:
The candy-colored look of I Dream of Jeannie: The Complete Third Season is well preserved on this four disc set. The full frame transfers are bright and sharp, but I did notice a major problem on the episode Here Comes Bootsie Nightingale, where the middle section of the show appears to go into a jerky, shimmering fast forward mode (the sound stays normal). This lasts for ten minutes, and doesn't appear anywhere else on the set. As the above capture attests, the picture is sharp enough to catch the occasional stray navel slippage that was the bane of the network censors.
The Audio:
The Dolby Digital mono soundtrack is representative of the original television pre3entation. Optional Spanish and Portuguese sound tracks are available, with subtitles in Spanish and Portuguese. English close-captioning (not an option on the menus) does work for these episodes through your TV.
e3Cfont color=blue>The Extras:
There are unfortunately, no extras for I Dream of Jeannie: The Complete Third Season
Final Thoughts:
Hey, let's be honest: it's worth I Dream of Jeannie: The Complete Third Season's purchase price just to watch Barbara Eden prance around in a harem costume (as well as other cool 60's mod clothes) for eleven hours. But oglers aside ("Present!"), I Dream of Jeannie: The Complete Third Season provides some classic 1960s sitcom laughs with sweet, silly, fantasy-based storylines acted out by two totally winning, attractive performers. Eden and Hagman are a perfectly matched comedic pair, and their good-natured, high-spirited antics hold up quite well after 40 years. I recommend I Dream of Jeannie: The Complete Third Season.
---
Paul Mavis is an internationally published film and television historian, a member of the Online Film Critics Society, and the author of The Espionage Filmography.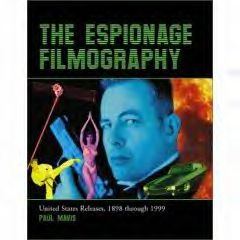 ---
C O N T E N T

---
V I D E O

---
A U D I O

---
E X T R A S

---
R E P L A Y

---
A D V I C E
Recommended
---
E - M A I L
this review to a friend
Sponsored Links
Sponsored Links