All in the Family - The Complete Sixth Season
List Price: $29.95 [Buy now and save at Amazon]
---
Today's viewers can watch All in the Family and still marvel at the power and humor of TV's greatest situation comedy, but you may have had to experience the show first-hand, during its original run in the 1970s, to fully understand the cultural shockwaves it sent through America when it premiered. The last of the "Big Three" network series to truly engage the majority of the TV viewing audience, All in the Family electrified a nation of tube watchers who only had three channels to choose from, and who had not the faintest inkling that one day, they could just tape a show like All in the Family if they weren't going to be home that night. "Electrified" is not too strong a word to use for All in the Family's impact on American audiences. I can remember quite clearly evenings where relatives or friends would stop by to watch the show, with the resulting loud discussions almost drowning out the dialogue -- when does that happen today? And no matter where you went the next day, if chitchat presented itself, it would invariably involve the latest outrageous sayings of Archie Bunker. People talked about Seinfeld as the ultimate "water cooler" show, but it didn't come close to the impact that All in the Family had on viewers, educators, politicians, organized religion, and just about every other group you can name. Everybody watched All in the Family at some point during the 1970s; it was the most talked about, written about, argued about, championed and vilified show that American television had ever known. And now, with the explosion of cable, DVDs, and the internet, when entertainment consumers have more choices for their viewing material than they could possibly have time to sample, let alone rally behind as the country did with All in the Family, it's highly unlikely that any television show will ever again attain the cultural reach of All in the Family.
Season Six of All in the Family, covering the 1975 - 1976 television season, was an important transitional period for the series, marking the show's fifth and last time as the year's number one show in the Nielsen ratings. Moving out of its secure Saturday night time slot, where it had flourished for four years along with other strong shows like The Mary Tyler Moore Show, The Bob Newhart Show, and The Carol Burnett Show, All in the Family now anchored a Monday night line-up that included Rhoda, Phyllis, Maude, and the once popular, but now fading Medical Center. Going up against tough competition in ABC's Monday Night Football, All in the Family, perhaps in a bid to gain the many female viewers who couldn't have cared less about football, ran two central story arcs throughout the season - Mike and Gloria's move out of the Bunker house to the empty Jefferson house next door, and the upcoming birth of their son - that had a decidedly "family friendly" tone.
With Nixon gone from the presidency in 1974, and the Vietnam War officially concluded on April 30, 1975 with the fall of Saigon, the country's "long national nightmare" as President Gerald Ford stated, was finally over (or at the very least, it had started to fade). Perhaps America was looking for a breather from the tumultuous last ten years of riots, protests, and war (the coming dominance of "bubble gum" TV like Happy Days, Laverne and Shirley, and Three's Company would seem to support that), and All in the Family, a show that always had its finger on the nation's pulse, started to turn inward, focusing on more intimate family issues. Never a show to go the predictable route, All in the Family accomplished this subtle shift by tearing the Bunker family dynamic apart: Mike and Gloria moved out.
It's funny how fictional TV families can become in our minds just as real as our own, and the Bunker family was no different. For four and a half seasons, the Bunkers and Stivics were absolutes at 704 Hauser, so when Mike and Gloria moved out of the Bunker household on the premiere episode of this sixth season, TV viewers realized something significant had changed in the series. It just didn't feel the same any more; that pressure-cooker atmosphere that producer Norman Lear had so expertly crafted within the Bunker house, dissipated. Now, quite a few episodes dealt exclusively with Mike and Gloria coping with her pregnancy, and the aftereffects of little Joey's birth on their marriage. By moving Mike and Gloria out of the house, where their interactions could be more intimate and focused, the writers were able to get away from the "big picture" politics that drove many earlier episodes of All in the Family, while catering to the show's potential new audience of more women fleeing from Howard Cosell over on ABC. And while Mike and Gloria's tribulations as a newly independent couple offered more domestic comedic opportunities, the only way the writers could continue the confrontational comedy of Archie versus the Meathead was to have both of them stopping over at each other's homes seemingly every day. It was an arbitrary construct that, within a year or so, worked against the show. The audience wanted to see the Bunker and Stivic family as a whole unit.
And in keeping with the transitional nature of this sixth season, the moving out of Mike and Gloria and the birth of Joey brought a mellowing to the Archie character. The Archie Bunker of 1975 is not the Archie Bunker that caused such an uproar in 1971. Yes, he's still blindingly ignorant of even the simplest historical and cultural facts. Yes, he's still totally insensitive to the value of his wife, Edith, or to the feelings of Mike and Gloria when it comes to their own beliefs on raising his grandson Joey (the infamous Joey's Baptism episode, where Archie defiantly baptizes Joey against his parents' wishes, caused a firestorm of controversy and protest when it aired). And yes, he's still a bigot. But cracks are appearing in Archie's shell; as the country suffered through its growing pains of the 1960s and 1970s, so did Archie. In this season, Archie grudgingly gives a modicum of respect to Mike, for helping give him a grandson. As well, Archie gives in to Edith's demands to have a life outside the Bunker household, when she's hired to work at a nursing home. And yes, despite the derogatory names, Archie, ever so tentatively, starts to acknowledge that to survive in his changing world, he must accept the fact that he just may be wrong about some of his most cherished prejudices. 1975's Archie freely invites an African-American to play cards at his house, and doesn't make a big deal out of it - something that would never have happened in 1971. When Archie finds out that a woman he saved with artificial respiration was in reality a female impersonator, he's horrified. But when the man does a good turn for Archie, Archie sincerely thanks him. And in perhaps the most poignant episode of the season (Archie Finds a Friend), Archie befriends a Jewish watch repairman, and agrees to go into business with him. Now of course, Archie still manages to offend him - not through malice, but through ignorance - but when the man dies on Archie's couch, it's readily apparent that Archie is deeply moved by the death of a man he called a friend, regardless of his religion. It's a marvelously acted scene with Carroll O'Connor, Jean Stapleton, and guest star Jack Gilford, and a testament to the show's willingness to make Archie ever-more three dimensional and sympathetic. Archie Bunker, a crass, ignorant, prejudiced, frequently insensitive, but well-meaning man, flailing against a rapidly changing world he simply cannot fathom, is one of the truly original creations of that largely maligned medium called television.
Here are the twenty-four, one-half hour episodes of All in the Family: The Complete Sixth Season:

DISC ONE:


The Very Moving Day
As the Stivics are about to move out, Gloria announces that she is pregnant, which delights her parents but worries Mike.

Alone at Last
Mike forgets to have the utilities turned on, so he and Gloria have to spend the first night in their new home with no heat or electricity.

Archie, The Donor
In order to impress his boss and get the new dispatcher job, Archie unwittingly donates his organs to science.

Edith Breaks Out
For the first time, Edith stops taking orders from Archie when he insists she stop volunteering at the nursing home.

Mike's Pains
Mike says he wants to be with Gloria in the delivery room for the birth of the baby, but then gets cold feet.

The Little Atheist
On Thanksgiving, Archie gets a shock when Mike and Gloria announce their unborn child won't be raised with religion.

Archie, the Hero
While out driving Munson's cab, Archie saves a lady's life who proves to be not a lady but a female impersonator.

Chain Letter
While Edith continues a chain letter sent by Irene, Archie ignores his letter, starting a streak of bad luck.

DISC TWO:


Mike Faces Life
Just as Mike begins to feel pressure because of the changes in his life, Gloria is fired from her job for being pregnant.

Grandpa Blues
Along with his impending grandfather status, Archie is nervous about his health when his job requires him to get a physical.

Gloria Suspects Mike
Pregnant Gloria -- feeling fat and unattractive -- becomes jealous of the sexy female student Mike is tutoring.

Archie's Civil Rights
After he defends himself against a mugger, Archie gets hauled into court because of the illegal tear-gas device he used.

Gloria is Nervous
Nine days overdue and apprehensive about having the baby, Gloria takes out her frustrations on Mike.

Birth of the Baby (Part I)
Gloria goes into labor at an Italian restaurant, but then gets stuck in a telephone booth after phoning her doctor.

Birth of the Baby (Part II)
Amidst much chaos, Gloria finally makes it to the hospital and gives birth to a healthy baby boy.

Archie, the Babysitter
After he fires the babysitter, Archie has to watch little Joey himself...while holding a poker game at his house.

DISC THREE:


New Year's Wedding
Mike is making too many decisions for Gloria, even allowing their best friends to hold their wedding at the house without telling her.

Archie Finds a Friend
Archie befriends an old Jewish jeweler who he believes has an invention that will make them millions.

Mike's Move
Mike encounters reverse discrimination after he competes with a black colleague for a prestigious teaching position in Minnesota.

Archie's Weighty Problem
Archie is under doctor's orders to lose weight, but hates the idea of dieting and giving up his favorite foods.

Love by Appointment
Because she spends so much time with the baby, Mike feels neglected by Gloria...especially in the bedroom!

Joey's Baptism
Against Mike's wishes, Archie plans to secretly take his grandson down to the local church and have him baptized.

Gloria and Mike's House Guests
After the Bunkers' furnace goes out, Archie and Edith are forced to spend the night with Mike and Gloria at their new home.

Edith's Night Out
When Archie refuses to take her out, Edith decides to go to Kelsey's Bar alone, where she proves to be popular with the regulars.
The DVD:
The Video:
The full screen video image for All in the Family: The Complete Sixth Season looks okay, but it was never a good looking show production-wise anyway. Originally shot on video, it looks as good as it probably ever will on this transfer.
The Audio:
The English 2.0 mono soundtrack accurately reflects the original televison audio presentation.
The Extras:
There are, criminally, no extras for All in the Family: The Complete Sixth Season. For arguably the single most important show in television history, the lack of extras here is inexcusable.
Final Thoughts:
Arguably the single most influential television show ever, it's important to remember that All in the Family: The Complete Sixth Season is also a hysterically funny show. Carroll O'Connor's masterful interpretation of everyone's favorite bigot Archie Bunker turned a potentially repulsive character into a complex object of fascination and sympathy, all the while astounding us with his virtuoso comic timing and delivery. Jean Stapleton matches him step for step, mining surprising depths with a deceptively simple character, while Rob Reiner and Sally Struthers prove to be perfect foils for Archie's mostly insane, but at times deeply moving, rantings and ravings (check out Archie's "Bicentennial Minute" from Mike's Move and see true genius at work). I highly recommend All in the Family: The Complete Sixth Season.
---
Paul Mavis is an internationally published film and television historian, a member of the Online Film Critics Society, and the author of The Espionage Filmography.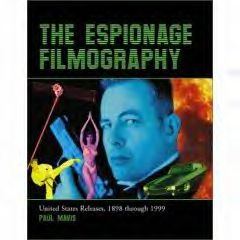 ---
C O N T E N T

---
V I D E O

---
A U D I O

---
E X T R A S

---
R E P L A Y

---
A D V I C E
Highly Recommended
---
E - M A I L
this review to a friend
Sponsored Links
Sponsored Links