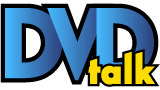 List Price: $19.95 [Buy now and save at Amazon]
---
Reviewed by Glenn Erickson

One of the first Italian filmmakers to jump on the 70s bandwagon of the gory murder thrillers called giallos was Lucio Fulci, who had previously written and directed movies in every popular genre. The sinister title A Lizard in a Woman's Skin (Una lucertola con la pelle di donna) is a psychedelic play on words describing a woman whose dreams of a bloody killing become reality. As giallos fare, Lizard is a rather muddled mystery made from outstanding ingredients: an attractive cast, another quirky Ennio Morricone music score and excellent gore effects for the die-hard fans.

Synopsis:
Wealthy London wife Carol Hammond (Florinda Bolkan) is traumatized when her neighbor Julia Durer (Anita Strindberg) is found brutally murdered. It seems that before the murder, Carol related dreams to her psychiatrist that conform to the exact circumstances at the crime scene. Scotland Yard Inspector Corvin (Stanley Baker) also finds evidence that implicates Carol, but he cannot isolate a reasonable motive. Could Carol have been framed? Her husband Frank (Jean Sorel) certainly acts suspiciously, especially after it's revealed that he is having an affair. Carol's father Edmond Brighton, a famed lawyer (Leo Genn), seems to know about a suspicious phone call involving blackmail. And what about the strange behavior of Julia Durer's hippie associates Jennie and Hubert (Penny Brown, Mike Kennedy), who for some reason are threatening Carol. Inspector Corvin doesn't know whether to lock up Carol or protect her.

The key factor to the success of the Italian giallo style was its ability to incorporate all of the exploitative elements allowed by the new relaxed censorship rules. A Lizard in a Woman's Skin is packed with excessive violence and gore in a context of sex orgies and lesbian activity. Even with the presence of prestigious English actors Leo Genn and Stanley Baker we know we're watching a thriller that puts exploitation ahead of any other consideration.


The convoluted mystery plot can be described as Hitchcock in a Blendor, as it jumps from erotic dream scenarios to vague blackmail plots and graphic murders. The tormented heroine is pursued by mad killers and confronted where irrelevant, disturbing phenomena like a belfry full of bats and a laboratory with atrocious experiments are being conducted on live dogs. The four Italian scenarists may have meant the gruesome digressions to suggest the heroine's mental illness, but the movie never reaches that level of sophistication. We're simply supposed to believe that a cozy London sanitarium harbors a resident Doctor Doolittle from Hell.


Several of the actors carry their roles by charisma alone. The moody Florinda Bolkan (The Damned, Una breve vacanza) is actually quite good as a woman ashamed of her dreamed sex games with the libertine next door, keeping us interested even when her character's actions lose all logic. Stanley Baker isn't as forceful as in his English films, but his stock cop character never appears stupid, as often happens in giallo thrillers. Leo Genn comes off particularly well as the concerned father with guilty secrets. Holding up the French end of this Franco-Italo-Spanish production is Jean Sorel, who is handsome but rather stiff as Ms. Bolkan's enigmatic husband.


These thrillers tend to overuse the Red Herring gag, and A Lizard in a Woman's Skin really disappoints in its handling of 'hippies' as an all-purpose source of sex, crime and perversity. The film's fantasy hippies wear "with-it" headbands and tell us that LSD trippers are potential murderers; they also ride motorbikes and threaten people with knives. The scenario treats them as urban wildlife to be scorned and avoided. An LSD-inspired hallucination -- described, not pictured -- accounts for the film's unusual title.


Director Fulci presents his heroine's sexual fantasies without cheap visual tricks, making them seem all the more direct and immediate. Anita Strindberg (The Salamander, Your Vice is a Closed Room and Only I Have the Key) is first an object of lust and then a body to be slashed with graphic knife wounds; the lesbian lovemaking between Strindberg and Bolkan definitely points the way to a more explicit decade, when Euro-horror would meld with Euro-trash porn.


The film also predicts Fulci's future as the main exponent of appallingly gory zombie films. Effects engineer Carlo Rambaldi produces an excellent horde of bats, the first time I've seen that effect succeed by mechanical means. The outrageous spectacle of four whining dogs dissected spread-eagled on vertical racks is another elaborate trick with manikins and simulated innards, a sight to be admired only by gorehounds. Its appearance seems altogether superfluous and will surely offend anti-vivisection advocates.


The main fault with A Lizard in a Woman's Skin is that its story runs out of steam long before the surprise ending. A series of tame climaxes hands us a downbeat finish that ties up the story's loose endings but neglects to give them any particular meaning. The fun is clearly supposed to be in parade of kinky sex scenes and gross-out details along the way.

---

Media Blasters' Shriek Show DVD of A Lizard in a Woman's Skin is a good transfer of a stylishly designed show. The London locations and colorful sets benefit from Luigi Küveiller's rich cinematography. In the oversaturated color palate, faces occasionally look a bit extreme, with lips too red and eyebrows edging toward blue.


The main attraction for genre fans familiar with earlier cut versions of the film (one shorter version carried the title Schizoid) is that Media Blasters has painstakingly reconstructed at least a reel's worth of excised material. Sex scenes, the gory dogs and quite a bit of incidental dialogue have been restored, sometimes from a slightly less optimal source, probably a print. The transfer match is not bad at all. Dialogue scenes from the longer version switch to the Italian language with subtitles, as they were never dubbed into English.


The majority of the film is presented in English, which appears to be the language spoken by most of the cast. Genn and Baker dub themselves. The original Italian title sequence is included as an extra along with two interview featurettes with Professor Paolo Albiero. One is an overview of director Fulci that basically says the man just followed commercial trends until the 70s, when he found his niche making overpoweringly transgressive horror pictures. The other featurette offers a couple of anecdotes about the film's censorship problems. Effects maestro Carlo Rambaldi apparently had to bring his fake vivisected dog 'displays' to court more than once, to prove that Mr. Fulci wasn't guilty of Rover-cide in the first Dogree.

---

On a scale of Excellent, Good, Fair, and Poor,
A Lizard in a Woman's Skin rates:

Movie: Good +/-

Video: Good

Sound: Very Good

Supplements: Trailer, Italian title sequence, two interview featurettes with Professor Paolo Albiero.

Packaging: Keep case

Reviewed: February 21, 2007

DVD Savant Text © Copyright 2006 Glenn Erickson
Go BACK to the Savant Main Page.
Reviews on the Savant main site have additional credits information and are more likely to be updated and annotated with reader input and graphics.
---
C O N T E N T

---
V I D E O

---
A U D I O

---
E X T R A S

---
R E P L A Y

---
A D V I C E
Recommended
---
E - M A I L
this review to a friend
Sponsored Links
Sponsored Links