List Price: $19.95 [Buy now and save at Amazon]
---
1983's Hundra, the genial, rollicking, comic book sword and sandals fantasy, has generated a minor cult due to its overtly feminist central character. Hundra, the statuesque blonde Amazon warrior who would rather kill a man than sleep with him - and with good reason considering the way men act in this fictional medieval time - resembles Conan the Barbarian more than Red Sonja, and that's no coincidence. John Ghaffari, the producer, bought all the left-over costumes, props and some of the sets from the Dino De Laurentiis epic Conan the Barbarian, and brought exploitation director Matt Cimber (Butterfly, The Black Six) over to Spain to knock out a quick rip-off of the Arnold Schwarzenegger hit. But once Cimber looked over the script, he decided that the serious tone wouldn't work, so he and co-writer John F. Goff set about to make a spoofy fantasy adventure thats focus would be on a gorgeous, blonde, man-hating super-warrior who was subservient to no one.
The plot, such as it is, is fairly simple. Hundra (Laurene Landon) sets off to hunt food for her all-female tribe, a tribe that refuses to bow to the pigs - I mean men - who enslave women for menial work, and for carnal pleasure in this brutal, medieval time. Years of happiness away from men, though, have blunted the tribe's awareness of the cunning evil of the male race, and they are thus woefully unprepared for a vicious assault from the sadistic men. Hundra returns to see the carnage that has resulted from this unprovoked attack; she is the only surviving member of the tribe. All the rest of her female tribe members have been murdered. Her grieving is short-lived, though, because the men are still hiding in the woods, and they chase after her in a grueling pursuit.
Battling her attackers into retreat, Hundra seeks advice from Chrysula the Elder (Tamara), the wise leader of the tribe (who, somewhat confusingly, lives apart from the tribe). Chrysula implores Hundra to seek a man, temporarily, to bear a child and to continue the race of independent women. Hundra resists, loathing the idea of having a man enter her body, but ultimately accepts her destiny to continue the tribe's lineage. She sets out for the Land of the Bull, where men, evidently, are quite potent. During her journey, Hundra fights a maniac dwarf, and takes a nude ride in the ocean with her horse (relax, guys -- the director deliberately obscures Landon, allowing only the briefest of glimpses here). One evening, she spots a belching pig of a man whom she decides is good enough to impregnate her, but they wind up battling each other in spectacular (and hilarious) style, before she moves on to the Land of the Bull.
Once there, she battles the evil King Napatkin (John Ghaffari), who becomes obsessed with making the proud, man-hating Hundra bow down to the superiority of men. She also discovers Pateray the Healer (Ramiro Oliveros), a gentle man whom she finds distinctly attractive. Ordering him to make love to her, he refuses, and she goes to Cradema (Maria Casal), a court concubine and friend of Pateray, for a make-over to convince Pateray she's worthwhile mating material. Finding pleasure - and perhaps an uneasy acknowledgment of shared feelings - with Pateray, Hundra becomes pregnant and hides away until the baby, a female, is born (good thing she's female; Hundra's tribe abandons their male offspring). But Napatkin learns of Hundra's child, and kidnaps her to blackmail Hundra into submitting to his whole court. Will Hundra bow down to King Napatkin? Will she escape with her child, or will she stay with Pateray?
In a featurette on the making of Hundra, included on this disc, Director Cimber makes the case that he basically invented the idea of a female action hero. Just for starters, Robert E. Howard might have had something to say about that, and as for the movies, just a few years earlier, in 1979, Sigourney Weaver made quite a splash as a confident, female warrior in Alien (you can find other prior examples in TV and movies, as well, including The Avengers's Mrs. Peel, Anne Francis' Honey West, and even the grandmother of them all, The Perils of Pauline's Pearl White). So I don't think Hundra stands out as some kind of milestone in feminist filmmaking. Hundra certainly doesn't shy away from putting its agenda out there, and there is a certain feeling of genre envelope-pushing in the early scenes when Hundra makes it clear she's not going to submit to a man - ever. Even after mating with the handsome, kind Pateray, Hundra is not "tamed," if you will, as most audience would expect after decades of cliched stories that had the "right kind of man" breaking a high-spirited, independent woman. Right up to the end, Hundra stays true to its feminist ideals -- although some of the male viewers out there might be right in there with Oedipus in feeling a little uncomfortable watching their sexy, desirable female warrior turned into a mother figure when she gives birth on camera.
Unfortunately, those feminist ideals lose some of their clout when they're mouthed by actress Laurene Landon. Physically, she's perfect for the role of a female Conan. Tall, striking, athletically imposing (if not exactly graceful in her action scenes), as well as beautiful, Landon makes quite an impression on the audience when she's swinging around that battle sword. And director Cimber, using quick, short, silent shots, manages to make Landon funny in some well-timed reaction shots. But this trick is useless when Landon actually has to stand there and deliver her lines; the minute she has to actually "act," the results are frequently unintentionally hilarious. With her weak, tentative voice, and at best, uncertain delivery ("No man...will ever...penetrate my body."), Landon can't take Hundra to the next level where the character might have actually been memorable for more than just efficiently lopping off the villain's heads.
Director Matt Cimber, who must have watched 1974's The Three Musketeers several times before tackling Hundra, is actually quite adept at creating a Richard Lester-esque atmosphere during the vigorous, humorous action scenes. The opening massacre of Hundra's tribe is really quite thrilling, with a sure, deliberate rhythm to the editing and a feeling of sustained mayhem to the visuals. He has a keen eye for outdoor composition (which look marvelous here in 2.35 widescreen), and for keeping the action funny and light. Hundra's disastrously misguided seduction scene is hilarious, with its Sergio Leone-flavored dubbing; the over-modulated grunts, groans, and various smashing fists work with the exaggerated slapstick to create a memorably comedic scene. But once Cimber moves indoors, Hundra becomes somewhat Humdrum, with underlit, static set-ups, and more and more dialogue. Hundra's final battle is nowhere near as memorable as the film's first one, because Cimber decides to shot the entire sequence in slow motion. Intercutting it with other business further slows down the sequence, making it seem more like a trial than an exhilarating end to Hundra's exploits.
Still, compared to most of the other Conan knock-offs that populated the theatres and video racks of the early 1980s, Hundra is an agreeable effort in the sword and sandal genre. Perhaps the most celebrated element of Hundra is Ennio Morricone's Verdi-inspired score. It's certainly thrilling (if a little overused throughout the film), and lends a definite weight to the visuals and overall feel of the film. The action is bloody, the lead character unconventional, and the direction nicely cognizant of its spoofy origins; all in all, Hundra is a welcome change of pace for this often misused genre.
The DVD:
The Video:
Sporting a brand-new, anamorphic widescreen transfer (2.35:1), the video image for Hundra is simply beautiful. Director Cimber really knows how to frame an outdoor shot, and the cinematography by John Cabrera is evocative and quite engaging. I did notice, however, a few scenes that looked soft, as well as some edge enhancement and edge enhancement in some of the more busy scenes. Still, this transfer is far better than the way it looked on video.
The Audio:
I was less impressed with the English 2.0 stereo mix of Hundra; I would have expected, with this impressive new collector's edition, that a 5.1 option would have been offered. Still, the audio level is sufficiently loud enough get across all of Hundra's body blows.
The Extras:
There are quite a few attractive bonuses on this special limited edition of Hundra. First, there's a full-length commentary track with director Matt Cimber and lead actress Laurene Landon. Cimber seems to be at a loss with Landon, but it's an amusing approximation of what it must have been like for these two personalities to film together. Next, we have Hunting Hundra, a 47-minute behind-the-scenes featurette on the making of the film, with current interviews of Matt Cimber and Laurene Landon. They're a handful together, and it makes for an entertaining look at the film's production. There are text bios for the cast and crew, as well as some trailers for other Subversive Cinema titles (the included Hundra trailer appears to be a new, video trailer -- not the original). Next, we have a ten-page collectible comic book, (sized at 7 1/4" x 5") written and illustrated by Phil Avelli, entitled Hundra and the Coven of Six. Comic book fans should really enjoy this unusual DVD bonus. And finally, we have a 15 track CD of Ennio Morricone's score -- a terrific bonus for fans of the composer, let alone Hundra fanatics.
Final Thoughts:
I had a good time watching Hundra, which I'm sure was the main intention of its makers. Its feminist outlook was intriguing, and the action forceful and more than competently handled. The terrific bonuses make this limited edition DVD an obvious recommended title. Fans of the film will welcome the spectacular new transfer and all the terrific bonuses, while the uninitiated will enjoy the comic book excesses and the Richard Lester-esque humor. I recommend Hundra.
---
Paul Mavis is an internationally published film and television historian, a member of the Online Film Critics Society, and the author of The Espionage Filmography.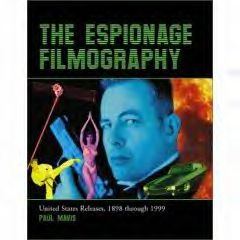 ---
C O N T E N T

---
V I D E O

---
A U D I O

---
E X T R A S

---
R E P L A Y

---
A D V I C E
Recommended
---
E - M A I L
this review to a friend
Sponsored Links
Sponsored Links