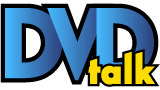 Television's Funniest Foul-Ups
List Price: $9.99 [Buy now and save at Amazon]
---
Watching Television's Funniest Foul Ups is a bit like getting rid of all your old VHS tapes, pulling them out from under the rubble in some back closet and randomly sticking one of the tapes into the VCR, only to discover some obscure program you taped off of a UHF channel back in '85. While there's a certain nostalgia factor in watching this 1991 program featuring material dating back at least to the early-1980s, mostly it makes for an excruciatingly 90 minutes of non-existent laughs. S'more Entertainment has uncovered some marvelous obscurities over the past few years, but this ain't one of 'em.



The bulk of the material consists of three half-hour segments unimaginatively hosted by comedian Kelly Monteith, who sits in a TV control room while introducing clips with the mildest of jokes ("Bambi was so cute on the big screen. Who knew he'd be so much trouble on the little screen?"), though the laugh track seems to enjoy them. The vast majority of clips come from local television stations across the country, featuring on-air bloopers and unused outtakes from evening news broadcasts, Saturday afternoon horror movie programs and, especially, various incarnations of P.M. Magazine, the experimental, national alliance of local news magazine shows that originally aired weeknights between 7:00-8:00pm.



The rest of the slim material includes a few local TV commercials (including one for a local video store proudly showing off its RCA SelectaVision Video Disc of Annie), one or two strays from Australia, and some early home videos and late-era Super-8 film.



Incongruously, the program also features Candid Camera like stunts, most of it appallingly unfunny. One hidden camera shoots people reacting to a dead fish placed in a newspaper box (oh the humanity!), while another hidden camera captures the bemused reactions of people asked to baby-sit an ostrich. I guess it seemed funny on paper.



The shows have no sense of timing. It bounces back and forth like a ping-pong ball between the too-short clips and Monteith's overlong set-ups, and each 30-minute spot ends with a montage of everything we've just seen (sometimes more than once) and becomes almost unbearable.



Video & Audio



Video and audio-wise, Television's Funniest Foul Ups looks okay for an early-'90s show with early-'80s clips, as is the mono audio. There are no subtitles.



Extra Features



The lone extra are Top Ten Hidden Camera segments which are, alas, no better than those in the three shows.



Parting Thoughts



In fairness, a couple of the clips aren't too terrible. There's a funny bit with Cal Worthington (of Cal Worthington Ford) shooting a local car commercial and getting his foot run over by a pick-up, and a long segment with a PM Magazine host terrified by a flock of turkeys is mildly amusing, but TV's Funniest Foul Ups will likely leave you longing for Bob Saget, which is pretty terrifying itself.






Film historian Stuart Galbraith IV's most recent essays appear in Criterion's new three-disc Seven Samurai DVD and BCI Eclipse's The Quiet Duel.
Sponsored Links
Sponsored Links