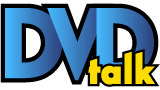 List Price: $29.95 [Buy now and save at Amazon]
---
Reviewed by Glenn Erickson

Screenwriter Gavin Lambert (Sons and Lovers, I Never Promised You a Rose Garden) started his big-studio career as a writer for director Nicholas Ray, helping out with Bigger Than Life and taking screen credit on Bitter Victory. Ray 'discovered' Lambert through the writer's obscure film Another Sky: Lambert had written the script in 1954 and found a private investor to put up its entire cost of production, 26,000 British Pounds. A tiny but professional crew went to Morocco in 1955 -- essentially cameraman Walter Lassally, who had filmed James Broughton's artsy short feature The Pleasure Garden (1953).


Another Sky received a brief theatrical release in 1960 and hasn't been seen much since. It's an unusually focused and sensuous tale of amour fou in the Moroccan desert, that completely changes the life of a sensitive Englishwoman.

Synopsis:
Paid companion Rose Graham (Victoria Grayson) comes to Marrakech to work for Selena Prouse (Catherine Lacey), a wealthy widow. Prouse is part of a small community of Europeans and Americans that devote their time to informal parties and idle pleasures. Rose is not pleased by Selena's male companion Michael (Lee Montague), an oily semi-gigolo. She spends much of her days off touring the town accompanied by Ahmed (Ahmed Ben Mohammed), a tall Moor of few words. Then Rose becomes attracted to a young street musician, Tayeb (Taïeb). She arranges to see Tayeb and is pleased with his company, even though she must pay for every visit. They communicate little until Tayeb finally responds to her overtures and takes her to his rooms. The next day Rose discovers that Tayeb is gone. Ahmed learns that he's left for a tiny town on the edge of the Sahara. Unable to control her instincts, Rose steals money from Selena and sets off on an irrational journey to find her man.

Foreigners bewitched by the lure of exotic lands is an old theme in literature, and on its surface Another Sky could be considered a realistic version of Valentino's The Sheik or even Von Sternberg's Morocco. A western woman is exposed to the seductive African or Arabian culture and loses her head to dreams of romance. When last seen, these strange camp followers always seem to be wandering shamelessly into the desert after their men, barefoot.


Rose Graham is a pleasant girl with a good nature and normal morals. Morocco enchants her completely, from the unusual buildings to the cute boys who carry messages for coins. Rose is a 'giver' in that she's constantly buying little gifts for people. What she doesn't realize is that she's falling in love with an illusion, not a real place. The Moroccans smile and acquiesce to her wishes on all things but every courtesy carries a price tag. She's an outsider of a higher class, and like all the other Europeans she never succeeds in any honest communication with "the natives."


There's nothing particularly scandalous about the foreign colony in Marrakech but Rose's employer Selena luxuriates in its decadence. Attended by the locals, she drinks the liquor, spends her money on boyfriends and lazes around pools pretending that she's desirable. The passive colonial situation encourages personal fantasies; even Rose thinks that she's in some kind of special paradise.


Rose's paid boyfriend becomes the fantasy love of her life without any overt explanation. It is just as if a switch had turned in Rose's head. When her mind has been made up, nothing matters except to be with him, even though she should have no reasonable expectation that he has any permanent feelings about her whatsoever. As Rose travels further into the remote desert, she finally sees real Moroccan women, mostly entertainers and prostitutes. They have painted faces and veils decorated with coins. Rose is fascinated by a troupe of women who sing for a small group of mostly male onlookers. One lets down her robe and shimmies topless for a minute or so, much to their pleasure. Rose had taken offense at Selena and her gigolo but this display makes her curious. She's entered a new landscape of primitive sensuality.


The movie is a clear statement about the lure of other cultures, a theme that Joseph Conrad might admire. Rose Graham has only to be touched by Morocco and her sexual identity shifts 180 degrees. A rational woman becomes an elemental primitive and chooses to embark on a hopeless romantic quest with no chance of turning back. Rose may have to accept utter defeat, but when we last see her, she gives no sign that she's changed her mind.


Gavin Lambert 's Another Sky is a truly remarkable feature film, beautifully directed, paced and acted. It creates a feeling of location superior even to Antonioni's The Passenger. Victoria Grayson's expressive face is a big asset. The story is set up in flashback with a brief narration. Wisely, Lambert doesn't make Rose try to explain her reckless actions. Lambert directs the locals well and gets nuanced performances from Catherine Lacey (I Know Where I'm Going!) and Lee Montague ("Squeak" in Billy Budd).


Cameraman Walter Lassally filmed many experimental efforts and eventually became the favored Director of Photography for Tony Richardson. Much later, he served with the Merchant-Ivory team in India, filming such exotic fare as The Deceivers.

---

Facets Video's DVD of Another Sky is a fine-quality transfer given an odd presentation. It's enhanced for widescreen; the rather odd screen shape is perhaps the old British standard ratio of 1.55 to 1. Digital cleanup has removed many flaws, as shown in a restoration comparison feature. The film looks far better than the dull image on the package cover.


Of more interest for his fans is an editorially ragged but fairly unique video interview, Gavin Lambert Remembered. Lambert lived in Tangier between the middle '70s and late 1980s, staying within a colony of openly homosexual writers and artists: Christopher Isherwood, Tennessee Williams, Paul Bowles. A photographer, a playwright and actor-writer Jack Larson speak about Gavin Lambert's accomplishments as a respected magazine editor (Sight and Sound) and biographer. Lambert himself appears in a brief interview excerpt.

---

On a scale of Excellent, Good, Fair, and Poor,
Another Sky rates:

Movie: Excellent

Video: Excellent

Sound: Excellent

Supplements: Restoration Comparison, Interview featurette

Packaging: Keep case

Reviewed: March 17, 2007

Republished by permission of Turner Classic Movies.
DVD Savant Text © Copyright 2007 Glenn Erickson
Go BACK to the Savant Main Page.
Reviews on the Savant main site have additional credits information and are more likely to be updated and annotated with reader input and graphics.
---
C O N T E N T

---
V I D E O

---
A U D I O

---
E X T R A S

---
R E P L A Y

---
A D V I C E
Recommended
---
E - M A I L
this review to a friend
Sponsored Links
Sponsored Links