List Price: $29.99 [Buy now and save at Amazon]
---
Acorn Media's Camelot is an HBO videotaped production of the 1981 stage revival of the Lerner and Loewe musical classic, starring Richard Harris, Meg Bussert, and Richard Muenz. Premiering in November of 1981 at the historic Winter Garden Theatre in New York City, this particular Camelot ran for only 42 performances and closed in January, 1982. Fans who may have enjoyed this revival when it played all over the country may enjoy this DVD, as well as students of theatre and devotees of all things Broadway, but I found it a mixed bag, at best.
While I realize that many "filmed plays" can be valuable archives of necessarily tenuous live productions, almost invariably they embody the very least of their two combined mediums. The thrill of watching a live production - the sound of the orchestra, the actual human voice echoing on the stage, and the movement and sheer "aliveness," for lack of a better word, of the actors moving through the sets, simply cannot be recaptured on a film or videotaped medium. That indefinable, magical reality dissipates as soon as the cameras roll. As for film, in its infancy, it was locked down tight, and its no wonder that mere reproductions of stage plays were one of the medium's first subjects. But of course now, the movement of the film camera, along with editing and special effects, can take the viewer to places no stage production could ever dream of recreating.
So watching Camelot as a specially-shot play (according to the liner notes, sequences were deliberately restaged for the camera's access), one gets the feeling that we're being short-changed of both medium's strengths. The filmic aspects of Camelot, directed here by Marty Callner, are limited to close-ups and the occasional cross-cutting, but that camera may as well be locked down center stage, four rows back. As for the "magic" of the live performance, of course, it's lost here in the mechanical reproduction of the videotaping. Great sound and a sharp picture (which aren't here, by the way, on this DVD) still can't accurately recreate that live experience. And if any musical needed that feel of a live production, it's Camelot.
When it premiered on Broadway in 1960, Camelot didn't get the raves one might assume were its right, considering what an old war horse it has become over the last forty seven years. This was a show that the critics found clunky and awkwardly plotted, but which audiences embraced because of the lyrical, haunting songs by Lerner and Loewe, and because of the initial powerhouse Broadway cast of Richard Burton, Julie Andrews and Robert Goulet. Burton, who starred in several revivals and touring companies of the musical, stated as well that the play really wasn't that well constructed, and that it only worked in a live setting. This was borne out in 1967 when Warner Bros. turned it into the bloated, misconceived film version Camelot, starring Richard Harris. One of the main complaints of the film (and there were many), was the fact that the stars of the film couldn't sing. As well, the gossamer quality of the live stage production was buried under heavy sets and heavier acting.
Which is why it's curious to see Harris take up the King Arthur's crown again for this Broadway revival. Harris, one of my favorite actors, could, at the drop of a hat, lapse into his patented shtick of yelling/whispering his lines, with exaggerated, theatrical gestures, even in his films; it's not surprising that he became such a popular target of impressionists. So Harris on the stage, singing songs he's not really vocally suited to, is an exercise in professionalism battling with excess here. Further complicating matters is the fact that this revival takes the 1967 screenplay of the film version as its inspiration, keeping among other things the flashback structure of that film (which isn't found in the original play). This reliance on the screenplay, along with having the star of that ill-fated movie recreate his role on stage, just makes Camelot all the more familiar - and all the more ill-conceived.
According to the nice liner notes by star Meg Bussert, this HBO version was specially staged with the cameras in mind. Taking into account her description of taping the play, scene by scene, over several days, along with a difference in the video image, it appears that Camelot has been mixed using footage from actual performances, and the staged material. Thus, we hear the audience laughter when Merlin and Arthur first meet (and the camera stays back in what appears to be a live shot), but then we get much better lighting and composition when Guenevere and Sir Lancelot declare their love for each other in what must have been a scene staged for the cameras. As well, there are times when the voice tracks for the actors don't match their mouths; whether this is because prerecorded songs were used during the production, or there's a video glitch somewhere, it's difficult to say. What is certain is that this HBO videotaped production is a visual and audio patchwork that further highlights the drawbacks of filming staged plays.
On the plus side, you do have the lovely songs of Lerner and Loewe, and hearing the score for Camelot is hardly a waste of time. There is something indefinably haunting and lyrical about those celebrated songs, and it's not surprising that people cling to them still after more than forty years. Bussert and Muenz have sterling voices, and they capture nicely the romantic passion that Guenevere and Lancelot are supposed to generate. If Harris seems more jocular than amorous towards Guenevere, he still has that star quality that gets him over the rougher vocal hurdles.
The DVD:
The Video:

The full frame video image for Camelot can be extremely spotty, with fuzzy, unfocused sequences, followed by more sharply captured acts.
The Audio:

The Dolby Digital English 2.0 stereo mix is fine, but the original audio source can be as spotty as the video, so in places, it can be muddy and diffused.
The Extras:

Along with a nice four page liner note by star Meg Bussert, there are text bios for Richard Harris and for Lerner and Loewe. You can also access an original Playbill for this revival, through your computer.
Final Thoughts:

Filmed stage plays are, by their very nature, compromised aesthetic experiences. And Camelot, a flawed but haunting American classic, needs a live production to fully realize its potential. So watching Acorn Media's Camelot is a decidedly mixed-bag of drawbacks and pleasures. If you saw this revival when it played back in 1982, you may want to revisit it. If you're a Lerner and Loewe fan, it may be useful as comparison to their other productions. And Richard Harris fans (such as myself) will want to take a look at one of his most identifiable roles. If you find yourself in one or more of those groups, rent Camelot, but casual buyers beware.
---
Paul Mavis is an internationally published film and television historian, a member of the Online Film Critics Society, and the author of The Espionage Filmography.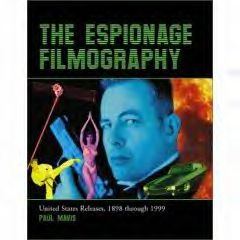 Sponsored Links
Sponsored Links