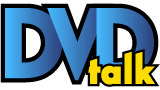 List Price: $24.98 [Buy now and save at Amazon]
---


This title was featured in

Tremendous Trilogy

TREMORS: CE (1989, 96 minutes): The sleepy desert community of Perfection, Nevada can no longer contain the wanderlust of its rednecked sons Val and Earl (Kevin Bacon and Fred Ward). Yet just as their truck rattles them toward a new life, nature radically conspires against their exodus in the form of giant worm-like creatures that burrow beneath the ground and gobble unsuspecting humans like McNuggets. Because of the killers' stealthy attacks, folks aren't quite sure what the devil's going on. It's actually Val and Earl who literally unearth the truth when they accidentally pancake one of the 30-foot worms into a concrete culvert while fleeing for their lives. After scratching their heads in disbelief, a brainy seismogal (Finn Carter) from the university -- who just happens to be in the area -- tells the boys that she fears there's evidence of the rumbling presence of MORE of these "Graboids." That nickname comes from Perfection grocer Walter Chang (Victor Wong) whose shop becomes the resilient townsfolk's rallying point even as they're chased onto its rooftop. Val, Earl and Friends don't cower for long before noodling the best way to whup the worms back into the stone age. CineSchlockers will remember that pogoin' munchkin Ariana Richards went on to tangle with more prehistoric terrors in Jurassic Park.

Notables: No breasts. 10 corpses. Gratuitous urination. Excessive seismograph footage. Septic tank eruption. Station wagon munching. Pole vaulting. Two-fisted gun shooting. Gratuitous Reba McEntire. Multiple explosions. Sheep molestation. Three games of Rock, Paper, Scissors.


Quotables: Val realizes there's trouble underfoot in Perfection, "Man, we decided to leave this place just ONE day too late!" And he knows his Graboid anatomy, "Check this out! I found the ass end!!!" Burt's license plate reads, "UZI-4U." And after a lengthy gun battle he crows over a bullet-riddled carcass, "Broke in the wrong goddamn rec room didn't you, you bastard!"

Time codes: Val describes his ideal mate (4:28). First actual tremor of the series (8:40). Little Mindy rocks out on her pogo stick (6:04). Sequel bait (28:32). First clean look at these critters (32:55). How they got their name (46:55). The gang goes fishing -- in the desert (1:22:33). Puke worthy focus-group ending (1:31:30).

G. Noel Gross is a Dallas graphic designer and avowed Drive-In Mutant who specializes in scribbling B-movie reviews. Noel is inspired by Joe Bob Briggs and his gospel of blood, breasts and beasts.
---
C O N T E N T

---
V I D E O

---
A U D I O

---
E X T R A S

---
R E P L A Y

---
A D V I C E
Highly Recommended
---
E - M A I L
this review to a friend
Sponsored Links
Sponsored Links