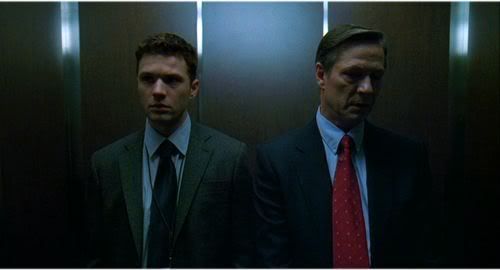 Tense, focused and tightly-wound, Billy Ray's Breach (2007) reminds us that we can't always judge a book by its cover. Based on the real-life investigation and conviction of FBI operative Robert Hannson, we travel into the mind of a suspected double agent and the man assigned to uncover his secrets. Starring Chris Cooper (The Bourne Identity, American Beauty), Ryan Phillipe (Flags of our Fathers, Crash) and Laura Linney (The Truman Show, Mystic River), this slow-burning thriller boasts excellent performers and a muscular, "less-is-more" approach that keeps things interesting. Though Breach didn't exactly light the domestic box office on fire, the film's solid execution certainly makes it worthy of a wider audience.
As former FBI operative Robert Hansson, Chris Cooper's dramatic performance is perhaps the film's most striking highlight. As a devout Catholic and a dedicated husband and father, Hansson's complex personality instantly makes him a captivating individual. Not all is what it seems, of course: his superiors at the FBI have long suspected him of supplying top-secret information to the Russians for large sums of money. Oddly enough, it's not the money that Hannson seems to be interested in---but as we'll learn later in the story, it's not the "why" that's important. Either way, the FBI wouldn't dare act on one of their own agents until they caught him red-handed.
Enter Eric O'Neill (Phillippe), an up-and-coming young man who's on his way to becoming a full-fledged FBI agent. Based on the real-life O'Neill (who served as a special consultant during production), he's assigned by Special Agent Kate Burroughs (Linney) to work with Hansson in a newly-created department. With only two months until Hansson's mandatory retirement (after 25 years of service to the Bureau), the young O'Neill only sees what's on the surface: a devout Catholic, a dedicated husband and father. Once the truth slowly reveals itself, O'Neill is required to balance himself carefully: after all, he's only got a few chances to catch Hanssen by the book.
As much as the performances impress across the board, it's the little details that make Breach more than your average spy vs. spy thriller. Production designer Wynn Thomas (Do The Right Thing, Cinderella Man) and cinematographer Tak Fujimoto (The Silence of the Lambs, Philadelphia) have helped to create a cold but authentic atmosphere for the story, further enhanced by character details provided by the real-life O'Neill. From subtle details like the exact layout of Hansson's office to his annoying personality quirks, there are plenty of clever hints about what's to come. The editing by Jeffrey Ford also keeps things flowing smoothly, especially during the first act buildup. Supporting roles are handled nicely by Gary Cole (Office Space), Dennis Haysbert ("24") and Caroline Dhavernas ("Wonderfalls").
All things considered, Breach should prove to be a durable thriller that suspense fans will appreciate and enjoy. The performances, atmosphere and direction are all excellent on their own terms, creating a tense story ripped right from the headlines. Universal's DVD package should satisfy those who saw the film theatrically, combining a solid technical presentation and a few engaging bonus features. Let's take a closer look, shall we?
Quality Control Department
Video & Audio Quality
Presented in its original 1.85:1 aspect ratio and enhanced for 16x9 displays, Breach looks excellent from start to finish. The film's cold, steely color palette appears crisp and clear throughout, boasting strong black levels and solid image detail. No major digital problems are on display, rounding out the visual presentation nicely.
The Dolby Digital 5.1 mix (also available in French) is sparse but dynamic, maintaining the film's tense atmosphere perfectly with clear dialogue and full-bodied music cues. English captions, as well as French and Spanish subtitles, are available during the main feature and bonus material.
Menu Design, Presentation & Packaging

Seen above, the animated menu designs are basic and easy to navigate. The 111-minute main feature has been divided into 20 chapters, while no obvious layer change was detected during playback. This one-disc release is housed in a standard black keepcase and includes a promotional HD-DVD insert.

Bonus Features

There's a fairly solid amount of extras available on this one-disc release, balancing technical information and real-life facts and figures nicely. First up is a feature-length Audio Commentary with director Billy Ray and consultant Eric O'Neill; both seem extremely grateful for the chance to make Breach, often citing the talent and initiative of cast and crew members. Ray does most of the talking here---and though there's an awful lot of back-patting mixed in with the technical comments, he's also not afraid to point out sequences that he felt could've been tightened up at bit. O'Neill feels like more of an interviewee at times, usually prompted by Ray to elaborate on his personal experiences regarding the case. It's still a solid track, all things considered, and one that fans should certainly enjoy.

We're also treated to a selection of Deleted & Extended Scenes (12 clips, 18:06 total), presented with optional audio commentary by Ray and editor Jeffrey Ford. Several terrific character scenes are cobbled in with a few slightly redundant ones, offering additional "bonding time" with Hanssen and O'Neill. Most of these are from the film's first and second acts, which Ray and Ford carefully trimmed for pacing purposes. It's easy to see why some didn't make the final cut, but most of these are worthwhile scenes that play well on their own.
Also here is "Breaching the Truth" (10:52, above left), a fairly by-the-books featurette detailing the film's production; highlighted by several members of the cast and crew, only a minimum of information is repeated from the commentary. Though portions of this behind-the-scenes piece feel a bit too promotional for their own good, there's enough interesting footage to make it work checking out.
"Anatomy of a Character" (6:50) is a more in-depth featurette cut from the same cloth as "Breaching the Truth", though it focuses squarely on Cooper's performance as the cunning Hanssen. Featuring additional comments by the actor, this is another slightly promotional piece but still worth checking out.
Last but not least is a segment from Dateline entitled "The Mole" (19:21, above right); originally aired on March 5th, 2001, this series of interviews and narrative segments provides a streamlined profile of the real-life Robert Hanssen. It's a bit overly dramatic on more than one occasion...but "The Mole" never reaches tabloid proportions, thankfully. While a more polished documentary on Hanssen might've played out better, those hungry for more of the real-life story should find it worthwhile.
All bonus features are presented in 1.33:1 and anamorphic widescreen formats, though the deleted scenes haven't been enhanced. Fortunately, all extras include optional English, Spanish and French subtitles...even the audio commentary (English only), hidden away as the fourth and final subtitle option during the main feature. Here's hoping this attention to detail becomes the rule, not the exception.
Final Thoughts
Kinetic and riveting, Breach provides an authentic, focused portrait of Robert Hanssen and his world of carefully-guarded secrets. The performances are strong across the board, from quiet moments of introspection to the gradual bonding of Hanssen and O'Neill. All things considered, it's a satisfying thriller that paces itself nicely and doesn't end with a whimper. Universal's DVD package pairs the film with a strong technical presentation and an assortment of mostly satisfying extras, making this one of 2007's best surprises on DVD. Fans of Breach should be satisfied with Universal's efforts, while those new to the film should consider this a solid blind buy. Highly Recommended.
---
Randy Miller III is an affable office monkey based in Harrisburg, PA. He also does freelance graphic design projects and works in a local gallery. When he's not doing that, he enjoys slacking off, second-guessing himself and writing things in third person.
---