Fox // R // June 19, 2007
List Price: $39.98 [Buy now and save at Amazon]
---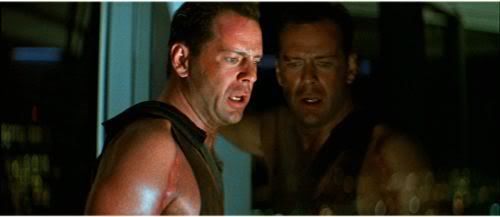 OK, let's cut right to the chase: we've all seen Die Hard, or we wouldn't even be on this page. The original 1988 film (seen above) set a new benchmark for action films when it exploded into theaters, catapulting star Bruce Willis---as New York police detective John McClane---to a new level of popularity. Our story follows McClane to Los Angeles for a reunion with his wife Holly (Bonnie Bedelia), who temporarily parted ways with John to pursue a successful career. They meet at the company's extravagant Christmas party...and let's just say that things don't go very smoothly from there. Aside from a rocky relationship, they've got a gaggle of European terrorists to contend with (led by Hans Gruber, played by Alan Rickman), who have their sights set on a huge stash of bearer bonds in the company's heavily-guarded vault.
In a nutshell, Die Hard is the time-tested tale of one good guy vs. a few dozen bad guys. Add a few automatic weapons, brutal fistfights and sizeable explosions, stir vigorously, and you've got one of the most popular and enduring films of the 1980s. Sure, it's 100% "popcorn" from start to finish, but this premiere installment of the Die Hard franchise has an atmosphere grounded in realism. It certainly requires a suspension of disbelief, but that's part of the film's rugged, entertaining charm. Die Hard (directed by John McTiernen), would eventually spawn two sequels, but most regard the lean, tightly-wound original as the franchise's peak. (Rating 4.5/5)
Released just two years later, Die Hard 2: Die Harder (below) took the route that most sequels usually take: revisit what made the first one so popular, but make everything bigger and louder. This sequel (directed by Renny Harlin) certainly expanded the franchise's scope a bit, trading the original's claustrophobic skyscraper setting for a busy airport terminal and a few snowy locales. Still, the formula is practically identical on the surface: bad guys are on the loose, but John McClane just happens to be in the immediate vicinity. While waiting for his wife Holly's plane to land safely, the terminal is overtaken by said baddies; this, of course, puts Holly's flight and several others in immediate danger. Guns, fistfights and explosions make their triumphant return, of course.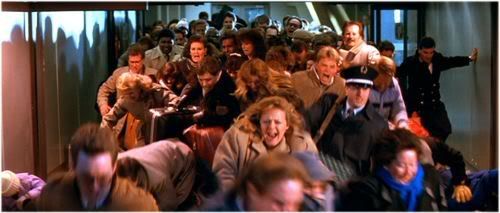 If there's one reason why Die Hard 2 pales in comparison to the original, it's that it simply feels too big...and for all the wrong reasons. The atmosphere just doesn't feel right, creating more of a lumbering, crowded action film than a focused thriller. The reappearance of a few familiar faces (police officer Al Powell and Holly McClane) and a few interesting cameos (including Robert Patrick, Colm Meaney, John Leguizamo and Mark Boone Junior) help to keep things familiar and fresh, but the film's cold execution feels distant and awkward in certain sequences. It's a decent action flick on its own terms...but let's be honest, Die Hard 2 is a lackluster follow-up to the original. (Rating: 3.5/5)
As the third and not-quite-final chapter in the saga, 1995's Die Hard with a Vengeance (below) reunited Willis with director John McTiernan. Like the second installment, the scope is slightly broadened---and while this isn't a perfect film, it's certainly a step in the right direction. Pairing John McClane with the charismatic Zeus Carver (played by Samuel L. Jackson), Die Hard with a Vengeance enlarges the canvas but keeps the atmosphere tense and focused. We follow McClane and the reluctant Carver through the streets of New York, basically playing a high-stakes game of "Simon Says" with Peter Krieg (played by Jeremy Irons), the dangerous brother of the late Hans Gruber. As our heroes race through New York to comply with the terrorist's demands, Krieg threatens to detonate a series of bombs placed throughout the crowded city. Guns, fistfights, explosions, blah blah blah.
Still, Die Hard with a Vengeance is a slightly different beast than the first two, evident right from the opening sequence. It doesn't take place during the holidays, it's less confined than the first two, and McClane's odd "partnership" helps to spice things up a bit. For these reasons, Die Hard with a Vengeance doesn't feel much like either of its predecessors...and in this case, it's a formula that actually works. It could've been trimmed a bit here and there---much like Die Hard 2, in fact---but the film's colorful and free-wheeling style makes it the second most watchable of the series. From start to finish, it's a solid thriller that still entertains greatly. (Rating: 4/5)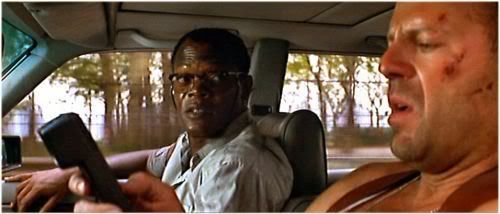 Back then, we probably didn't think we'd see another installment of Die Hard...but then again, we thought Rocky, Rambo and The Terminator were done with, too. Summer 2007 will mark the release of Live Free or Die Hard, the fourth and (maybe) final installment of the series (SPOILER ALERT: Bruce Willis will return as John McClane, bad guys will emerge from the shadows and lots of stuff will explode). Our subject for today's review, the four-disc Die Hard Collection, pairs the first three films with a sneak peek at what's to come.
Proceed with caution, ye reluctant double-dippers.
Originally released on DVD as single-disc editions, all three Die Hard films were eventually blessed with two-disc Special Editions (NOTE: the original was also part of Fox's "Five Star Collection"). Featuring strong technical presentations and a wealth of extras, the trio of Special Editions would also be collected in a six-disc "Ultimate Collection". Fans of the franchise can still consider these to be the most comprehensive editions, as this new four-disc set serves as more of a promotional tie-in than a proper upgrade. The second discs from each Special Edition have been done away with, though an hour-long bonus disc offers a few original supplements to make up for the loss. As we'll discover in the paragraphs below, most fans won't find this trade-off to be worth the money.
Quality Control Department
Video & Audio Quality
Presented in their original 2.35:1 aspect ratios and enhanced for widescreen displays, all three Die Hard films feature identical transfers to the previous Special Edition releases. They're still fairly impressive (aside from With a Vengeance, which still suffers from edge enhancement), but there's a bit of room for improvement: dirt and debris can be spotted during certain sequences (especially in the first film), while mild instances of softness and pixellation creep up along the way. It's a shame that Fox didn't opt for brand new transfers...but that's what the next boxed set is for, right?
The audio presentation is also identical to the previous Special Editions, featuring plenty of audio options to choose from (DTS, Dolby Digital 5.1 and English or French 2.0). Action movies rarely disappoint in the sound department, and all three Die Hard films are no exception: dialogue is clean and clear, but plenty of stuff blows up too. The upcoming Blu-Ray releases should be interesting, but it's still hard to complain about these mixes. Optional English and Spanish subtitles have been included during the main features only.
Menu Design, Presentation & Packaging

Seen above, the animated menu designs---identical to the previous releases, at least for the first three discs---are relatively simple and easy to navigate. As such, the main features have the same number of chapter breaks, while no obvious layer changes were detected during playback. Each of the four discs is packaged in a clear thinpak case with attractive cover art, which have all been tucked inside a glossy slipcase. A brief retrospective booklet and several promotional inserts have also been included.

Bonus Features

Though each of the films lack their respective bonus disc from the previous Special Editions, the Audio Commentaries from the first discs have been left intact. Die Hard includes three tracks: one with director John McTiernan and production designer Jackson DeGovia, another with special effects supervisor Richard Edlund, and a subtitle commentary track featuring various members of the cast and crew. Die Hard 2 features a lone commentary with director Renny Harlin, while Die Hard with a Vengeance includes a track with director John McTiernan. They're all recommended for fans of the film, but most have undoubtedly heard them by now.

The main attraction, of course, is the brand-new fourth disc in this collection, dubbed the "Yippee Ki Yay Bonus Disc" (above right, and I'm not kidding about the name). Most of what's here falls squarely into one of two categories: retrospective featurette or plug for this summer's Live Free or Die Hard. First up is a collection of Trailers for the new film (3 clips, 4:56 total), presented in non-anamorphic widescreen. We'll see if this fourth installment holds its own weight, but the film's rumored PG-13 rating has rubbed plenty of fans the wrong way.

"Wrong Guy, Wrong Place, Wrong Time: A Look Back at Die Hard" (39:55) is a fairly interesting featurette that remembers the original and best. Featuring participation from members of the cast and crew (though Willis is completely absent, for obvious reasons), "A Look Back" also includes a few bits of production footage. It's doubtful that owners of the Five Star Collection release will learn anything new and exciting, but it's decent enough in its own terms (NOTE: this will probably return on a future release, much like the next featurette).

"The Continuing Adventures of John McClane" (13:26) oddly throws together the second and third installments in a much briefer fashion; for the most part, directors Harlin and McTiernan are the only crew members accounted for. A few interesting anecdotes are shared...but again, there's nothing terribly exciting here. Both featurettes are presented in anamorphic widescreen and look good, though subtitles or Closed Captions aren't included.

That's all we get here, aside from a Movie Pass for Live Free or Die Hard; a nice touch, but hardly a "tipper" for those on the fence. Between the commentaries and the bonus disc, there's a passable amount of bonus material here---but let's face it, this boxed set doesn't hold a candle to the combined six discs of the previous releases.

Final Thoughts

On its own terms, the four-disc Die Hard Collection is a fairly solid treatment of a durable, entertaining franchise. Here's the deal-breaker: the previous 2-disc Special Editions are superior (or at least identical) to what's included here, so what's the point? Sure, the packaging is more compact, we get two new featurettes and a ticket to the latest sequel, but most fans of Die Hard already own the best versions on DVD. This four-disc collection is mildly recommend for those who don't own the Special Editions already (and don't care about the missing extras, of course), but everyone else shouldn't bother with this half-baked effort. Skip It and wait for an actual upgrade instead.

DVD Talk Review Link: The Die Hard Special Editions (written by Aaron Beierle)
---
Randy Miller III is an affable office monkey based in Harrisburg, PA. He also does freelance graphic design projects and works in a local gallery. When he's not doing that, he enjoys slacking off, second-guessing himself and writing things in third person.
---
Sponsored Links
Sponsored Links