Mr. Magoo Show - The Complete DVD Collection, The
Classic // Unrated // February 8, 2005
List Price: $26.95 [Buy now and save at Amazon]
---
Oh, Magoo! You've done it again!

Sony's Classic Media division has come up with another wonderful boxed set of animated cartoons in The Mr. Magoo Show: Complete DVD Collection. Featuring all 130 Mr. Magoo cartoons produced between 1960 and 1962 for the syndicated Mister Magoo show, The Mr. Magoo Show: Complete DVD Collection is a great way to introduce your kids to the marvelous animated character Quincy Magoo, the near-sighted retired millionaire who stumbles through life totally oblivious to the chaos he causes - all because he refuses to wear his glasses. I was sure that the disastrous 1997 Disney live-action version of Magoo had killed off any residual interest in the character, but thankfully, due to the hefty, nicely packaged box set here, others must have been clamoring for the consistently funny antics of the geriatric Magoo to come to DVD, too.
Voiced by the brilliant Jim Backus (Mr. Howell in Gilligan's Island), Mr. Magoo has always been a personal favorite of mine. I love cartoon characters who are old codgers, like Magoo and Popeye (or my all-time favorite, Popeye's father, Poopdeck Pappy); they're a nice tonic to the peripatetic tykes and animals that usually populate mainstream animation. I like their crotchetiness, their obstreperousness, their mumblings and grumblings. Now it's true that the Magoo found in these particular cartoons has been softened and tamed for the 1960 television market; the theatrical Magoo was much meaner and grouchy. But the basic premise is still the same: Magoo won't wear his glasses, and as a result, his nearsightedness causes mayhem wherever he goes. A supernatural luck follows him everywhere, as he negotiates one potentially deadly obstacle after another as he blithely mumbles on about the old days and how things don't match up today. It's a remarkably simple premise that still manages to get laughs cartoon after cartoon.
Magoo, introduced in 1949's Ragtime Bear, was celebrated animation studio UPA's first and biggest cartoon star. United Productions of America was founded in 1944 by ex-Disney animators Zack Schwartz, Dave Hilberman, and Steve Bosustow, and within a few short years, UPA quickly became the hottest animation studio in America by rejecting the hyper-realistic look of the Disney studios, as well as the crazy animals of Warner Bros., to create largely non-violent, deliberately flat and two-dimensional looking cartoons that emphasized the stylized look of 1940s and 1950s modern art. The Magoo theatrical shorts became instant hits with the public (fifty two were produced in ten years, between 1949 and 1959), with two winning Academy Awards for Best Short Subject. But the exacting standards that UPA expected of its animators and directors wasn't applied to the budgets of the cartoons, and the business end of operations quickly became mired in debt (UPA released their product through Columbia, who quickly recouped their costs by gradually acquiring the rights to the cartoons as they went over budget). Finally, with the drop-off in need for theatrical shorts inevitable, UPA stopped making theatrical shorts, and the studio was eventually sold to movie producer Henry Saperstein in 1960. Saperstein, who understood that theatrical animated shorts were a dead prospect, moved UPA's most famous character onto television, where profits could be guaranteed if the budgets were held to a minimum.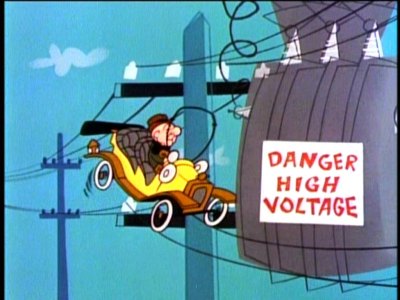 When Saperstein moved Magoo into syndicated TV, the generous budgets and the careful attention to the production design of the theatrical shorts were lost. "Limited animation" techniques, such as eliminating the "inbetween" frames in between the "keyframes" which actually illustrated motion, created a much less smooth, fluid look to the action. It was also much cheaper. UPA at first had actually tried limited animation as a means to stand apart from Disney visually, but for Saperstein as the head of UPA's television output, limited animation was used strictly to stretch dollars. Of course, a lot of animation buffs and scholars disparage such decisions as crass commercial considerations that ruined the wonderfully sly and abstract Magoo shorts. And to be sure, these 130, five minute Mr. Magoo cartoons are not as graceful and clever as those celebrated theatrical shorts (when will somebody release a boxed set of those). But what few give credit to Saperstein for is the fact that through his cost-cutting, he was able to keep the character alive and well in front of millions of kids who never saw the theatrical shorts. I suspect when most people remember Mr. Magoo, a large percentage remember these particular TV cartoons, which ran over and over again in the 1960s and 1970s, not the more celebrated theatrical shorts.
Watching The Mr. Magoo Show: Complete DVD Collection, I was first caught by the mellowing of Mr. Magoo. He's definitely more cuddly and cute here; even his mumblings are sweet and misdirected, and hardly grouchy at all. Some historians hate that right there: the changing of Magoo's character. But again, it's a canny decision on Saperstein's part, because the theatrical shorts were aimed primarily at adults, who appreciated the W. C. Fields' negativity of Magoo's whinging. But little kids, sitting at home watching TV, wanted something a little softer, and Magoo evolved into this kindly, bumbling funny old coot who very nicely mumbled about not understanding the world anymore, and about how much better the old days were.
The animation, while indeed limited, is still quite nice looking, with the UPA house style cut back by the small TV budgets, but still recognizable in the deliberately stylized backgrounds. When discussing the scripts, it's important to remember that Backus was originally allowed to ad-lib a lot of Magoo's ramblings. An accomplished comedic improver, Backus may have been limited in his ad-libbings here in the TV shorts, precisely because the budgets wouldn't have allowed him to say something that may have required a change in the storyboards. So if these TV Magoos seem a little tamer than the theatrical ones, remember that the single biggest aspect of Mr. Magoo's success - Jim Backus' voice talent - may have been curbed due to money restrictions. But they're still amusing little toons, with some well-thought out gags featuring Magoo perilously avoiding death at every turn. Seen within their half-hour increments, the box set goes down smoothly. Some viewers today may object to Magoo's Chinese servant, Charlie, who speaks in a stereotypical Asian accent. Certainly, Sony is to be commended for not eliminating or altering these shorts featuring Charlie; animation history is just that, and it needs to be left intact for study and appreciation for what it is.
Here are the 130, five minute cartoon shorts included in The Mr. Magoo Show: Complete DVD Collection. Each 25 minute episode contains five, 5 minute cartoons, opening and ending credits, and in-show bumpers:

DISC ONE


Episode One
Military Magoo, Base on Bawls, Thin Skinned Divers, Mother's Little Helper, Day at the Beach.

Episode Two
Ten Strike Magoo, Robinson Crusoe Magoo, Magoo's Caesar Solid, This is the Life, Go West, Magoo.

Episode Three
Who's Lion, Soft Shoe Magoo, Fox Pass, Night Club Magoo, Mis-guided Magoo.

Episode Four
Insomniac Magoo, Beatnik Magoo, Magoo's Dog, Fish 'N Tricks, Campaigner Magoo.

Episode Five
Dangerous Dan Magoo, Shotgun Magoo, Lady in Black, Magoo's Buggy, Three's a Crowd.

Episode Six
Riding Hood Magoo, Indoor Outing, Record Breakers, Magoo's Jackpot, Magoo's Bear.

Episode Seven
High & Flighty, S'No Ball Magoo, South Pacific, Potluck, Masquerader Magoo, Fixit Magoo.

DISC TWO


Episode Eight
Goo Goo Magoo, Night Fright, Magoo Gets His Man, Bring 'Em Back Waldo, Top Pro Magoo.

Episode Nine
Magoo's Goal Post, Marcio Magoo, Saddle Battle, Martian Magoo, The Reunion

Episode Ten
Magoo's Birthday Cake, Chug Chug Magoo, Food Feud, Magoo's Ice Box, The Billionaire.

Episode Eleven
King Tut Magoo, People Are a Scream, Rassle Hassle, Mother's Cooking, Eagle Eye Magoo.

Episode Twelve
Safari Tale, Foxy Magoo, Hamlet on Rye, Magoo's Vacuum Cleaner, Magoo Goes Shopping.

Episode Thirteen
Prince Charming Magoo, Magoo's Houseboy, High Spy Magoo, Beau Jest, Maestro Magoo.

Episode Fourteen
Magoo at Blithering Heights, Composer Magoo, Magoo's Hampster, Life Can Be Miserable, Goldilocks Magoo.

DISC THREE


Episode Fifteen
Speedway Magoo, Hunter Magoo, Top the Music, Magoo & Cholly, Perils of Magoo.

Episode Sixteen
Hula Magoo, Magoo's Pets, Safety Magoo, Pet Sitters, Sing Sing Fling.

Episode Seventeen
Magoo's Last Stand, Short Order Magoo, Lost Vegas, Cupid Magoo, Cuckoo Magoo.

Episode Eighteen
Three Ring Magoo, Marshal Magoo, Magoo's TV Set, Slim Trim Magoo, Foot Loose Moose.

Episode Nineteen
Buffalo Magoo, Gasser Magoo, Hermit's Hideaway, From Here to Fraternity, Tycoonland.

Episode Twenty
Fire Chief Magoo, Angler Magoo, Requiem for a Bull, Gangbuster Magoo, Magoo's Gnu.

Episode Twenty-One
Magoo and the Beanstalk, Magoo's Gorilla Friend, The Real McGoys, Magoo Meets Frankenstein, Cast Iron Magoo.

DISC FOUR


Episode Twenty-Two
Green Thumb Magoo, Lion Hearted Magoo, Double Trouble, Yachtsman Magoo, Decorator Magoo.

Episode Twenty-Three
Bar-B-Q Magoo, Magoo's Western Exposure, Buccaneer Magoo, The Vacuum Caper, Magoo and the Medium.

Episode Twenty-Four
Piggy Bank Magoo, Magoo Meets McBoing Boing, Robin Hood Magoo, Fuel in the Sun, First Aid Magoo.

Episode Twenty-Five
Magoo's Roof Goof, Teenage Magoo, Cyrano Magoo, Magoo's Surprise Party, Magoo's Dutch Treat.

Episode Twenty-Six
Skipper Magoo, Private Eye Magoo, Digger Magoo, Muscles Magoo, Who's Zoo Magoo?
The DVD:
The Video:
Let the kids watch this on their room set, because on a bigger monitor, the compression jaggies come out in The Mr. Magoo Show: Complete DVD Collection. The original prints are remarkable clear and colorful; it's just too bad they didn't jump up the bit rate a bit for the transfer.
The Audio:
The Dolby Digital English mono soundtrack for The Mr. Magoo Show: Complete DVD Collection accurately represents the original broadcast presentation. Close-captioning is available.
The Extras:
There's a helpful, colorful eight page booklet included in The Mr. Magoo Show: Complete DVD Collection that gives a brief but informative background on Magoo and UPA. There's also a collectible reprint Dell comic book called Sun and Fun. It's a nice addition, and fun for that lucky kid who gets this big boxed set.
Final Thoughts:
Even a kinder, gentler Mr. Magoo is still pretty funny, and the syndicated shorts from 1960 to 1962 included in The Mr. Magoo Show: Complete DVD Collection still provide plenty of nearsighted laughs as Mr. Magoo stumbles his way towards victory over his environment, time and time again. The animation may be limited, and the budgets restricted (and the transfer less than perfect), but there's over ten and a half hours of classic Magoo antics, and that's reason alone to buy it, animation fans. With a big, glossy, fun box package -- that sharp Magoo illustrated waver disc alternately shows Magoo answering the phone, but actually he's answering a teacup -- I highly recommend The Mr. Magoo Show: Complete DVD Collection.
---
Paul Mavis is an internationally published film and television historian, a member of the Online Film Critics Society, and the author of The Espionage Filmography.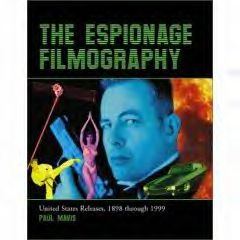 ---
C O N T E N T

---
V I D E O

---
A U D I O

---
E X T R A S

---
R E P L A Y

---
A D V I C E
Highly Recommended
---
E - M A I L
this review to a friend
Sponsored Links
Sponsored Links