Dean Martin and Jerry Lewis Collection -- Volume Two, The
List Price: $29.99 [Buy now and save at Amazon]
---
Paramount's The Dean Martin and Jerry Lewis Collection: Volume Two picks up where the first volume left off (with some curious omissions), giving the comic duo's fans a chance to see Living It Up, You're Never Too Young, Artists and Models, Pardners, and Hollywood or Bust for the first time on DVD. One can only assume some restriction in copyright has kept Money from Home and 3 Ring Circus off this compilation, but it's a major setback to the fans who wanted complete DVD sets of one of the most influential comedy teams of the 20th century.
The titles included in The Dean Martin and Jerry Lewis Collection: Volume Two box set represent the final efforts of this wildly successful motion picture team. Prior to this set's first offering, Living it Up, produced in 1954, crooner Dean Martin and "monkey" Jerry Lewis had appeared in ten previous films. The majority of these were in black and white, and form a convenient dividing line for fans and historians when they discuss the team's cinematic efforts. And while it's important to remember that Martin and Lewis were phenomenally successful in other areas of the entertainment field, including nightclub performing (where they literally invented a new kind of knockabout, singing/patter style of comedy), radio and as early pioneers of television comedy, their films are primarily where critics and fans focus when discussing their artistic worth.
For many fans (myself included), there can be a preference for many of the earlier black and white efforts, which feature a primitive, raw, manic spirit to their performances. The later color efforts, made after the team had hit the stratosphere in terms of salaries, influence, and public adoration, can at times seem over-produced, with emphasis on lavish sets and pretty costumes, while Martin and Lewis frequently spend time apart on the screen, isolating themselves from each other to the detriment of the comedy (while favoring Jerry more and more in screen time, shunting aside the supremely talented Martin). Of course, that's not to say that there aren't many valuable moments in these final films. In fact, I consider Artists and Models one of the team's finest films, with parts of You're Never Too Young and Hollywood or Bust ranking up there with the team's best cinematic moments. Watching Martin and Lewis today, it's easy to see their natural progression that led from movie comedy teams like Abbott and Costello and Bob Hope and Bing Crosby, combining aspects of both teams (Jerry channeling Lou Costello's "bad, bad, boy," and making him a maniacal six-year-old, and Dean playing the smooth Crosby crooner who still, when given the chance, could be one of the finest screen straightmen, next to the master, Bud Abbott). Let's look at the individual films.
LIVING IT UP
A remake of 1937's classic comedy Nothing Sacred, starring Carole Lombard and Fredric March, Living it Up tells the story of Homer Flagg (Jerry Lewis), a junior railroad worker in Desert Hole, New Mexico. After attempting to hop a freight train to escape his small town existence, Homer falls off right in the middle of a governmental radioactive proving ground. Consulting his friend Dr. Steve Harris (Dean Martin), Homer is given an incorrect diagnosis (lazy Dr. Harris mistook Homer's luminous pocket watch dial for radiation poisoning), which makes its way into the national headlines. Soon, Homer and Dr. Harris hatch a plot to escape the doldrums of Desert Hole by going along with newswoman Wally Cook's (Janet Leigh) plan to take Homer on a whirlwind tour of New York City, with all expenses paid by her boss, editor Oliver Stone (Fred Clark), before he dies, guaranteeing reams of free publicity for her publication. The rest of the film details the lengths that Homer and Steve will go to to keep their secret from getting out, while both men romance the beautiful, skeptical Wally Cook.
One of the lesser later efforts by Martin and Lewis, Living it Up suffers from the team being straight-jacketed into a rigid remake that highlights their individual weaknesses, while offering precious little opportunity for them to do their act together on screen. Lewis, who has already started to dominate the screen time in his films with Martin, has plenty of chances to work solo here, but what's missing is the wry, sarcastic sneer that Martin effortlessly brought to many of their best film scenes. Frequently, individual scenes are given over to Jerry, but it's rare when Dean gets his own shots, and when he does, he's forced to play the crooner, singing mediocre songs to Janet Leigh (he's even forced to sing one of them twice). While Jerry does his routine spastic dance sequence with bombshell Sheree North, Dino is reduced to reaction shots at ringside, watching Jerry take control. And when the director, veteran Norman Taurog, lets Jerry sing a semi-serious song (something that used to drive Dino absolutely up the wall off-screen), it's glaringly obvious that Jerry has taken the reins of the comedy team to further his own on-screen efforts.
Living it Up is a tediously slow movie, too, with leaden pacing enlivened only occasionally by some bright moments (the Yankee Stadium bit is pretty funny). But the two or three potentially funny sequences are drowned in excessive exposition, with the viewer getting the feeling that the studio must have figured that it was enough to stick their comedy team in a classic comedy remake, without transforming it for their own particular talents. The glossy, studio-bound look of Living it Up doesn't help with a film that already feels moribund and claustrophobic. Too much plodding plot, and not enough big laughs make Living it Up one of the team's least memorable efforts.
The DVD:
The Video:
While all my sources stated that Living it Up was not widescreen, fellow DVDTalk reviewer Stuart Galbraith IV recently emailed with the correct information that this was indeed reprinted in spherical widescreen process, probably matted to a 1.85:1. After reformatting it, the framing at that ratio does indeed look correct. Although I'm not sure why Paramount would go to the trouble of releasing the other titles in the set in their correct format and ratios, and yet not do the same for Living it Up, I'll go with Stuart's info. Besides, it's entirely possible that smaller cities and venues still saw Living it Up in its original 1.37:1 ratio, as the spherical widescreens prints were mostly showing up in major cities in 1953 and 1954. The transfer is fairly nice, though, with minimal grain. The bit rate is adequate.
The Audio:
The Dolby Digital English mono track accurately represents the original theatrical presentation. There's an optional French mono track, as well, with English subtitles and close-captioning available.
The Extras:
There are no extras for Living it Up; not even a trailer.
Final Thoughts:
Too much talk, and not enough of Martin and Lewis as a team, this remake of the classic screwball farce Nothing Sacred suffers greatly by comparison. One of the team's least successful efforts, Living it Up is glossy, empty and most egregiously, dull.
---
YOU'RE NEVER TOO YOUNG
Stuck in another remake, this time adapting the brilliant director Billy Wilder's 1942 classic, The Major and the Minor, Martin and Lewis fly much higher in You're Never Too Young than they did in Living it Up, taking the potentially ridiculous material and providing some big laughs - mainly because they're allowed to be equal team members on the screen again. You're Never Too Young has Jerry portraying Wilbur Hoolick, a twenty-five-year-old barber's assistant who becomes involved in a deadly jewel heist and murder. When the thief and killer Noonan (Raymond Burr), in an effort to elude the police, plants the famed Majuba Diamond on Wilbur at the hotel in which he works, he uses his moll (Veda Ann Borg) to get it back. Unfortunately, before he can verify that she did indeed get the diamond, Wilbur skips out of town - right before telling Noonan that he's going back to his home town, Blitzen, Washington. Finding out that he has a wad of Wilbur's bubble gum, Noonan is fast on Wilbur's heels, looking to silence him once he gets the diamond back.
Wilbur, who doesn't have enough money for a full-priced fare to Blitzen, disguises himself as a twelve-year-old boy, forcing physical education teacher and Army officer Bob Miles (Dean Martin, whom Wilbur had worked on earlier at his barber shop in the hotel) to buy his ticket for him. When Noonan discovers that Wilbur is riding on the train in disguise, Wilbur hides in Nancy Collins' (Diana Lynn) room -- Nancy is Bob's girlfriend and fellow teacher at Mrs. Brendan's School for Girls. The potentially compromising position that Wilbur has put Nancy in becomes apparent when scheming Gretchen Brendan (Nina Foch) spies Wilbur in her room - sans disguise. It's now up to Wilbur to convince everyone at the school that he's a twelve-year-old boy, keeping Nancy's reputation intact, keeping Bob from murdering him, while fending off the advances of fellow student Skeets Powell (Mitzi McCall). But when Noonan tracks down Wilbur at the school, posing as his father, the fun really begins.
Always a particular favorite of mine, You're Never Too Young has many wild, antic moments that define the Martin and Lewis style, with big comedy set pieces that allow Jerry to do his thing, while Dean either suffers due to Jerry's actions, or looks on in disbelief - much to the audience's delight either way. Big laughs are found in You're Never Too Young, including Jerry's barbershop routine (throwing around the raw egg is pretty hilarious), Jerry's first incarnation as the bratty kid (his ungodly whining whenever he doesn't get his way is perfectly matched by Dino's barely controlled laughter as he watches Jerry), the "cigar" bit, where Dean makes Jerry consume a lit cigar (just watch their timing together - it's immaculate), as well as the big-scale action finale on waterskis and boats at beautiful Lake Arrowhead. This final sequence in particular is a fan-pleaser, with the cartoonish action perfectly choreographed to Jerry's funny squealing and screeching (the film's single best joke comes when Jerry, on waterskis, runs up on the beach, catching a picnicker's's sandwich in his mouth. Jerry disdainfully says, "Ham," to the audience, and tosses it aside).
You're Never Too Young moves smartly along, too, never pausing long enough for the ridiculousness of the notion that people would be fooled by Jerry as a twelve-year-old, sinking in. Director Norman Taurog, a comedy veteran who could occasionally come off as a stiff, keeps things light and breezy here, giving You're Never Too Young a fast-paced, farcical feel that's most welcome in the later Martin and Lewis canon. Watching Dean in this film is fascinating; frequently, he can be seen turning his face away from the camera. Whether that comes from his supreme confidence, or genuine indifference to the material (either could be true, according to conflicting accounts), Dean's ultra-cool, laid-back quality was the absolutely perfect tempering agent for Jerry's psychotic mugging. Luckily, both performers get plenty of time together on the screen, reminding audiences why their chemistry was so engaging.
The DVD:
The Video:
The widescreen, 1.85:1 transfer for You're Never Too Young is crisp and clear, with only a few color flickers here and there. While it's possible that this transfer was taken from an original eight perf horizontal print, it's highly unlikely, since only a few were ever struck for most titles when they ran during their roadshow engagements. More than likely, this DVD transfer was taken from a standard vertical 35mm reduction print, which benefitted from the finer grain of the horizontal VistaVision negs.
The Audio:
As well as "motion picture high fidelity," VistaVision was noted for its exceptional multi-track sound (although I've been told that VistaVision's mixes were still inferior to multi-track CinemaScope). Unfortunately, the Dolby Digital English mono track doesn't do justice to the original audio mixes (although, to be fair, those multi-tracks may only have been featured in the film's premiere or road show runs). There's an optional French mono track, as well, with English subtitles and close-captioning available.
The Extras:
Again, there are no extras for You're Never Too Young.
Final Thoughts:
Big laughs punctuate this remake of The Major and the Minor, with Dean and Jerry working perfectly together in their frequent, funny scenes together. Jerry's annoying, screeching child shtick works perfectly here in the story, and Dino is a capable, funny romantic foil. Comedy set pieces keep You're Never Too Young moving, with a big action finale providing plenty of humorous sight gags. You're Never Too Young is one of the team's best color efforts.
---
ARTISTS AND MODELS
The historic first teaming of Jerry Lewis and director Frank Tashlin jolts this glorious, Technicolor-soaked, gag-rich, fetish-crammed 1950s farce into the stratosphere, producing one of the team's finest films. 1950's obsessions like the malignant influence of comics, television, and violence on our nation's youth, Communist agents running wild in the streets, and of course, our national obsession with huge breasts, are lovingly depicted over and over again in Artists and Models, with director Tashlin clearly indulging his penchant for objectified sexual imagery in lieu of any semblance of a coherent plot. Artists and Models tells the story of Rick Todd (Dean Martin) and Eugene Fullstack (Jerry Lewis), roommates in New York's beatnik Greenwich Village. Rick, a struggling artist, and Eugene, a frustrated writer obsessed with comic books, are reduced to painting and installing giant billboards. A chance encounter with their beautiful neighbor Abigail Parker (Dorothy Malone), who pens Eugene's favorite comic, The Bat Lady, results in Abigail eventually quitting her Bat Lady chores - much to the consternation of her mumbling, grumbling editor Mr. Murdock (Eddie Mayehoff) - while Rick takes over with a new comic, The Vulture, using Eugene's insane ramblings during his sleepy nightmares for the plots of the new comics. Meanwhile, Eugene is negotiating the rough waters of romance with kooky, adorable model Bessie Sparrowbrush (Shirley MacLaine), who works in Mr. Murdock's office and who's friends with Abigail. And if that's not enough, Communist agents, headed up by luscious spy Sonia (Eva Gabor), are after a secret rocket fuel formula that Eugene innocently and spontaneously spouted off in one of his dreams, which Rick then put into one of the plots for a Vulture comic.
Certainly one of the best looking Martin and Lewis films, director Tashlin's background in animation and graphic arts clearly shows up in Artists and Models, with gorgeously designed 50's sets that showcase the manic, cartoon sight gags that he crams into the film. The opening set piece, where Jerry and Dino become engulfed in the blow hole of a giant "smoking" billboard (a gorgeous, red-lipped woman, with open mouth, is on the billboard's front), clearly indicated that Tashlin had some seriously subversive notions on his mind when tackling his first Martin and Lewis comedy. The oral sex reference is more than blatant, but when Tashlin builds on the contextual foundation of the scene, adding in Jerry's favorite comic books into the whirlwind, along with Jerry splashing garish Technicolor paints down on his boss and a police officer, you know you're in the prescence of a genius. There are numerous instances of Tashlin indulging his primitive sexual obsessions in Artists and Models, including lovingly panning over the gorgeous bodies of Malone, MacLaine and Gabor (I particularly like the totally superfluous pan down to Malone's legs when she's getting out of the shower - via a strategically placed mirror - for no other reason than for us -- and Tashlin -- to get a good look at them). Tashlin indulges his penchant for perverse sexual imagery to the point of having MacLaine, seductively attired, bound and gagged, perfecting recreating a popular image from all those 1950s fetish magazines. Even Dino gets the Tashlin treatment, singing a song with notably dirty lyrics that somehow got past the censors ("I'm gonna rock it, 'cause in my pocket I've got a load...of green."
So much of Artists and Models works because it's apparent that Martin and Lewis are in the hands of new talent, eager to work them into his own directorial obsessions. Artists and Models is totally of its moment, bringing in popular culture dangers like violent comics, TV, and the Commies, all punctured by the presence of the 1950s greatest comedic stars, Dino and Jerry. Often stuck with competent but unimaginative veterans who just let the cameras roll on Jerry, Dino and Jerry seem liberated by Tashlin's vulgarity and vivaciousness. Finally, Jerry's outsized mugging has found a director unafraid to capitalize on that quality, amping up the sound effects and exaggerating the physical gags until Jerry quite rightly occupies more of a live-action cartoon, rather than a standard Paramount comedy. It's no wonder Tashlin would be Jerry's favorite post-Dean director - after himself.
The DVD:
The Video:
Luckily, the widescreen, 1.85 (which was the preferred ratio for VistaVision projection) video image for Artists and Models is bright, deeply hued and saturated, and quite clear. There are still the occasional dirt specks and anomalies, but overall, quite a nice picture (especially since this is almost never seen letterboxed on TV).
The Audio:
As well as "motion picture high fidelity," VistaVision was noted for its exceptional multi-track sound (although I've been told that VistaVision's mixes were still inferior to multi-track CinemaScope). Unfortunately, the Dolby Digital English mono track doesn't do justice to the original audio mixes (although, to be fair, those multi-tracks may only have been featured in the film's premiere or road show runs). There's an optional French mono track, as well, with English subtitles and close-captioning available.
The Extras:
Criminally, just as with the other titles in The Dean Martin and Jerry Lewis Collection: Volume Two, there are no extras for Artists and Models.
Final Thoughts:
A glorious, vulgar riot of Technicolor, cartoon sightgags, 1950's obsessions, and rampant sexual perversions, Artists and Models is one of Dean and Jerry's finest films, and a triumph for director Frank Tashlin's cartoonish, sexualized obsessions. 1950s pop culture preoccupations are skewered left and right, while Dino and Jerry look refreshed and revitalized by Tashlin's attention and energy. Artists and Models is one of the best comedies from 1950s.
---
PARDNERS
Unfortunately, the manic high reached with Artists and Models falls flat again with the pedestrian, meandering Pardners. Back again with director Norman Taurog, Dean and Jerry do the requisite cowboy assignment that was mandatory for all 1950s stars, but this weak remake of Taurog's own 1936 Rhythm on the Range, starring Bing Crosby, does nothing to capitalize on the momentum generated by Frank Tashlin's Artists and Models. Jerry and Dean are back in a flat farce, with their growing unease with each other evident for the first time on the screen.
Pardners has Jerry as Wade Kingsley, Jr., a rich dude who dreams of going West and playing cowboy, not only for the romance of the trip, but to also escape the suffocating influence of his controlling mother, Matilda Kingsley (Agnes Moorehead). Dean plays Slim Mosely, Jr., a cowpoke whose ranch out west is under siege by masked raiders who want his land so the government will buy the entire parcel for a proposed dam. Hoping to win Cuddles, a prized bull, at the New York Rodeo, Wade ruins Slim's chances, but winds up buying Cuddles for Slim's ranch - with the understanding that Slim will take him under his wing and show him the ropes of being a cowboy. After much misunderstanding, Slim agrees (it helps that both of their fathers were friends who died together at the hands of the villains who want Slim's land), and soon Wade is out West, mistakenly taken for a killer, while Slim covers for his incompetence. Of course, there's a showdown at the end between the good guys and the bad guys, so guess who wins.
Pardners can't rise above its deadly pace, lack of real laughs, and its sloppy production. The opening prologue, with Dean and Jerry as the senior Wade and Slim, starts off amusingly, but it eventually grinds on forever, outstaying its welcome. And then Pardners takes forever to get back out in the West, with Dean and Jerry spending too much time with the unphotogenic Cuddles the Bull. The sloppy production reaches true incompetence when Jerry, hanging outside of the moving boxcar, flashes by modern automobiles (circa 1955), even though the movie is supposed to be set in 1910. And once they're finally immersed in the standard Western spoof plot, Pardners fails to deliver either as an action-filled Western, or as a laugh-laden farce. Sure, there are a few moments that sparkle, with Jerry doing a funny bit in a bar where he humiliates a bully (shades of Buddy Love at The Purple Pit in The Nutty Professor), but they're few and far between. Pardners is just too boring and slow to generate much interest.
Clearly, Pardners is probably best remembered today for the macabre end credits where Dean and Jerry directly address the audience, reassuring them that they're going to stay a screen team for a long time, and to not worry; they'll be back. I can't imagine what arm-twisting went on for them to be forced to film that ending, but I do know it was done to squelch the ever-growing reports that the two men were rapidly coming to the end of their ropes with each other. And sadly, that deteriorating situation is starting to show in Pardners. Jerry's fawning over Dean in several scenes is downright disturbing, a condition that Jerry has acknowledged many times in the decades following their breakup. His neediness for Dean's approval, completely above and outside the motivations of his movie character, give some scenes in Pardners a decidedly desperate tone. And clearly, Martin is beginning to get fed up with the stupid songs, lines, and sideline reaction shots he's required to endure while Jerry mugged up a storm. The first cracks in the team's facade are visible in Pardners; unfortunately, they're the most interesting aspect of this failed Western spoof.
The DVD:
The Video:
The widescreen, 1.85 transfer for Pardners is soft in spots, but for the most part clear and relatively free of grain. Colors are bright and richly hued, and compression issues are negligible.
The Audio:
As well as "motion picture high fidelity," VistaVision was noted for its exceptional multi-track sound (although I've been told that VistaVision's mixes were still inferior to multi-track CinemaScope). Unfortunately, the Dolby Digital English mono track doesn't do justice to the original audio mixes (although, to be fair, those multi-tracks may only have been featured in the film's premiere or road show runs). There's an optional French mono track, as well, with English subtitles and close-captioning available.
The Extras:
There are no extras for Pardners.
Final Thoughts:
Another later weak entry for the team, Pardners fails to deliver the goods as either a Western or a spoof. Isolated funny moments don't make up for the uncomfortable feeling the audience gets that maybe Dean and Jerry aren't what the theme song insists they are: "the greatest partners, buddies, and pals."
---
HOLLYWOOD OR BUST
There are advocates for Hollywood or Bust, director Frank Tashlin's sophomore outing with Martin and Lewis, who insist it's the team's best work together; a neglected masterpiece that suffers from the unfortunate stigma of being the team's last, reluctant effort. I used to be one of those supporters. But watching it again, in its proper widescreen ratio, I was disappointed by Hollywood or Bust. Although there's much to like in Hollywood or Bust, it doesn't come close to the cohesive harmony of form and content that Artists and Models possesses - and clearly the reason it fails is the open, outright acrimony between the stars, spelled out right on the screen for anyone to see.
Hollywood or Bust tells the story of Malcolm Smith (Jerry Lewis), a movie-obsessed fan who wants to win a car at the local movie house drawing, so he can go to Hollywood to seek out his dream icon: Anita Ekberg. Dean Martin is Steve Wiley, a con man who's working with Bookie Benny (Maxie Rosenbloom) to cheat at the theater drawing, thereby winning the car to pay off his gambling debts. Naturally, both men have the winning ticket, and before you know it, they're both off to Hollywood on a road-trip-from-Hell, complete with Malcolm's huge Great Dane, Mr. Bascom. On the way, Steve puts the unwelcome moves on showgirl and aspiring actress Terry Roberts (Pat Crowley), eventually winning her over before inexplicably dumping her again. Eventually reaching Hollywood, Malcolm crashes Paramount Studios, and causes mayhem as he searches for Anita Ekberg.
There are problems galore in Hollywood or Bust, the main one obviously the animosity that Dean shows Jerry on the screen. Barely able to conceal his personal contempt for Jerry (Jerry has stated many times that he has never seen Hollywood or Bust because of the bad memories of the production), Dean is frequently seen glaring at Jerry, when he's not squinting off into some distant spot, oblivious of Jerry's desperate mugging. There's a moment where Jerry's singing a traveling song - again, why is Jerry singing, and not Dean? - and it's clear that Dean is ready to blow his top. It's an uncomfortable movie to watch, mainly because it's quite evident that Dean can't stand to be in the same shot with his long-time partner (Tashlin reportedly threw Lewis off the set for a couple of days, because of his obnoxious behavior, behavior that finally convinced Dean to dump him as a partner).
Other problems arise in Hollywood or Bust which may further help explain Dean's obvious disgust with the project. Dean's character, Steve Wiley, is really a rat - much more of a true creep than he's ever been in a Martin and Lewis picture. Almost committing rape on Terry Roberts, it's unseemly for we the viewers to see Martin this way; so often he's the regular, cool guy we'd all like to be. Later, when he callously dumps her, it's another character knock that makes us actively dislike Steve. I can't believe that Martin was too happy playing this creep. The Anita Ekberg angle of the story is never fully fleshed out, coming across as more of a promotional gimmick for Paramount to push Ekberg's falling star, rather than as a real subplot. And the final frontal assault by Jerry on the Paramount lot is over before you know it, with a myriad of farcical opportunities passed up for some inexplicable reason. Director Tim Burton must have seen Hollywood or Bust when he devised that finale for Pee Wee's Big Adventure, which took the same premise, and ran with it correctly.
Director Tashlin still manages to squeeze some funny sight gags out of the stretched-out material (the Mr. Bascom bits are kind of funny, but what the hell are Martin and Lewis doing playing second-fiddle to a dog?), with the opening salute to moviegoers all over the world quite hysterical. And of course, Tashlin still manages to fit in a few fetish preoccupations. The wild travelogue sequence, with Jerry and Dean traveling through a countryside littered with artificially staged, garish girlie magazine tableaus of buxom beauties in various indelicate poses, is like nothing you've ever seen before in a 1950s film. It's such a literal translation of a fevered subconscious desire that its inclusion alone in Hollywood or Bust almost makes it worth the price of admission. But finally, the noxious attitude of both stars sinks Hollywood or Bust, creating a missed opportunity for the 1950s greatest comedy team to go out on a winner.
The DVD:
The Video:
The widescreen, 1.85 transfer for Hollywood or Bust is a major disappointment, with the Technicolor register off most of the time (at one point, Jerry's eyes glow a weird green), with a sometimes blurry, washed out picture that's surprising considering the better-than-average transfers of the other films.
The Audio:
As well as "motion picture high fidelity," VistaVision was noted for its exceptional multi-track sound (although I've been told that VistaVision's mixes were still inferior to multi-track CinemaScope). Unfortunately, the Dolby Digital English mono track doesn't do justice to the original audio mixes (although, to be fair, those multi-tracks may only have been featured in the film's premiere or road show runs). There's an optional French mono track, as well, with English subtitles and close-captioning available.
The Extras:
There are no extras for Hollywood or Bust.
Final Thoughts:
A morbid viewing experience for fans of Martin and Lewis, Hollywood or Bust has flashes of brilliance, courtesy of director Frank Tashlin's incessant preoccupations with sex, but the handwriting was clearly on the wall for the comedy duo, and no amount of slapstick or visual tricks could mask the open animosity that the stars shared for each other. A missed opportunity.
---
Final Thoughts on the Boxed Set:
Regardless of the relative merits of the titles included here, The Dean Martin and Jerry Lewis Collection: Volume Two is required viewing for fans of the team, and for afficionados of motion picture comedy. Martin and Lewis, simply put, are one of the most influential comedy teams in motion picture history, and if you want to understand the progression of screen comedy through the 20th century, you have to watch their pictures. That being said, The Dean Martin and Jerry Lewis Collection: Volume Two is inexplicably missing two of their last color efforts (Money from Home and 3 Ring Circus). The transfers, for the most part though, are crisp and fine-grained. The lack of extras is distressing, unfortunately. Still, I'm highly recommending The Dean Martin and Jerry Lewis Collection: Volume Two because Martin and Lewis, even in some iffy projects and at each other's throats, still stand alongside the screen's greatest comedy teams, and as such, they're well worth your time.
---
Paul Mavis is an internationally published film and television historian, a member of the Online Film Critics Society, and the author of The Espionage Filmography.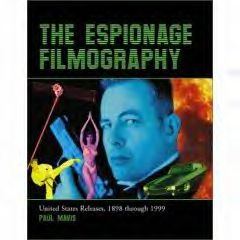 ---
C O N T E N T

---
V I D E O

---
A U D I O

---
E X T R A S

---
R E P L A Y

---
A D V I C E
Highly Recommended
---
E - M A I L
this review to a friend
Sponsored Links
Sponsored Links