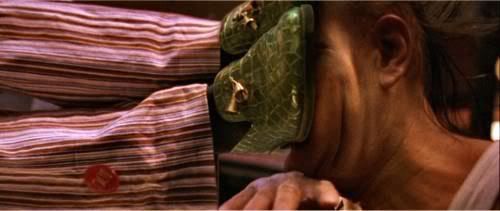 Martial arts films are often a bit exaggerated, but few have gone further over the top than Stephen Chow's Kung Fu Hustle (2004), an entertaining Hong Kong import that may cause neck injuries from double-takes. Essentially, it's a loving tribute to the genre (more homage than spoof, in most regards), but make no mistake about it: this accessible blend of wire-work and CGI is visually ambitious, creative and pretty darn funny. Speaking as a fan of comedy, action films and Looney Tunes, Kung Fu Hustle balances all three with energy and style.
Our story, set in 1930s-era Shanghai, revolves around the residents of Pig Sty Alley, a dilapidated apartment complex full of oddballs. The landlady and her husband prove to be an odd couple indeed; after witnessing a few hints early on, it's evident that certain residents may have extraordinary skills lurking below their common appearances. We also meet Sing (played by Chow) and his large friend Bone, two small-time hustlers who wander into Pig Sty Alley and cause a bit of trouble in the process. This leads to a confrontation with the Axe Gang, a dangerous group of thugs introduced during the film's violent prologue. From there, the hidden talents of a few folks are unleashed, leading to much larger brawls and the introduction of even more colorful characters.
For the most part, Kung Fu Hustle maintains its balance of comedy, drama and action with ease. The adventures of Sing and Bone are often separated cleanly from the events at Pig Sty Alley, yet it's obvious that they'll cross paths again soon enough. Sing's childhood is also briefly hinted at: as a young boy, we see his failed attempt to save a mute girl from bullies, leaving him cynical and eager to lash out at those weaker than him. Back at Pig Sty Alley, the Axe Gang has unleashed a series of attacks on the locals in retaliation for their earlier defeat. Eventually, the gang leader recruits "The Beast", a brutal fighter confined to a mental institution...and from there, the real hero is revealed in a final attempt to save the Alley.
In all respects, Kung Fu Hustle is a simple story of redemption and honor, punctuated by over-the-top fight sequences and plenty of odd heroes and villains. Combining the raw energy of a top-shelf martial arts film with the unbridled wackiness of a Warner Bros. cartoon, Chow's follow-up to the popular Shaolin Soccer cranks the volume up even further. Though portions of Kung Fu Hustle's dramatic elements are never fully realized and several interesting characters are given little to do, it's hard to complain when the film hits so many notes correctly. From start to finish, this is an entertaining little gem worth discovering and passing around.
Of course, a critical evaluation isn't what most fans are looking for at this point; it's the story behind this relatively vague double dip. As mentioned by our own Ian Jane is his excellent 2005 review, the slightly butchered domestic version of Kung Fu Hustle was used for the first DVD release. These cuts weren't major by any means, but they were enough to make eagle-eyed fans sit up and take notice. This new release contains the unedited Hong Kong version of the film, which means that the following five sequences are no longer trimmed for content. Mild spoilers are ahead, of course:
1. During an early sequence, the landlady throws her husband from a window and drops a flower pot on the back of his head. The original cut showed a small pool of blood coming from his face, but he American version digitally removed it. Marked at 12:05 on this release, the blood now appears as normal.
2. Soon after this, Sing heckles the residents of Pig Sty Alley and gets punched in the stomach by a woman. The original cut showed Sing spitting up blood which landed on the woman's face, but the American version digitally removed the blood (though some still appeared around Sing's mouth). Marked at 15:25 on this release, the blood now appears as normal.
3. Here's the real keeper, which takes place in the evening before the big attack on Pig Sty Alley. The original cut showed a man taking a dump onto a piece of paper as the camera panned by, but the American version digitally removed the offensive dookie. Marked at 42:19 on this release, the paper is no longer blank. Score one for feces!
4. Just as Sing confronts "The Beast" in the casino, he gets punched hard in the chest twice. After the second hit, blood sprays on The Beast's face and Sing is shown reeling backwards with blood coming from his mouth. The American version removed both of these sequential shots. Marked at 1:16:52 on this release, they now appear as normal.
5. Shortly after this (also in the casino), Sing's head is punched into the ground by The Beast. After the first hit, The Beast's bloody fist is seen emerging from the floor in slow motion...but the American version removed this shot entirely. Marked at 1:17:15 on this release, this sequence now appears as normal.
Oddly enough, both DVD releases of Kung Fu Hustle slapped the film with an "R" rating, so it's not as if the original cuts made a huge difference in the long run. While some may not consider a few seconds of footage worth the double dip, Sony has also included a handful of new bonus features to sweeten the pot. Unfortunately, most of the extras from the original release weren't included this time around, making Sony's release strategy all the more confusing. Hopefully, the remainder of this review should help old and new fans make the right buying decisions. Let's take a closer look, shall we?

Video & Audio Quality
Presented in its original 2.35:1 aspect ratio and enhanced for widescreen displays, Kung Fu Hustle looks roughly the same as the original release: it's a clean, clear transfer that shouldn't disappoint in the least. Colors are bold and bright when applicable, while black levels and image detail are typically strong. Some of the CG effects suffer from a bit of softness (due to the original source material, no doubt), though it's not distracting in most cases.
The audio is also identical from start to finish, presented in Cantonese Dolby Digital 5.1, an English 5.1 dub or French 2.0 Surround. Listening primarily to the original Cantonese mix, Kung Fu Hustle put surround channels to good use, while dialogue, music and sound effects didn't fight for attention at all. No matter which language the viewer prefers, this solid audio presentation preserves the action perfectly. Optional English and French subtitles are also included during the main feature only, though a few extras are subbed in English for translation purposes.
Menu Design, Presentation & Packaging

Seen above, the animated menu designs are basic and easy to navigate. The 100-minute main feature has been divided into a generous 28 chapters, while no obvious layer change was detected during playback. This one-disc release is housed in a standard black keepcase; a matching slipcover is included in lieu of an insert.

Bonus Features

The new extras kick of with a brief Stephen Chow Interview (2:48) and Bloopers & Outtakes (2:49), both recorded for Comedy Central. The interview isn't especially interesting, as Chow takes a minute or so to warm up to the host's questions and stumbles through a few responses. The bloopers (culled from the interview, not the film itself) are a bit more entertaining, as Chow remains in good spirits through a handful of line flubs and visual gags. It's odd that these would lead the pack, but things get a bit more involving from here on out.

Up next are four short Featurettes that sum up the production nicely, including "Organized Chaos" (9:34, below left),"Bringing Down the House" (7:06, below right) and "Dressed to Kill" (5:42). "Chaos" features words from fight choreographer Yuen Woo-Ping and members of the technical crew, who share a few thoughts about the film's lively fight sequences and how the process has evolved in the digital age. "House" features comments from production design Oliver Wong, touching upon Kung Fu Hustle's specific look and how some of the designs and storyboards were developed. "Dressed" focuses on costume designer Shirley Wong, who speaks about her collaboration with Chow to give his characters the proper attire (which turned out to be quite expensive, apparently). All three are quite condensed, but they do a good job of keeping things interesting from start to finish.

We're also treated to a short Storyboard Comparison (2:16), which might've benefited from some additional commentary by Wong. These are always nice to see, and the film's dynamic compositions make for a few interesting drawings.
Our last extra---though it was included on the last release---is an Interview with Stephen Chow (27:55), conducted by author and movie buff Ric Meyers. Chow is well-spoken and candid during this interview, fielding questions about his early years and recent works like Kung Fu Hustle and Shaolin Soccer. From the film's shooting and post-production to the ambiguous history of the Axe Gang, there's a decent amount of ground covered here. Though a few older film clips would've spiced things up a bit, this interview should entertain and enlighten fans of Chow's work.
Closing things out is a DVD Rom Flash Game and a few Previews for current and upcoming Sony DVD releases, including Curse of the Golden Flower. All extras haven been presented in 1.33:1 (with 1.78:1 open matte film clips, oddly enough) and some include forced English subtitles for translation purposes.
Here's the bad news: all of the extras from the previous DVD (except for the Ric Meyers interview) have been excluded from this release. These include an audio commentary with Chow and three supporting actors, a behind-the-scenes TV special, two deleted scenes, a few bloopers from the film and a gallery of promotional material (including movie posters and the theatrical trailer). Pessimists will see this as a cheap cash grab by Sony, while optimists will combine both releases---which feature very little overlap, thankfully---into a fairly complete two-disc package. Either way, you should definitely own one of these suckers.

Energetic and good-hearted, Stephen Chow's Kung Fu Hustle pays loving tribute to kung fu films and creates a highly entertaining concoction in the process. Full of colorful characters, bizarre pop culture blends and over-the-top action sequences, it's one of the more enjoyable imports in recent memory. Sony's second Region 1 release proves to be a bit confusing: though it contains the original, unedited cut of the film and a few new bonus features, most of the original extras have been left behind. Die-hard fans will find that both DVDs partner well with little overlap, but it's hard not to think of this as a sneaky double dip on Sony's part. Previous owners interested in the complete package will want to pick this up for the right price, while those new to the film should feel comfortable choosing either one. Either way, this new "Axe-Kickin' Edition" of Kung Fu Hustle comes firmly Recommended.
---
Randy Miller III is an affable office monkey based in Harrisburg, PA. He also does freelance graphic design projects and works in a local gallery. When he's not doing that, he enjoys slacking off, second-guessing himself and writing things in third person.
---